Who are you?
Because Paychex is one of the original technology disruptors, we seek those individuals who aren't afraid to question how we use technology, and how we can make it better.
We're adventurers, dreamers, and creators of all sorts.
Amber Mills —3 years
Operations Center Tech & Therapy Dog Mom
"I'm in a room full of very different individuals, and having that work environment makes what I do outside of here even more special. I feel like I have a support team around me."
When Amber met Fitzy the paralyzed pit bull, she was determined to "make his life the greatest." Now they provide therapy to others with the support and encouragement of Amber's coworkers.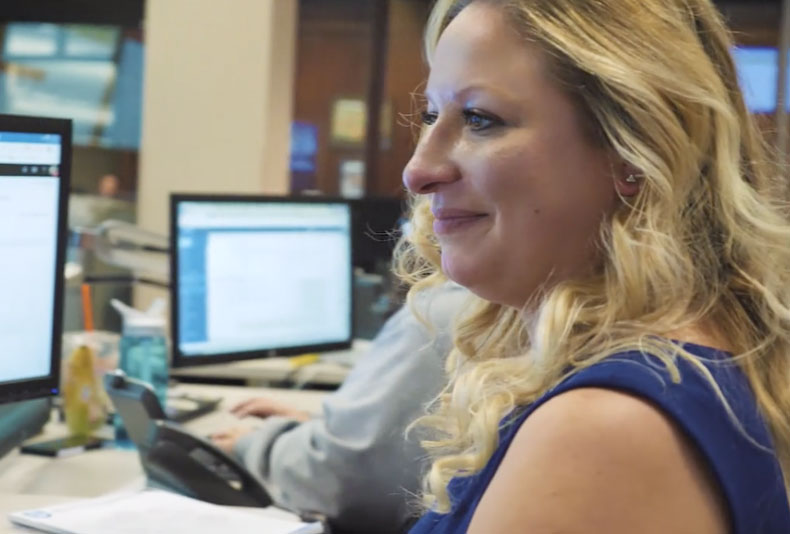 Sonnet Harris — 17 years
Communications Engineer & Traditional Guinean Dance Performer
"It's just a good feeling to be able to come into work knowing that you're going to be working with a team that is like a family."
Music and dance give Sonnet a feeling of family — the same feeling she's had for her team at Paychex since she first came here straight out of college.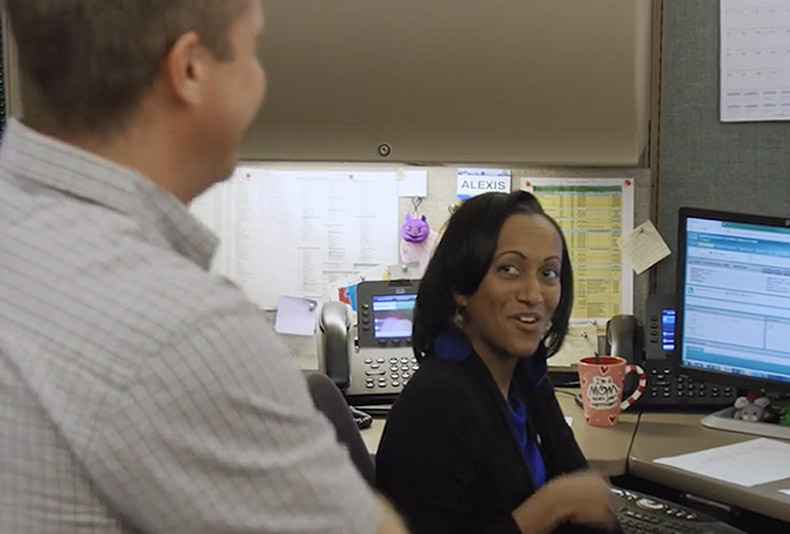 Where do you want to go?
Engineering. Development. Program Management. Leadership. User Experience. Security. Infrastructure. These are just a few of the IT career paths available at Paychex. Our success is dependent on a diverse array of talents. Now that you've met some of our team, in what direction do you see yourself and your IT career moving?
Systems Development Manager
Partner with employees to drive high engagement in an exciting agile work environment.  Collaborate with team members to achieve program and enterprise objectives through agile delivery while consulting on employee growth/career alignment AND technical direction of company.
IT Program Manager
This role drives our products to market with an agile mindset. They partner with Product Management closely to understand the many moving parts of the product portfolio. They are responsible for orchestrating resources and setting priorities across multiple agile teams to deliver products to market in a timely and efficient manner.
Incident Manager
Build, develop and engage a team of second-level Support Analysts dedicated to researching and resolving complex IT issues impacting Paychex. This leader and team's role is to effectively partner with various teams across Paychex to establish the quickest possible solutions to high-priority issues.
User Experience
The role of UX is to create delightful end-user experiences for every Paychex product. UX Researchers study the needs, motivations and habits of end users to inform our design process. Our UX Designers use this research to create modern, unified, and functional user interfaces in partnership with software developers and product owners.
Systems Architect
Architects are responsible for setting the technical vision for Paychex products and services and, in turn, driving teams towards that vision. If you are someone who knows how to take complex technologies and apply it to real-world problems, you will flourish in this position.
Solution Lead Developer
A tech lead who utilizes their inner-geekdom to turn concepts into solutions. Drive continuous delivery and dev ops concepts. Coach and mentor other team members in development best practices.
Product Owner
Steers the overall direction of a particular product in the Paychex portfolio. This position determines what will be built by an agile team and conveys this through the prioritization of features found in a product backlog. They combine their knowledge of the industry, competition and users to incrementally release enhancements to the market.
Scrum Master
This role ensures the success of agile teams during the software development process. They partner with Product Owners, Developers, Architects, and UX Professionals to follow agile practices. They pave the way for success by eliminating roadblocks and creating a productive environment for the entire team.
Middleware Engineer
We support software infrastructure teams, troubleshoot, provide the infrastructure link to applications and suggest middleware configuration changes to create solutions.
Principal Security Architect
This role serves as a security evangelist for communicating best practices to all IT Application Architects, Solution Leads, and Development personnel, ensuring fundamental security requirements are incorporated into business and infrastructure solutions early in the design process.
IT Operation Center Technician
Responds to systems issues and alerts for defined business services. Initiates problem tickets to enterprise support and third level technical teams.
IT Service Partner
The first-responder and first line of defense to IT issues impacting Paychex employees. Connect with all 15,000+ of your co-workers, help them solve their hardware and application issues, and allow them to get back to what they do best.
Security Engineer
Security Engineers engage in major business initiatives, balancing the needs of the business against regulations, security best practices, and policies, with an appreciation for the current and future threat landscape.
Penetration Test Engineer
Defines and implements creative techniques to protect critical assets against the constantly changing threat landscape and works closely with the IT Developers and Engineers to design, build, and perform ethical hacking exercises for the benefit of the company.
Desktop Engineer
Designs and implements desktop application deployment strategies across multiple end-point platforms, including patch management, image deployment and application virtualization. Establishes automation and monitoring strategies.
Network Engineer
Designs and implements network technologies across Paychex's WAN, MAN, Wireless and Core networks, including SDN and white label technologies. Supports over 2,000 network elements across the United States.
Database Engineer
We are passionate about data services and driving automation into all our processes. You will work to implement changes needed to create/modify systems and continually work to automate any of those processes that are repeatable.
Developer
We make IT happen in our cutting-edge tech playground by utilizing the latest and greatest tools and technology available.
Systems Engineer
Support CI/CD initiatives, automation, orchestration, configuration management all while working with cutting edge technologies.
Automation Test Engineer
Working in an agile environment, partner with your team to build and test using today's top automation technologies. Driving innovation in automation to improve performance, reduce cycle time and deliver top quality product.
View All Openings
At Paychex, we don't just help thousands of people with their payroll and HR, we look for ways to make their lives easier.
Join us in making a difference.
View all openings