POS systems for the way you do business
An iPad®-based POS system, and so much more—NCR Silver™
Accepting credit cards is just the start for a point of sale (POS) system – modern POS systems do so much more than take orders and process transactions. They can help increase efficiency, keep customers happy, and provide insights to improve your bottom line. Paychex offers the latest countertop, wireless, and iPad-based terminals to help you get more out of your POS solution.
Running a business involves more than just taking transactions. So if payments are all your POS system can handle, it may be holding you back. That's why Paychex offers NCR Silver, a powerful all-in-one POS solution that runs on your iPad®, iPhone®, or iPod touch®.
NCR Silver can quickly and securely handle transactions, at the counter or on the floor, AND also help you:
Track sales for one or multiple locations
Manage your employees with clock-in/out functionality
Drive better decisions with smart analytics on sales, inventory, and cash
Sell anywhere

Reach customers wherever they are by accepting cash, checks, and credit from your iPad®, iPhone®, or iPod touch®.

Control inventories

Always know on-hand inventory quantities to help keep your best sellers in stock.

Engage with customers

Send automated "miss-you" and promotional emails, and even create loyalty programs.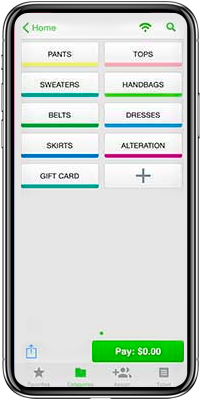 What are the key features of the NCR Silver point of sale system?
Cloud-based, all-in-one POS solution
Ability to run on your iPad, iPhone, or iPod touch
Inventory management
Sales tracking
Email marketing
Built-in loyalty
Multi-store management
Powerful analytics
Advanced security
Integration with Paychex credit card processing services
Live support 24/7
What are the different types of wireless and countertop POS terminals from Paychex?
Poynt — the world's first smart terminal
First there were smartphones. Now there are smart POS terminals. Poynt was the very first and still is the most advanced. Poynt's sleek, modern design resembles a tablet, and it easily connects to 3G and Wi-Fi so you can take payments anywhere.
Two screens — one for you, one for your customers — both with an intuitive touch-screen interface
A single slot for chip and mag-stripe cards
Built-in printer and scanner
NFC reader for Apple Pay®, Android PayTM, and more
Connection ports for cash registers, printers, barcode readers, and ECRs
Verifone VX 680—Specially designed for merchants on the move
A great fit for mobile merchants, from stadium vendors and delivery services to pay-at-the-table restaurants, this wireless terminal lets you process transactions on the spot from a portable, handheld device.
Ingenico iWL220B—Bluetooth® POS solutions for taking payments in and around your location
Ideal for nail/beauty salons, curbside pickup, and pay-at-the-table restaurants, this wireless terminal uses Bluetooth® technology that ranges up to 300 ft., has a long-life battery, and a compact design.
VeriFone VX 520 — One of the most advanced countertop terminals available
Take payments more efficiently with this terminal's powerful processor and expandable memory. It features integrated NFC and the ability to take loyalty and gift cards.
Ingenico iCT250 — A modern POS terminal built for today and tomorrow
Accept existing and emerging forms of payment — including NFC/contactless, EMV chip cards, and magnetic stripe — with Ingenico's iCT250 easy-to-use countertop terminal with a compact, ergonomic design.
Something else to consider