Corporate Responsibility
We have a responsibility…
To give back to our local communities, enriching their livelihoods as they do ours. To give our clients more than just the best solutions for their business, but also helping them do business the right way. To support our employees beyond the workplace, focusing on improving their environment at work and in our community. To be a good steward of the environment, responsibly operating our business to make a positive impact on the planet.
Read the full letter from Martin Mucci

At Paychex, our clients depend on us to understand their needs and guide them to the right human capital management solutions that drive value and growth in their business. Today, we serve more than 710,000 clients – organizations of various sizes in many industries. Along the way, we've learned that a key ingredient to our success and that of our clients is a commitment to corporate responsibility.

Corporate responsibility is a deeply rooted belief at Paychex that recognizes the importance of being a good corporate citizen. It lives in everything we do, from investing in our employees and giving back to our local communities, to guiding our clients to responsible business solutions and being a good steward of the environment.

The personification of our commitment to corporate responsibility is our nearly 15,000 employees.  I am extremely proud of the work our employees do every day in communities across the country.  Each year, our employees personally donate their time, talents, and treasure to thousands of local charitable organizations, educational initiatives, and community programs.  In addition, the Paychex Charitable Foundation has awarded more than $4.7 million in grants to nonprofits in our communities since it was founded in fiscal 2016.

I invite you to review our corporate responsibility initiatives and learn more about the good work we're doing each day.

Thank you,

Martin Mucci
President and Chief Executive Officer
Paychex, Inc.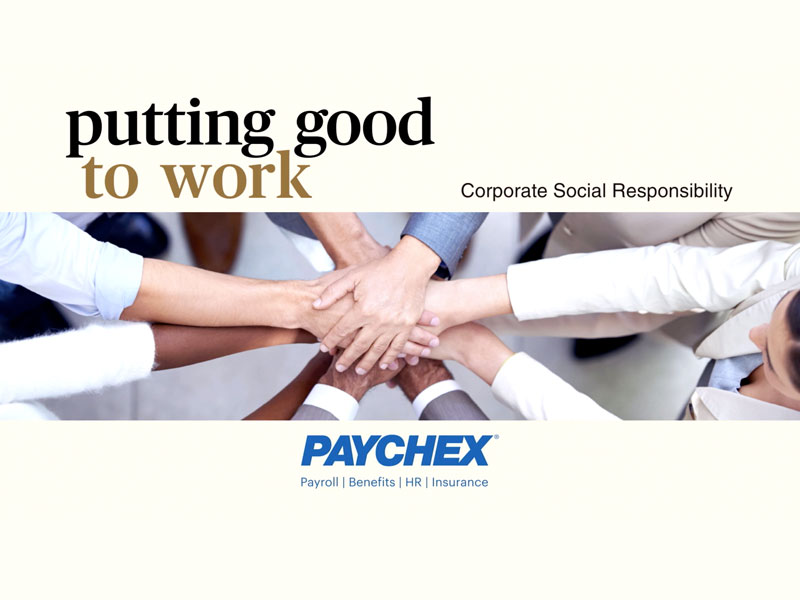 Corporate Responsibility Highlights Report
At Paychex, putting good to work reflects our approach to corporate responsibility. It's empowering our Employees through well-being, inclusion, and diversity. It's giving back and making a positive impact in our Communities. It's serving as a good steward of the Environment. It's a commitment to Ethics and doing business the right way for ourselves and our clients. It's about everything we do to Be Paychex.
Paychex Values
We act with uncompromising integrity.
We provide outstanding service and build trusted relationships.
We drive innovation in our products and services and continually improve our processes.
We work in partnership and support each other.
We are personally accountable and deliver on our commitments.
We treat each other with respect and dignity.
Environmental Sustainability
"By disclosing, Paychex, Inc. has underscored their commitment to transparency on their environmental impact, risks and opportunities. This step is critical not just for their goals, but also for their investors, customers and employees. CDP greatly values Paychex, Inc.'s contribution to a more sustainable future."
- Ateli Iyalla, Managing Director, CDP North America
Forbes Best Employers Diversity
Paychex ranked #350 on Forbes 2022 list of America's Best Employers for Diversity. To determine the ranking, Forbes partnered with Statista and surveyed 60,000 Americans working for businesses with at least 1,000 employees to pinpoint the companies they identified as most dedicated to diversity, equity, and inclusion.