Solutions for self-employed business owners
Paychex Solo — Save for retirement while you save on taxes
It takes dedication to succeed as a solopreneur — but you don't need to do it alone. Paychex Solo helps you maintain independence by making it easier and more affordable to save for a dignified retirement. By integrating your 401(k) with Paychex payroll services, we also make administration a snap while helping you save on self-employment taxes.
Paychex Solo includes*:
Solo 401(k) plan for your retirement savings
Payroll services for self-employed business owners, to help you save on taxes
Start-up and incorporation services to help establish and protect your business
Support from U.S. based payroll and retirement specialists from sign-up to set-up to ongoing assistance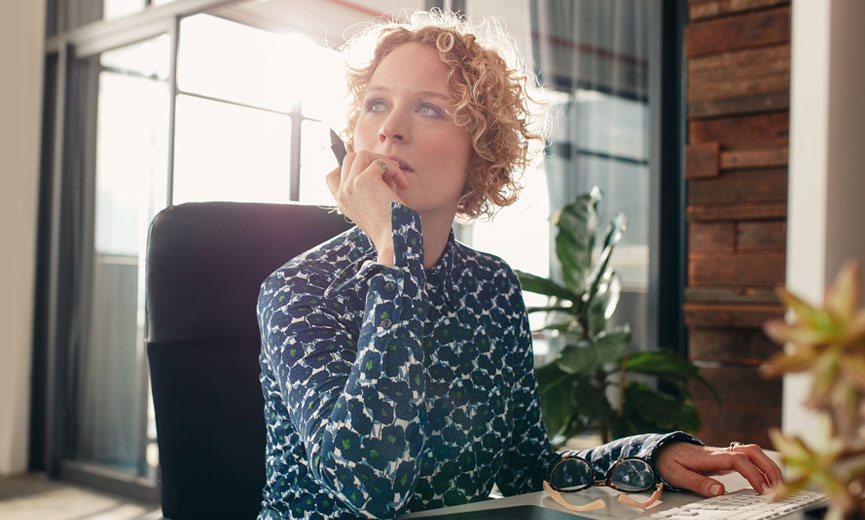 Self-Employed 401(k) Services— the earlier you start, the more you could save
Maximize your retirement savings potential by starting today, thanks to the power of compound interest. The greatest advantage of our 401(k) for self-employed individuals is that you can contribute as both employer and employee – making the most of your retirement contribution and tax breaks on business deductions.
These charts show the power of compound interest through 401(k) contributions and your savings potential versus a SEP IRA. The example represents a self-employed 50-year-old who:
Plans to retire at age 65
Has self-employment income of 75,000
Contributes $25,000 annually to the Paychex Solo 401(k)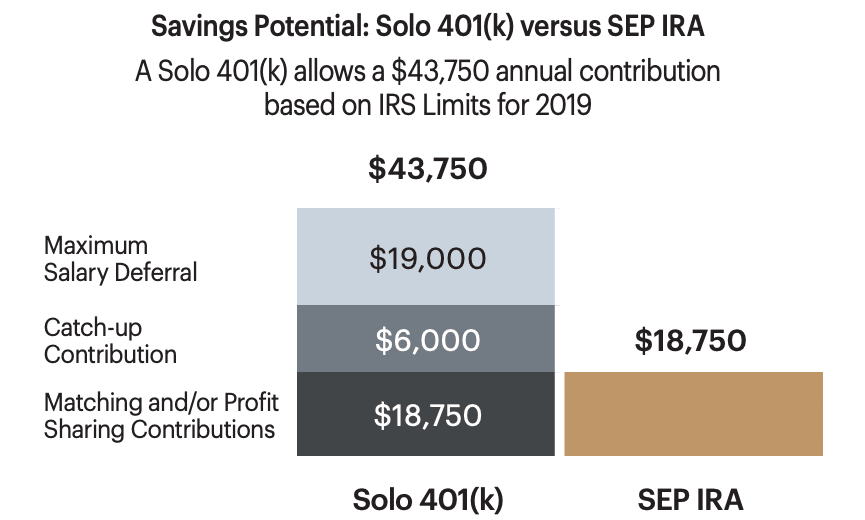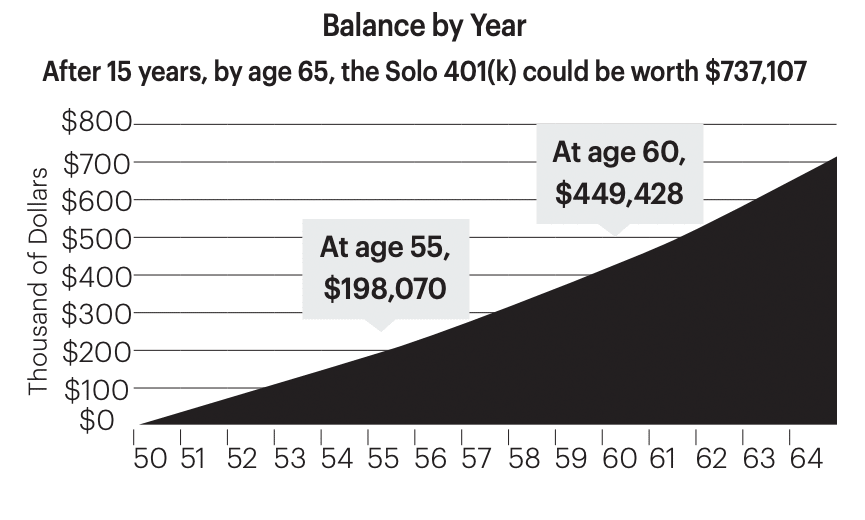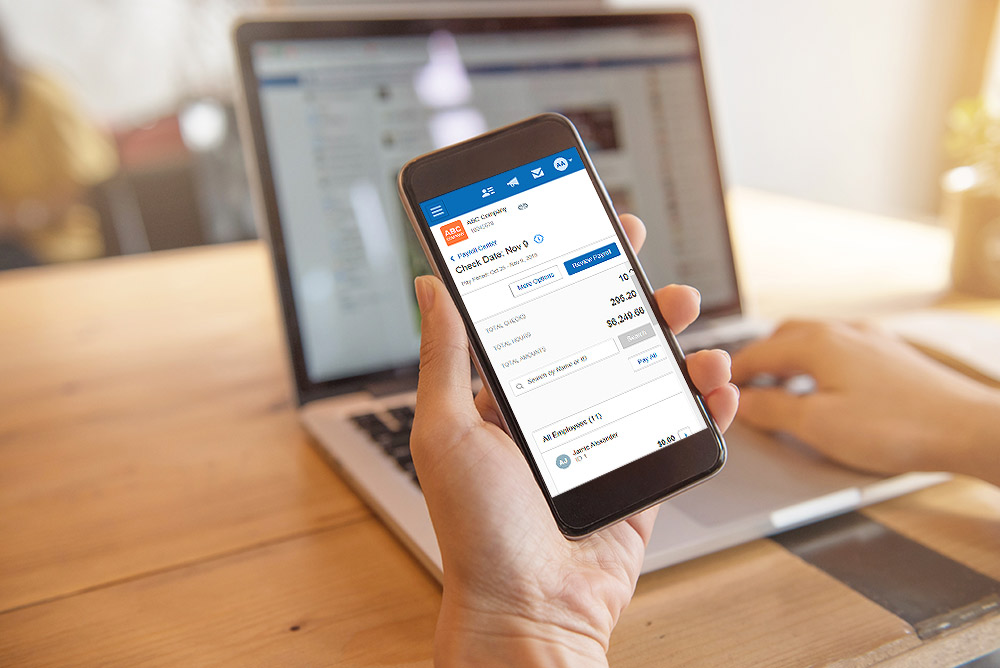 401(k) and payroll integration for easy administration
By integrating your 401(k) with Paychex payroll services we can automatically withdraw your solo 401(k) contributions on a pre-tax basis. This allows you to build your retirement savings while saving on federal and state taxes. And if you ever decide to hire employees, Paychex services can continue to grow with your business.
Increase saving power by contributing as an employer and employee
Reduce tax liability through deductible contributions and S-corp savings
Take advantage of high contribution limits
No compliance testing required
Paychex retirement solutions can work with your business as it grows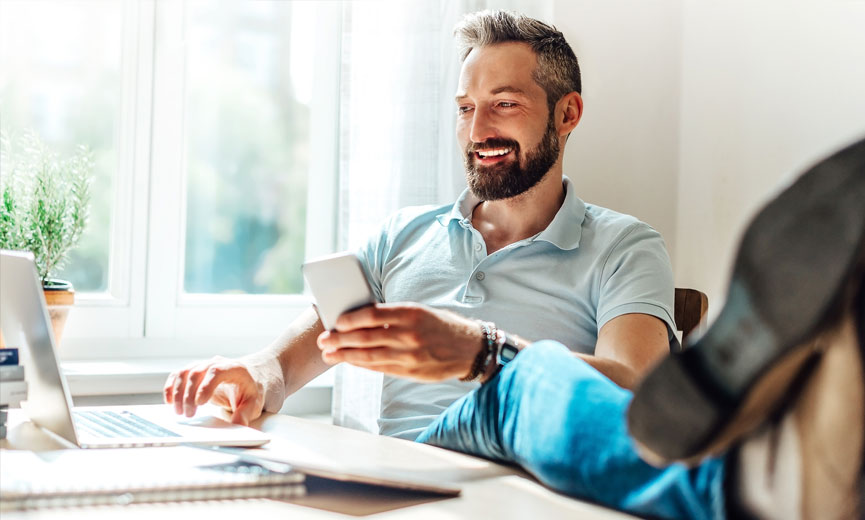 Pay yourself a salary and save on taxes
Paychex Solo also helps you save on self-employment taxes by making it easy to pay yourself a salary and establish your business as an S-corporation.
Tax benefits of becoming an S-corp:
Taxes are taken directly from your paycheck as you go, making them easier to manage
You can deduct your salary, effectively reducing your taxable income
You don't have to pay Federal Insurance Contributions Act (FICA) taxes on income earned beyond your reasonable salary amount, which may be a significant savings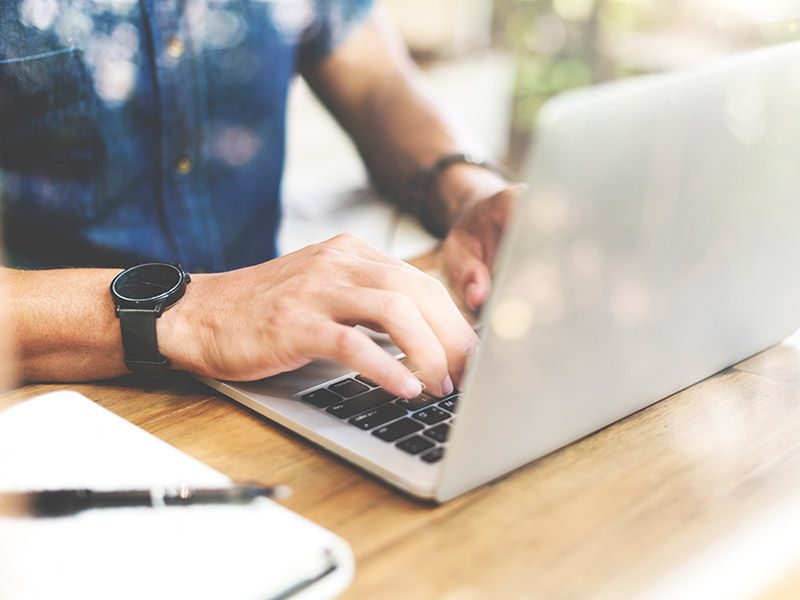 Incorporation and start-up services
Paychex Solo includes your choice of two filings of any of the following services through our partner, MyCorporation:
State IDs — We'll help you obtain state unemployment ID, state insurance tax, withholding ID, or local tax ID, and more depending on the state.
Business licenses (DBA or City Business License) — We'll work with the appropriate agency to obtain the necessary business licenses.
Corporate formations — We'll assist with filing a Corporation or LLC and elect S-Corporation status to help you save on FICA taxes.
Federal Tax IDs — We'll help you establish a tax ID or employer identification number (EIN), so you can open bank accounts and make appropriate tax payments.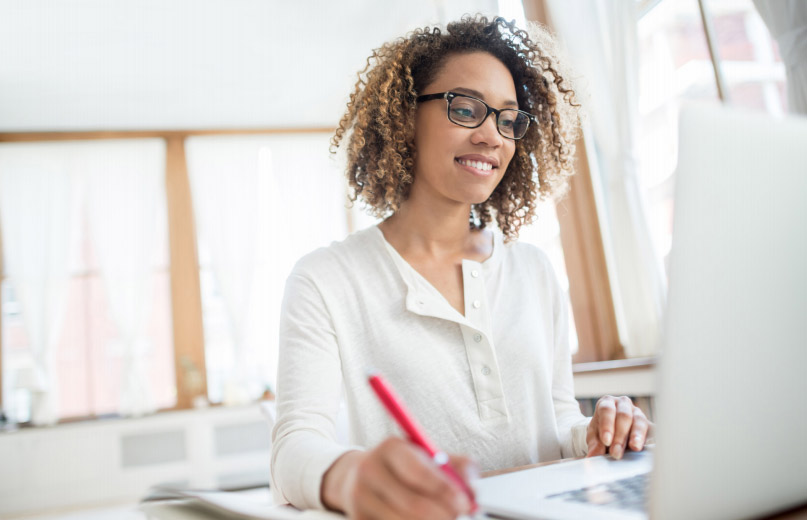 Paychex Solo FAQs
Paychex Solo can provide you with a simple, efficient way to pay yourself wages as an employee of your own business — when you're incorporated as an LLC or S-Corp. This includes options for direct deposit and helping file IRS Forms W-4 and W-2.
What is self-employment tax?
The self-employment tax is a combination of the employer and employee shares of Federal Insurance Contribution Act (FICA) tax applying to net earnings. It helps solopreneurs build Social Security and Medicare credits.
How to calculate self-employed payroll taxes
The current rates for the self-employment tax are 12.4% for Social Security and 2.9% for Medicare. While 12.4% applies to net earnings up to the wage base for the Social Security Tax ($132,900), 2.9% has no earnings ceiling.
Example:
If Revenue – Deductible Expenses = $150,000
Then self-employed payroll tax = ($132,900 x 12.4) + ($150,000 x 2.9) = $20,829.60
If you earn additional wages from a job, they must also be included up to the wage ceiling for Social Security and up to the full revenue minus deductible expenses for Medicare.
Are there self-employment tax deductions?
Yes, one half of the self-employment tax is deductible from gross income whether or not you itemize your personal deductions. It is not subtracted from your business income.
A solo 401(k) is a retirement plan that is specifically created for use by a self-employed individual. It offers these solo entrepreneurs the retirement and tax-saving benefits of a 401(k) while making it easy to establish and manage a plan. A solo 401(k) is offered as part of Paychex Solo, along with payroll and incorporation services to help you save on taxes while you save for retirement.
Who does a solo 401(k) cover?
A solo 401(k) may provide retirement savings for a self-employed individual and their spouse. No employees may be covered by a solo 401(k) unless they happen to be dependents of the owner.
Who is eligible for solo 401(k), payroll, and incorporation services with Paychex Solo?
If you're self-employed, you may establish payroll and a solo 401(k) through Paychex Solo if you do not have any employees, are incorporated, and you meet general 401(k) plan qualification requirements. Our incorporation services can help you with the filings necessary to start the process.
Do I need an EIN to set up a solo 401(k) and payroll?
Yes. Before establishing payroll and contributing to a solo 401(k), a self-employed individual must obtain an employee identification number (EIN) from the IRS. Paychex Solo includes incorporation services that can help you establish your EIN to take advantage of our solo 401(k) and payroll services.
Can I have a solo 401(k) with employees?
It depends. A solo 401(k) is intended for use by a self-employed individual with no employees. However, if your spouse works for you, they would be covered under a solo 401(k) as a dependent. Children and other family members are not eligible.
Can a Form 1099 independent contractor benefit from the solo 401(k) in Paychex Solo?
Absolutely. Independent contractors are self-employed individuals, and everything in Paychex Solo, including the solo 401(k), was created specifically for sole proprietors like 1099 independent contractors.