An enterprise HR solution built for the needs of midsize and large businesses
Even simple payroll processes can expose a company to potential wage and hour and tax penalties. And the more complex your business, the greater effect inaccurate data and tax issues may have on your company's bottom line.
Help reduce risk by managing your company's enterprise payroll software with Paychex Flex®, our human capital management (HCM) software. Scalable to support businesses with as few as 50 employees to those with thousands, and configurable to meet your organization's needs, Paychex Flex can help your company streamline enterprise payroll and stay up to date with the latest tax rates.
End-to-end HCM

Save time and help reduce data-entry errors with a comprehensive HCM solution integrating payroll and taxes, recruiting and onboarding, HRMS, performance and learning management, real-time analytics, and much more.

Employee self-service

Give employees access to initiate administrative actions themselves, including changing their personal information, enrolling in health and benefits, viewing payroll data, checking time off balances, and more – all from their desktop or mobile device.

Flexible, U.S. based service

Work with a specialist in large business payroll and get answers when you need them through our 24/7 service centers.

Import multiple files

With our intuitive multi-import user interface, single company and multi-company users can import multiple files for a single company and/or multi companies at one time, from one location.
Paychex Flex makes enterprise payroll effortless
Enter payroll quickly and easily

Easily enter and submit your data with our enterprise payroll software. Set up recurring amounts to save even more time each pay period.

View critical data at a glance

Key info, such as upcoming check dates and cash required for your next payroll, is available right from the main dashboard.

Run reports

Access payroll reports with multi-level tracking by location, department, job, project, and union tracking by date range.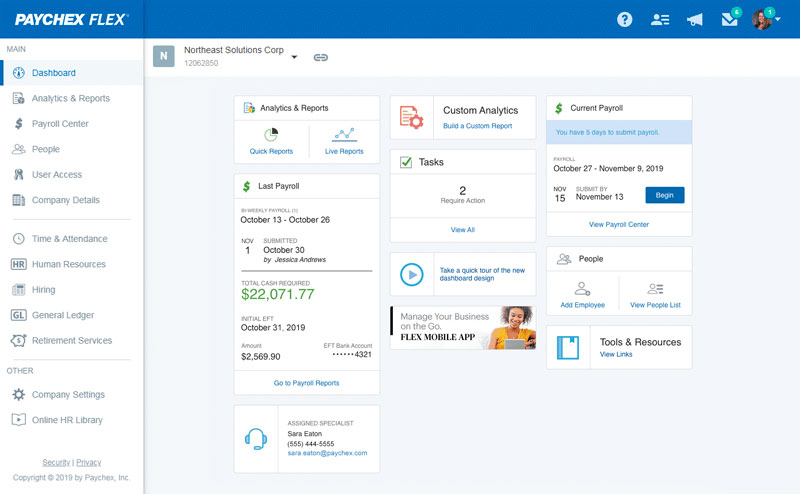 What you can get with Paychex enterprise payroll
Ability to pay different types of workers — salaried, hourly, contract
Automatic payroll tax administration
Employee online self-service
New-hire reporting to government agencies
Free mobile app for you and your employees
Labor poster kit
Garnishment payments
Robust reporting and analytics for insights into your payroll and HR data
A more effective enterprise payroll and HR solution
Integrated system for payroll, HR, and more

Paychex Flex® isn't just for enterprise payroll. Our enterprise package includes tools that help drive workforce retention by empowering employees while at the same time providing valuable insights to administrators, such as turnover trends. It's a complete collaborative and social HCM solution:

Recruiting
Hiring and onboarding
Time and attendance
Payroll
HRMS
Performance management
Learning management
Benefits
Retirement

Through our integrations with third-party vendors and applications, you can access these services from one platform and help your organization share data and analytics across departments, communicate more effectively, and reduce the risk of errors and penalties.

Robust analytics and reporting

Analyze payroll labor costs across time and departments.
Quickly view your payroll journal, employee earnings record, check stub, cash requirements, department summary, tax deposit, and year-to-date reports from the dashboard.
Access 160+ payroll and HR reports and customize them to your needs.
Discover if labor supply met demand with labor costs trends analytics that compares pay periods side by side.
Access real-time HR and workforce analytics to identify and benchmark corporate, location, and department turnover trends.

 

Multiple employee pay options

Direct deposit
Same-day ACH capability to pay employees in time-sensitive scenarios.*
Paper checks with check signing and insertion services
Paycards for employees who may not have a bank account but may still benefit from direct deposit.

Import to your accounting software with general ledger service

Keying in payroll information to your accounting software by hand can be tedious and error-prone. Using a secure online process, Paychex lets you easily post payroll data to your accounting program from our enterprise payroll software. Compatible software includes:

QuickBooks®
Sage Intacct
Xero™

Job costing and labor distribution

Our system includes a payroll journal and the data you need for job costing and labor analysis. View a list of departmental costs, including earnings, employer taxes, and employer expenses.

Wage garnishment payments

Help protect your company by processing garnishments within federal and state laws. Paychex Flex can help calculate garnishment wages, make deductions from your employees' wages, and pay the appropriate agency.
Something else to consider