Small Business Solutions
Payroll, HR, benefits, compliance issues. They probably weren't the reasons you started a business. But they were the reasons we did. And every hour you spend on them is time you could have spent on the business. We can help you get there — it's been our mission for nearly 50 years. Work with an industry-leading provider committed to your specific business needs, both now and down the road.
What You Get
Small business solutions from Paychex include flexible options that work for you and your employees. 
Flexible payroll processing — from desktop or mobile — with Paychex Flex® technology
Three different pay entry options to choose from, including a grid view for quick data entry
Multiple pay options such as direct deposit, same-day ACH, and real-time payments
Paychex Voice Assist — Hands-free, voice-activated solution that allows for secure, convenient payroll reviews, approvals, submissions, and updates
Payroll tax payment and filing
24/7 service from experienced payroll professionals
In-app help options, including tutorials and helpful articles to guide you and employees through activities
Turn on other services such as HR, benefits, and recruiting when your business needs change
Employee self-service
One Platform for Your Business Needs
Our small business solutions are built to grow and change with your business. Run and manage your business from wherever you are with Paychex Flex, our all-in-one HR solution, and take care of:
Payroll Options That Fit Any Business
Engage workers, increase efficiency, and reach your business goals with the perfect combination of online control and personal support. Our small business payroll software integrates with other Paychex services through Paychex Flex® to help you streamline your payroll process, giving you peace of mind and more time to focus on your business.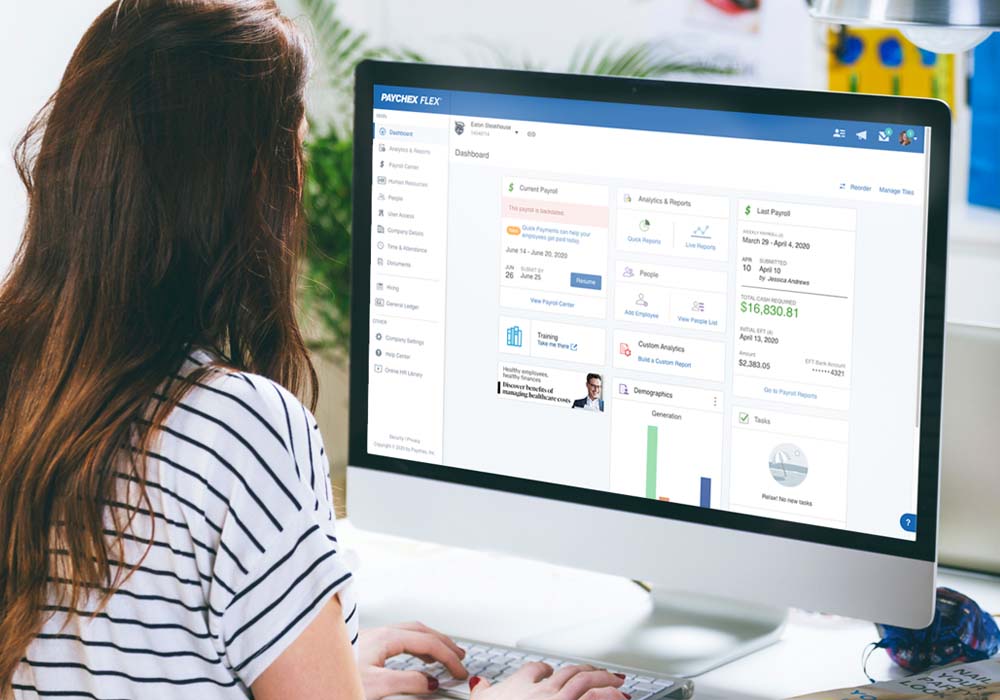 Viticulture Wine Bar Uses the Right Resources to Survive and Thrive
"The biggest thing is always surround yourself with people who know more than you. Paychex is a resource, my accountant is a resource. With Paychex I am able to ensure my employees are taken care of, paid on time, and that my business is able to meet all the law requirements when it comes to payroll."
— Courtney Benson, owner, Viticulture Wine Bar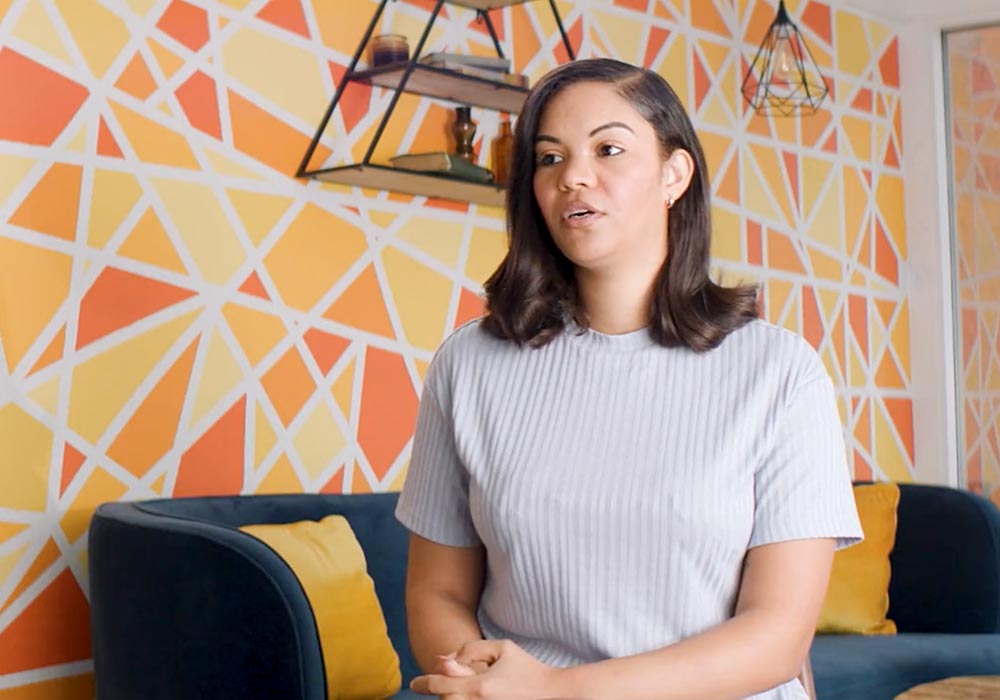 Recommended for You
Emerging small-business trends represent the challenges and opportunities that exist for employers in 2023. Over the past few years, businesses and their employees have faced enormous hurdles, undergone an incredible amount of change in the ways work is done, and have had to practice adaptability and flexibility. There's no reason to believe this will change anytime soon. Here are some notable trends in business that could have significant impacts on the way your business works and interacts with customers this year.
<iframe allow="autoplay *; encrypted-media *; fullscreen *; clipboard-write" frameborder="0" height="175" style="width:100%;max-width:660px;overflow:hidden;background:transparent;" sandbox="allow-forms allow-popups allow-same-origin allow-scripts allow-storage-access-by-user-activation allow-top-navigation-by-user-activation" src="https://embed.podcasts.apple.com/us/podcast/cnns-matt-egan-on-the-business-outlook-for-2023/id1507824762?i=1000588976935"></iframe>
Small Business Trends in 2023
The emerging trends outlined below represent several shifts in the business world that are important to keep an eye on and embrace in a way that makes sense for your organization.
Inflation and Supply Chain Issues
We were inundated in 2022 with headlines about U.S. inflation rates, domestic and global supply chain issues, and other hurdles that threw a wrench in many businesses' plans for growth. The reality is we don't know exactly what will happen in 2023: currently, prices have increased about 8 percent, the highest they have been in nearly four decades, and lingering impacts of both the pandemic and global issues such as the war in Ukraine continue to stall supply chains for many industries.
Businesses should focus on controlling what they can. This may mean using local or regional suppliers to circumnavigate supply chain slowdowns, or putting a system in place to manage cash flow. And don't forget how these challenges, particularly the rate of inflation, impact your employees. The cost of living in the U.S. has skyrocketed, affecting both employees' salaries and employers' budgets as they try to remain competitive and keep great workers in today's labor market. So while employees may be voicing concerns about pay raises, employers need to weigh factors such as competition in the labor market, budgets, and business projections to determine whether pay increases make sense this year.
The Expectation of Seamless Customer Experiences
The pandemic accelerated a shift from brick-and-mortar stores to digital shopping. From groceries to clothing and other consumer goods, shopping entirely online with the option of home delivery or curbside pickup continues to offer customers convenience, efficiency, and even a sense of personal safety.
Although digital experiences have now become common, consumers' shopping habits are shifting yet again. Whether driven by increased awareness to reduce monetary and carbon costs associated with shipping, lending support for their local economy, or simply wanting the experience of shopping in-person again, consumers are embracing a hybrid or omni-channel approach to shopping, with the expectation that there will be a seamless experience as they go from online to in-person with the same brand. They will interchange visits to brick-and-mortar stores, use mobile apps, and shop online to make choices that support their needs and beliefs.
To ensure success, small-business owners should make sure they have a mobile-friendly, easy-to-navigate website with e-commerce options that allow consumers to quickly find what they want and purchase products or services from their mobile devices. The same attention to detail should be applied to "traditional" shopping methods. Look for ways to continue the convenience of blending the two such as curbside pickups, and make sure your in-store customer service leaves customers with a positive experience.
The Rise of Voice-Assisted Technology
As part of the digital transformation that continues to effect change in business, employers are increasingly exploring new ways to use voice technology, both externally to appeal to tech-savvy customers and internally to improve their own business processes. As we mentioned above, customers have come to expect a seamless experience between online and in-person interactions with a business. Companies that embrace voice technology — whether it's leveraging virtual assistants and chatbots to provide service 24/7 or optimizing a website for voice search — stand to gain a competitive edge in 2023 and beyond.
Voice-assisted technology that improves business processes is another part of this emerging trend, particularly since it can expedite critical tasks for small business owners. Take voice-enabled technology for running payroll, where administrators can receive real-time payroll data insights, review and approve rate changes, add new employees, and submit checks for payday — all secure and completely hands-free.
Increased Focus on Sustainability
Growing concerns around how habits, purchasing decisions, and lifestyles impact the environment have cemented the issue of sustainability firmly in many customers' decisions — from which companies they do business with to the types of goods and services they choose to buy or not.
To not only effectively embrace this trend but also respond meaningfully, employers need to take responsibility for implementing meaningful change in their practices to reduce the environmental impact of their business model. Look for opportunities to reduce the energy consumption and greenhouse gas output of your supply chain, assess your internal practices to reduce waste, embrace remote or hybrid workplaces for employees, and evaluate your own business' long-term environmental impacts in the form of packaging and product lines. Ultimately, these are measures that can help your business gain a hiring advantage and increase its own resiliency through being more efficient and responsive to environmental pressures.
Alternative Payment Options
As payment processing evolves and more options become available for safer non-cash transactions, consumers are using mobile, card, and alternative payments more often. The onset of new technology, combined with the rising demand for contactless payments, has further hastened the shift away from cash transactions. Small-business owners should continue to expect increased demand for alternate payment options in the form of applications, mobile wallets, and wearable devices. If they haven't already done so, it's critical that small businesses research contactless payment options. Fortunately, this trend reaps benefits such as a business' ability to leverage the systems to increase sales, improve cash flow, and reduce the risk of accepting fraudulent currency.
Continued Focus on Talent Management
The past year presented businesses nationwide with unprecedented challenges around hiring, and overall talent management. Historically low unemployment levels, the Great Resignation, layoffs in the technology sector, and quiet quitting were just a few examples. To address ongoing talent management challenges, small businesses need to have a firm understanding of what future and current employees want from their employers, what motivates them, and what it will take to keep them for the long term. This might mean offering long-term remote work options or hybrid work spaces, embracing new technology and software solutions, evaluating incentives and benefits that you offer, or putting a renewed focus on employee development and promoting from within.
HR Compliance
While certainly not new, a focus on HR compliance should always be top of mind for businesses of all sizes. The number of employment laws and regulations are on the rise, and the risk of penalties for non-compliance has perhaps never been greater. For example, we may see an uptick in business audits, as the Inflation Reduction Act passed in summer 2022 included additional funding for the Internal Revenue Service (IRS). Overall, there should be a clear strategy for bridging the gap between the company's growth trajectory, objectives, and compliance practices that influence activities such as hiring, employee development, and retention. If you haven't done so in the past, this year may be a perfect time to develop an HR compliance checklist that serves as a compass for compliance-related areas.
Which Industries Are Projected to Boom in 2023?
Despite a currently strong labor market, an economic downturn could lie ahead. We may also continue seeing employees leaving their jobs to launch their own entrepreneurial pursuits. Still, some industries are projected to boom in the upcoming years, as forecasted by the U.S. Bureau of Labor Statistics:
Healthcare and medical research: The COVID-19 pandemic caused a higher public demand for medical and scientific research and development related to infectious diseases. Finding ways to mitigate viral spread and developing treatments and vaccines have been fast-growing areas of interest in the wake of the pandemic.
Computer and IT services and security: With many workforces embracing remote work for the long-term, there continues to be a strong demand for computer and IT services, support, and security.
Leisure and hospitality: Since so many businesses in leisure and hospitality were hit hard during the pandemic, it's anticipated that there will be considerable growth in this sector as it rebounds to pre-pandemic levels, and people look to resume traveling and spending more time outside the home with loved ones.
Professional and business services: The BLS projects that about 1.5 million jobs will be added in this industry within the next decade, an increase that includes growth in computer systems design and related services, as well as management, scientific, and technical consulting services.
Use Emerging Trends in Business To Drive Your Success
Considering these and other small-business industry trends, along with your many responsibilities as a business owner, you may want to find support to help you meet your goals in 2023. You may be able to outsource many of the duties that require valuable time and resources, such as HR administration, payroll, and assistance with regulatory compliance.
It's an annual chore: filing income tax returns for your business. This includes filing federal income tax returns, as well as state and local returns, for businesses and for owners. There is no way to avoid this chore. The best way to handle this responsibility is to be prepared and get started as soon as possible.
When Are Business Taxes Due in 2023?
Pay attention to the filing deadline for 2023 income tax returns. If you miss the deadline, you may incur late-filing penalties—and these penalties are not tax-deductible. The following are federal income tax return deadlines for 2022 returns:
For entities: Partnerships and S corporations reporting on a calendar year basis, which most do, must file their 2022 income tax returns by March 15, 2023. Calendar-year C corporations must file their 2022 income tax return by April 18, 2023 Limited liability companies (LLCs) with multiple members file partnership returns unless they have elected to be taxed as corporations; one-member LLCs file their return with the owner's personal tax return. Sole proprietorships also file their business return with the owner's personal tax return.
For owners: Business owners must file their personal 2022 income tax returns by April 18, 2023.
Check your state for its filing requirements. Many states have the same filing deadlines as the ones for federal income tax purposes. If you do business in more than one state, you may have to file multiple state income tax returns. Pay special attention to filing requirements for businesses doing online transactions. Some states consider this a sufficient connection ("nexus") to them such that state tax returns are required there.
The federal filing deadline may be extended if you are located in an area that's been declared a federal disaster area. There is an automatic 60-day filing extension for disaster victims, but the IRS may grant even more time to file. For example, victims of Hurricane Ian that began in Florida on September 23, 2022, and who had obtained a filing extension (explained below) for their 2021 income tax returns to October 17, 2022, were given until February 15, 2023, to file those returns. The IRS provides more information about filing extensions for disaster victims.
File an Extension for Business Taxes
If, for any reason, you cannot meet the applicable filing deadline, you can obtain an automatic six-month filing extension just by asking for it; no explanation is needed. You must submit the request no later than the filing deadline. Entities use IRS Form 7004 to request a filing extension. Individuals (including sole proprietors, self-employed individuals, and one-member LLCs) use IRS Form 4868.
Getting more time to file the return does not give you more time to pay taxes due. It's advisable to pay as much as you expect to owe to minimize or avoid late-payment penalties. These penalties start to run from the filing deadline without regard to extensions.
How To File Taxes for a Business
Most business tax returns are e-filed. According to the 2021 IRS Data Book, 91% of S corporation returns were e-filed during the government's 2021 fiscal year ending September 30, 2021. There are two very good reasons for this:
E-filing is the quickest way to have a return processed, especially given IRS personnel problems and a backlog of processing paper returns.
Tax return preparers who file more than 10 returns in the 2023 filing season must e-file, with very limited exceptions.
Choose Your Tax Preparation Method
Decide as soon as possible who is going to prepare and file the return(s). Will you use a CPA or other tax professional? Will the business returns be handled in-house by a company employee? Are you planning to prepare your business and personal returns using tax preparation software?
If you want to use a CPA or other tax professional, as most businesses do, and haven't been working with one, explore your options. Make sure you vet them before making a selection. The IRS has tips on choosing the right tax return preparer for your situation.
If you work with a tax professional, schedule an appointment as soon as possible to discuss your situation.
Gather Your Tax Records
Tax return information is based on the records you have on income and expenses for the year. Typically, this information is in your desktop or cloud-based accounting system and can easily be accessed by a tax professional or other return preparer to complete the return. For example, payroll information about what the business paid in wages and compensation as well as employment taxes — all of which factor into the income tax return — should be easily found in your accounting system.
In addition to annual income and expenses tracked in the accounting system, be sure to have various records and other information on hand to help with return preparation:
Prior year returns. These show potential carryovers that can be used on current returns to reduce tax liability. They include, for example, net operating losses, general business credit, and capital losses.
Information about owners' investments. Because partnerships and S corporations pass through income and losses to owners, it's essential that owners know their "basis" in their company. If losses are passed through, they are deductible on an owner's return only to the extent of such basis. For example, an S corporation owner's basis is the amount invested in stock or loans made by the owner to the corporation. Basis information must be included on the tax return using Form 7203 and, where losses are claimed, on Schedule E of Form 1040 or 1040-SR. Partnerships must report on Schedule K-1 of Form 1065 a partner's beginning and ending capital account. The capital account is the amount of capital contributed to the partnership during the year, the partner's share of the partnership's current year net income or loss as computed for tax purposes, any withdrawals and distributions made to the partner by the partnership, and any other increases or decreases to the capital account.
Asset information. If the business sold assets, it's necessary to have information about their basis to figure gain or loss. For example, if the business sold a building, basis used to determine gain or loss takes into account what the business paid for the building, depreciation claimed for it, and other adjustments.
Supplemental Tax Information
Business deductions and credits cannot be created out of thin air and must be substantiated by receipts, invoices, canceled checks, and other documentation. This supplemental tax information is not submitted with the return, but should be retained and easily accessible in case of an audit.
In addition to receipts or other paperwork that prove expense amounts, tax law requires additional documentation in some situations. Examples of required documentation include:
Special recordkeeping for travel, meals, vehicle, and business gifts. Receipts alone are not sufficient to back up deductions claimed for these expenses. Required records are explained in IRS Publication 463.
Substantiation for charitable giving. If the business made donations of $250 or more, a written acknowledgment from the organization is required. This and other substantiation rules for charitable donations are in IRS Publication 526.
Consider the Impact of Out-of-State Workers
For federal income tax purposes, the fact that many businesses use remote workers is not important. But for state and local income tax purposes, this situation may create tax filing problems. Businesses normally file their state income tax returns according to "nexus," meaning where they have a business connection. Typically, this is where the company is physically located ("physical presence"). However, having workers in another state may create the nexus sufficient to require filing an income tax return and paying state and local taxes in that location.
Check the income tax rules for all states in which you have employees working remotely (you should know who they are through your payroll system) to determine if you have income tax obligations there.
Consider Post-Year-End Tax Saving Strategies
The calendar shows that last year has ended, but the opportunities for obtaining additional tax deductions are still available. These involve taking certain actions and making certain elections on tax returns. Here are some examples:
Maximize retirement plan contributions. The deadline for making tax-deductible contributions to a qualified retirement plan is the extended due date of the return. Don't have a qualified retirement plan for the business? One can be set up and funded through the extended due date. More information about setting up and contributing to a qualified retirement plan, as well as tax credits for doing so, may be found in IRS Publication 560.
Decide how to write off the cost of equipment. If the business bought equipment, machinery, or certain other property in 2022, there are a number of ways to deduct the cost. These include first-year expensing (Section 179 deduction), bonus depreciation, regular depreciation, and a de minimis safe harbor election. The decision on which method to use is made when the return is filed. The choice can affect taxes this year and in years to come. More information about these options is in IRS Publication 946.
Check for research credit refunds. If your company engaged in research activities in 2022, you may not be able to use the full tax credit figured on research expenditures. The credit, which is part of the general business credit, is subject to a one-year carryback. If you're making a claim for a refund based on the research credit, be sure to include all information that's now required.
Business Tax Changes to Be Mindful of When Filing in 2023
Whether you're an experienced business owner or just getting started, tax credits and deductions are continually changing. Here are some new developments that you should be aware of to ensure your taxes are correctly filed and you're not missing anything come the tax deadline in 2023.
As a reminder before taking any action, speak to your CPA, tax professional, and/or legal adviser to determine the best course of action for your business.
Some Old Rules and Some New Rules
Some tax rules had been temporarily put in place to provide relief during the pandemic. These rules expired, letting previous rules come back into place for 2022 returns. What's more, some rules that had been set to expire at the end of 2021 have been extended or modified for 2022. The changes to note on the 2022 return include:
Charitable contribution limits. The 25% taxable income limit for donations by C corporations that applied in 2021 is back to the standard 10% limit in 2022. For owners of pass-through entities, the limit on their share of cash contributions made by their businesses that was up to 100% of adjusted gross income in 2021 reverts to the 60% limit. What's more, there's no option for deducting cash contributions in 2022 by individuals who don't itemize deductions.
Alternative energy improvements. The percentage of the cost of solar panels and other alternative energy improvements, which was supposed to decline to 26% in 2022, has been fixed at 30%.
Amortization of R&D expenses. Before 2022, these expenses could be deducted in full in the year they were paid. Beginning in 2022, they must be amortized (deducted ratably) over no less than five years (15 years for foreign R&D).
Tax credit for buying clean vehicles. The tax credit limit for purchasing an electric vehicle in 2022 is the same as it's been: $7,500. However, for purchases on or after August 16, 2022, there's a final assembly requirement that must be made in order to claim the credit.
Paycheck Protection Program loan forgiveness. The amount of the loan forgiven is viewed as tax-exempt income; it doesn't increase reportable income. But it's taken into account in figuring gross receipts for purposes of determining eligibility by some businesses to use the cash method of accounting. It's factored into a partner's basis.
Adjustments for Inflation
Each year, the IRS adjusts dozens of tax items to account for inflation. For example, tax brackets have been adjusted for individuals, impacting what owners of pass-through entities pay on their share of business income. Some other items impacting businesses due to cost-of-living adjustments (COLAs) include:
Standard mileage rate for business driving. If actual expenses aren't deducted, then the IRS-set rate is 58.5¢ per mile for the first half of 2022 and 62.5¢ per mile for the second half of 2022.
Small employer's health insurance credit. Eligibility for this credit is based in part on wages; the amount has been adjusted for inflation for 2022.
Gross receipts test. This test is used to determine whether a business can use the cash method of accounting, forego doing inventory accounting, and for certain other purposes. The gross receipts test in 2022 is $27 million in average annual gross receipts in the three prior years.
Sec. 179 deduction (first-year expensing). Instead of depreciating the cost of machinery, equipment, and other eligible property placed in service before the end of 2021, an immediate deduction up to the 2022 limit ($1,080,000, reduced dollar for dollar for purchases in excess of $2,700,000).
Limitation on losses for noncorporate taxpayers. The limitation that caps losses for the current year has increased; excess losses become part of a net operating loss that can be used in future years.
Qualified business income (QBI) deduction. The taxable income threshold above which the QBI deduction may be limited or barred has increased for 2022.
Other Reminders
When filing the 2022 income tax return, keep in mind some other tax rules. These include:
E-filing. Some businesses must e-file their returns; others should consider doing so. The IRS backlog on unprocessed paper returns demonstrates the need to file the return electronically. This is especially true for those expected a tax refund.
Estimated taxes for 2023. The first installment of estimated taxes for individuals and calendar-year corporations is due on the same day as 2022 income tax returns are filed. Obtaining a filing extension for filing the 2020 return does not give you more time for paying estimated taxes for 2023. Check with your tax professional about new tax rules that may affect 2023 taxes.
Begin Filing Taxes for Your Business, and Stay Current on Tax Laws
By starting sooner and doing some prep work, you can make filing taxes for your business a more efficient and less stressful process. With changes in the law and new IRS guidance, you'll want to consult with your accountant to ensure you understand what is required to stay compliant, as well as learn about additional opportunities for tax savings available to you through credits. Paychex offers tax services that can help your business navigate the complexities of filing taxes.
It's in the news almost daily now, cyberattacks. Making the big headlines are those instances that paralyze the operations of some of the world's major corporations. What you don't often hear — and these attacks are far more frequent — are those that impact small and midsized businesses.
Numbers can vary from year and study, but according to research conducted by Paychex for its guide on cybersecurity, cyberattacks on small and midsized businesses are on the rise from the 70-plus percent in 2020. However, a recent report by CNBC based on their study showed that 56% of small-business owners say they are not concerned about being the victim of a hack in the next 12 months, and only 28% have a response plan in place in the event of a cyberattack.
This confidence that an attack won't occur flies in the face of the 2021 Hiscox Small Business Cyber Risk Report that found many businesses experienced more than one cyberattack in the past year, and 1 in 6 businesses said an attack threatened their survival. The report found that small businesses in particular felt a substantial impact from cybercrime, with some small firms suffering losses of up to $308,000.
Is your business prepared to withstand a cyberattack? Having a strong cybersecurity posture can help your organization defend itself against cyberattacks, secure important information related to the business and your customers and maintain the integrity of your business.
<iframe allow="autoplay *; encrypted-media *; fullscreen *; clipboard-write" frameborder="0" height="175" style="width:100%;max-width:660px;overflow:hidden;background:transparent;" sandbox="allow-forms allow-popups allow-same-origin allow-scripts allow-storage-access-by-user-activation allow-top-navigation-by-user-activation" src="https://embed.podcasts.apple.com/us/podcast/cyber-security-what-small-businesses-need-to-know/id1507824762?i=1000583429510"></iframe>
Cybersecurity Tips for Your Business
Cybersecurity can be defined as the practice of defending computers, servers, mobile devices, electronic systems, networks, and data from malicious attacks, unauthorized access, or criminal use. The Small Business Administration (SBA), the U.S. Cybersecurity and Infrastructure Security Agency (CISA) and the Federal Trade Commission are excellent resources that offer additional tips for combating cyberattacks.
IT experts agree that employees are often the weakest link in the fight against cybercrime. They often make critical mistakes because they lack the knowledge and training to recognize warning signs or avoid improper behavior while working online.
Here's a list of tips to aid in cybersecurity training and greatly enhance the security of your business data:
Cybersecurity Dos
Use strong passwords and regularly change them. Also, use strong password managers (security questions)
Use good internet browsing practices
Keep software up to date, including latest anti-spyware and anti-virus software, that secures your computers, phones, and tablets
Enable authentication tools (e.g., authentication apps, multi-factor authentication, and more)
Enable your operating system's firewall, which can prevent outsiders from accessing data on a private network
Limit access to PII and PHI. Only employees whose job responsibilities explicitly require access to Personal Identifiable Information (e.g., Social Security number, bank account number) and Protected Health Information (e.g., health records, other medical information) should be granted it.
One key component is to provide cybersecurity tips for employees such as training and encourage reporting of suspicious emails or online content. Implement regular courses through a Learning Management System and update the training regularly.
Cybersecurity Don'ts
Downloading software from the internet or clicking on internet links that launch websites or web ads
Don't respond to emails, open email attachments, or click links embedded in emails that include typos, spelling errors, incorrect grammar, or pop-up windows. Beware of suspicious subject lines and "urgent" calls to action.
Don't enter personal or financial information into web forms that don't come from a trusted source.
Don't respond to the IRS by email or social media. The IRS does not initiate contact with taxpayers by email, social media, or even by phone. Any contact in this manner is a scam.
What are the Risks of a Cybersecurity Threat?
Cybersecurity threats loom over every business, large and small. And the proliferation of connected systems and devices makes cybercrime and disruption more tempting for those intent on committing a crime. A story reported by the BBC in February of 2022 cited new analysis that nearly 75 percent of the money made from ransomware attacks in 2021 went to hackers linked to Russia, and other statistics report that ransomware in Russia is a projected $21 billion industry in 2022.
In the event of a business cybersecurity breach, there are many potential ramifications for an organization. Some of the consequences might include:
Revenue loss: Shutting down a compromised website could hinder sales or cause website visitors to take their business elsewhere. Repairing damaged systems could come with a hefty price tag. Hiscox found that 71% of U.S. firms targeted in a ransomware attack paid a ransom to either recover data or to prevent publication of sensitive information.
Reputational damage: The Hiscox report also noted that nearly a quarter of businesses that were attacked received negative publicity as a result.
Regulatory costs: With recent laws enacted such as the California Consumer Privacy Act (CCPA), businesses could face penalties in the wake of a security breach. Hiscox reported that 18% of U.S. firms targeted paid a substantial fine that had a significant impact on the financial health of the business.
Lost customers: A security breach can impede an organization's ability to attract and keep customers. Hiscox reported that 19% of respondents who suffered a cyberattack lost customers, with nearly just as many (18%) saying they had greater difficulty attracting new customers after the fact.
Types of Cyber Attacks You Should Know About
Digital malicious attacks come in an array of forms. Innumerable computer viruses, codes, and applications of malware are unleashed on the public every single day. Some of the most common and dangerous forms employ similar tactics.
Smishing
Smishing is the latest technique by bad actors to gain access to information. It's like phishing but comes via text where there are fewer protections in place and uses all the hallmarks of phishing; demands for urgency, appearance that text is coming from trusted source, links to malicious websites.
Phishing or Business Email Compromise
One of the most invaluable business cybersecurity tips is handling any suspicious email with great care. Experts urge people looking at iffy emails to hover over hyperlinks (without clicking on them) to determine whether they'll send you to an unfamiliar or suspicious web page. If it is an email that originates from your ISP, bank, or credit card company, remember that these institutions will never ask for sensitive information like your password or Social Security number. According to FBI statistics for 2019, business email compromise accounted for $1.7 billion in fraud losses.
Malware (Adware, Spyware, Ransomware)
These insidious attacks assume many guises, the most pernicious of which is called ransomware. When opened, this malicious software seizes crucial files and keeps those files "hostage" until the victim pays ransom to decrypt them. Ransomware gets into a business system when unsuspecting users:
Download materials from a compromised website.
Open a fraudulent email attachment.
Employ an unauthorized USB stick or some other external media device.
Social Engineering (Identity Theft)
Cyber criminals exploit our natural tendency to trust a message we receive and/or assist someone we believe to be in need. If someone you know sends you an email containing a link they want you to click on, or an attachment contains what you're told is a photo or other attachment they want you to see, don't do it if there's the slightest suspicion that something's wrong.
Distributed Denial of Service (DDoS)
Cyber criminals barrage a company's server, overwhelming it so that it slows significantly or even crashes. The system stops working at this point. This is perhaps the most common form of assault on cloud infrastructure and storage.
Password attacks (or Brute Force)
This type of cyberattack occurs when a hacker uses software to determine (and then steal) working passwords.
Data leaks
A data leak, which is the intentional or unintentional release of secure or confidential information to an untrusted third party, can damage both a business as well as its employees and customers.
Viruses
There are many ways that a computer virus can spread: a user can open an attachment in a phishing email, run an executable file, visit an infected website, or use an infected removable storage devices, such as a USB drive.
Develop an Effective Cybersecurity Plan
Cybersecurity for your business could be simplified to mean just good decision-making. And not just by employees but by business owners as well. Think: Have you taken the cybersecurity threats seriously enough? Do you have up-to-date software to protect your business from the types of cyberattacks that could catastrophically damage it? If the answer is no or you're unsure, develop a cybersecurity plan.
These tips might increase the odds of adequate data protection in your favor:
1. Regularly assess existing risks and update IT systems.
It's essential to conduct a thorough assessment once a year (or every six months, preferably), with an emphasis on exposing vulnerabilities of those key assets containing confidential information and intellectual property. Also, commit to routine maintenance and regular software updates on all company devices.
2. Back up your systems in the cloud.
Businesses with a cybersecurity plan that store data properly are far less vulnerable to ransomware. Files should be backed up daily in multiple secure locations, such as the cloud or a hybrid data center, to ensure you have continual, uninterrupted access to the data you need if an attack occurs.
3. Undertake an aggressive employee cybersecurity training program.
Security is frequently compromised by user mistakes or carelessness. Consider implementing a cybersecurity training program that takes place on a regular basis so employees understand how critically important it is to maintain vigilance and to use good judgment with sensitive business data.
4. Install mobile-device security measures.
Use of mobile devices to work and communicate throughout the company increases the likelihood of a malicious attack because the channels are unsecured. Establish policies to:
Restrict the types of information these devices can access and share
Determine whether mobile devices provided by the business can be taken off-site
Enforce network access control, whereby employees can access your business's VPN and email in a secure, reliable manner.
5. Plan a response to an unauthorized intrusion.
A comprehensive incident response plan that stresses the need to immediately contact the help desk or IT team might significantly curtail the effects of an attempted data breach. Taking a proactive, strategically defensive stance can typically minimize the risk to your business and customers, enabling you to continue to focus on other vital aspects of operations.
Make Sure Your Business is Protected from a Cyberattack
Your current business insurance coverage might not include the range of expenses incurred by many types of cyberattacks — from interruption of business operations and the need for customer notifications to comprehensive security upgrades and the effort required to restore your company's damaged brand. For these reasons, consider cyber liability insurance as part of a broader cybersecurity plan and in tandem with your regular business insurance and employment liability policies.
An effective cybersecurity policy can help secure business interruption protection and cover legal fees incurred by judgments or settlements. Contact a professional to learn more about cyber liability coverage.