Hiring Services & Solutions
How you select and hire employees is critical to the success of your organization. Combine our state-of-the-art technology with 50 years of HR experience by enlisting our HR services team to assist you with hiring. Our team of HR professionals can offer recommendations and support for recruiting, interviewing, and onboarding new employees. Paychex Flex® Hiring integrates with Paychex payroll to make your hiring process easier while helping you improve accuracy.
HR Technology and Support To Help You Meet Hiring Challenges
Powerful Connections
The ability to combine a recruitment management system, employee screening, onboarding with payroll, and other benefits services helps to create an efficient flow of data across your employee lifecycle.
Service When You Need It
What happens when you have a question? You'll get answers when you need them and where you need them, online or over the phone from our 24/7 Dedicated Service Center.
Dedicated HR Advice
We give you the option to work directly with a dedicated HR professional who works to learn about your business, explain compliance obligations that may impact your business, and provide input on how to keep your policies up to date.
Recommended for You
Key Takeaways
65% of employees consider themselves a "quiet quitter."
Quiet quitters are 36% more likely to say their manager influences their work ethic.
To weed out potential quiet quitters, 61% of HR professionals ask interviewees what they love about their current or previous role.
A Shift in Workplace Philosophy
"Quiet quitting," or doing the minimum amount of work required to keep a job, is rapidly spreading through the workforce. To find out how this trend affects workplaces, we surveyed more than 1,000 full-time employees about these behaviors and the reasons behind them. We also asked hundreds of human resources (HR) professionals about their strategies for identifying and handling quiet quitters. Read on to find out how businesses try to prevent quiet quitting and how you can catch it before it happens in your workplace.
Why Employees Quietly Quit
To begin our investigation into quiet quitting, we asked survey participants how they define it, if they consider themselves a quiet quitter, and what factors impact their work ethic.
Forty percent of employees surveyed define quiet quitting as only taking on work tasks within their job description. For them, duties assigned outside work hours, special projects, and the like, aren't required and, therefore, not their responsibility. They clock in, do their job, and clock out.
Another 24% define quiet quitting as setting firmer boundaries at work, possibly in an attempt to ensure their career doesn't infringe too much on their personal life. Having a good work-life balance is an issue many struggled with during the pandemic, particularly after switching to a work-from-home lifestyle. Our remaining respondents view quiet quitting as an indirect or slow way to quit their job: 23% say it's a way to get fired rather than quit, and 10% define it as a decline in work before resigning.
Based on these definitions, 65% consider themselves quiet quitters, with remote workers being most likely to do so (81%). Hybrid workers have the second highest rate of quiet quitting (61%), while in-office workers are the least likely (38%). Some aspects of quiet quitting might be easier to get away with while working from home versus at the office, where employees tend to be monitored more closely. With this in mind, our findings make it easy to see why companies are eager for employees to return to the office.
So, why are many employees suddenly choosing to forgo any duties beyond their job responsibilities? The majority of quiet quitters say their manager affects their work ethic (57%), as does their mental health (55%), and salary (51%). Employees who feel they are not adequately compensated may also be less willing to tolerate an unpleasant boss or unbearable co-worker — both factors that have impacted the work ethic of more than half of those we surveyed.
On the other hand, other employees who don't consider themselves quiet quitters said it's the job itself that drives their work ethic: More than half (61%) say their job responsibilities influence their work ethic. As with their quiet quitting counterparts, mental health concerns influence many (52%), while less than half name their salary (49%), manager (42%), workplace conditions or atmosphere (38%), or co-workers (36%) as main influences on their work ethic.
Whatever has caused their demotivation, the difference between the workplace philosophies of quiet quitters and other workers has significantly impacted their job security. Within the last year, 69% of quiet quitters received a warning at work compared to only 16% of those who didn't label themselves quiet quitters. And, nearly three-quarters of quiet quitters have been fired in the past year compared to only 16% of other employees.
How Can You Tell If Your Employees Are Quietly Quitting?
The warning and firing rates of quiet quitters illustrate how managers have stood firm against these employees' dwindling attention and work quality. Unfortunately, these high employee turnover rates can put a particularly heavy strain on HR departments. So, how are HR professionals handling this phenomenon?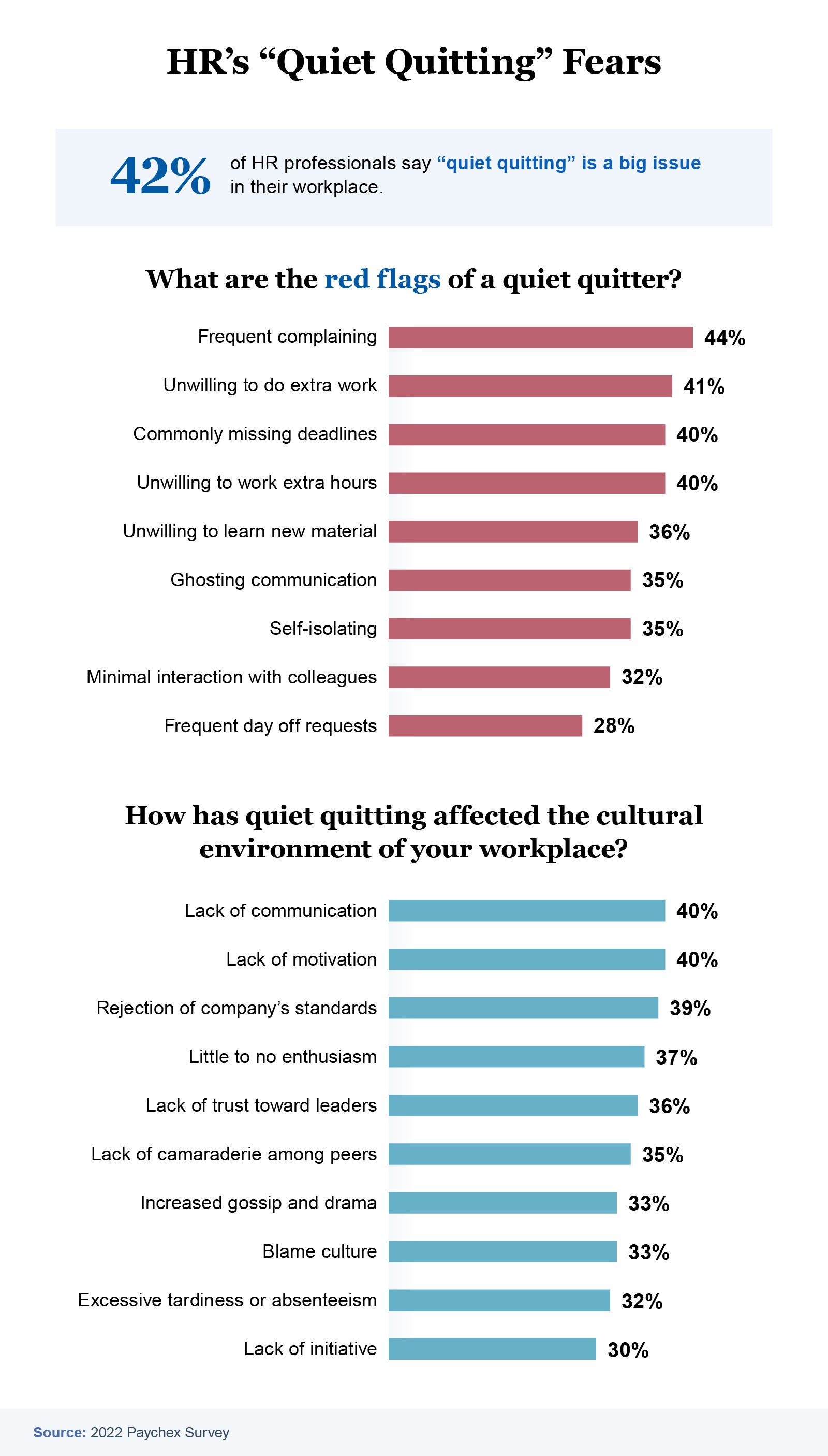 HR employees are on high alert for quiet quitters, with 42% of those surveyed saying it's a major problem in their workplace. As such, they pointed out some red flags to help you spot the behaviors associated with quiet quitting.
The biggest red flag HR professionals note is constant complaining (44%), closely followed by an unwillingness to do extra work (41%), and regularly missing deadlines (40%). Isolation (35%) and minimal interaction with colleagues (32%) are other red flags.
In short, quiet quitters are impacting more than just their own work — they're affecting the entire workplace. HR professionals say quiet quitting contributes to a work culture lacking in communication and motivation (40%), adherence to company standards (39%), and camaraderie among peers (35%). Quiet quitting also increases gossip, drama, and blame, according to 33% of HR professionals.
Identifying and Remotivating Quiet Quitters
With quiet quitting causing such a disintegration in workplace productivity and morale, HR professionals have come up with ways to stop it in its tracks. What are they doing to get quiet quitters motivated to do their best work, and how are they keeping unmotivated prospects off the payroll from the start?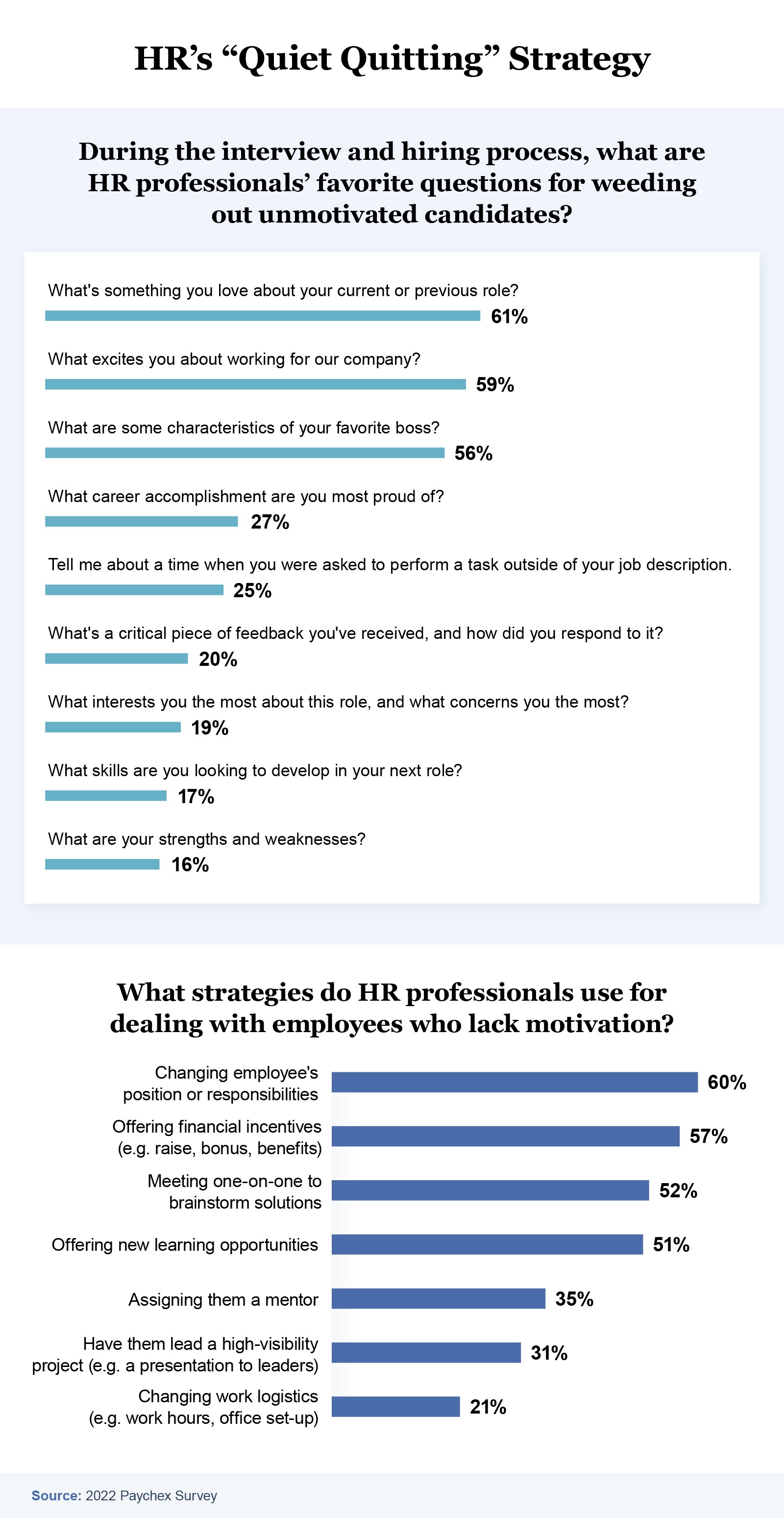 HR professionals say they ask pointed questions in job interviews to weed out unmotivated candidates. The question most asked by HR during hiring is, "What's something you love about your current or previous role?" Designed to uncover the level of interest someone has in their work, this question can quickly determine if a candidate is motivated by a love for the job or is just looking to fill their nine-to-five.
The third most asked question is, "What are some characteristics of your favorite boss?" In addition to displaying the candidate's level of enthusiasm about their job, this question can also reveal their relationship with a former employer. It might be a red flag if they can't think of anything they love about a former boss (or worse — if all they have are complaints).
Despite an organization's best efforts to keep unmotivated employees off of payroll, it may be inevitable. Even the most highly motivated employees can face burnout and fade into quiet quitting mode. Luckily, HR professionals have developed some strategies for reengaging these employees. The No. 1 strategy HR professionals note is changing an employee's position or responsibilities (60%).
Financial incentives — including raises, bonuses, and benefits — are another commonly used strategy (57%), tackling an issue reported by many quiet quitters: salary. The third most common strategy is to hold a one-on-one meeting with the employee to brainstorm solutions for improving their engagement, together (52%). These meetings can not only make an employee feel valued; it can offer them an opportunity to voice concerns they may not feel confident bringing up on their own, and give them a greater sense of control over their position.
Overcoming Quiet Quitting
The "bare minimum" philosophy of quiet quitters is disrupting the productivity and culture of many businesses. While a legitimate concern for employers and HR professionals, it's also an attempt to achieve work-life balance — an issue present throughout the pandemic that persists for many today. This means it's become more important for the "work" half of that balance to include substantial purpose and reward. For some quiet quitters, that purpose is found when an employer demonstrates a commitment to their mental health and makes the employee feel heard, valued, and in control. For others, the reward is more straightforward: more pay for the work.
To focus more on employees' well-being, employers can offer the option for employees to switch up their job responsibilities, allowing them to work on what interests them so they can stay engaged. HR professionals can help by meeting with and listening to employees, helping them to feel heard and maintain a sense of ownership over their position. And, of course, employers can also make employees feel valued through monetary incentives. Changes like these can combat the troublesome trend of quiet quitting and bring positivity and productivity back to the workplace.
Methodology
Paychex surveyed 1,042 full-time employees about "quiet quitting," with 204 of those surveyed being HR professionals. As for workplace status, 46% of employees surveyed worked remotely, 30% worked a hybrid schedule, and 24% worked in the office.
About Paychex
Paychex is a leading provider of integrated human capital management solutions for human resources, payroll, benefits, and insurance services. Founded over five decades ago, Paychex simplifies the complex processes of running a business, so you can focus on what matters most.
Fair Use Statement
If you've found our study about quiet quitting interesting and useful, you're welcome to share our data for noncommercial purposes. Please link back to our study so we can get proper credit for our exploration of quiet quitting and its effect on the workplace.
As we move into the second half of 2022, attracting and retaining talent continues to be a top priority for many business leaders, in a work environment that has been greatly reshaped by the COVID-19 pandemic. Many employees are continuing to re-evaluate their priorities and values, with the impact being mass resignations and a highly competitive talent marketplace for employers.
HR leaders admit that their companies are still struggling with critical hiring and retention goals. According to the 2022 Paychex Pulse of HR survey1, half of respondents said their organizations are not effective at hiring, onboarding, and retention.
<iframe allow="autoplay *; encrypted-media *; fullscreen *; clipboard-write" frameborder="0" height="175" style="width:100%;max-width:660px;overflow:hidden;background:transparent;" sandbox="allow-forms allow-popups allow-same-origin allow-scripts allow-storage-access-by-user-activation allow-top-navigation-by-user-activation" src="https://embed.podcasts.apple.com/us/podcast/hiring-trends-according-to-indeed-com/id1498794200?i=1000583909786"></iframe>
Recruiting Trends
Recruiting Moves from Reactive to Proactive
The future of recruitment will be proactive, intentional, and highly targeted. Recruiting trends will involve actively searching for candidates for specific positions and creating groups or categories of candidates be ready when specific jobs become available. Recruiters and employers will pick out potential employees before the hiring demands are apparent.
Proactive recruiters will be first to the table with ready-now candidates in an attempt to make their placements quicker, beating out the competition. This will require building relationships, nurturing talent pools for future posts, and understanding the skills needed to hone recruitment efforts and stay ahead of recruiting trends.
HR leaders today say the top five most effective tactics that they have deployed to encourage candidates to accept job offers include1:
Offering higher pay
Offering remote/flexible work
Emphasizing company culture
Making offers quickly and using salary/compensation benchmarking to create competitive offers
Emphasizing career advancement/development paths
Extending Recruiting on Social Media
As businesses use social channels to grow their brands and generate leads, digital recruitment via social media is equally valid for recruiting talent. Social outlets such as LinkedIn, Indeed, and Glassdoor can be integral to the future of hiring. Posting job opportunities and targeting social media platforms may be a very successful way of recruiting talent that can be targeted to your industry and the skills you are seeking. You can even narrow searches to specific candidates who are actively seeking new employment opportunities. When your company uses modern recruitment tools like social media to build a relationship with your target audience, you are more likely to attract quality applicants and stay on top of hiring trends.
Creating Diverse and Inclusive Environments
Diversity, equity, and inclusion (DEI) programs can deliver positive business benefits, and HR leaders recognize this. Seventy-one percent of HR professionals said their companies are doing at least one of the following1:
Offering bias and other DEI-related training
Ensuring that vendors and partners have a proven commitment to DEI
Making DEI guidelines and documents easily accessible to employees
Getting help from an HR or DEI consultant to create a plan
Beyond aspects such as age, race, and gender, companies may also consider flexible work options and customized benefits as part of their diversity initiatives and ensure they are taking an equitable approach to give all workers a fair chance of doing their best work. Using AI and inclusive technologies may help companies weed out bias so that you won't miss out on great talent.
Offering Employee Benefits That Are Valued
Gaining a competitive edge in talent acquisition means offering valued and meaningful benefits. Health and retirement benefits, as well as financial and mental health counseling services are a great way to support the physical, emotional and financial well-being of your employees. Rewards and recognition programs, in addition to offering robust learning and development opportunities, can also help employees feel more engaged with your company. Consider conducting regular surveys to gauge which benefits are valued most by your employees, to give your business a competitive edge.
According to the 2022 Pulse of HR, organizations have increased the benefits they are offering by an average of 22%, compared to what they were prior to the COVID-19 pandemic1.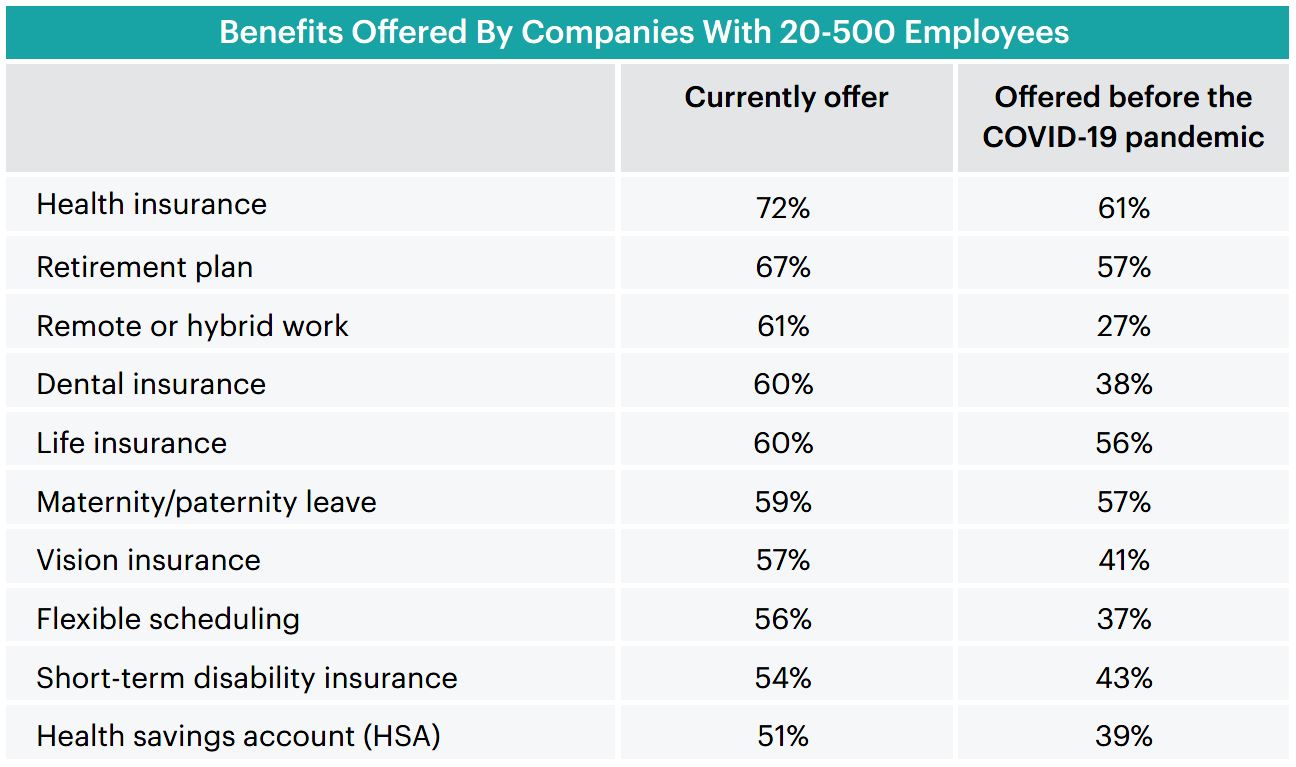 Hiring Trends
Hiring for Soft Skills; Training for the Job
When you're competing for talent in a tough employment market like the one we are in today, you can try pivoting your approach and consider what skills are needed to align with your culture and employer brand, rather than just focusing on the specific job that needs to be filled. For instance, soft skills, such as problem-solving, collaboration, and leadership, can be more challenging skills to hire for than hard skills like accounting, technical support, or cashier processes. A candidate's soft skills can significantly influence their ability to fit in with your culture. Explore recruiting for soft skills you might want to bring into your organization, knowing you may be able to train a candidate on some of the hard skills required to execute on the job, such as learning your administrative processes and technology platforms.
Emphasis on Employer Branding and Company Values
To recruit and hire the best talent and stand out from the competition, employers may create a candidate experience that is compelling, positive, and distinct Employees may be looking to join a company aligned with their purpose and values, one that will help deliver meaning in their work. In addition, employees evaluate companies based on their employer brand: what they stand for, how they treat their employees, their company values, opportunities to learn and grow marketable skills, and competitive compensation and benefits.
Internal Recruiting and Hiring
Tapping into internal talent pools can help fill talent gaps by focusing on upskilling and reskilling current employees to meet changing and future business needs. Often great candidates can be hidden in plain sight when recruitment efforts are focused outside of a company. Intelligent companies are focusing on their future by using internal recruiting for talent mobility.
Providing ongoing opportunities for career development is one of the best benefits your organization can offer employees. It shows your commitment to their career well-being. Today's employees seek opportunities to develop skills that have marketable value both within the future of your business and outside of your employment. Help employees know what future skills are needed for success and provide opportunities to develop their skills sets and career paths to demonstrate you are invested in their growth and development. This will also help you stay abreast of current and impending recruitment and hiring needs to inform your talent acquisition strategy.
Hiring Remote Workers
While working remotely became the default operating environment during the COVID-19 pandemic, both employers and employees have determined that it's here to stay. In fact, four in 10 HR leaders with a remote workforce say that remote/hybrid work improves employee emotional/physical/financial well-being, boosts retention, enhances quality of work, and increases productivity.That may be why the number of companies offering remote or hybrid work has increased by 124% since before the pandemic, and those offering flexible scheduling have increased by 50%.1
As a result, the hiring of remote workers continues to place importance on digital hiring trends. Use modern recruiting techniques such as video interviewing and scanning social media channels for the latest hiring practices that aren't limited by geographic proximity.
Stay Ahead of These Hiring and Recruiting Trends
As we begin 2022, many businesses are focused on re-establishing goals, work norms, and business models, and reinvigorating the workforce. As a result, organizations struggle to keep pace with the ongoing changes they face. Staying ahead of hiring and recruiting trends will help you better compete for talent.
The competitive talent and recruitment market can be complex. Understanding modern recruitment trends and their impact on your business will help you attract talent to your organization. Using hiring services and HR expertise from third-party providers can go a long way to help you with your talent recruitment needs.
Professional employer organization (PEO) services provided by Paychex Business Solutions, LLC (Florida employee leasing license GL7), Oasis Outsourcing, LLC (Florida employee leasing license GL42), and their affiliates, which are licensed or registered to provide PEO services where required by law.
---
1 The 2022 Paychex Pulse of HR Survey was conducted via an online survey from April 15 - May 6, 2022, among 1,000 HR decision-makers at U.S. companies with 20 or more employees. It is the sixth in an annual series of benchmark surveys investigating HR leaders' challenges, priorities, and use of technology.
Knowing what's required for effectively recruiting and hiring employees may be among a business's strongest assets. As the economy slowly emerges after the challenges of the last two years, recruiting and hiring qualified employees has become a top priority for many. That's why it's vital for employers to equip themselves with the skills and knowledge needed to bring new employees on board.
Employee Recruiting Process: How To Hire Employees Effectively
When taking steps to hire employees, the importance of preparation can't be overstated. Generally, there are three phases of the process for hiring a new employee, for which preparation is key:
Evaluating the needs of the business (including creating job descriptions)
Recruiting
Interviewing
Knowing and following these steps to hire an employee can help reduce unnecessary expenditures of resources or the duplication of efforts within the business.
Here are some key steps for effectively hiring new employees.
Evaluate the Needs of the Business
It's challenging to focus on hiring employees if you are unclear about the needs of the business or the position itself. Employers should identify where there are talent gaps in the business and the need for an employee.
A job analysis can help identify the skills, knowledge, education, abilities, and experience a prospective candidate should possess to perform a specific job. Your challenge is to determine the level of work experience needed, as well as the appropriate levels of education, training, and/or need for certification. One tip: When possible, assess the knowledge, skills, and abilities of individuals who have successfully performed this role, and factor relevant criteria into the job analysis. However, it's important to analyze the position and how someone could effectively perform in it, not just those who have previously held the job. For comparative purposes, consider also researching similar roles and responsibilities from other companies or positions.
Creating a Job Description
Attracting qualified candidates often hinges on a carefully crafted and accurate job description. To identify the details that will shape your job description, answer questions such as:
What specific duties and essential functions will the role entail?
What skill set, education, or experience will the person need to succeed in the role and add value to your business?
Where will the person work, and during what hours? Will they be remote, fully in-person, or a hybrid of the two?
What tools, software, or technology resources will the employee be provided to do the job?
Is travel required?
Also pay close attention to:
Job title: Be sure the job title is consistent with similar positions in the marketplace. The job title should not reference or imply discrimination based on any protected characteristic (e.g. gender or age).
Key responsibilities, skills, and qualifications: A concise but appropriately detailed listing of essential and secondary functions gives candidates a better idea of what the position entails.
Formatting/Style: Stay away from long, rambling sentences, instead look to make the wording easy to skim and comprehend. Use bullet points and present-tense verbs.
In general, the more accurate your job description, the better you can maintain parameters around the types of skills or experiences you'll consider as a minimum requirement, so you can quickly screen out applicants who lack the necessary skills for the role. The more detailed you are in your description, the more likely it may be that you will attract applicants who are qualified, eager, and excited to help your business succeed.
You should also inform applicants if the work is or can be performed remotely. Flexibility in the workplace can be an enticing perk and a valuable recruiting tool, which we've seen as businesses grapple with labor shortages. If you do allow for remote work, you may also want to include certain skill sets needed for successful remote work, such as the ability to work in virtual teams and good communication skills.
Finding Qualified Candidates
You know precisely what the job entails, but what is the process of attracting qualified job candidates to fill the position? The best hiring solutions include a comprehensive strategy to attract the right job seekers from a variety of sources, including but not limited to:
Employee referrals. Who do your current employees know that might fit the bill?
Online job postings. Make use of online employment sites to advertise the position.
Networking. Turn to your professional network, asking friends and colleagues to suggest qualified candidates.
Consider past candidates if their prior information is still available to you.
Advertise on your company website. Consider drafting a compelling statement on your "Join Our Team" page, "selling" prospective employees on your company's vision, mission, and values. Let job seekers know what sets your business apart from others, and why it's such an attractive place to work. And make it as easy as possible for interested candidates to submit their application.
Keep in mind that state and/or local law may require you to disclose the expected pay range and benefits to job applicants. This disclosure may be required as early as in the job posting, while other pay transparency laws may require that this information be made available at the point of an interview or at the time an offer is made.
Following some or all of these steps for how to recruit new employees can greatly impact the time and resources you expend in search of a great job candidate.
Invest in Inbound Recruiting
Consider inbound recruiting — an online strategy that can position businesses to attract the most qualified candidates. Employee recruitment strategies include:
Cultivating a social media presence: This includes posting fresh, relevant content on a regular basis to capture job seekers' attention. This can be a great way to build relationships with people you may ultimately want to hire.
Optimizing your website: Google now ranks websites based in part on their optimization for mobile viewing, one of many reasons to ensure that your site loads quickly and easily for on-the-go job candidates.
Making your careers page an exciting place to visit: Getting a job seeker to visit your careers page is just the first step. Once there, it's imperative that the prospective candidate finds an up-to-date compilation of job listings and useful information on how to apply. You may also want to consider including a direct link to an HR staff member to empower applicants to take action and stay connected.
The more you can spread the word about job openings, the greater the likelihood of recruiting employees with the type of skills and qualifications you are seeking.
Use an Applicant Tracking System
If you've successfully leveraged the recruiting solutions mentioned above, you should receive a significant number of job applications. How can you keep track of them and, more importantly, identify the most qualified candidates?
Technology has transformed the recruiting process. Applicant tracking systems (ATS) comprised of computer algorithms can now parse large amounts of job applicant data at a far greater speed than humans can to detect patterns of behavior, candidate qualifications, and even keywords that can add visibility to job postings. ATS can also help gather insights into metrics around open positions, number of days it took to fill the position, the number of applications received, interviews conducted, and jobs offered, allowing your company to streamline and optimize each step of the employee hiring process. Even basic yet essential steps such as forwarding resumes to a hiring manager can be automated, helping to ensure nothing falls through the cracks.
By having a paperless recruiting and applicant tracking system, your business can save time and potentially reduce costs by making it easier for HR managers and others involved in the hiring process to analyze the information they receive from job seekers — and ultimately identify candidates worth pursuing more efficiently.
Have a Job Interview Strategy
After you identify candidates for the position, having a well-planned interviewing strategy can help you uncover useful information during the process. When developing your interview approach, consider the following steps:
An initial submission: This could be a simple cover letter or a list of answers to several specified questions. This requirement will help screen out candidates who are looking to submit the same resume to as many open positions as possible and will help identify those who are willing to put in effort for the right job.
A comprehensive interview: Interviews should include a mixture of questions designed to assess the candidate's skills, as well as gauge a potential fit within the company's culture. An interview should also inform the candidate about the open position and the company as a whole. Be prepared to offer this type of commentary to ensure a better employer-employee match. It's also important to train supervisors and those who will serve as interviewers on discrimination laws and provide instruction on appropriate interviewing questions.
Remote interview prep, if needed: When an interview is taking place remotely, you may want to make slight adjustments. Questions can be similar, but the tone of the interview may need to change when the conversation takes place over a video or phone call. For instance, a candidate who may be home with a child may experience interruptions during the interview. Communicate and have patience if the interviewee needs to take a quick break or step away from the call to close the door. If you're open to hiring remote workers, ask the candidates about their experience working from home and if they believe they can thrive in this type of environment.
Keep candidates in the loop: Keep your candidates in the loop after the interview and set post-interview expectations of when they can expect to hear from you. Sticking to them may help employer avoid losing candidates to other employers.
Interview follow-up: Gather feedback from everyone involved in the process to help you decide your next steps in regard to each candidate.
While you may hope to find your perfect candidate and get them working quickly, rushing the interview process can result in a poor match for your company, a candidate who doesn't fully understand the demands of the job, or lost time and wages in having to replace an under-qualified worker.
Conduct Background and Reference Checks
When you're down to your top candidate who may seem perfectly suited for an open position and ready to make an offer of employment, consider the benefits of extending a contingent job offer subject to a thorough background check. The candidate should authorize a background check as part of the application process, through a separate release form, which allows you to make the necessary inquiries to validate prior employment. Additionally, know that federal, state, and/or local laws may restrict the information employers are permitted to obtain and/or use prior to an offer of employment or that they may use in an employment decision. Learn more about pre-employment background check laws and regulations.
A background check may include verifying certain information the candidate has on their resume, such as educational credentials and prior work experience. It's also recommended that you contact any references the candidate has provided.
The cost of unsuccessful hires can be staggering, both in terms of money lost and a demoralizing effect on the workplace. Avoid typical hiring mistakes — such as overlooking the potential of internal candidates or skipping background checks — by working closely with your HR team.
Selecting a Candidate
A thorough interviewing process will hopefully help you and your team select a great candidate who can bring the right qualifications and values to the business. Once you feel confident in making a decision, the next steps in selecting a job candidate include:
Making a contingent job offer and sharing compensation package details: Often a member of human resources or a hiring manager will contact the candidate directly to extend a job offer. This will be accompanied by a formal letter or communication that includes specific details about the candidate's total compensation package (pay, benefits, perks, etc., if this information isn't required to be disclosed before the offer stage). It may also include details regarding the contingencies, i.e., background check, drug test where applicable, and the candidate's proposed start date.
Negotiating, if necessary: If the candidate comes back with a counteroffer on pay or benefits, there may be a period of negotiations. It's important to have concrete deadlines set for both parties to keep the selection process moving along.
Informing other candidates: The ways in which you turn down other candidates can speak volumes about your recruiting process. Aim for clear, timely, and professional communication, rather than long delays or a lack of follow-up. Consider the possibility that candidates may be a fit for a different role in the future, which is why it's important to give them a positive experience with your company.
The Onboarding Process After Hiring a New Employee
The most successful hiring strategy emphasizes the value of a comprehensive employee onboarding process. The sooner you help the new hire become engaged with your organization, the more you increase the chances that they will stay with your business for years to come. Follow these crucial onboarding steps:
Have Your Onboarding Paperwork Ready
When hiring a new employee, you want to do everything in your power to make the individual feel at home with your business. Effective employee onboarding is one of the most important elements in getting the new hire oriented and comfortable and helping to ensure that the new hire stays with your company for the foreseeable future.
Whether you have an electronic or paper-based system, make sure to set up a new file for the employee. All hiring-related documentation should be stored in a personnel file as the individual transitions to employment with the company. New-hire forms will be added to the file and pertinent data uploaded to your HR platform to ensure the employee is paid correctly.
What forms are required when hiring? Documents and paperwork for hiring may vary by company or position, but will include :
Form I-9 – Employment Eligibility Verification: This establishes the employee's identity and eligibility to work in the U.S. To make sure you use the most current Form I-9, visit the USCIS website.
Form W-4 – Employee's Withholding Certificate: This outlines the amount of taxes to be withheld from wages. Find the most recent version of this form on the IRS website.
State and Local tax withholding forms: These may also need to be completed, depending on the state and locality. Check your state and local government websites to find the correct versions of tax forms.
Hiring Remote Workers
The hiring process may include specific steps for remote workers. All new hires will likely need to receive company orientation and training. While those who work in the physical workplace may receive this onsite, consider whether remote workers will need to come into the workplace or whether they can complete it online. You may also want to make sure that remote employees are added to the company's online discussion groups and welcomed by their new co-workers. All remote employees should be transitioned onto company technology platforms and assigned any equipment required to perform their jobs from a remote location.
With all of these considerations in mind, learn more about the benefits of streamlining the new employee onboarding process, including the benefits of automating employee onboarding for both onsite and offsite team members.
Additional Considerations When Hiring Employees
An important note when hiring an employee: some states may have specific new-hire notification requirements. These include, but aren't limited to:
Paid sick leave notifications
Wage-theft prevention and unemployment notices
Sexual harassment and workers' compensation pamphlets
It's particularly important to review your policies with your HR team or legal counsel — including sick leave and paid time off — prior to bringing back or hiring new employees to be sure the company is in compliance with federal, state, and local laws and regulations.
When in Doubt, Over-Communicate
Don't forget that communication is key — especially now.
Many companies will likely rely upon flexible work schedules and remote work arrangements as back-to-business efforts from the impact of COVID-19 continue. At the time of the offer make sure to clearly communicate changes to new (and rehired) employees, it will be crucial to your return-to-work strategy and could be important in a candidate's decision to accept the offer.
Additionally, make sure you are communicating any new workplace safety protocols — such as cleaning practices or social distancing measures — to help ease any potential employee concerns about coming into the workplace.
How Hiring Services Can Help
Looking for additional guidance on how to improve your hiring and recruiting process? Hiring services can provide innovative solutions as well as reliable, actionable HR advice to help you understand how to recruit and hire the best candidates for your role, uncover important information about potential employees, and efficiently welcome new hires in a way that makes an impact. Beyond hiring, learn how Paychex HR Services can provide assistance to help with your business's current and future HR challenges.