Hiring Services & Solutions
How you select and hire employees is critical to the success of your organization. Combine our state-of-the-art technology with 50 years of HR experience by enlisting our HR services team to assist you with hiring. Our team of HR professionals can offer recommendations and support for recruiting, interviewing, and onboarding new employees. Paychex Flex® Hiring integrates with Paychex payroll to make your hiring process easier while helping you improve accuracy.
HR Technology and Support To Help You Meet Hiring Challenges
Powerful Connections
The ability to combine a recruitment management system, employee screening, onboarding with payroll, and other benefits services helps to create an efficient flow of data across your employee lifecycle.
Service When You Need It
What happens when you have a question? You'll get answers when you need them and where you need them, online or over the phone from our 24/7 Dedicated Service Center.
Dedicated HR Advice
We give you the option to work directly with a dedicated HR professional who works to learn about your business, explain compliance obligations that may impact your business, and provide input on how to keep your policies up to date.
Recommended for You
It's been a tough few years economically in the U.S. The pandemic and inflation have upended peoples' lives physically, mentally, and financially, making retirement seem even more like an improbable dream than before for many young people. As a result, some are adjusting their retirement goals.
But how is all of that affecting people who have already retired? To find out how many retirees are rejoining the workforce and what the experience is like for them and their employers, we surveyed 930 American employees, current and former retirees, and 206 hiring managers about their feelings on the matter.
Key Takeaways
1 in 6 retirees are considering returning to work, and 53% want remote positions.
55% of retirees went back to work because they needed more money.
74% of returned retirees feel judged by co-workers because of their age.
62% of hiring managers are skeptical about hiring retirees.
The Need To Go Back
There has been a lot of speculation about what inflation and the current economic climate mean for retirement, with some wondering if younger generations will be able to retire when all is said and done. But are these same issues leading retirees back to work as well?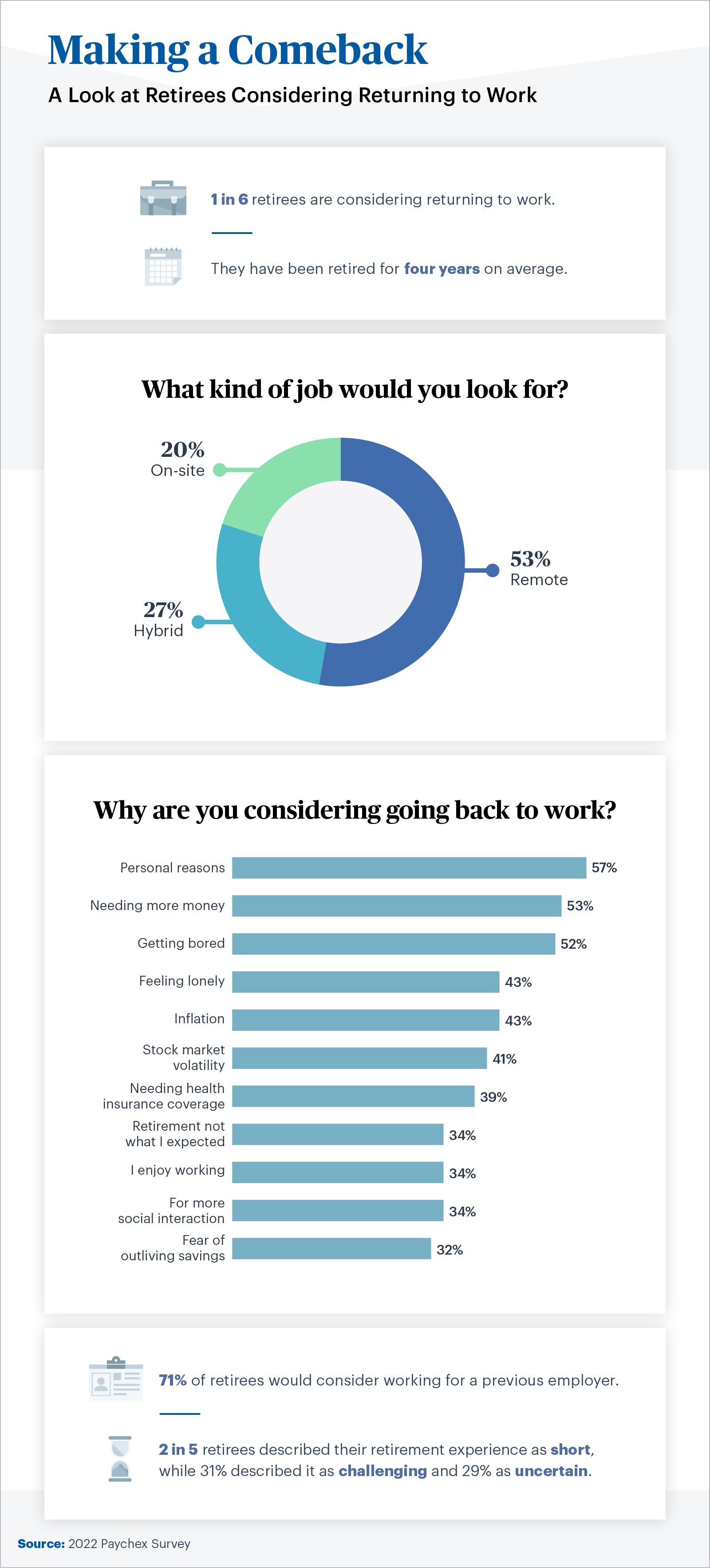 Among those we surveyed, one in six retirees are considering returning to work after being out of the workforce for an average of four years. With so many preferring to work from home these days, it's no surprise that more than half of our retired respondents would look for remote work (53%), 27% want a hybrid situation, and only 20% would seek an office job.
Most would want to work full-time (65%) instead of part-time (35%). This could be due to a need for more money — the reason cited by 53% of respondents. But nearly as many are thinking of going back to work because they're bored (52%).
Boredom is understandable, especially for those who went from working 40 hours per week to not working at all. For the same reason, it's not surprising that loneliness was the reason that 43% of retirees are considering working again. But the same number are also doing so because they're concerned about inflation.
Employment After Retirement
While their reasons may vary, many retirees have already decided to go back to work. Let's see what prompted them to return to the workforce and how they feel about it now.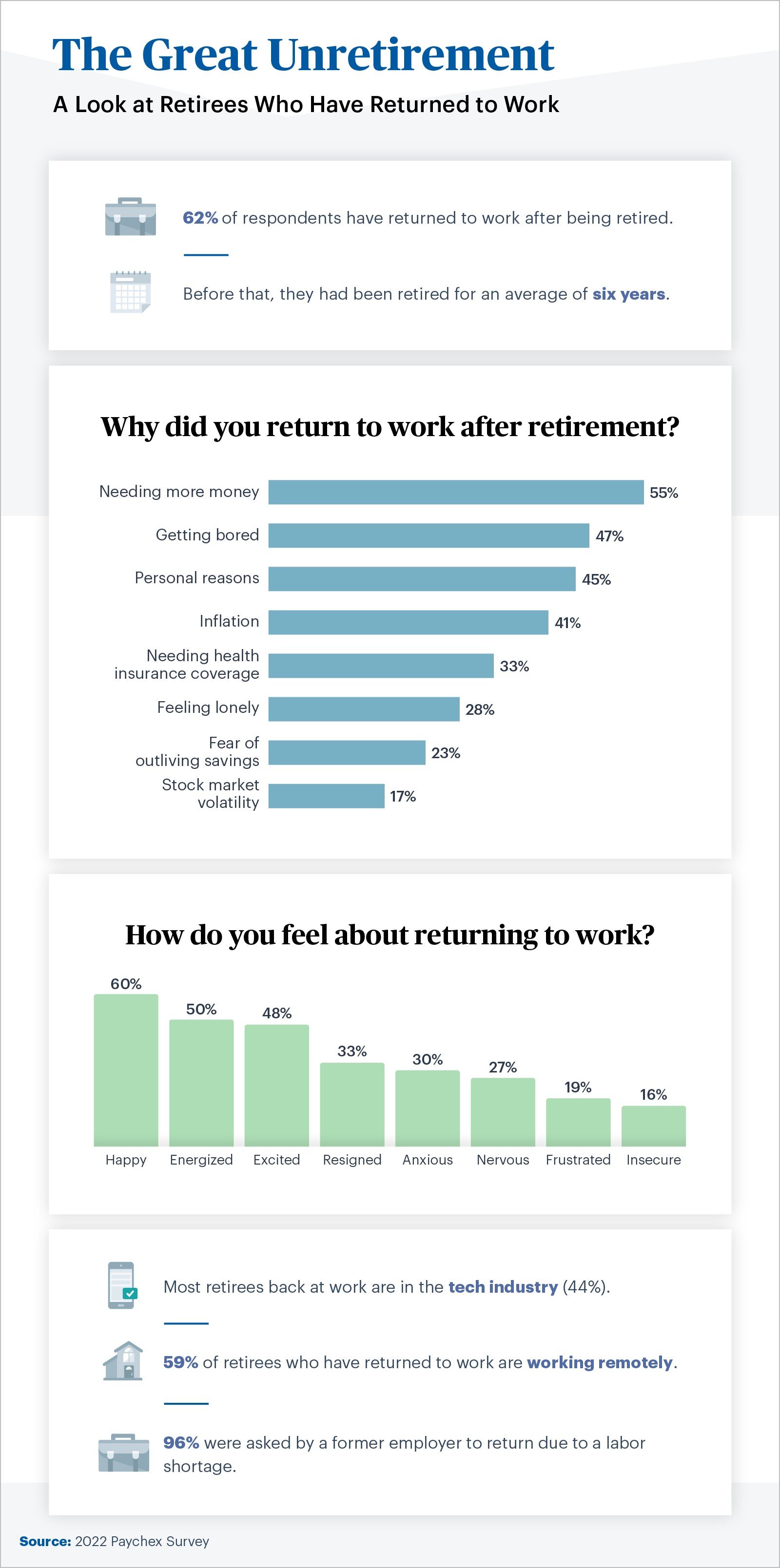 The overwhelming majority of retirees who returned to work have faced judgment from their co-workers (74%); only 3% haven't. Most of those working in finance (87%), education (83%), and information technology (72%) have experienced such discrimination.
One particular form of ageism that retirees feel they are dealing with when returning to work is younger employees making them feel insecure about their abilities, with 71% sharing this sentiment. With many having to work for employers who are younger than them, we were glad to learn that only 12% of our respondents find this extremely difficult. The majority feel that it's, at most, only a moderate challenge.
Recruiting Retirees
The state of our economy has pushed many to take serious measures to make more money — workers and retirees alike — such as getting second jobs. Is the competition making it harder for retirees to go back to work? And how do managers feel about hiring them?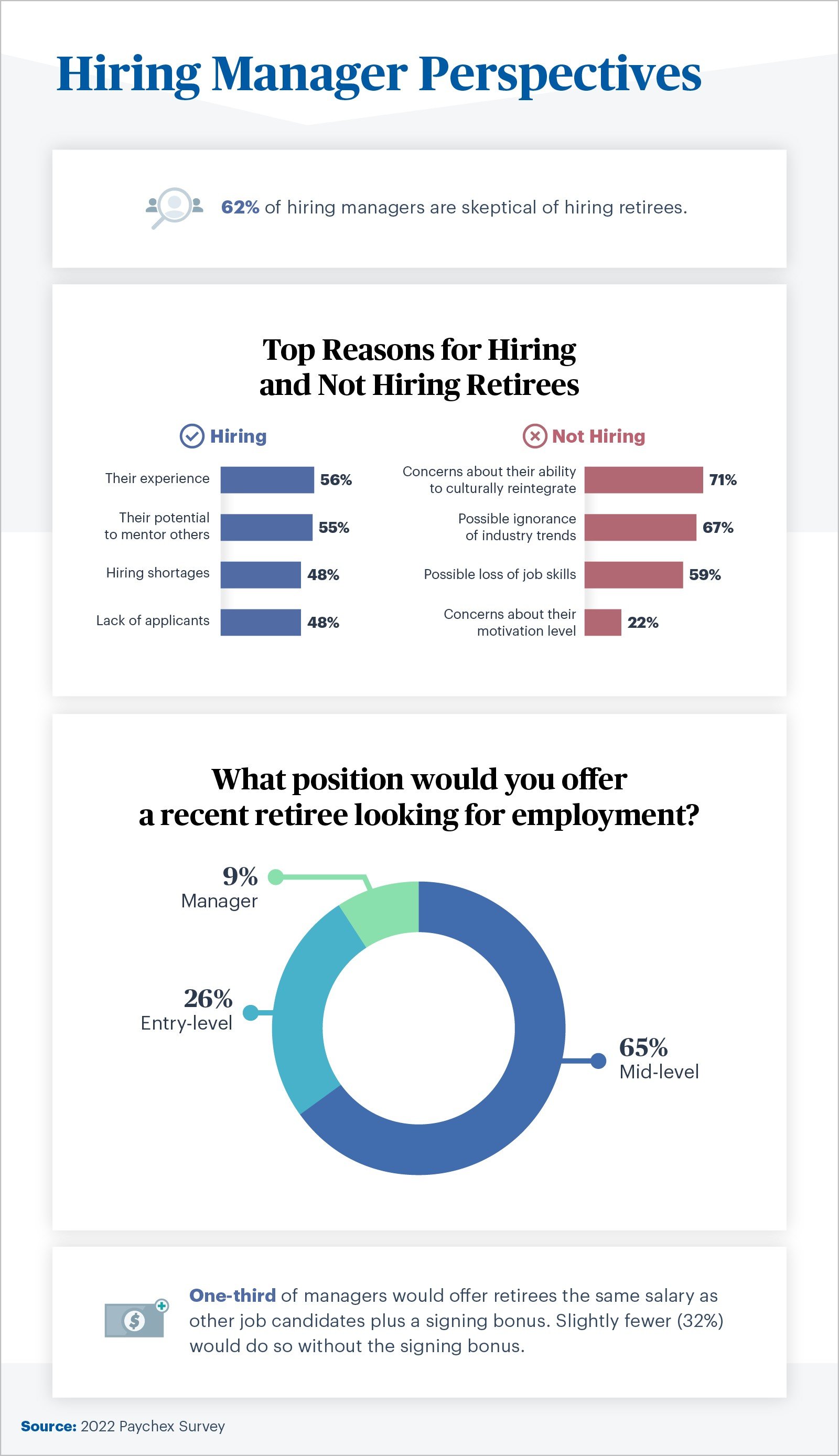 Our findings show that 62% of hiring managers are skeptical about hiring retirees, but they also shared some potential pros and cons. According to 56% of the hiring managers we surveyed, the main reason for hiring a retiree is their many years of experience. Nearly the same number feel that retirees can make great mentors in the workplace.
But the biggest reason to not hire a retiree is cultural, say 71% of hiring managers. Can these candidates integrate into the current company culture? This concern is followed by uncertainty about their knowledge of industry trends (67%) and whether they still have the skills needed for the job (59%).
When onboarding retirees, the top strategy hiring managers employ is taking it slow (50%) in case they need more time to adjust to the job. The next most common tactic was avoiding abbreviations and jargon that these new or returning hires may not understand (48%), followed by providing templates to help them find their bearings (44%).
<iframe allow="autoplay *; encrypted-media *; fullscreen *; clipboard-write" frameborder="0" height="175" style="width:100%;max-width:660px;overflow:hidden;background:transparent;" sandbox="allow-forms allow-popups allow-same-origin allow-scripts allow-storage-access-by-user-activation allow-top-navigation-by-user-activation" src="https://embed.podcasts.apple.com/us/podcast/helping-your-business-overcome-retirement-plan-barriers/id1507824762?i=1000600897214"></iframe>
Re-entering the Workforce
With concerns about inflation strongly impacting retirement, many retirees have either gone back to work or are considering it. Luckily, many hiring managers see the benefits of onboarding these experienced job candidates, despite ageism being a problem for post-retirees. Hopefully, their return will eventually make the workplace a more inclusive and adaptable place for people of all ages.
Methodology
For this campaign, we surveyed 930 Americans to explore their retirement plans. Among them, 16% were retired, 22% were still working, and 62% were retirees who had returned to work. We also surveyed 206 hiring managers to explore their sentiments about hiring retirees.
About Paychex
Paychex provides payroll and HR services for businesses of all kinds so that you can easily take your business from startup to enterprise.
Fair Use Statement
If you enjoyed our study, you're more than welcome to share it. We just ask that you link back to these findings and that your purposes are noncommercial.
With 2023 here, attracting and retaining talent remains a top priority for many business leaders. That's largely due to lasting impacts on the professional landscape over the past few years: work environments have been greatly reshaped by the COVID-19 pandemic, many employees are continuing to reevaluate their priorities and values, and mass resignations and a highly competitive talent marketplace have created both challenges and opportunities for employers. With so much at stake, let's review what recent hiring and talent acquisition trends have emerged, and how leveraging them this year can help your business. Read on to learn more.
<iframe allow="autoplay *; encrypted-media *; fullscreen *; clipboard-write" frameborder="0" height="175" style="width:100%;max-width:660px;overflow:hidden;background:transparent;" sandbox="allow-forms allow-popups allow-same-origin allow-scripts allow-storage-access-by-user-activation allow-top-navigation-by-user-activation" src="https://embed.podcasts.apple.com/us/podcast/hiring-trends-according-to-indeed-com/id1498794200?i=1000583909786"></iframe>
Recruiting and Talent Acquisition Trends
The future of effective recruiting will center around speed, proactivity, and intentionality. Recruiting trends shed light on the importance of actively searching for candidates for specific positions and creating groups or categories of candidates to be ready when specific jobs become available. Proactive recruiters will be first to the table with ready-now candidates in an attempt to make their placements quicker, beating out the competition. This will require building relationships, using all available channels to find and connect with potential new hires, making great first impressions, and building healthy and inclusive environments.
Focusing on More Efficient and Proactive Recruiting with HR Automation
Technology can be a great resource for everything from finding new employees to pushing out communications. While many businesses still struggle with finding great talent, there's a growing — and likely lasting — trend to use HR automation to help reduce costs and increase efficiencies in recruiting processes. Results from the 2022 Paychex Pulse of HR Survey echo these sentiments, finding that while half of respondents said their organizations were not effective at hiring, onboarding, and retention, HR technology is helping to accelerate key parts of the talent acquisition journey.
What makes this trend of using HR automation in recruiting so appealing is the level of integration across the hiring process and a faster process overall. Imagine how poorly a candidate might interpret slow or poor communication from a talent acquisition team, this is where HR automation can help. Some employers are speeding up the hiring process from end-to-end by:
Using application features that integrate with sites like LinkedIn to expedite the application process;
Leveraging recruiting technology such as automated screening forms and streamlined communication to quickly vet candidates and keep them in the loop; and
Video interviewing to connect candidates and hiring managers who would otherwise experience delays and expenses associated with scheduling in-person interviews and coordinating travel.
Please note that automated screening and video interviewing may be regulated by employment laws in some jurisdictions.
Including Social Media as a Recruiting Channel
As businesses use social channels to grow their brands and generate leads, digital recruitment via social media is equally valid for recruiting talent, especially younger hires. Platforms such as LinkedIn, Indeed, and Glassdoor can be integral to the future of hiring. Posting job opportunities and targeting social media platforms may be a very successful way of recruiting talent that can be targeted to your industry and the skills you're seeking in a new hire. You can even narrow searches to specific candidates who are actively seeking new employment opportunities. When your company uses modern recruitment tools like social media to build a relationship with your target audience, you are more likely to attract quality applicants and stay on top of hiring trends.
Creating Diverse and Inclusive Environments
Diversity, equity, and inclusion (DEI) programs can deliver positive business benefits, and HR leaders recognize this. Also, companies are trending toward focusing on their DEI initiatives to improve their company culture which has been shown to enhance talent acquisition. According to the Paychex Pulse of HR Survey, 71 percent of HR professionals said their companies are doing at least one of the following:
Offering bias and other DEI-related training
Ensuring that vendors and partners have a proven commitment to DEI
Making DEI guidelines and documents easily accessible to employees
Getting help from an HR or DEI consultant
Beyond aspects such as age, race, and gender, companies may also consider flexible work options and customized benefits as part of their diversity initiatives and ensure they are taking an equitable approach to give all workers a fair chance of doing their best work. Using AI and inclusive technologies may help you weed out bias so that you won't miss out on great talent.
Focusing on the Candidate Experience
Adept businesses that focus on the employee experience know that a great experience starts from the first contact as a potential job candidate. It's a phase of the employee cycle that recruiting teams are prioritizing since this experience often sets the tone for subsequent interactions, should the individual get hired. Whether an individual joins the business or not, the trend of prioritizing the candidate experience provides an opportunity for businesses to gather valuable feedback on the application process, interviews, hiring teams, and the efficiency of the entire process.
Building and Using Referral Programs
Knowing that it takes time and resources to find great talent, having strong employee referral programs can prove worthwhile for businesses that choose to build and leverage them. An employee referral program is a structured set of processes that allow current employees to recommend people they know to help fill open positions within their organization. The programs that are well-organized and implemented consistently in conjunction with a company's overall hiring strategy can be an integral part of finding and maintaining a high-caliber workforce. They can also create a win-win-win scenario: the business gets leads on job candidates for minimal recruiting costs, the employee is incentivized (usually through a bonus or monetary reward) for recommending someone who's brought on board, and the job candidate gets a lead on an open position from someone with a connection to the organization.
Hiring Trends
The future of hiring emphasizes a priority on looking for individuals with a range of skills, your brand's reputation, considering the talent you already have on your team, and benefits and work setups that demonstrate your commitment to employees. Knowing that finding great hires continues to be a challenge for many employers, these trends represent a broad range of approaches businesses can take to bring on and retain motivated and hard-working individuals.
Hiring for Soft Skills
When you're competing for talent in a tough employment market like the one we are in today, evaluate your approach and consider what skills are needed to align with your culture and employer brand, rather than just focusing on the specific job that needs to be filled. For instance, soft skills such as problem-solving, collaboration, and leadership can be more challenging skills to hire for than hard skills that could be learned like accounting, technical support, or cashier processes. A candidate's soft skills can significantly influence their ability to fit in with your culture. Identify some soft skills you want to bring into your organization, knowing you may be able to train a candidate on some of the hard skills required to execute on the job, such as learning your administrative processes and technology platforms.
Emphasizing Employer Branding and Company Values
To recruit and hire the best talent and stand out from the competition, employers may create a candidate experience that is compelling, positive, and distinct. Employees may be looking to join a company aligned with their purpose and values, one that will help deliver meaning in their work. In addition, employees evaluate companies based on their employer brand: what they stand for, how they treat their employees, their company values, opportunities to learn and grow marketable skills, and competitive compensation and benefits.
Tapping into Internal Hires
Looking at your internal talent pools can help fill talent gaps by focusing on upskilling and reskilling current employees to meet changing and future business needs. Often great candidates can be hidden in plain sight when recruitment efforts are focused outside of a company. Intelligent companies are focusing on their future by using internal recruiting as part of their strategic growth.
Providing ongoing opportunities for career development is one of the best benefits your organization can offer employees. It shows your commitment to their career well-being. Today's employees seek opportunities to develop skills that have marketable value both within the future of your business and outside of your employment. Help employees know what future skills are needed for success and provide opportunities to develop their skills sets and career paths to demonstrate you are invested in their growth and development. This will also help you stay abreast of current and impending recruitment and hiring needs to inform your talent acquisition strategy.
Offering Valuable Employee Benefits
Gaining a competitive edge in talent acquisition and retention means that valued and meaningful benefits are now table stakes. According to the Paychex Pulse of HR Survey, organizations largely recognize the role that benefits play in hiring and retention, and have increased the benefits they are offering by an average of 22 percent, compared to what they were offering prior to the COVID-19 pandemic.
Health and retirement benefits, as well as financial and mental health counseling services are a great way to support the physical, emotional and financial well-being of your employees. Rewards and recognition programs, in addition to offering robust learning and development opportunities, can also help employees feel more engaged with your company. Consider conducting regular surveys to gauge which benefits are valued most by your employees, to give your business a competitive edge.
Embracing Remote and Hybrid Work Models
While working remotely became a common operating environment during the COVID-19 pandemic, many employers and employees have determined that it's here to stay — and it's proving worthwhile for business. In fact, the Paychex Pulse of HR Survey found that four in 10 HR leaders with a remote workforce said that remote/hybrid work improves employee emotional/physical/financial well-being, boosts retention, enhances quality of work, and increases productivity. That may be why the number of companies offering remote or hybrid work has increased by 124 percent since before the pandemic, and those offering flexible scheduling have increased by 50 percent.
As a result, the hiring of remote workers continues to place importance on digital hiring trends. Use modern recruiting techniques such as video interviewing, scanning social media channels, and other hiring practices that aren't limited by geographic proximity.
Providing Employee Wellness, Safety, and Support
Another significant hiring trend focuses on employee wellness, safety, and support. Communicating to employees about how you will provide a safe and healthy work environment is critical to bringing on great talent and maintaining a strong workforce. This includes building programs addressing employee work/life balance, mental health, and support for remote workers.
Start 2023 On the Right Foot By Staying Ahead of the Trends
The beginning of the year is a great time to refocus on hiring and recruiting goals, including evaluating work environments, current processes, and other aspects of the employee life cycle. Consider the recruiting and talent acquisition trends mentioned above, which may help you better align your goals as well as provide insights into new approaches to finding and bringing on great talent in 2023 and beyond. Take advantage of hiring services and HR expertise from third-party providers, which together can go a long way toward helping you meet your talent recruitment goals.
They worked for you before and now they want to come back. Does it make sense to hire a "boomerang" employee? Weigh the pros and cons and keep these additional tips in mind.
When the pandemic triggered The Great Resignation, a record-setting number of employees as reported by the U.S. Department of Labor Statistics quit their jobs, which swept across the United States and dramatically changed the labor market. In 2021, 47.8 million workers quit their jobs, according to the Society for Human Resource Management (SHRM). Now some of these people are looking to return to their former employers as boomerang employees.
Traditionally, if an employee voluntarily left their employer, they usually did so with no intention of returning. It seemed the feeling was mutual. In 2015, SHRM reported that nearly half of HR professionals noted their organization held a previous policy against rehiring former employees regardless of performance. In contrast, the Great Resignation has many employers trying to fill vacated positions. When an employee realizes they may have been hasty in their retreat, they may be returning to an employer that is welcoming them back.
Should you rehire former employees? Here are some considerations.
What Is a Boomerang Employee?
The definition of a boomerang employee is just as the name implies: a person who leaves their job for a period of time, then seeks to return. Reasons for leaving may be personal, professional, or a combination of both. In a 2022 survey, The Pew Research Center listed and combined the top major and minor reasons why employees quit their employment in 2021:
Pay was too low (63%)
No opportunities for advancement (63%)
Felt disrespected at work (57%)
Among respondents with children younger than 18 living in the house, childcare issues (48%)
Not enough flexibility to choose when to put in hours (45%)
Benefits weren't good enough especially regarding health insurance and paid time off (43%)
Working too many hours (39%)
Wanted to relocate to a different area (35%)
Working too few hours (30%)
Employer required a COVID-19 vaccine (18%)
Understanding why an employee feels compelled to quit can help employers with targeted and preventative employee retention efforts. Helping to ensure that an employee doesn't want to leave in the first place can strengthen loyalty, improve corporate culture, and save you time and money.
Who Makes a Good Boomerang Employee?
Are you wondering what to do when an employee leaves and wants to come back? When an employee quits, they are leaving more than their role and responsibilities. They are also leaving behind their track record of job performance and overall attitude toward their work and team members. When an employee leaves on good terms, there are many reasons why they may become an even greater asset to your business a subsequent time around.
There are many reasons why an employee might leave and want to come back. They may have been forced to leave due to personal reasons, such as caretaker obligations. Once those obligations are met, they may be eager to reprise their former role. Others may have opted for a type of self-sponsored sabbatical. Sabbaticals are usually extended periods of time off work granted to an employee for professional or personal improvement. If your business does not have a sabbatical leave policy, an employee may have decided that their only option was to leave to gain the experiences they desired. This time may even include employment at another business or non-profit organization. If you rehire a former employee in this situation, you may gain a proven valuable worker who is bringing a treasure trove of experiences, perspectives, and creativity with them back to your business.
Just as there are times when a valued employee quits and wants to come back, you may also find yourself doubting if rehiring an employee who quit is a smart move. Did the employee have a history of poor performance? Was there a trend of demonstrating low levels of engagement? Did they have a reputation of being disrespectful of the company or others? These are the types of reasons that should cause you to pause before rehiring. Ultimately, it's important to have an open discussion with the employee to understand their motives for leaving in the first place and ensure that the role they are seeking to return to is a good fit for them and you. But also, as a best practice, it would be worth performing an exit interview before they leave the company to gain a better understanding for their departure.
Can a Terminated Employee Be Rehired?
Working through the decision to rehire an employee who was terminated involuntarily can feel tricky. Every employee, including a terminated one, represents a cultivated relationship and investment of time, money, and emotions. At the same time, you want to avoid a situation that results in boomerang employees being terminated again. A terminated employee may carry a high financial and emotional cost for everyone involved.
When can a company rehire a fired employee? It depends. Perhaps an employee didn't improve or change because all their energy was going to a difficult time in their life that they have since overcome. In this case, rehiring a terminated employee may strengthen loyalty and goodwill by demonstrating your ability to understand the real struggles of achieving a work-life balance. Maybe the employee learned a lesson from their termination and used it to improve their skill set and abilities. Or perhaps there was a personality conflict with another staff member that would no longer be an issue. In some situations, following company policy may become the ultimate decision-maker. As you consider your options for rehiring a previous employee, be careful to judge each situation on its own merits, weigh past performance of the individual, and think about if company policy impacts your choice to rehire, or not.
Can a Retired Employee Be Rehired?
The Great Recession has caused a critical labor shortage and employers are expanding their search to include a wider range of candidates, such as retirees. Doing so is an excellent way to build staff diversity and inclusion and reap the many benefits that come with it. But when it comes to rehiring a retired employee, there are questions to consider.
Historically, penalties associated with retirement distributions have dissuaded retirees from re-entering the workforce. The IRS has addressed these barriers and offered guidance to coronavirus-related relief for retirement plans. The first question stems from what counts as bona fide retirement for those with pensions. The IRS says that if a plan sponsor rehires an individual due to unforeseen hiring needs related to the COVID-19 pandemic, the rehire will generally not cause that individual's prior retirement to lose its bona fide status. The second question has to do with a worker being eligible for retirement distributions while working. The IRS explains that a qualified pension plan can allow individuals who are working to receive in-service distributions if the individuals are 59.5 years old or have reached the plan's normal retirement age.
Before hiring a boomerang employee, consider these advantages and disadvantages.
Boomerang Employee Benefits: Reasons To Rehire
There are several reasons why it might make sense to rehire an employee:
Recruiting and hiring can be a costly process financially as well as in lost time and productivity. A rehired employee may benefit the business by reducing these costs.
A former employee already has a working knowledge of the business, customer base, and what is expected of them in their role. This translates to a likely increase in onboarding cost-efficiency and timeliness. A worker that moves right into their previous role can also be more productive quicker than one who needs to "learn the ropes."
A boomerang employee can bring a double benefit of someone who understands the culture of your organization and can bring a fresh perspective of the experiences gained while they were away. You may also understand this individual's work patterns along with their strengths and areas for improvement.
If you want proof that your business is a meaningful place to work, a rehired employee may demonstrate that you offer an attractive package compared to the competition. In this way, a boomerang employee can boost the morale of current workers by showing them your business is worth returning to for employment.
Reasons Not To Rehire an Employee
There can be some risks to rehiring an employee:
If your business has changed a great deal since the former employee worked for you, they may not understand the new environment or culture. Similarly, if they left out of frustration, your business may not be able to offer them what they seek.
A former employee may no longer be as qualified for the position as they once were. This can also be true if the industry has changed dramatically, and their former position has few transferable skills that are applicable in their new role. There may be another applicant who is more qualified.
You may envision a worker who is instantly ready to reprise their former productivity, but there may be more training necessary to get your rehired employee acclimated to new procedures and regulations.
If there were work performance issues, it's critical that you address them early, which can create an uncomfortable situation early on.
How To Rehire an Employee
If, after carefully weighing the benefits and potential challenges of hiring a boomerang employee, you decide to move forward, keep these practical tips in mind:
Re-Test and Re-Interview
Don't take a prospective rehired employee's working knowledge for granted. Staffing expert Julie Tappero urges employers to approach potential rehires as you would previously unknown candidates. Perform all necessary due diligence, including a review of all the individual has done since leaving your business. Conduct skills tests, if applicable, to measure their industry knowledge.
Potential Boomerang Employee Interview Questions
What have you learned about yourself and what skills have you gained since you left?
Why do you wish to return?
What do you think you can offer our business now that some of our priorities and service goals have changed?
Are there any unresolved issues you'd like to address, either with the business or team members?
Monitor the Rehired Employee's Progress
As with any new employee, it's a best practice to monitor how well they're settling in and getting things done. Take time to check in and ask specifically about their level of enthusiasm for the job and any different needs they have (at least at the 30- and 90-day point). In between these review periods, remember to stop by just to let them know how pleased you are to have them back on the team.
How To Recruit Boomerang Employees
Recruiting your former workers to fill gaps in your business comes with some distinct advantages. For starters, they are a known labor pool. You are already familiar with their strengths, weaknesses, and have established relationships with them. There are ways you can tighten your recruitment strategies to ensure the best fit for both of you.
Use a personal touch. It feels good to be wanted, and you have the knowledge, background, and relationship with a former worker to craft a customized request to get the conversation going.
Showcase your brand. Just like people, businesses evolve and grow. Social media and the careers page on your website can be used to explain the new and improved benefits of working for your business.
Enlist the help of your current employees in the form of employee spotlights. Either through video, success stories, or even in a series of testimonials, let your current employees highlight how your business has changed to meet their needs. Doing so may attract the attention of employees who left because they sought these changes elsewhere, before you implemented them.
Consider What's Right for Your Business When Hiring Boomerang Employees
According to Paychex client HR business partner Rushell Greaves, boomerang employees are becoming more common in today's workplace. As an employer, here are a few key points to consider when hiring a former employee:
Rehires often require very little or no training to help get them up to par and could be able to hit the ground running. This perspective is very attractive for employers because fewer training hours are dedicated to the new hire and there could be a shorter learning curve.
The boomerang employee could have established contacts or networks internally and/or externally that could be of value to the organization.
Consider the reason for the former employee exiting the organization originally. Was it an amicable exit? Is the individual eligible for rehire?
Why are they returning? Does the organization value loyalty? Is this employee trying to fill a gap in their career? Do their professional goals coincide with that of the organization?
Consider performance history and length of time away from the organization.
Has the individual acquired new skills, education, and additional assets that could be of value to the organization?
How is the individual going to manage their behavior upon returning to the organization? Are they going to have an attitude of entitlement or lax work ethic? How could current employees react?
Now that the individual is trying to return to the organization, is there a cultural fit? What contributions did this individual make to the cultural awareness of the organization prior to the departure, and were they positive? Are they a good fit now?
There's an element of risk with any new hire. If you have difficulty recruiting for a certain position, the right boomerang employee may be the solution to your problem. With 50 years of experience and front-edge HR technology, Paychex Hiring Services can support you throughout the hiring process so you can feel confident with your candidate, whether they are new or newly rehired.