Employee time clock — Paychex TrueShift™
A time clock that works on your time and budget
Time tracking can be a thankless and stressful job, with all that data entry, countless reminders, and keeping a wary eye on employees who might bend the rules. Gain back that time — and your sanity — while increasing the accuracy of your payroll, with the versatile Paychex TrueShift employee time clock.
Automated tracking and reporting

Reduce time spent preparing time sheets, and reconciling discrepancies.

Easy import into payroll

Help reduce the risk of data-entry errors by importing employee hours directly into Paychex Flex® payroll.

Biometric technology

With built-in biometric technology, you can help prevent "buddy punching" and ensure you're paying only for hours worked.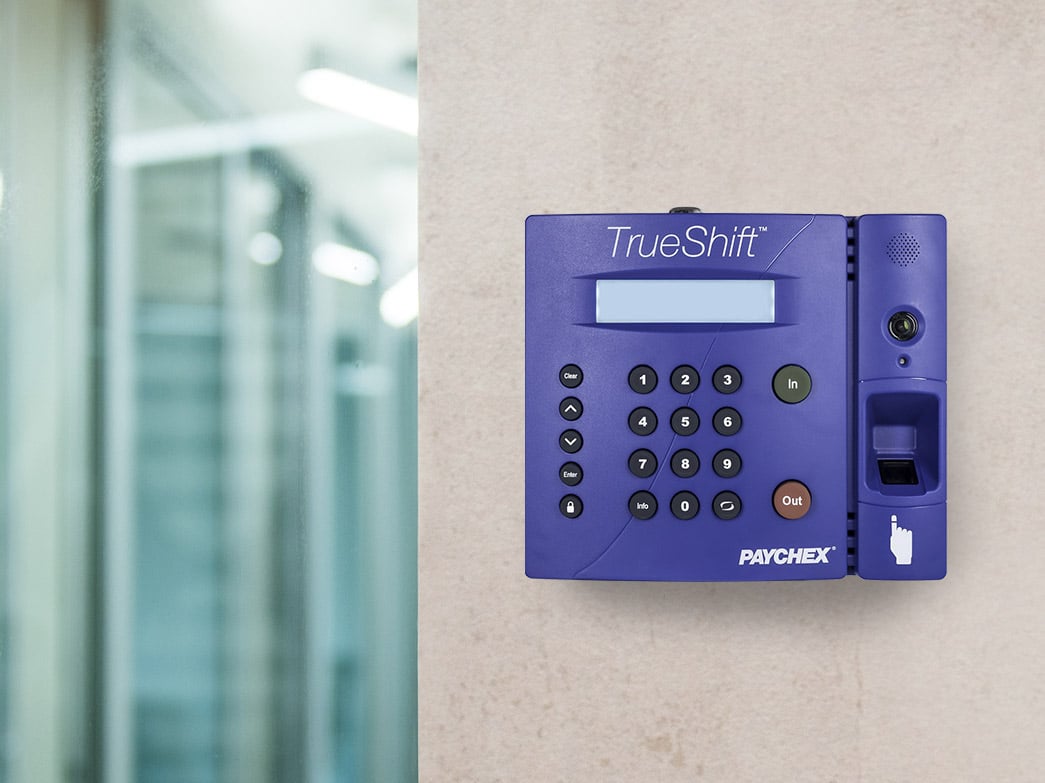 What you'll get with Paychex TrueShift
Self-contained, state-of-the-art time clock
Software built in to the device
Scalability of up to 500 employees per time clock
The ability to connect up to 32 time clocks
Employee self-enrollment
Wi-Fi connectivity
Web and mobile punch entry
Payroll integration
Built-in backup camera to verify failed punches
Easy reporting
Compliance

Easily track labor metrics to help you comply with applicable wage and hour requirements, including overtime pay.

Visibility

See when employees punch in and out, overtime worked, and time off taken. Print timecard reports, email them to employees or branch locations, and export data directly into Paychex Flex.

Flexible punch options

Employees can clock in and out via a fingerprint reader, proximity badge, or PIN entry, and web punch via desktop, smartphone, or tablet.

Cost management

Know the labor details necessary to proactively address labor costs. Receive automatic alerts identifying employees approaching overtime hours.
Prefer an online time and attendance solution?