Recruiting and applicant tracking system
Gain more time and talent with powerful recruitment software and applicant tracking
No process may have as much impact on business success as hiring. So why are recruiting and applicant tracking systems often so manual and inefficient? Think of how many top candidates may be missed due to unorganized and error-prone methods. There's a smarter way. Paychex Flex® Hiring gives your recruiting and applicant tracking efforts the power and reach they deserve, helping automate tasks so you can dedicate your time to finding the best candidates for your open positions.
Simplify key tasks and improve communication

Standardize processes for job postings, interview scheduling, and hiring workflows for more efficient, consistent results, and communicate clearly with applicants and hiring managers throughout the process.

Potentially lower your cost per hire

The efficiencies you'll gain through paperless automation – and a process designed to help improve accuracy and time savings for HR and applicants alike – could save you more with each hire.

Let applicants apply how and when they want

Applicant self-service through Paychex Flex Hiring enables job seekers to submit applications anytime through a mobile phone or from a desktop computer. Rather than call you about the status of their application, they can simply log in to the system.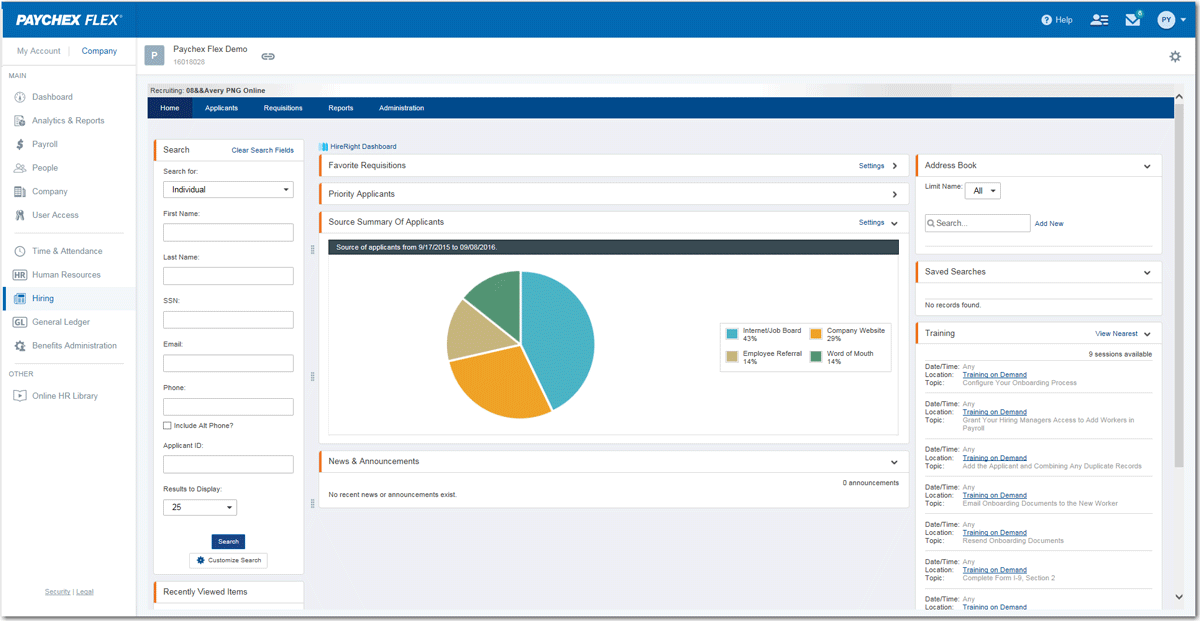 What you'll get with Paychex recruiting and applicant tracking
Automate the job-opening process and get easy access to job descriptions
List your positions internally and externally
Screen job candidates
View HR analytics and reports
Take advantage of hiring tax credits, such as the Work Opportunity Tax Credit
Expand your recruiting reach, inside and out, and make it a positive experience for all
Encourage employee career growth and retention

Our powerful recruitment software powers your internal application process and job postings to clearly demonstrate your commitment to employees' advancement within the company.

Turn employees into employment ambassadors

Social media sharing and recommendation tools let employees advertise and refer positions to their professional connections, giving you access to many more potential candidates.

Attract external candidates

Paychex Flex Hiring offers several useful distribution tools, including a career website, free job-board postings, social media sharing, job opening notifications, and search engine optimization (SEO) support, so more candidates have an opportunity to find your open position.

Save applicants keystrokes – and potential frustration

Minimize the time candidates waste on data entry with social media and resume parsing tools that auto-populate their application information.

Prescreen candidates

With our job-specific applications processes, you can design multiple-choice and/or text-response prescreening questions with scoring capabilities, tiered-sourcing data collection, resume and document collection, and a full-service application builder.

Spend more time choosing the right candidate

Tackle that teetering tower of applications with a configurable application process that helps to qualify and rank applicants.
Make your new hire's day from day one.