Solutions for Midsize Businesses,
20-49

Employees
As a business grows, so too do its HR challenges. But when you're short-handed, don't have sufficient tools to do the job, or compliance complexities become overwhelming, that's where Paychex comes in. We help HR professionals and business leaders at over 730,000 businesses nationwide manage payroll and HR more efficiently. We do it with our unique combination of easy-to-use technology, scalable service, and large team of compliance analysts.
What Our Midsize Business Solutions Help You Achieve
Gain Deeper Insights with Reporting and Analytics
Access HR data when and where you need it. Use our 160 standard reports or create custom reports to drive business decisions. Reports stay available for 12+ months, so you have appropriate access to data.
Our All-in-One HR solution — Paychex Flex®
Simplify tasks and reduce administrative burdens by managing everything HR from one platform recruiting and applicant tracking, time and attendance, hiring and onboarding, health insurance, and much more — all of which can integrate with your payroll processing.
Reduce Payroll Errors With Help From Your Employees
Give your employees the ability to preview their paystubs before payday in Paychex Flex® and report any potential payroll discrepancies to you — which could save you time and money. See why Paychex Pre-Check was HR Executive Magazine's Top HR Product of the Year with its innovative combination of payroll, time management, and employee self-service technology.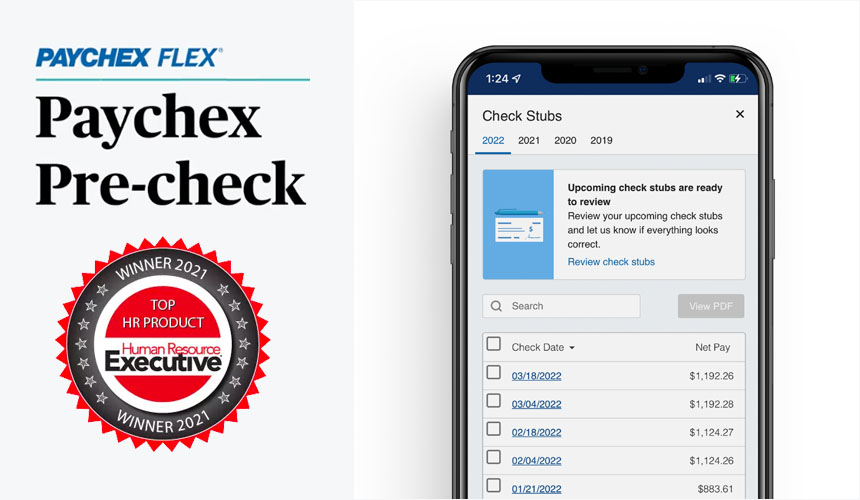 Easily Integrate with Your Favorite Software Tools
Paychex integrations can help you easily connect and share data between Paychex Flex and dozens of popular HR, accounting, point-of-sale, and productivity tools to help meet the needs of your growing business and streamline your processes.
Plumbing M.D. Needed to Fix a Few Processes and Turned to Paychex PEO
Plumbing M.D. was trying to navigate the labor laws in California and experienced some employee issues. The longtime family business turned to Paychex PEO, which provided a dedicated HR Professional who helped the company develop a consistent approach to the process, introduced trainings, and freed up time for the ownership group to focus on growing the business.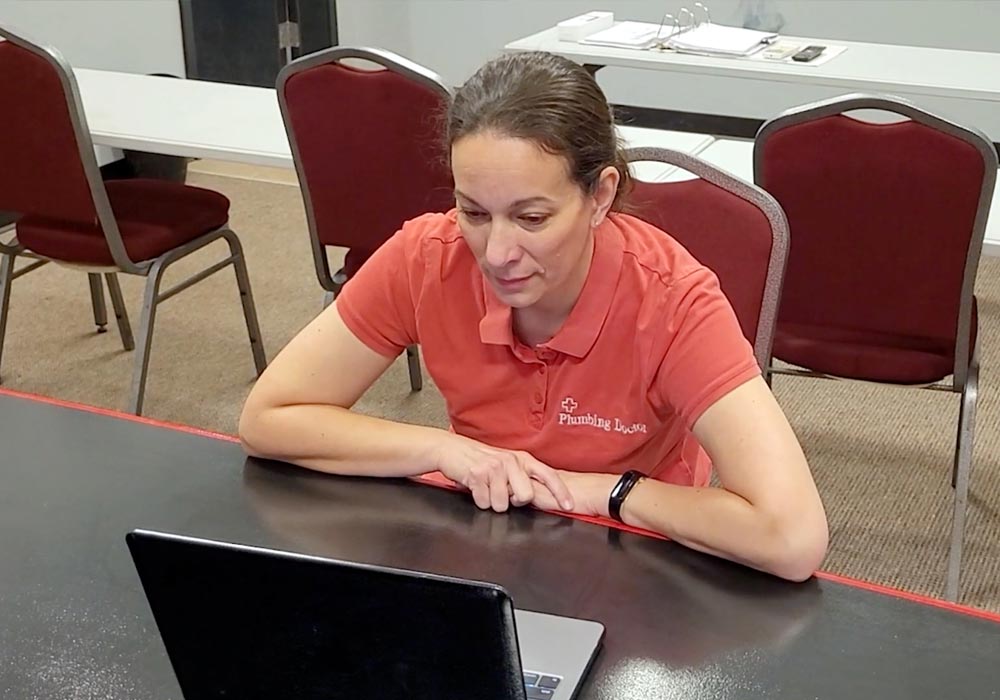 "With Paychex PEO there is just a huge increase of knowledge (on our part) about best practices for running a business, especially in California where there's also a lot of compliance and labor laws that seem to change all the time."
Jessie Farias Tavera
COO
Plumbing M.D.
Ready to Learn More?
Business growth often means more challenges, but you don't have to navigate them alone. Simplify business complexities with help from Paychex.
Midsize Business Solutions FAQ 
Recommended for You
Key Takeaways
65% of employees consider themselves a "quiet quitter."
Quiet quitters are 36% more likely to say their manager influences their work ethic.
To weed out potential quiet quitters, 61% of HR professionals ask interviewees what they love about their current or previous role.
A Shift in Workplace Philosophy
"Quiet quitting," or doing the minimum amount of work required to keep a job, is rapidly spreading through the workforce. To find out how this trend affects workplaces, we surveyed more than 1,000 full-time employees about these behaviors and the reasons behind them. We also asked hundreds of human resources (HR) professionals about their strategies for identifying and handling quiet quitters. Read on to find out how businesses try to prevent quiet quitting and how you can catch it before it happens in your workplace.
Why Employees Quietly Quit
To begin our investigation into quiet quitting, we asked survey participants how they define it, if they consider themselves a quiet quitter, and what factors impact their work ethic.
Forty percent of employees surveyed define quiet quitting as only taking on work tasks within their job description. For them, duties assigned outside work hours, special projects, and the like, aren't required and, therefore, not their responsibility. They clock in, do their job, and clock out.
Another 24% define quiet quitting as setting firmer boundaries at work, possibly in an attempt to ensure their career doesn't infringe too much on their personal life. Having a good work-life balance is an issue many struggled with during the pandemic, particularly after switching to a work-from-home lifestyle. Our remaining respondents view quiet quitting as an indirect or slow way to quit their job: 23% say it's a way to get fired rather than quit, and 10% define it as a decline in work before resigning.
Based on these definitions, 65% consider themselves quiet quitters, with remote workers being most likely to do so (81%). Hybrid workers have the second highest rate of quiet quitting (61%), while in-office workers are the least likely (38%). Some aspects of quiet quitting might be easier to get away with while working from home versus at the office, where employees tend to be monitored more closely. With this in mind, our findings make it easy to see why companies are eager for employees to return to the office.
So, why are many employees suddenly choosing to forgo any duties beyond their job responsibilities? The majority of quiet quitters say their manager affects their work ethic (57%), as does their mental health (55%), and salary (51%). Employees who feel they are not adequately compensated may also be less willing to tolerate an unpleasant boss or unbearable co-worker — both factors that have impacted the work ethic of more than half of those we surveyed.
On the other hand, other employees who don't consider themselves quiet quitters said it's the job itself that drives their work ethic: More than half (61%) say their job responsibilities influence their work ethic. As with their quiet quitting counterparts, mental health concerns influence many (52%), while less than half name their salary (49%), manager (42%), workplace conditions or atmosphere (38%), or co-workers (36%) as main influences on their work ethic.
Whatever has caused their demotivation, the difference between the workplace philosophies of quiet quitters and other workers has significantly impacted their job security. Within the last year, 69% of quiet quitters received a warning at work compared to only 16% of those who didn't label themselves quiet quitters. And, nearly three-quarters of quiet quitters have been fired in the past year compared to only 16% of other employees.
How Can You Tell If Your Employees Are Quietly Quitting?
The warning and firing rates of quiet quitters illustrate how managers have stood firm against these employees' dwindling attention and work quality. Unfortunately, these high employee turnover rates can put a particularly heavy strain on HR departments. So, how are HR professionals handling this phenomenon?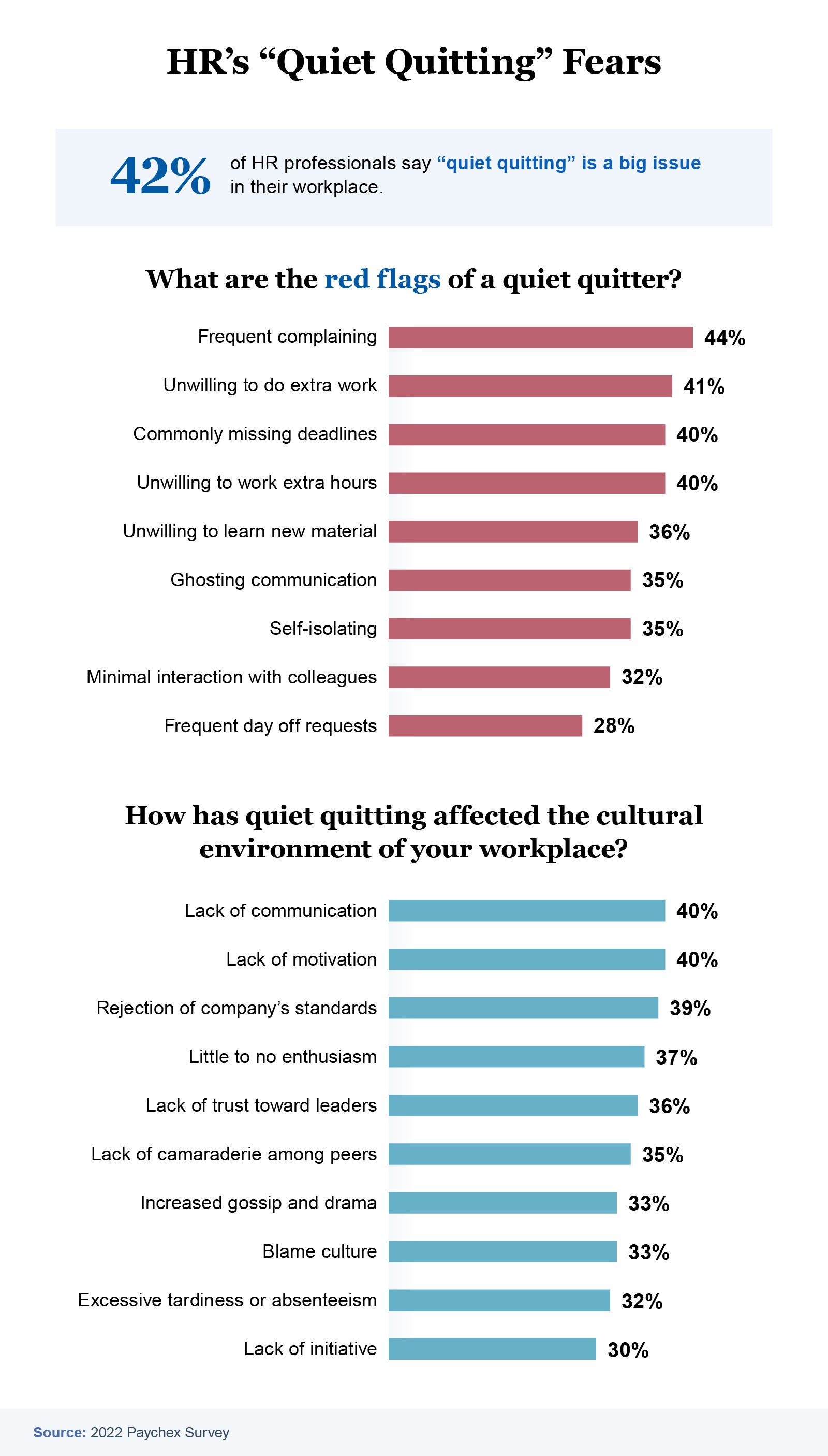 HR employees are on high alert for quiet quitters, with 42% of those surveyed saying it's a major problem in their workplace. As such, they pointed out some red flags to help you spot the behaviors associated with quiet quitting.
The biggest red flag HR professionals note is constant complaining (44%), closely followed by an unwillingness to do extra work (41%), and regularly missing deadlines (40%). Isolation (35%) and minimal interaction with colleagues (32%) are other red flags.
In short, quiet quitters are impacting more than just their own work — they're affecting the entire workplace. HR professionals say quiet quitting contributes to a work culture lacking in communication and motivation (40%), adherence to company standards (39%), and camaraderie among peers (35%). Quiet quitting also increases gossip, drama, and blame, according to 33% of HR professionals.
Identifying and Remotivating Quiet Quitters
With quiet quitting causing such a disintegration in workplace productivity and morale, HR professionals have come up with ways to stop it in its tracks. What are they doing to get quiet quitters motivated to do their best work, and how are they keeping unmotivated prospects off the payroll from the start?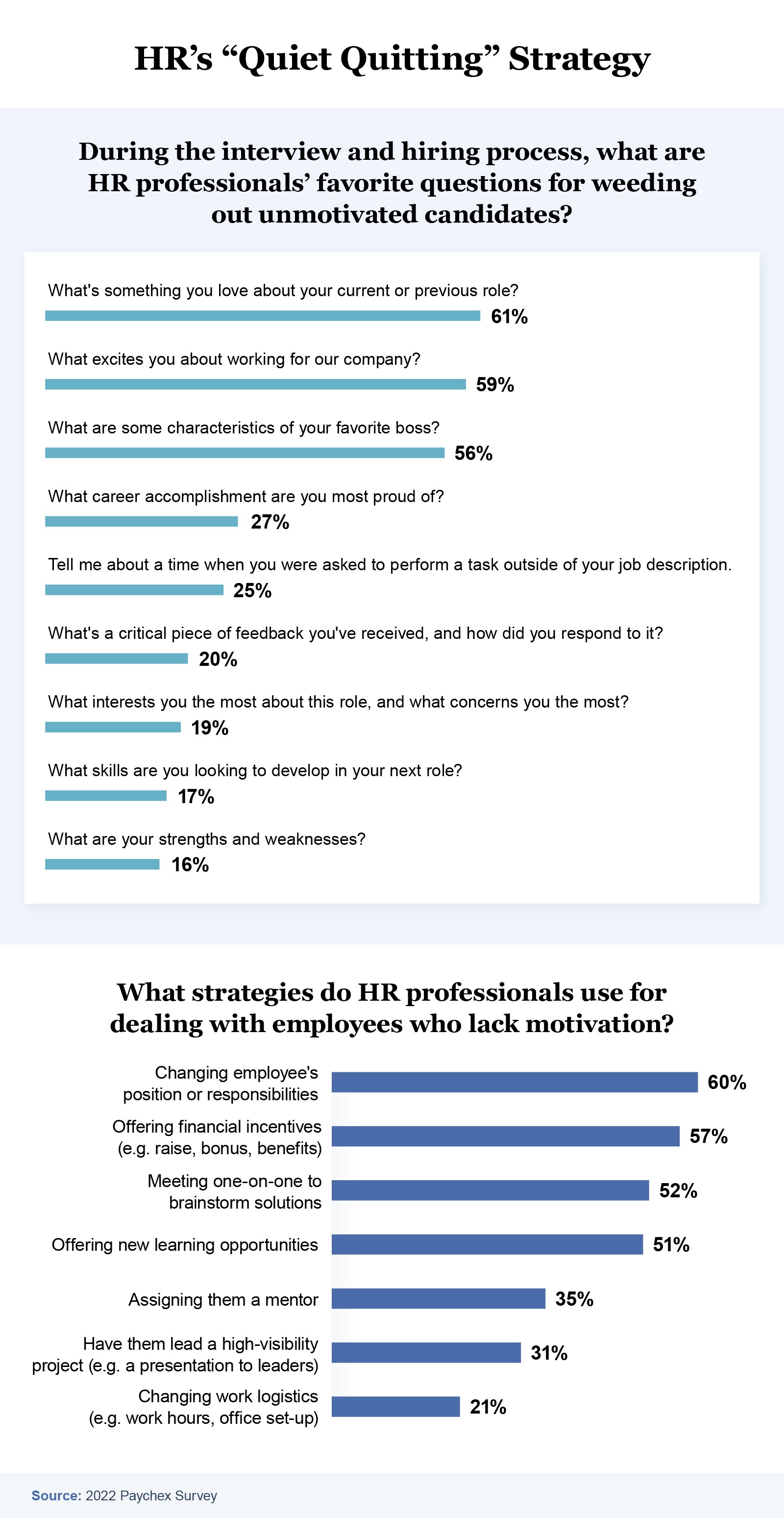 HR professionals say they ask pointed questions in job interviews to weed out unmotivated candidates. The question most asked by HR during hiring is, "What's something you love about your current or previous role?" Designed to uncover the level of interest someone has in their work, this question can quickly determine if a candidate is motivated by a love for the job or is just looking to fill their nine-to-five.
The third most asked question is, "What are some characteristics of your favorite boss?" In addition to displaying the candidate's level of enthusiasm about their job, this question can also reveal their relationship with a former employer. It might be a red flag if they can't think of anything they love about a former boss (or worse — if all they have are complaints).
Despite an organization's best efforts to keep unmotivated employees off of payroll, it may be inevitable. Even the most highly motivated employees can face burnout and fade into quiet quitting mode. Luckily, HR professionals have developed some strategies for reengaging these employees. The No. 1 strategy HR professionals note is changing an employee's position or responsibilities (60%).
Financial incentives — including raises, bonuses, and benefits — are another commonly used strategy (57%), tackling an issue reported by many quiet quitters: salary. The third most common strategy is to hold a one-on-one meeting with the employee to brainstorm solutions for improving their engagement, together (52%). These meetings can not only make an employee feel valued; it can offer them an opportunity to voice concerns they may not feel confident bringing up on their own, and give them a greater sense of control over their position.
Overcoming Quiet Quitting
The "bare minimum" philosophy of quiet quitters is disrupting the productivity and culture of many businesses. While a legitimate concern for employers and HR professionals, it's also an attempt to achieve work-life balance — an issue present throughout the pandemic that persists for many today. This means it's become more important for the "work" half of that balance to include substantial purpose and reward. For some quiet quitters, that purpose is found when an employer demonstrates a commitment to their mental health and makes the employee feel heard, valued, and in control. For others, the reward is more straightforward: more pay for the work.
To focus more on employees' well-being, employers can offer the option for employees to switch up their job responsibilities, allowing them to work on what interests them so they can stay engaged. HR professionals can help by meeting with and listening to employees, helping them to feel heard and maintain a sense of ownership over their position. And, of course, employers can also make employees feel valued through monetary incentives. Changes like these can combat the troublesome trend of quiet quitting and bring positivity and productivity back to the workplace.
Methodology
Paychex surveyed 1,042 full-time employees about "quiet quitting," with 204 of those surveyed being HR professionals. As for workplace status, 46% of employees surveyed worked remotely, 30% worked a hybrid schedule, and 24% worked in the office.
About Paychex
Paychex is a leading provider of integrated human capital management solutions for human resources, payroll, benefits, and insurance services. Founded over five decades ago, Paychex simplifies the complex processes of running a business, so you can focus on what matters most.
Fair Use Statement
If you've found our study about quiet quitting interesting and useful, you're welcome to share our data for noncommercial purposes. Please link back to our study so we can get proper credit for our exploration of quiet quitting and its effect on the workplace.
Key Takeaways
78% of women have experienced gender bias or discrimination in the past year.
62% of women have reported a male co-worker to HR for harassment.
74% of women are afraid of being laid off amid all the tech layoffs.
Understanding the Tech Environment for Women
Although there are many women in the technology industry today, they have been historically underrepresented in the field. In 2018, we analyzed the climate for women in tech to better understand the problems they faced. But how have things changed in the last four years? To find out, we decided to do it again in 2022.
We wanted to know if women still face the same challenges as before, so we dug into their education, current jobs, and reasons for entering their respective tech fields. As the country recovers from the pandemic and faces a potential recession, we also wanted to understand how women were affected by recent layoffs. To do so, surveyed 1,000 American women in the technology industry. Here's what they had to say.
Getting Started in Tech
With so many barriers to entry for women in the technology industry, including a lack of support for women pursuing education in STEM, we first wanted to know what their reasons were for choosing a career in tech.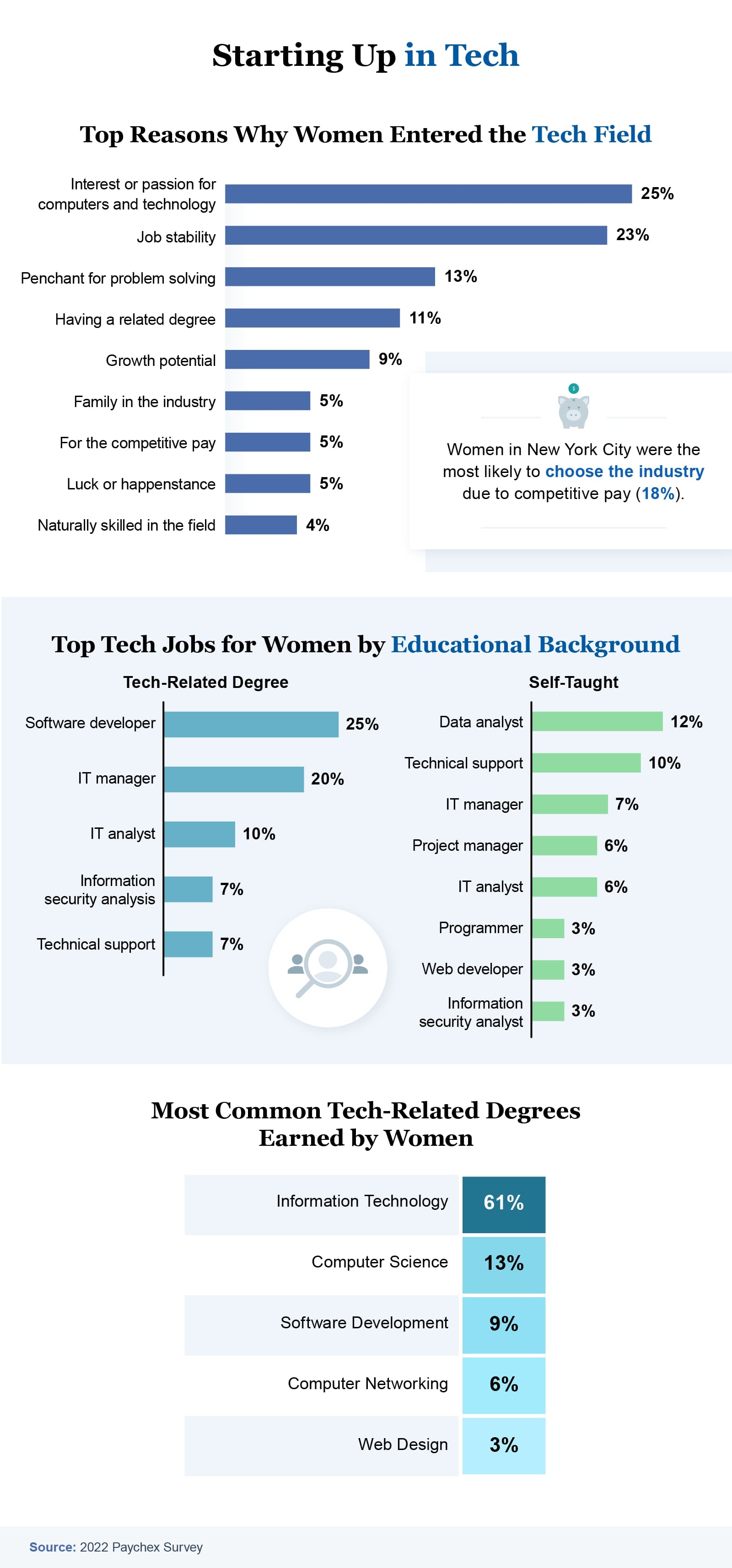 Despite the stigma women might face for pursuing technology-related careers, an interest in or passion for computers and technology was the top reason survey respondents entered the industry (25%). This finding is similar to the top motivator in our 2018 survey: a love for computers and tech. Almost as many women (23%) said job stability was their main reason for joining the industry in 2022.
Considering tech positions are in high demand, it makes sense that so many women would see the job market as stable. But the benefits and salaries are another matter, with only 5% of women citing competitive pay as the biggest draw for female tech workers. Of course, this varies based on location — for example, 18% of those who named pay as their primary reasoning in 2022 were in New York City. And in 2018, California Bay Area women were three times as likely to cite high pay than those living in other places. The importance of high earnings in areas with high living costs hasn't changed much.
Having a tech-related degree may seem like an obvious motivation to seek a career in tech, but only 11% claimed this as their top reason for working in the industry. While the degrees earned by most women we surveyed (over 60%) were in information technology (IT), many other respondents' tech skills were self-taught. Among them, the most common professional position was data analyst, while for those with a tech degree, it was software developer.
Women's Struggles in the Tech Industry
Although women get into the tech industry for many different reasons, many have something in common: the challenges they experience in the workplace. Next, we asked women about their experiences and feelings about being a woman working in a tech field.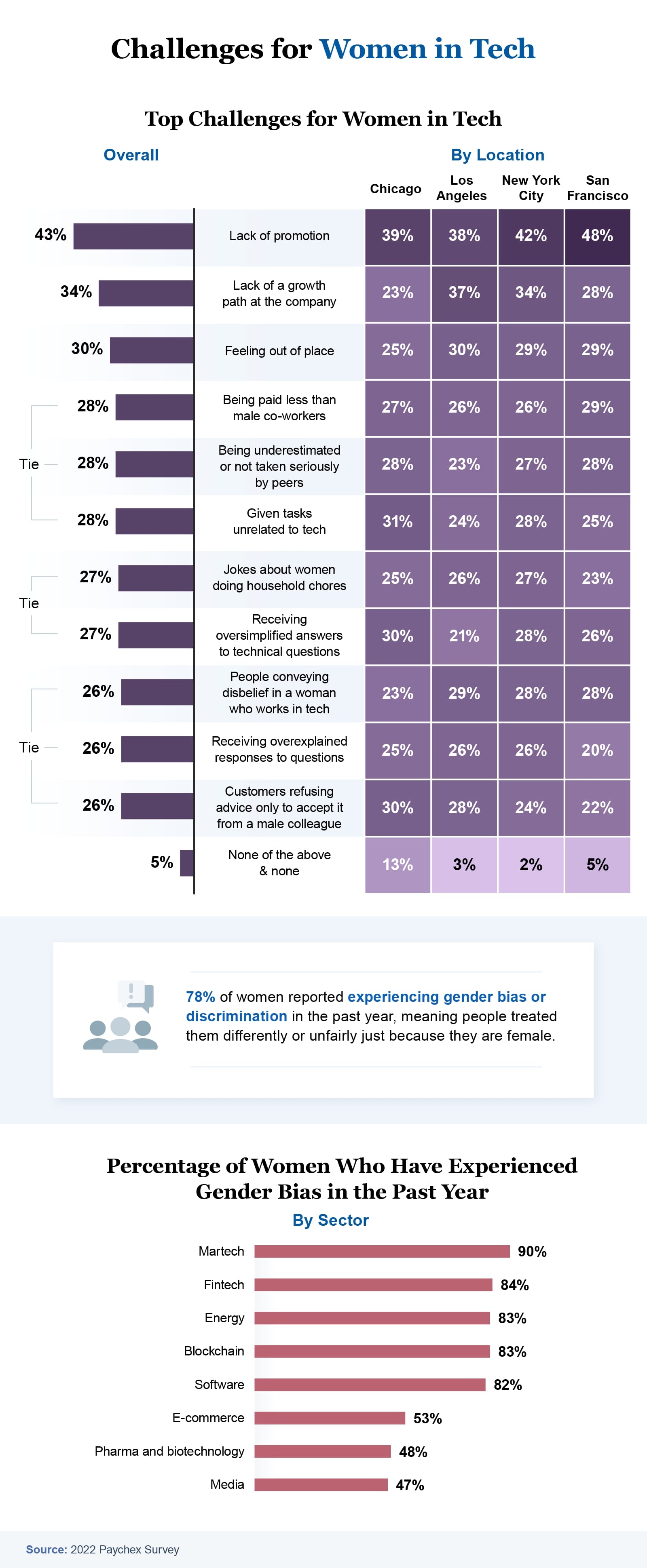 The challenge most commonly faced by women in the tech industry was a lack of promotion, as cited by 43% of respondents. With no way to move up in the ranks, 34% felt like there was also a lack of a growth path for them within their company. Feeling like an outsider was also prevalent, with nearly a third saying they've felt out of place at work.
A few years ago, being underestimated or not taken seriously by peers was the greatest opposition women faced — 67% of respondents reported this in 2018. Although this issue still landed among the top five most common challenges in 2022, there has been a significant decrease: Only 28% of women said their peers underestimated them or didn't take them seriously.
The prevalence of issues like these varied depending on geographic location. In San Francisco, women felt the wage gap more, with 29% of women saying they weren't paid as much as their male co-workers. And at 37% in Los Angeles, women felt the lack of growth opportunities more than those in any other city.
Think our modern era is the picture of gender equality? Think again. More than 1 in 4 of the women we surveyed said they've heard jokes in the office about women doing household chores. And the prejudice wasn't limited to the workplace: 78% reported experiencing gender bias or discrimination in the past year, whether in their personal or work lives.
Gender-based workplace discrimination varied by tech sector. For instance, nearly all women in the marketing technology sector (martech) have experienced gender bias (90%). More than 80% of those working in financial technology, energy, blockchain, and software have as well. The lowest instances of gender discrimination were reported by women in media-related tech jobs, but it was still reported by nearly half (47%).
Coping With and Overcoming Inequalities
As more women enter the tech workforce and are honest about the challenges they face, the more they can work together to overcome discrimination and bias in the workplace. To conclude our survey, we asked women about steps they've taken to protect themselves or their colleagues at work. They also shared their career outlooks.

Many women have had to take action against inappropriate behavior in the workplace: 62% said they reported a male co-worker to HR for harassment and 60% for gender bias. Women seem to be reporting these incidents more frequently now than in 2018 when only 19% of our survey respondents reported co-workers for bias or discrimination, and 21% spoke up about harassment.
The burden of bias against women in the tech industry is heavy enough to make many want to change careers (62%). Many we surveyed were even planning to act on it soon: 57% said they plan to leave the industry in the next six months. This shows an increase from the 2018 average when only 24% of women said they had considered changing fields for this reason.
The threat of layoffs and the anticipation of a recession have compounded these problems for women in tech. Even giant tech company Meta recently let much of their staff go in a push to reduce costs. Nearly three-quarters of our respondents (74%) said they were afraid of being laid off. Many of them already had, with 84% of respondents from New York City saying they had been laid off recently.
But of women who had recently been let go, 96% went on to another tech industry job where they made even more than they had previously: an average increase of $10,660. We saw even bigger increases in some places, especially San Francisco, where they earned over $38K more on average at their new job. Most women said it took between two and five months to find a new job, but it was worth the wait.
Moving Forward
Women in the technology industry still face a myriad of challenges in the workplace, from lesser pay to being undervalued and even harassment. But by far, their biggest challenges were a lack of growth potential at their workplaces and worries about potential layoffs. However, fewer cited workplace challenges in 2022 compared to 2018, and they have since been more likely to report co-workers for gender bias, discrimination, or harassment.
Still more, though, are considering leaving it due to gender-based pressures, pointing to a need for further support. Tech companies must do more to bridge these gaps for women in the workplace and give them the same opportunities and respect as their male counterparts.
Methodology
Paychex surveyed 1,000 American women in the technology sector about their experiences. The average age was 32, and their locations were as follows: 42% lived in New York City, 12% in Los Angeles, 7% in San Francisco, 7% in Chicago, and 32% in other U.S. cities.
About Paychex
Paychex provides payroll, human resources, and benefits outsourcing services for small to medium-sized businesses. Our tools make hiring, managing, and retaining employees easy.
Fair Use Statement
If you enjoyed our findings, feel free to share them for noncommercial purposes. Please be sure to link back to our original article as a credit to our Paychex research team.
Financial well-being is a complex topic, with living expenses, debt, and healthcare costs all on the rise. Add to that the ongoing financial impact of the COVID-19 pandemic and the rise in inflation, and you may have employees more stressed about money than ever before.
With heightened concerns around finances, there's a strong possibility that your staff would positively embrace an employee financial wellness program. Regardless of how well-compensated your staff may be, this type of resource can help them feel more financially confident and prepared for the future.
What Is Employee Financial Wellness?
Financial wellness or well-being refers to an employee's overall financial health and knowledge, paired with the absence of money-related stressors such as unforeseen expenses. What does employee financial wellness mean for businesses? How well an employee can manage money impacts their morale, engagement, and productivity while at work — factors that can all impact the business significantly.
Why Is Financial Wellness Important?
Many employees may be experiencing unexpected bills, little or no savings, and the need to take a second job, all factors that can lead to financial stress. Your workers' worries could compound even further due to a lack of financial knowledge or a basic understanding of money matters in the first place.
Employees who have their finances in order (the ability to pay bills on time, have savings and emergency funds set up, etc.) are often in a better position to put their energy and focus on work, be more engaged, and stay productive. On the other hand, an employee who struggles financially may be unproductive if they have to deal with money matters during work hours. They may also be frustrated or disengaged, which can cause a ripple effect throughout the rest of your staff.
<iframe allow="autoplay *; encrypted-media *; fullscreen *; clipboard-write" frameborder="0" height="175" style="width:100%;max-width:660px;overflow:hidden;background:transparent;" sandbox="allow-forms allow-popups allow-same-origin allow-scripts allow-storage-access-by-user-activation allow-top-navigation-by-user-activation" src="https://embed.podcasts.apple.com/us/podcast/why-an-employees-financial-wellness-is-your-business-too/id1498794200?i=1000566461705"></iframe>
What Is a Financial Wellness Program?
To help combat stresses around money matters, employers may want to implement a financial wellness program for employees. These programs are aimed at educating employees to help them manage their money and reduce financial burdens. Financial wellness programs may include features such as personal financial coaching on specific topics, online education, budgeting tools, and credit resources.
Examples of How Employee Financial Wellness Programs Can Help Employees
A financial wellness program can help employees with a variety of financial challenges. These can range from saving for a major life event — a wedding, first home, education, or retirement — to managing everyday expenses such as bills and debt payments. Employees may also struggle to understand the importance of having savings, and they may only fully understand the ramifications of this when they experience an emergency.
A lack of financial knowledge can hold anyone back. Left with few reliable resources like where to find information and get financial questions answered, your employees may continue to struggle. As diverse as your employees are, so too are their levels of financial knowledge. Common topics employees often need help with may include:
Household Budgeting
This could include creating a budget for the first time, getting expenses under control, and setting realistic goals for a household budget.
Managing Credit and Debt
Workers may want to better understand how credit works, credit score factors and credit history, student loans, refinancing, bankruptcy, and creating a personal financial strategy.
Investing
Investing topics may include planning for retirement, understanding different types of accounts available, and best places to get started based on age and goals.
Saving
Employees may be looking for help developing money-saving tips and strategies, creating an education savings plan, and how to choose between saving and investing.
Taxes
This includes how to reduce the risk of tax-time errors, understanding deductions, and tax breaks for education, moving, and homeownership.
Insurance
Your workforce may be looking for different types of insurance, life insurance options, and the details of long-term care and disability insurance.
What Are the Benefits of Employee Financial Wellness Programs?
Financial wellness programs can have an immediate impact on employees' money issues. More broadly, it can also have a long-term, positive impact on their contributions and engagement at work.
Help Employees Reduce Stress
You may offer benefits that encourage healthy habits, but financial challenges can be a significant source of stress for employees. When team members face rising stress levels, it can have a negative impact on both their performance and productivity. Having adequate support can help employees manage stress and solve problems.
Reduce Absenteeism
An employee struggling with a money issue may need to take time off to handle the problem or simply be too overwhelmed to focus on anything else. An effective financial wellness program aims to help employers mitigate absenteeism rates, since this can cost a small business in the form of lost productivity, and the impact it has on remaining team members.
Improve Productivity
Employees who struggle with money may feel distracted by these burdens, which can make them unable to focus while working. Whether an employee is forced to deal with financial issues like contact from debt collectors during the workday, or is mentally distracted by an inability to pay for a child's tuition, financial woes can have a direct impact on daily productivity.
Form a Stronger Personal Bond With Staff
An employee financial wellness program can be customized to address specific financial issues your employees may face at any given time. Survey your staff anonymously and ask what topics such a program could address to boost their financial confidence.
When you receive feedback about the topics of interest, structure the timing of programming to align with your team's personal financial goals and realities. For example, employees may express their need to build up savings in an emergency fund. The financial wellness program can offer introductory resources on how to create a budget or steps for setting up a savings account. The more relevant your financial wellness initiatives are to your staff, the more your business can benefit from it.
What Other Ways Can Employers Help Employees Enhance Their Financial Wellness?
In addition to offering a financial wellness program, employers can consider offering the following benefits and resources that may help them make better money management decisions.
Split-To-Save Feature Through Direct Deposit
If you offer direct deposit, you can encourage better saving habits with a split-to-save feature. This allows employees to designate a fixed portion or percentage of their paycheck each pay period into a designated account.
Auto-Enrolling in a 401(k) Plan
Offering a retirement plan is a powerful way for employers to help employees automate contributions for their non-working years. An auto-enrollment feature in a 401(k) plan takes this a step further: Eligible employees are automatically enrolled in the company's plan at a default contribution rate — streamlining the enrollment process and still giving them the option to opt out if desired.
Employee Assistance Programs With Financial Wellness Services
An employee assistance program (EAP) can help employees resolve a variety of different issues that might adversely affect their work performance. From financial challenges to resources that assist in handling stress, an employee assistance program provides a confidential source that employees and their families can use to find support. A mentally healthy workplace is good for business, so consider taking steps today to improve the mental health of your employees.
Student Loan Assistance
COVID-19 emergency relief measures allowed individuals to pause their student loan payments, but your employees may be thinking about how to budget for them again as this pause ends December 31, 2022. More broadly, many Americans cite paying off student debt among their top financial goals. With this in mind, some employers have implemented student loan assistance as part of their employee benefits program. It works by offering eligible employees monthly contributions toward their student loans, along with resources to help manage their debt. You may want to consider this if you're looking to improve your employment value proposition to become an employer of choice among college-educated talent.
Employee Wellness Program
This is an employer-initiated approach to improve employee health and wellness by supporting and encouraging healthy behaviors. A wellness program may offer education, wellness challenges, biometric screenings, and anything else that can help staff make better lifestyle choices. While this isn't a replacement for insurance, wellness programs are geared toward making proactive health decisions, which could help curb costly medical conditions down the line.
How Much Does a Financial Wellness Program Cost?
Not all financial wellness programs are alike, and businesses have different budgets to devote to such a resource. As diverse as your employees are, so too are the gaps in their financial understanding. As such, the costs of a financial wellness program can depend on many factors, including company size, how much you want to customize the program, account management and support features, and whether you want employees to be able to access advisors or personalized help. You may also want to check to see whether a third-party provider you already use, such as a payroll service, offers financial wellness resources as part of its services. This can help with overall benefits budgeting.
How To Start an Employee Financial Wellness Program
If you're limited in the number of employee benefits you can offer job candidates and employees, don't underestimate the power of providing resources such as financial wellness solutions, which can make a lasting impact in your employees' lives. For Paychex payroll clients, FinFit is a free program that enables employers to offer benefits such as a personal financial wellness assessment, online educational tools and resources, and even short-term employee loans for unexpected expenses.