Solutions for Midsize Businesses,
20-49

Employees
As a business grows, so too do its HR challenges. But when you're short-handed, don't have sufficient tools to do the job, or compliance complexities become overwhelming, that's where Paychex comes in. We help HR professionals and business leaders at over 730,000 businesses nationwide manage payroll and HR more efficiently. We do it with our unique combination of easy-to-use technology, scalable service, and large team of compliance analysts.
What Our Midsize Business Solutions Help You Achieve
Gain Deeper Insights with Reporting and Analytics
Access HR data when and where you need it. Use our 160 standard reports or create custom reports to drive business decisions. Reports stay available for 12+ months, so you have appropriate access to data.
Our All-in-One HR solution — Paychex Flex®
Simplify tasks and reduce administrative burdens by managing everything HR from one platform recruiting and applicant tracking, time and attendance, hiring and onboarding, health insurance, and much more — all of which can integrate with your payroll processing.
Reduce Payroll Errors With Help From Your Employees
Give your employees the ability to preview their paystubs before payday in Paychex Flex® and report any potential payroll discrepancies to you — which could save you time and money. See why Paychex Pre-Check was HR Executive Magazine's Top HR Product of the Year with its innovative combination of payroll, time management, and employee self-service technology.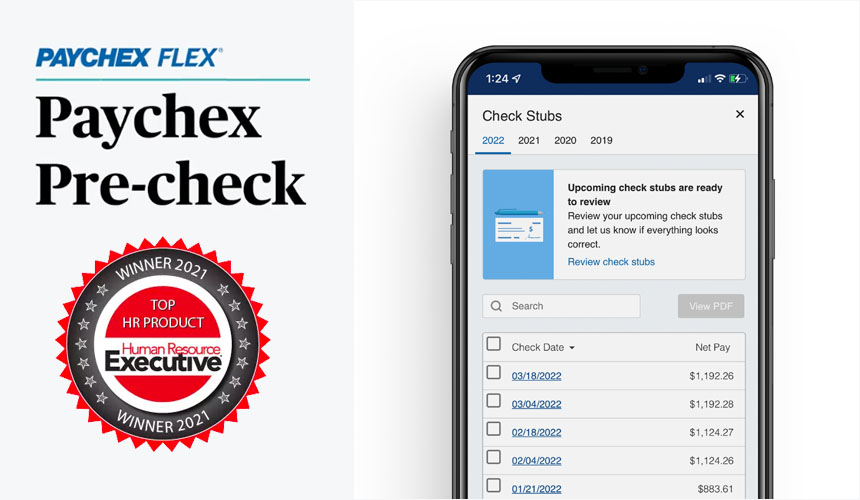 Easily Integrate with Your Favorite Software Tools
Paychex integrations can help you easily connect and share data between Paychex Flex and dozens of popular HR, accounting, point-of-sale, and productivity tools to help meet the needs of your growing business and streamline your processes.
Plumbing M.D. Needed to Fix a Few Processes and Turned to Paychex PEO
Plumbing M.D. was trying to navigate the labor laws in California and experienced some employee issues. The longtime family business turned to Paychex PEO, which provided a dedicated HR Professional who helped the company develop a consistent approach to the process, introduced trainings, and freed up time for the ownership group to focus on growing the business.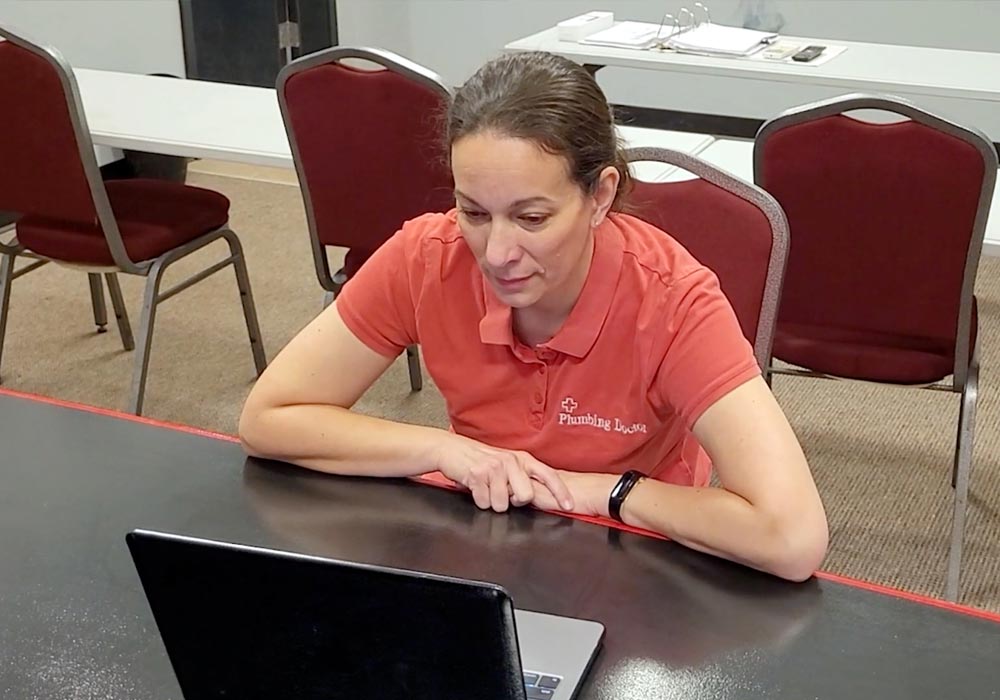 "With Paychex PEO there is just a huge increase of knowledge (on our part) about best practices for running a business, especially in California where there's also a lot of compliance and labor laws that seem to change all the time."
Jessie Farias Tavera
COO
Plumbing M.D.
Ready to Learn More?
Business growth often means more challenges, but you don't have to navigate them alone. Simplify business complexities with help from Paychex.
Midsize Business Solutions FAQ 
Recommended for You
Establishing a small business internship program can offer many potential benefits. Often college students or recent graduates can bring fresh perspectives, while training interns offers a unique management opportunity for current employees. But bringing on an intern for your business, like any other process, requires careful consideration. Let's take a look at not only how to find interns and potentially add to your future talent pool, but also identify potential internship requirements and best practices to be mindful of before starting such a program.
Determine Timeline, Budget, and Team Needs
A business may initially consider bringing on interns for a specific upcoming project or initiative. In such cases, it's a good idea to outline the project's scope and requirements, identify necessary tasks, and which skills are required. For example, a summer-long technical project may warrant bringing on interns who are computer-savvy and demonstrate strong attention to detail.
Another consideration is your budget, if any, for bringing on interns. Some internships should be paid while others may be unpaid, such as students receiving college credit in lieu of monetary compensation. There are many state and/or federal wage and hour rules to consider if you decide to bring interns into your organization. At the federal level, there are multiple factors that determine whether interns in the for-profit sector may be paid or unpaid by focusing on the primary beneficiary of the relationship. These factors include:
Whether the internship provides training similar to what the intern would receive in an educational institution;
Whether the internship accommodates the intern's academic commitment(s) and calendar; and
The understanding of all parties concerning compensation, among other criteria.
When this analysis indicates that an intern would also be an employee, the intern is entitled to minimum wage and overtime pay under the Fair Labor Standards Act (FLSA). Additional state and local laws could provide additional clarification on internships.
In instances where interns are paid, these wages should be factored into your budget for an internship program. This will also require your interns to complete any necessary new-hire paperwork, such as Form I-9, Form W-4, and any other employment forms required before they begin work.
You may want to consult with an HR professional or legal counsel to ensure your internship programs and supporting agreements comply with federal, state, and local wage and hour laws.
Connect with Local Colleges
Once you've outlined business needs for bringing on additional help, where can you find interns? Colleges and educational institutions are great places to connect with students who are ready to get some hands-on work experience. Cultivate relationships with local colleges and universities by reaching out to the institutions' career development centers, advertising internship openings on their job boards, and attending job fairs.
Communicate Your Internship Opportunity to Students
Similar to recruiting an employee, reaching out to a potential intern requires communicating about opportunities via thorough descriptions. This is where you can outline responsibilities, the type of work they will take on, timeframes (e.g., May-September during a school's summer break), whether the internship is paid, and other pertinent information. Much like crafting a job description for an employee, make sure you can answer questions such as:
What are the goals of the internship and what specific duties and functions will the intern take on to achieve them?
Is there any previous skill set or current program of study the person needs to succeed in the role and add value?
Where will the person work, and during what hours?
Which team will the intern support?
What tools, software, or technology resources will the intern be provided with to achieve the goals of the internship?
Is there the opportunity to bring an intern on as an employee following the completion of their internship?
The more detailed your description, the better you can communicate your needs and find the right intern. Otherwise, unclear expectations can lead to interns bouncing back and forth between teams, sitting idly with nothing to do, and developing a less-than-favorable impression of your business.
Once you have a solid description for an internship opening, post the listing with local colleges, as well as on websites that post about internship opportunities, career pages, and social networks. Encourage current employees to also reach out to their alma maters to help spread the word.
Start the Intern Selection Process
A thorough vetting process, much like hiring a full-time employee, is crucial to selecting an intern. The intern selection process may involve initial phone screenings to weed out unqualified applicants, in-person interviews to assess their capabilities, and even a meet-and-greet with the team to get a sense of future dynamics. Anyone involved in the interviewing and selection process should be mindful of the fact that this person likely has limited (or zero) job experience, so questions should reflect this. They may include:
What do you hope to learn as an intern?
What made you interested in your current field of study?
What are your future career aspirations?
Can you talk about a recent school project you worked on?
Anyone involved in the interview process should also be mindful of questions to avoid, including anything related to an individual's race, ethnicity, religion, or gender; citizenship status or place of birth; any physical or mental disability; or whether the candidate is pregnant.
Make an Offer
Just as you would extend an offer letter to a potential employee, make an offer in writing to an intern, whether it's paid or unpaid. Details to consider including in the offer letter:
The name and location of the business
The internship's start and end dates
The amount of compensation you are offering if it's a paid internship (or alternatively clearly stating that the position is unpaid)
The intern supervisor's name
The deadline for accepting the internship
Internship FAQs
Do Interns Get Paid?
Many internships offer some form of compensation, but unpaid internships may exist in situations where the intern is the "primary beneficiary" of the agreement, per the DOL's primary beneficiary test. State and local laws should also be taken into consideration when determining whether an internship is paid or unpaid.
Do Interns Get Benefits?
While interns are generally not eligible for most company benefits, those who qualify as employees under the FLSA are typically eligible to participate in company benefit plans. As of May 2017, organizations with 50 or more employees are required to offer health benefits to any individual working 30 or more hours per week once they have satisfied a waiting period. The law doesn't specifically outline guidance in regard to interns, but if they work 30 or more hours per week and have satisfied the waiting period, interns must be offered coverage. Make sure to review your company policies prior to bringing on any interns.
What's the Difference Between Intern vs. Employee?
As stated above, there are federal and state guidelines that help organizations classify an intern vs. employee. But at the basis of an internship policy, an internship's purpose is to provide a student or recent graduate with training for a specific period of time similar to what would be given to them in an educational setting. The experience is for the benefit of the intern. On the other hand, an employee is hired to perform specific tasks for the benefit of their employer in exchange for compensation and benefits.
Do Internships Always Lead to Jobs?
Not necessarily. Internships are a great way for students to build connections within a company, demonstrate their abilities, and generally get their foot in the door. But there is no guarantee that an intern will receive a job offer.
Can a Company Revoke an Internship Offer?
An employer has the right to rescind an internship offer for almost any reason, unless it's based on discriminatory factors such as gender, race, etc. If the individual fails a background check or drug test, this could also lead to a revoked internship offer as part of the company hiring policy.
Can an Intern Get Fired?
It's possible for internships to end prematurely, but how businesses choose to handle subpar intern performance can vary. Some businesses will simply wait out the duration of the internship and wish the student well at the end of it. Others may choose to dismiss an intern before their last day. That said, internships are learning experiences, and it's important to provide opportunities for interns to learn from their mistakes. However, actions such as continually showing up late (or not at all), stealing or committing illegal acts, or exhibiting inappropriate behavior may all be grounds for immediate dismissal.
How Long is an Internship?
Internships last for a specific period of time, typically anywhere between a few months to half a year. An internship that lasts for a short duration, such as during a summer break, can be beneficial if there's a project that will have a definite end date. At the same time, a longer internship offers more time for training and additional opportunities to further develop an intern's skills.
Get the Most from Your Internship Program
An effective internship program can help students and recent graduates see what it's like to work at your company, explore different departments, and gain valuable work experience. And with today's competitive hiring landscape, interns can offer a helping hand to over-capacity departments, and be a great strategy for building a solid candidate pool for future job openings.
With 2023 here, attracting and retaining talent remains a top priority for many business leaders. That's largely due to lasting impacts on the professional landscape over the past few years: work environments have been greatly reshaped by the COVID-19 pandemic, many employees are continuing to reevaluate their priorities and values, and mass resignations and a highly competitive talent marketplace have created both challenges and opportunities for employers. With so much at stake, let's review what recent hiring and talent acquisition trends have emerged, and how leveraging them this year can help your business. Read on to learn more.
<iframe allow="autoplay *; encrypted-media *; fullscreen *; clipboard-write" frameborder="0" height="175" style="width:100%;max-width:660px;overflow:hidden;background:transparent;" sandbox="allow-forms allow-popups allow-same-origin allow-scripts allow-storage-access-by-user-activation allow-top-navigation-by-user-activation" src="https://embed.podcasts.apple.com/us/podcast/hiring-trends-according-to-indeed-com/id1498794200?i=1000583909786"></iframe>
Recruiting and Talent Acquisition Trends
The future of effective recruiting will center around speed, proactivity, and intentionality. Recruiting trends shed light on the importance of actively searching for candidates for specific positions and creating groups or categories of candidates to be ready when specific jobs become available. Proactive recruiters will be first to the table with ready-now candidates in an attempt to make their placements quicker, beating out the competition. This will require building relationships, using all available channels to find and connect with potential new hires, making great first impressions, and building healthy and inclusive environments.
Focusing on More Efficient and Proactive Recruiting with HR Automation
Technology can be a great resource for everything from finding new employees to pushing out communications. While many businesses still struggle with finding great talent, there's a growing — and likely lasting — trend to use HR automation to help reduce costs and increase efficiencies in recruiting processes. Results from the 2022 Paychex Pulse of HR Survey echo these sentiments, finding that while half of respondents said their organizations were not effective at hiring, onboarding, and retention, HR technology is helping to accelerate key parts of the talent acquisition journey.
What makes this trend of using HR automation in recruiting so appealing is the level of integration across the hiring process and a faster process overall. Imagine how poorly a candidate might interpret slow or poor communication from a talent acquisition team, this is where HR automation can help. Some employers are speeding up the hiring process from end-to-end by:
Using application features that integrate with sites like LinkedIn to expedite the application process;
Leveraging recruiting technology such as automated screening forms and streamlined communication to quickly vet candidates and keep them in the loop; and
Video interviewing to connect candidates and hiring managers who would otherwise experience delays and expenses associated with scheduling in-person interviews and coordinating travel.
Please note that automated screening and video interviewing may be regulated by employment laws in some jurisdictions.
Including Social Media as a Recruiting Channel
As businesses use social channels to grow their brands and generate leads, digital recruitment via social media is equally valid for recruiting talent, especially younger hires. Platforms such as LinkedIn, Indeed, and Glassdoor can be integral to the future of hiring. Posting job opportunities and targeting social media platforms may be a very successful way of recruiting talent that can be targeted to your industry and the skills you're seeking in a new hire. You can even narrow searches to specific candidates who are actively seeking new employment opportunities. When your company uses modern recruitment tools like social media to build a relationship with your target audience, you are more likely to attract quality applicants and stay on top of hiring trends.
Creating Diverse and Inclusive Environments
Diversity, equity, and inclusion (DEI) programs can deliver positive business benefits, and HR leaders recognize this. Also, companies are trending toward focusing on their DEI initiatives to improve their company culture which has been shown to enhance talent acquisition. According to the Paychex Pulse of HR Survey, 71 percent of HR professionals said their companies are doing at least one of the following:
Offering bias and other DEI-related training
Ensuring that vendors and partners have a proven commitment to DEI
Making DEI guidelines and documents easily accessible to employees
Getting help from an HR or DEI consultant
Beyond aspects such as age, race, and gender, companies may also consider flexible work options and customized benefits as part of their diversity initiatives and ensure they are taking an equitable approach to give all workers a fair chance of doing their best work. Using AI and inclusive technologies may help you weed out bias so that you won't miss out on great talent.
Focusing on the Candidate Experience
Adept businesses that focus on the employee experience know that a great experience starts from the first contact as a potential job candidate. It's a phase of the employee cycle that recruiting teams are prioritizing since this experience often sets the tone for subsequent interactions, should the individual get hired. Whether an individual joins the business or not, the trend of prioritizing the candidate experience provides an opportunity for businesses to gather valuable feedback on the application process, interviews, hiring teams, and the efficiency of the entire process.
Building and Using Referral Programs
Knowing that it takes time and resources to find great talent, having strong employee referral programs can prove worthwhile for businesses that choose to build and leverage them. An employee referral program is a structured set of processes that allow current employees to recommend people they know to help fill open positions within their organization. The programs that are well-organized and implemented consistently in conjunction with a company's overall hiring strategy can be an integral part of finding and maintaining a high-caliber workforce. They can also create a win-win-win scenario: the business gets leads on job candidates for minimal recruiting costs, the employee is incentivized (usually through a bonus or monetary reward) for recommending someone who's brought on board, and the job candidate gets a lead on an open position from someone with a connection to the organization.
Hiring Trends
The future of hiring emphasizes a priority on looking for individuals with a range of skills, your brand's reputation, considering the talent you already have on your team, and benefits and work setups that demonstrate your commitment to employees. Knowing that finding great hires continues to be a challenge for many employers, these trends represent a broad range of approaches businesses can take to bring on and retain motivated and hard-working individuals.
Hiring for Soft Skills
When you're competing for talent in a tough employment market like the one we are in today, evaluate your approach and consider what skills are needed to align with your culture and employer brand, rather than just focusing on the specific job that needs to be filled. For instance, soft skills such as problem-solving, collaboration, and leadership can be more challenging skills to hire for than hard skills that could be learned like accounting, technical support, or cashier processes. A candidate's soft skills can significantly influence their ability to fit in with your culture. Identify some soft skills you want to bring into your organization, knowing you may be able to train a candidate on some of the hard skills required to execute on the job, such as learning your administrative processes and technology platforms.
Emphasizing Employer Branding and Company Values
To recruit and hire the best talent and stand out from the competition, employers may create a candidate experience that is compelling, positive, and distinct. Employees may be looking to join a company aligned with their purpose and values, one that will help deliver meaning in their work. In addition, employees evaluate companies based on their employer brand: what they stand for, how they treat their employees, their company values, opportunities to learn and grow marketable skills, and competitive compensation and benefits.
Tapping into Internal Hires
Looking at your internal talent pools can help fill talent gaps by focusing on upskilling and reskilling current employees to meet changing and future business needs. Often great candidates can be hidden in plain sight when recruitment efforts are focused outside of a company. Intelligent companies are focusing on their future by using internal recruiting as part of their strategic growth.
Providing ongoing opportunities for career development is one of the best benefits your organization can offer employees. It shows your commitment to their career well-being. Today's employees seek opportunities to develop skills that have marketable value both within the future of your business and outside of your employment. Help employees know what future skills are needed for success and provide opportunities to develop their skills sets and career paths to demonstrate you are invested in their growth and development. This will also help you stay abreast of current and impending recruitment and hiring needs to inform your talent acquisition strategy.
Offering Valuable Employee Benefits
Gaining a competitive edge in talent acquisition and retention means that valued and meaningful benefits are now table stakes. According to the Paychex Pulse of HR Survey, organizations largely recognize the role that benefits play in hiring and retention, and have increased the benefits they are offering by an average of 22 percent, compared to what they were offering prior to the COVID-19 pandemic.
Health and retirement benefits, as well as financial and mental health counseling services are a great way to support the physical, emotional and financial well-being of your employees. Rewards and recognition programs, in addition to offering robust learning and development opportunities, can also help employees feel more engaged with your company. Consider conducting regular surveys to gauge which benefits are valued most by your employees, to give your business a competitive edge.
Embracing Remote and Hybrid Work Models
While working remotely became a common operating environment during the COVID-19 pandemic, many employers and employees have determined that it's here to stay — and it's proving worthwhile for business. In fact, the Paychex Pulse of HR Survey found that four in 10 HR leaders with a remote workforce said that remote/hybrid work improves employee emotional/physical/financial well-being, boosts retention, enhances quality of work, and increases productivity. That may be why the number of companies offering remote or hybrid work has increased by 124 percent since before the pandemic, and those offering flexible scheduling have increased by 50 percent.
As a result, the hiring of remote workers continues to place importance on digital hiring trends. Use modern recruiting techniques such as video interviewing, scanning social media channels, and other hiring practices that aren't limited by geographic proximity.
Providing Employee Wellness, Safety, and Support
Another significant hiring trend focuses on employee wellness, safety, and support. Communicating to employees about how you will provide a safe and healthy work environment is critical to bringing on great talent and maintaining a strong workforce. This includes building programs addressing employee work/life balance, mental health, and support for remote workers.
Start 2023 On the Right Foot By Staying Ahead of the Trends
The beginning of the year is a great time to refocus on hiring and recruiting goals, including evaluating work environments, current processes, and other aspects of the employee life cycle. Consider the recruiting and talent acquisition trends mentioned above, which may help you better align your goals as well as provide insights into new approaches to finding and bringing on great talent in 2023 and beyond. Take advantage of hiring services and HR expertise from third-party providers, which together can go a long way toward helping you meet your talent recruitment goals.
The life of your business will inevitably be punctuated by changes both big and small. Whether it's downsizing, an upgrade to an outdated system, or introducing new processes to address productivity levels, organizational change management is essential for business growth and profitability. But change is never easy, which is why we've outlined below what the process can look like, how organizational changes can be major opportunities for everyone, and what it takes to see change management through to its completion.
Organizational Change Management Defined
Organizational change management is a top-down approach to making large-scale changes in a business and seeing them through to a resolution, whether the change focuses on company culture, technologies and infrastructure used to keep operations running, or internal processes. The primary goal is to successfully prepare, support, and see through the execution of new processes, products, and business strategies while minimizing negative outcomes for impacted individuals.
A change management initiative is also much more than project management or technical tasks, which follow a formal structure and a defined schedule. Organizational change focuses on guiding and leading people in the organization through major shifts, which may be hard to predict in the beginning and require adjustments throughout the process.
Goals of Organizational Change Management
Since the purpose of organizational change is generally to improve a process, product, or outcome, it's critical to identify the overarching "why" of making a change in the first place. Without clearly articulating this, it will be hard for people to work together and meet expectations. A few examples of change management goals may be:
Increasing ROI: When an organization spends money to develop or implement a new system or tool, the investment is only worthwhile if employees actually use it.
Boosting employee morale: When employees experience changes, even minor ones, they want to know that the business has acted in their best interest. Effective change management can be the difference between disgruntled employees and employees who feel engaged, empowered by change, and willing to stay with the company for the long-term.
Minimizing negative impact for the business: Changes are ultimately good for a business, although there may be some growing pains along the way. An effective change management program clearly addresses any negative impact to individuals or the business, and prioritizes continuous communication as needed.
Appropriately managing risk to the business: Great change management recognizes plausible risks when implementing a change, identifies ways to handle pitfalls, and encourages employees to embrace times of transitions.
Establishing a culture of innovation: Change and innovation go hand-in-hand. When employees resist change, it makes the entire change process that much more difficult, plus innovation and advancement can suffer. Prioritize building a culture that embraces change at all levels of the organization.
Examples of Change Management
Organizational change can take many forms and each requires its own strategy. But generally, business changes fall into one of the following types:
Strategic transformational change: This is a large-scale shift that addresses a business's policies, structure, or processes. Examples of this type of organizational change would be changing your employee benefits package or rewriting your company's mission statement. Restructuring that results in downsizing or upsizing the workforce would also fall under a strategic organizational change.
People-centric change: Adjustments that have a considerable effect on people, such as an adjustment to leave policies or changes to employees' roles and responsibilities.
Structural change: Major changes to organizational structure, usually caused by mergers and acquisitions or changes in the market. Examples of this type of change include team reorganization, a change in team responsibilities, and administrative procedures.
Technological change: Tech-focused organizational changes introduce new software or systems to improve business processes. This could include switching your customer relationship management platform or updating to a new version of your computer operating system.
Unplanned change: This is action required following an unexpected event. Many employees quitting at once or shifting a team to remote work due to a business disruption would be examples of an unplanned change.
Remedial change: This is a reactive, immediate response to an unexpected problem. Examples include resolving a customer service issue or a team covering for an employee who quit without notice.
HR's Role in Change Management
HR professionals are in a unique position when it comes to change management. HR is critical in bridging communications between management and employees, ensuring information is shared in a timely and transparent way, and identifying and addressing any specific concerns or risks before issues arise.
When HR is in lockstep with leadership and key stakeholders, it's possible to gracefully navigate the challenges that come with periods of change — achieving both the organization's goals and ensuring your team feels confident about the company's future direction. It's for the good of the entire organization when HR:
Aligns with management: Understanding the vision can help HR ensure all communications align back to the company's largest goals, and assist with leading through change.
Prioritizes communication: Take the time to establish lines of communication with employees at all levels of your organization. Share information when you can about the changes that are occurring, how it will impact employees' day-to-day situations, and the steps being taken to help ensure the changes are for the overall good.
Assesses readiness and risk: HR can lead the way in assessing change management readiness and identifying areas of risk that may need special attention. They can use information from HR analytics, for example, to help the business make data-backed decisions.
Provides support where needed: By having your HR department on board and focused on providing support, they can help employees at all levels successfully move through the transition and mitigate much of the concern around change.
Why It's Important To Manage Organizational Change
Managing organizational change is necessary for companies to succeed and grow. Without an effective plan in place, business changes — which again, are inevitable — can be tumultuous and costly in terms of time and resources. Whether they occur at the organizational, project, or individual level, changes can also take a toll on employee morale and productivity. In a time of transition for the business, these are things you simply can't afford. Effective change management involves giving employees the information, tools, resources, and support they need to adapt, whatever the change may be.
The Change Management Process
Organizational changes should be approached methodically, considering that the change will likely be significant and have an impact on many (if not all) people in the organization. A consistent change management process should be adopted to minimize negative impacts of change on your business and team. The process for change management generally follows these steps:
Identify Areas of Focus
Some change will be a reaction due to external factors, such as a merger or acquisition. Others will come internally, when an individual or team sees the need to improve a process, structure, product, or an outcome. Wherever the need for change originates, identify the focus and clarify goals as early on as possible. Also, who will be involved in leading the change and facilitating the process? Successful change management always takes into account the importance of building a solid foundation for clarity, ease, and successful implementation.
Secure Approval From Stakeholders
Stakeholders could be executives or upper management who both direct and finance the transition. They could also be a group of employees who are tasked with implementing the actual changes. It's important to not only identify who these key players are, but also clarify their expectations and what it will take to get their buy-in.
Make a Plan
Planning is a critical multistep process that shouldn't be rushed. A change management project plan should outline clear steps, measurement criteria, and analysis, including:
The current state
The initiative's objective
Timelines
Potential roadblocks
Resources needed (this could be people and/or equipment or technology for implementation)
Any associated costs
Key performance indicators for measuring the initiative
Use Data To Evaluate and Monitor Progress
Knowing whether a change management plan is on the right track relies on solid data gathering and analysis practices. Insights gleaned from thorough reporting can improve communication to both stakeholders and teams involved in the change, proper and timely distribution of incentives, and measurement success and benchmarking.
Communicate About Change
Providing clear and open communication throughout a time of change is critical. Frequent, two-way communication is an effective way to identify roadblocks, celebrate wins, and get on the same page about next steps or pivots. Consider also that if employees expressed hesitancy before the change was implemented, communicating as openly and often as possible could help assuage any resistance.
Continue To Assess Risks and Pivot if Needed
Change management and the adoption of a new process, technology, or system is an ongoing process. Even with a fully laid-out plan, you may need to make tweaks and adjustments. Clear KPIs as well as solid measurement and analysis can help illuminate what is and isn't working, and help teams assess any pivots that may need to be made.
Types of Organizational Change
Organizational change can happen on different types of levels, and often overlap:
Individual: All changes impact individuals, but at this level, an individual experiences a change that's meant to help them grow in their role or achieve specific goals.
Project: Ensures a project achieves its intended goal.
Enterprise: Larger-scale transformations that generally impact the entire business.
You can also classify organizational change types by their size and scope: adaptive or transformational. Adaptive changes are smaller-scale and address business needs over time. Transformational changes, on the other hand, are larger in scale and often involve a major business shift. They also take quite a bit of time and resources to implement. Of course, many changes a business will experience fall somewhere on the spectrum between adaptive and transformational change.
Benefits of Organizational Change Management
Organizational change recognizes that there's a need at the business to grow, innovate, and adapt. Without change, businesses can stagnate, fail to adapt to changing market conditions, and leave their workforce unengaged and unproductive.
There are many potential benefits of successfully managing organizational change, including:
Reframing change as an area of opportunity, particularly as a way to address employee resistance.
Demonstrating employees' value to the business by involving them in large initiatives that align to larger goals.
Bringing order during a time of uncertainty or transition.
Improved morale and engagement from employees who feel that they are part of the process and their concerns are heard.
Process improvement and better approaches to decision-making moving forward.
Organizational Change Management Risks
Even with the change management process steps listed above, you may run into some pitfalls. To successfully see organizational change through, understand some common risk factors that can derail a change management initiative:
Lack of support or internal buy-in: Change needs top-down support as well as buy-in from individuals who are directly impacted by the change. That's why securing stakeholder support is essential.
Poor communication: Change at work can make employees uneasy or unwilling to embrace what's to come. Developing clear communication plan that outlines what the changes are and who they'll impact is a worthwhile step in the process that demonstrates you respect those affected by the change.
Unclear KPIs: The ability to gauge how well a business change is being implemented relies on clearly defined KPIs. This can also help stakeholders and implementation teams understand goals, key project milestones, and end states for the initiative.
Overlooking the human element: People will be affected by change at work. Some may be excited about changes that benefit their career, but others may just be naturally resistant to change. An organizational change may also set them back in their role. Remember the importance of assisting, communicating, and supporting employees through transitional times.
Not enough or no training: In instances where there's an organizational change or upgrade to a new system or technology, plans need to be in place to orient employees who are expected to use these tools. Provide detailed and ongoing training for employees once a new system or procedure has been implemented.
Losing steam: When implementation teams have been working on a change for a while, they'll naturally start losing momentum. Keep your sights set on the end state or ultimate goals so that you can see the change initiative all the way through.
Managing Organizational Change With the Right Processes and Technologies
Effective change in the workplace requires considerable time and effort to identify, implement, and maintain organizational shifts. But when it's done correctly, the rewards that an organization can reap usually outweigh any drawbacks. Whatever the catalyst — innovation, growth, or a major transition within the business — ensure that those impacted have the tools and support they need to successfully embrace change in the workplace. And, consider working with an HR Professional who can help identify and navigate the impact to employees that may arise during organizational change.