Employee Benefits Services
Attract and retain the best talent with access to a cost-effective, comprehensive employee benefits package from Paychex. We can help you level the playing field against Fortune 500 companies, take time-consuming HR administrative responsibilities off your plate, and support you with seamless online employee benefits administration.
Why Employee Benefit Services Helps Your Business
Benefits Administration Challenges Many Employers
32% of business owners struggle with offering competitive employee benefits and compensation.1
Improve Benefits Offerings Without Additional Costs
PEO clients can help reduce the cost of health insurance benefits for employees, compared to those who go it alone.
Stay Competitive While Alleviating Your Administrative Responsibilities
One of the most frequent responsibilities that business owners would like to outsource is the administration of 401(k) and benefits.
Automate Your Employee Benefits Management
Benefits Administration Technology and Service Fuel Your Business Success
Our automated benefits administration technology can help you manage eligibility tracking, enrollment forms, benefits changes, and much more, including:
Full integration means applicable data is automatically shared with time and attendance and payroll systems
24/7 access to benefit information for each employee, all in one location
Online management of employee eligibility, new-hire dates, life events, and open enrollment
Data such as enrollment information and tracking are conveniently saved year-to-year
Easily drill down into benefit details via our analytics dashboard
 
Offer Convenience and Value to Employees
Paychex Flex® allows employees to initiate a variety of activities themselves, empowering them to get the answers they need, when they need them — saving your HR teams' time and helping maintain everybody's productivity. Through the Paychex Flex website or mobile app, you can:
Offer multiple healthcare benefits plan designs depending on your location, including health maintenance organization (HMO) insurance, point of insurance (POS), preferred provider organization (PPO) insurance, health savings accounts (HSA), and high deductive health plans (HDHP). We also offer plans with telehealth options.
Help your workforce save for their financial future. Paychex offers various 401(k) plans, HSAs, and the financial wellness tool, FinFit®, to help your team achieve their financial goals.
Offer an EAP to reinforce your commitment to employee wellbeing — confidential EAP resources and support can help employees deal with challenges head-on, such as counseling, resolving medical claims, managing stress, stopping smoking, or losing weight.
Integrate Payroll With Employee Benefits Management Services
Offering competitive employee benefits can be simple with Paychex Flex®, our fully integrated technology that delivers one of the most comprehensive end-to-end solutions available today. With employee benefit programs and payroll integration, we make it easy to:
Control costs by managing payroll and benefits from an all-in-one technology platform
Streamline administration by automating data entry
Simplify open enrollment and health insurance changes
 
Paychex's Employee Benefits Administration Services Support Recruiting and Keep Your Team Happy
Individual Health Insurance
Have you lost your group coverage? Call in the professionals. Our licensed insurance agents will look at your insurance needs and help find a healthcare plan to fit your situation.
Provide Support Through Employee Assistance Programs (EAP)
Confidential resources and support that help employees deal with challenges head-on — counseling, resolving medical claims, managing stress, stopping smoking, or losing weight — can help reinforce your commitment to their well-being.
FinFit® Financial Wellness Program
85% of employees would like consultation on financial education.3 This valuable benefit is offered free to all Paychex customers. Support your workforce in their efforts to secure their financial future with:
Personalized financial assessments
Online education, budgeting tools and credit resources
Student Loan Consolidation Concierge
Short-term employee loans* for emergencies and the unexpected
Smarter alternatives to 401(k) loans, payday loans and payroll advances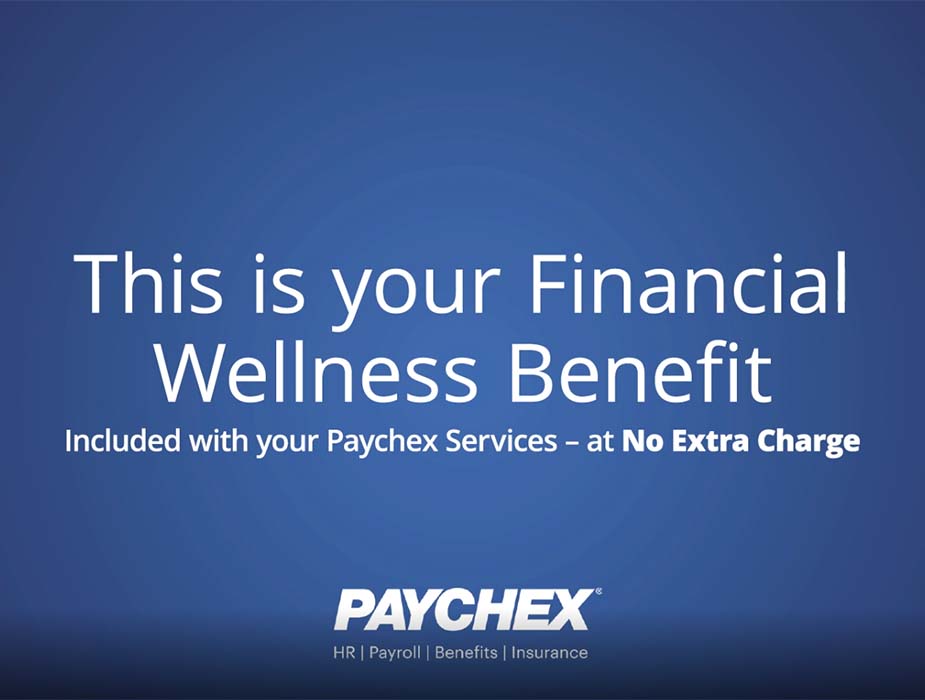 Paychex Is the Most Experienced Retirement Plan Provider
We offer all-in-one payroll and employee benefits administration for more efficient recordkeeping. Add to that flexible plan designs, full-service administration, employee self-service, and the expertise of the nation's number one 401(k) plan recordkeeper2.
Find the Right Solution for Your Business
We can help you discover what you may need and how to get there. Tell us more about your business with our interactive solutions tool.
PEO: An Affordable Way To Manage Employee Benefits
A professional employer organization (PEO) provides economies of scale that may allow you to offer valuable company benefits and services, such as 401(k) plans and HSA or FSA accounts. A dedicated Paychex HR professional  is also assigned to you to proactively assess your needs and create an action plan and provide knowledgeable HR advice.
Gain Total Visibility With Up-to-Date Benefits Data
Leverage complete administrative visibility and control over comprehensive benefits data and processes, including up-to-the-minute status and eligibility changes. Drive informed decision-making with reports by department, location, division, or other data categories. Data can also be made available to brokers or third-party administrators.