Payroll and HR Software for Accounting Professionals
Are your clients asking more questions about their HR challenges? Is your firm looking for ways to increase revenue opportunities? Paychex offers solutions in addition to payroll for accountants that can help enhance your consultations and enable you to focus on growth.
What You Get When Partnering With Paychex
Technology: Continuous innovation to develop services and resources to help accounting professionals work more efficiently with clients.
Partnerships: Our nearly two-decade relationship as an AICPA/CPA.com preferred provider provides opportunities for accounting professionals and their clients.
Commitment to service: CPAs can work hand-in-hand with our Dedicated Accountant Service Team (ARMs and ACTs).
Leadership: We positioned ourselves out front during the COVID-19 pandemic to provide tools that helped enable accounting professionals to support their clients in a time of need.
Services and Tools to Help in Client Consultations
Flexibility and Growth with Paychex
With Accountant HQ, easily manage client data from one command center that provides a single dashboard and gives you access to all your clients' sites through a single sign-in.
"We interviewed many firms to provide payroll services for us because we had to find that firm that delivered the same level of service that we did. And after that exhaustive process, we decided to partner with Paychex."
Linda Chapekis
President
The Accounting Office, Inc.
Connect and Share Data
Our all-in-one technology and service platform, Paychex Flex®, integrates with popular payroll and HR software for accountants, as well as productivity and financial tools that can help provide flexibility to hire, manage, pay, and retain a workforce.
Grow with Paychex Flex®
Paychex Flex® is a scalable, online human capital management solution well-suited for small- to mid-sized businesses, including accounting professionals looking to offer payroll solutions, as well as other HR and benefits services to clients. Paycheck Flex® offers three plans: Paychex Flex® Essentials, Paychex Flex® Select, and Paychex Flex® Enterprise, with each version offering increasingly robust features and functionality. For accountants only there is AccountantHQ, a dashboard that allows access and management of client payroll and HR data on a single platform.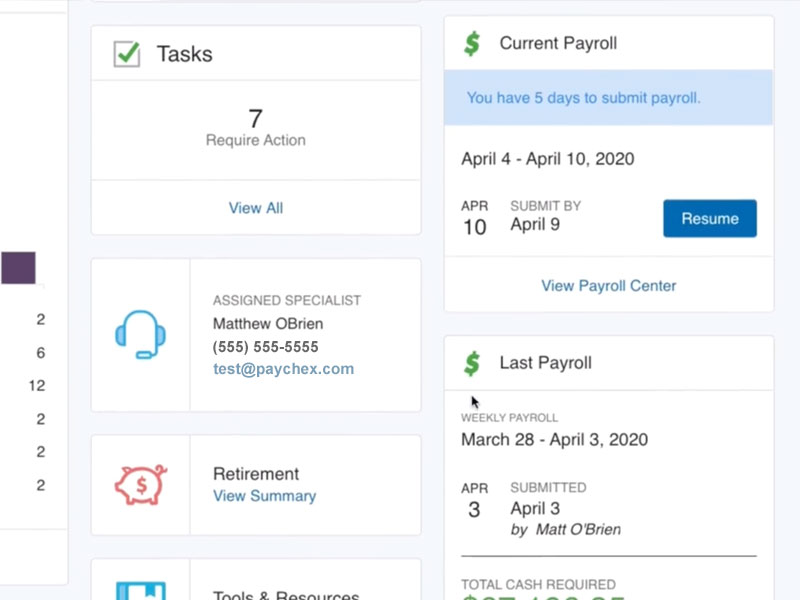 680,000 Clients Trust Paychex
Small- and medium-sized businesses have basic needs and complex issues to manage. Paychex is here to help today and prepared to help them grow in the future.