Paychex 2018 Year-End Accountant Guide
Paychex is committed to providing the highest quality of service to you and your clients. This Reference Guide for Accountants has been created to help you and your clients prepare and plan for year-end needs. We value our business relationship with you and trust that this information will assist with your year-end processing and planning. More details regarding year-end information can be found in the Paychex Quarter/Year-End Reference Guide.
If you have any questions, please contact your sales representative.
View the full 2018 Paychex Reference Guide for Accountants, or find individual sections below.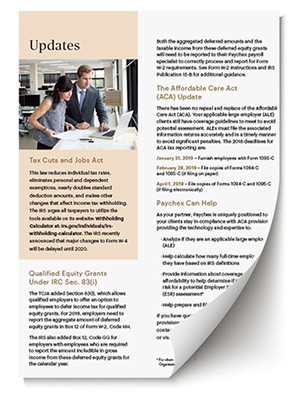 Updates
Read more about 2018 year-end updates, including:
Tax Cuts and Jobs Act
Qualified Equity Grants Under IRC Sec. 83(i)
The Affordable Care Act (ACA) Update
View Updates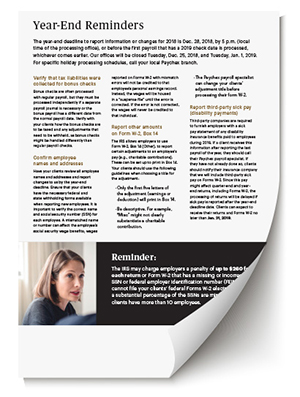 Year-End Reminders
The year-end deadline to report information or changes for 2018 is Dec. 28, 2018, by 5 p.m. (local time of the processing office), or before the first payroll check dated 2019 is processed, whichever comes earlier. Our local offices will be closed Tuesday, Dec. 25, 2018, and Tuesday, Jan. 1, 2019. For specific holiday processing schedules, call your local Paychex branch.
View Reminders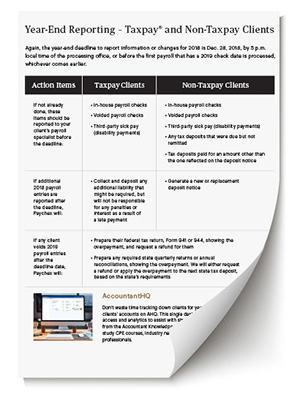 Year-End Reporting: Taxpay and Non-Taxpay Clients
Get a list of action items for Taxpay® clients and non-Taxpay clients. You can also view all of your clients' accounts on AccountantHQ, a single dashboard that provides on-demand access and analytics.
View Action Items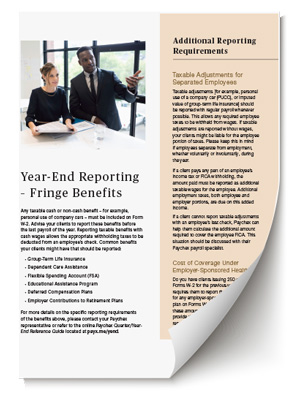 Year-End Reporting: Fringe Benefits
Any taxable cash or non-cash benefit – for example, personal use of company cars – must be included on Form W-2. Advise your clients to report these benefits before the last payroll of the year. Learn typical benefits that need to be reported as well as additional reporting requirements, including:
Group-Term Life Insurance
Flexible Spending Account (FSA)
View Requirements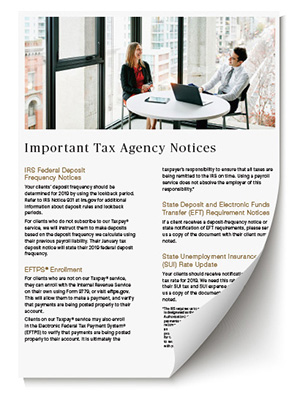 Important Tax Agency Notices
Important notices from tax agencies include:
IRS Federal Deposit Frequency Notices
EFTPS® Enrollment
State Deposit and Electronic Funds Transfer (EFT) Requirement Notices
State Unemployment Insurance (SUI) Rate Update
View Notices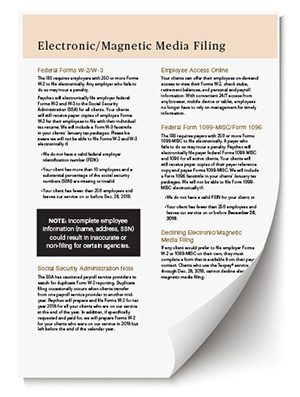 Electronic/Magnetic Media Filing
Information regarding electronic/magnetic media filing includes:
Federal Forms W-2/W-3
Social Security Administration Note
Employee Access Online
Federal Form 1099-MISC/Form 1096
Declining Electronic/Magnetic Media Filing
Federal Form 8027/8027-T for Restaurant Clients
State Forms W-2/1099-MISC
View Requirements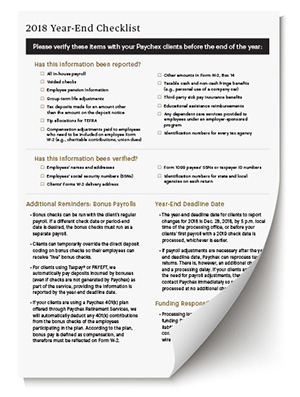 2018 Year-End Checklist
Verify these items with your Paychex clients before the end of the year. Our year-end checklist includes key steps to take concerning:
Information to be Reported
Information to be Verified
Additional Reminders
View Checklist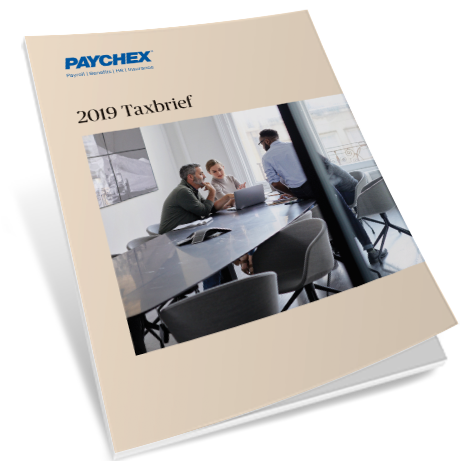 2019 Taxbrief
This section contains 2019 payroll tax deposit rules, regulations, and deadlines. For additional information, please consult IRS Publication 15 (Circular E), Employer's Tax Guide or Publication 509, Tax Calendars. Both of these publications are available at its.gov.
View Taxbrief
It's Simple, Really
Paychex provides the tools, technology, and expertise to help you become your clients' most trusted advisor. With the time you save, you can channel your efforts into growing your business.
Integration with leading accounting software – QuickBooks® Online, Sage Intacct®, and Xero™ – helps reduce errors and enhance efficiency.

AccountantHQ helps manage all your clients' payroll and HR on a single dashboard.

Services that are flexible and technology that is scalable.
Learn About AccountantHQ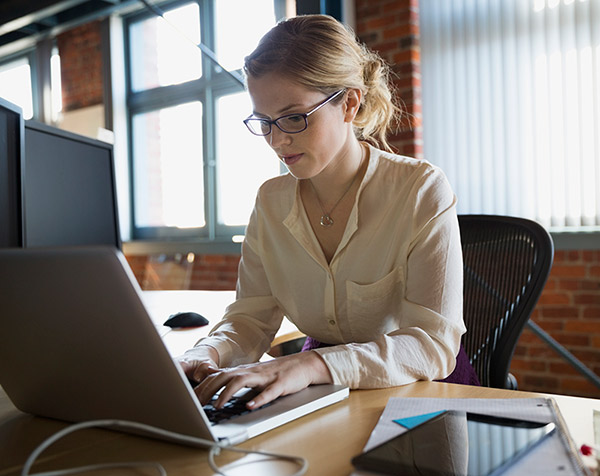 Our Promise
There are too many "what if" moments that can disrupt your clients' business. The Paychex Promise® helps assure that covering payroll will never be one of those moments they need to worry about.