SMB Pulse: Employee Benefits and Programs
Article
03/08/2017
Current Trends in Small Business Employee Benefit Programs
Paychex recently surveyed 318 small- to mid-sized business (SMB) owners to examine the current trends in employee benefits and programs. This analysis reviews the survey findings, and presents an overview of the current trends and experiences that businesses face when offering and managing employee benefit programs. The survey inquired as to whether or not businesses offered employee benefits, the nature of the benefits being offered, and the perceived value and benefit of those programs. Variables such as respondent and business age, business size and growth, as well as industry and geography, were taken into consideration.

Some of the highlighted findings include:
A majority of SMBs do not offer employee benefits
Businesses of larger size and fast growth are more likely to offer benefit programs
Businesses that do offer benefits find them beneficial to their businesses and see specific value in the benefits they offer
The age of respondent plays a factor in what type of benefit is perceived as having value or being beneficial
Newer businesses identify specific benefits as important to achieving growth and attracting talent that will help them grow
Employees Benefits Still Not Offered by Most SMBs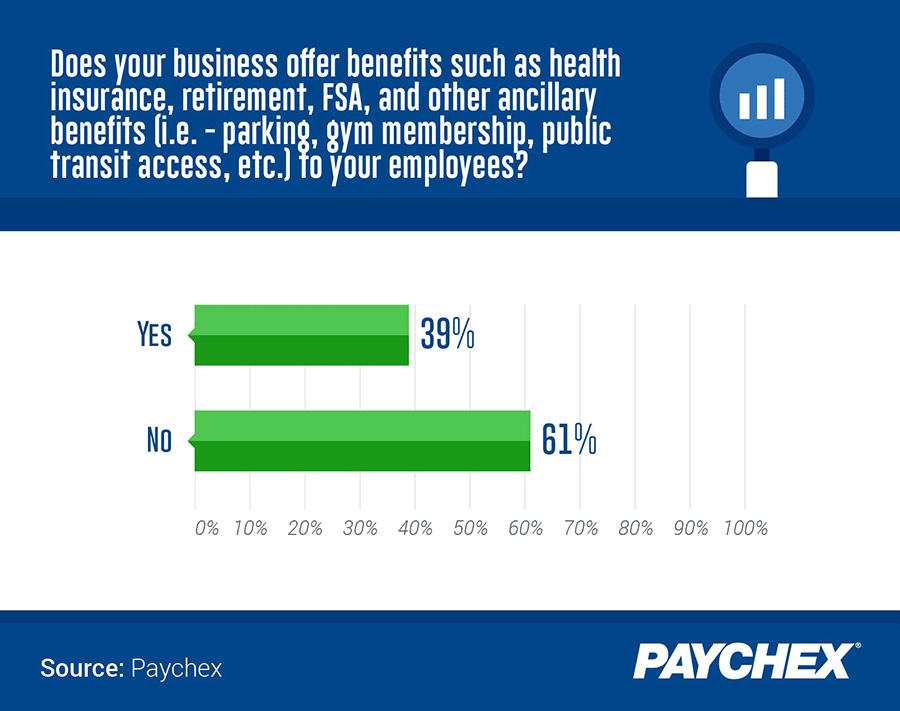 By a fair margin, respondents reported that on the whole (61%), SMB organizations do not offer any form of benefits to their employees. While this contrasts national levels, it does reflect in part the absence of legal requirement for businesses with less than 50 employees to offer benefits - most notably, health insurance. Providing benefits is also a matter of economics for many SMBs. Of businesses earning less than $500k in revenues, 78% reported that they do not offer benefits. This is in contrast to responses from businesses with revenues of more than $1M, where 74% confirmed that they do offer benefits to their employees.

Similarly, 66% of established businesses that have been in operation for 10 years or more reported that they do offer benefits. For businesses 6-10 years in operation, this number fell to 42% and for businesses operating 0-5 years 58%. This indicates, in part, that with business growth and development comes the capacity and willingness to invest in employee benefit programs. This trend is further evidenced by reviewing stages of business growth, where 77% of businesses identifying as 'no growth' said they do not offer benefits, and 51% of fast growth businesses do offer benefits.

Interestingly, the age of respondents also showed to affect these outcomes. Older respondents (50+ years) largely (72%) said their organizations did not offer benefits, while 68% of younger respondents (18-34 years) said their businesses did offer benefits. This reflects a perceived difference in how benefits are viewed as part of the employee experience based on the respondent's career position.
The Reason That Drives SMBs to Offer Benefits
When asked why owners offered benefits, the responses were distributed across four types of benefits: health insurance, retirement, FSA/HSA, and ancillary benefits. Considered together, the most commonly reported reason for offering benefits was to improve employee morale, followed by the need to attract talent. Although it can be noted that across all categories (FSA and ancillary in particular), many respondents indicated that they do not feel the need to offer benefits at this time. This response was lowest for health insurance benefits, where only 2% of respondents said they did not feel the need to offer at this time.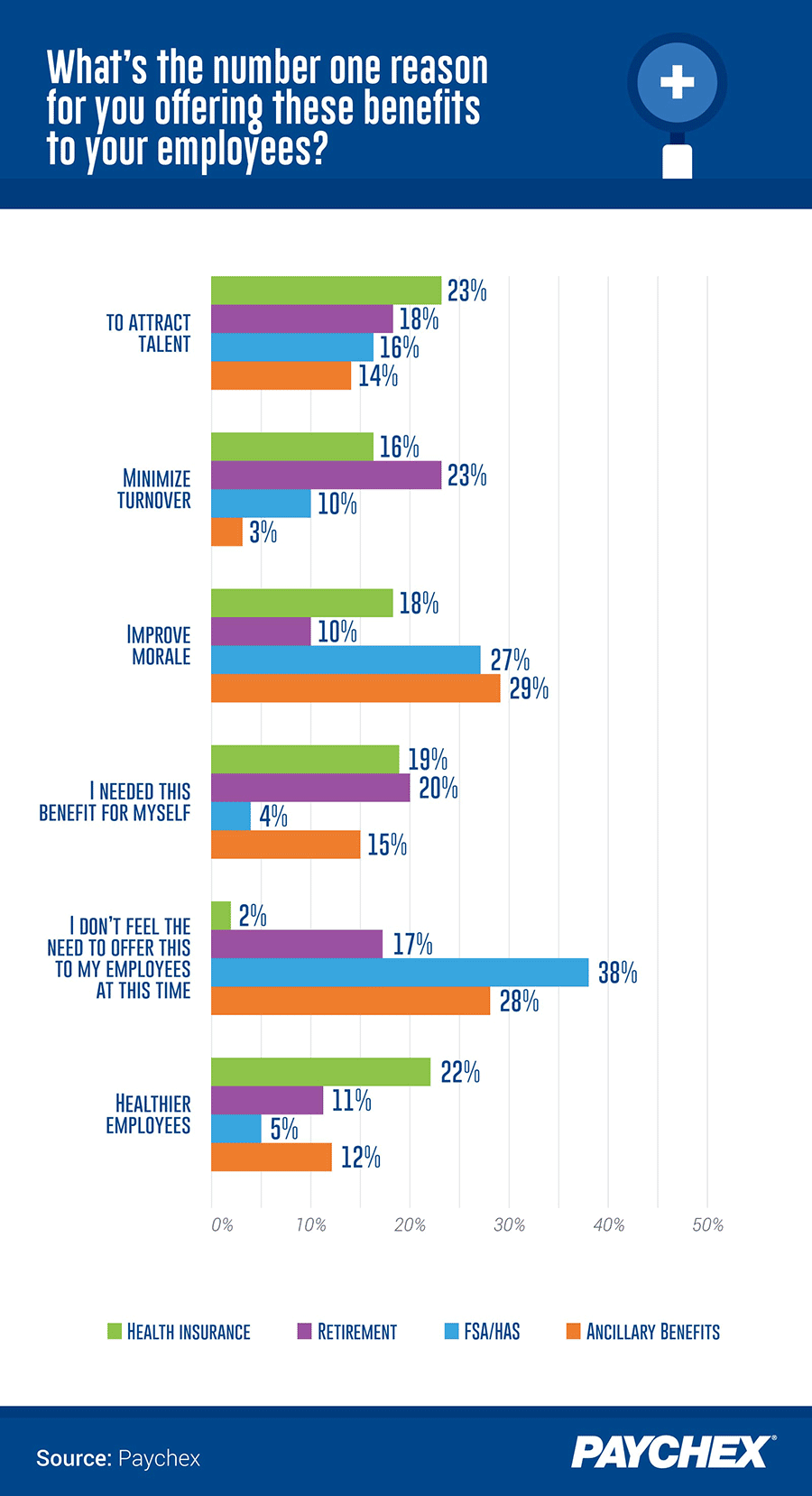 Health Insurance

For health insurance benefits, the top reason for offering was split between attracting talent (23%) and supporting healthier employees (22%). Only 2% of respondents who offered health benefits reported that they didn't see a need to offer these benefits.
Younger respondents (18-34 years) communicated that attracting talent was the most important reason (49%) for offering health insurance. In comparison, of older respondents (50+ years), only 10% saw talent attraction as the main reason. And for a majority of these older respondents (24%), health insurance was offered because it was something that the respondent themselves needed.
The larger the business, the more important health and well-being becomes for employers — 47% for businesses earning more than $1M, compared to 12% for businesses earning less than $500k. Whether fast or slow growing, business owners disclosed fairly evenly that healthier employees and attracting talent were the number one reason for offering this benefit.
Younger businesses (in operation 5 years or less) highlighted talent attraction as the number one (35%) reason for offering health benefits, supporting the larger trend of feeling the need to bring on talent that will support growth. For older businesses (10+ years), only 10% of respondents saw attracting talent as the top reason for providing health benefits.
Retirement
When considering retirement benefits, minimizing turnover was reported as the most important reason (23%) for offering this benefit, followed closely by the individual need for the benefit (20%). Attracting talent remained important (18%), but 17% of respondents said they did not see the need to offer retirement benefits to their employees.
Larger businesses ($1M+ revenues) highlighted attracting talent (47%) and personal need (34%) as the most critical drivers for offering retirement benefits. Only 6% of smaller businesses (<$500k revenues) viewed attracting talent as a top reason for offering retirement benefits.
These smaller businesses focused on minimizing turnover (24%), improving morale (19%), and meeting a personal need for the benefit (19%). For owners of younger businesses, 28% responded that minimizing turnover was the number reason for providing retirement benefits. This is compared to 10% response rate for more established businesses.
Younger respondents in general also saw reducing turnover as the most important reason (38%) for offering this benefit, while only 10% of older respondents saw this as important. Comparably, 30% of older respondents saw no need for offering retirement benefits at all, while 0% of younger respondents said they saw no need.
FSA/HSA and Ancillary
These benefits were seen as lesser in importance to businesses — 38% said they felt no need to offer FSA benefits at this time and 28% for ancillary benefits. Only bigger businesses saw FSA as an important benefit (34%), while smaller businesses did not. Slower growth (45%) and no growth businesses (48%) overwhelmingly viewed this benefit as less critical to their operations.
Businesses That Offer Benefits Find Them Beneficial
While not all businesses offer employee benefits, a large majority of respondents that do, reported that they found it beneficial to their business. Health insurance and retirement benefits were seen as the most beneficial, with 89% saying health was beneficial and 72% saying retirement benefits. Across all benefits, the percentage of respondents who said the benefit had not helped their business ranged only from 5% (retirement) to 9% (FSA).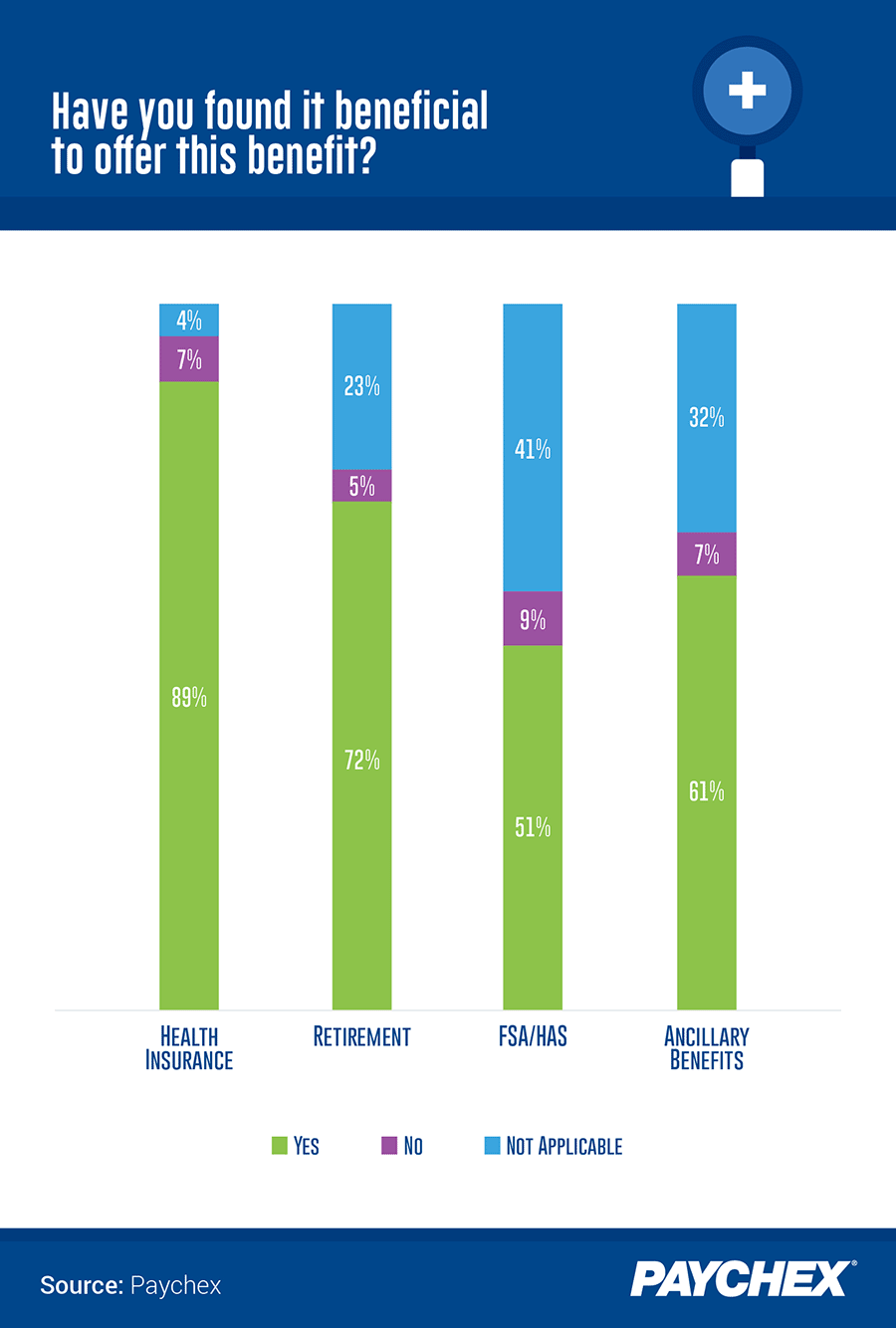 Offering Benefits Brings Big Value for Businesses
Improved morale ranked as the biggest value respondents saw in offering specific benefits to their employees — this was shown as the most common response across each type of benefit.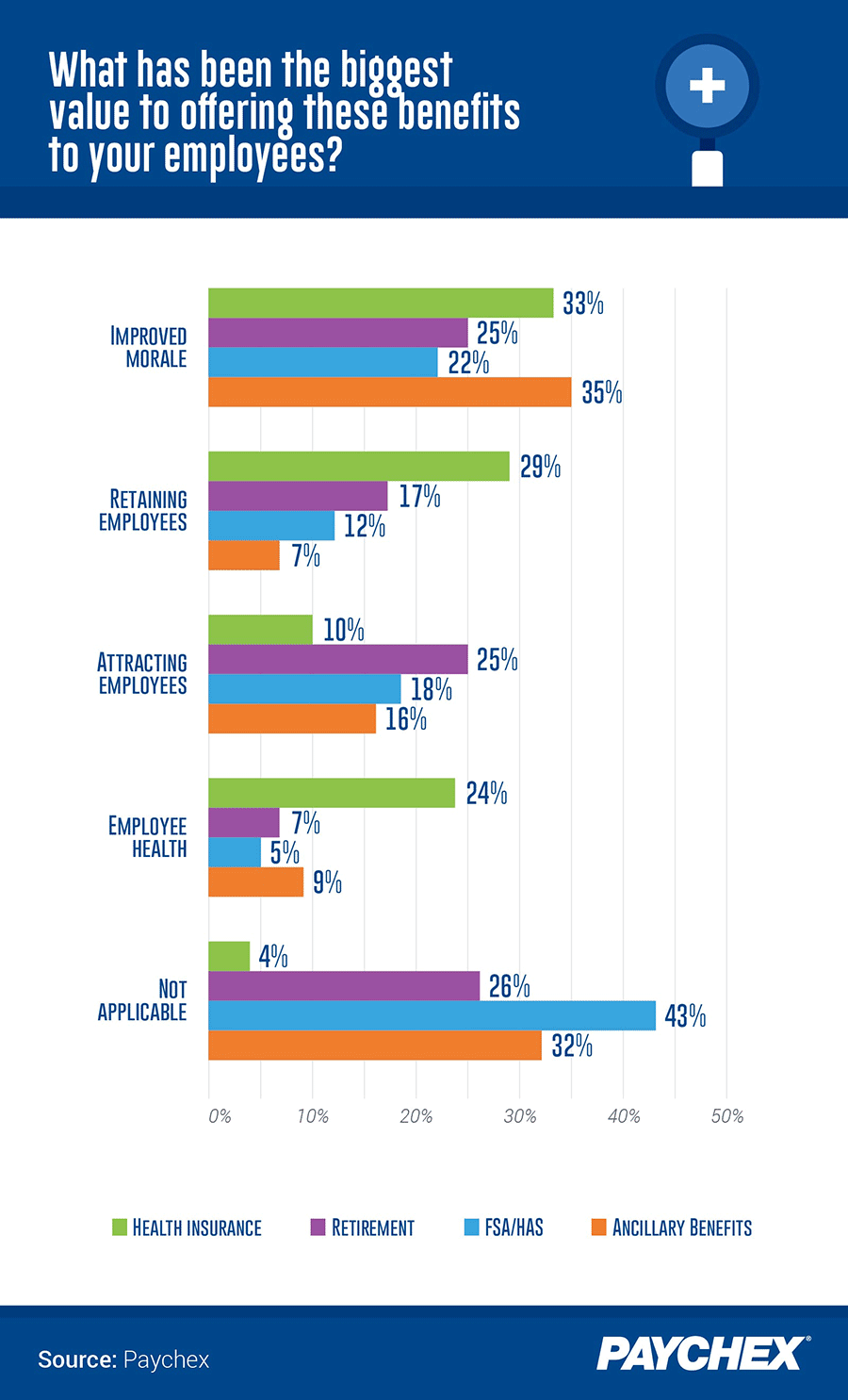 Health Insurance
For health insurance, 33% of respondents reported improved morale was the biggest value, while retaining employees scored 29% and employee health at 24%.
Bigger businesses recognize considerable value in employee health, as 57% say it is indeed the top value for offering health insurance, versus 12% for small businesses.
Contradictorily, smaller businesses cited improved morale as their top perceived value, at 53% of respondents responding affirmatively compared to 14% for larger businesses. Mid-sized businesses saw employee retention as the biggest value (41%), whereas only 18% of smaller businesses saw this as their top value.
Fast growing businesses also placed employee health at the top of their value ranking, with 31% responding positively compared to 20% for slow growth businesses, or 21% for businesses with no growth. This supports the trend that as businesses achieve and focus on growth, employee health becomes more important.
Younger businesses, meanwhile, predominantly identified morale as the biggest value gained from health insurance offerings: 42% of respondents versus 18% of older businesses. Likewise, younger respondents (18-34 years) viewed morale as the biggest value for offering health insurance, with 59% of respondents versus 23% of older respondents. Older respondents saw more value in retaining employees (38%).
Retirement
Although 26% of respondents said that offering retirement benefits was not applicable to their situation, 25% of those who offer the benefit responded that both improved morale and attracting employees were the biggest values. Younger respondents said improved morale was a top value (58%), and 46% of younger businesses reporting the same.
Bigger businesses ($1M+ revenues), meanwhile, saw employee attraction as the most important value in offering retirement benefits, with 59% of respondents reporting as such. Smaller businesses (<$500k) in comparison, only responded 13% that this was a top value. Of small businesses, 31% reported this benefit was not applicable to them, as they are less likely to offer retirement benefits. Likewise, 41% of no growth businesses responded the same. Surprisingly, older businesses (10+ years) reported seeing less value in using retirement benefits to attract employees; only 14% said this was a top value for their business.
FSA and Ancillary
Most respondents communicated that FSA and ancillary benefits were not applicable to their businesses. Of those who responded affirmatively, 22% said the top value was improved morale and 18% said attracting employees was the number one value. For ancillary benefits, 32% responded not applicable, but 35% respondents identified improved morale as the top value. As with other benefits, younger businesses were more likely to highlight improved morale (48%) as the biggest value in offering FSA benefits and 36% for ancillary benefits. For older businesses, 58% said FSA benefits were not applicable, and 45% for ancillary.
When Do Benefits Begin to Matter?
For nearly half (46%) of business owners that support health insurance programs, it was offered within six months of hiring the first employee (Note: The Affordable Care Act requires that the new hire waiting period to enroll in a group's insurance plan not exceed 90 days.) Again, this emphasizes the perceived value and importance of health insurance to both employers and employees. Retirement benefits were reported to be offered by 26% of businesses within the first six months, and 27% within the first year.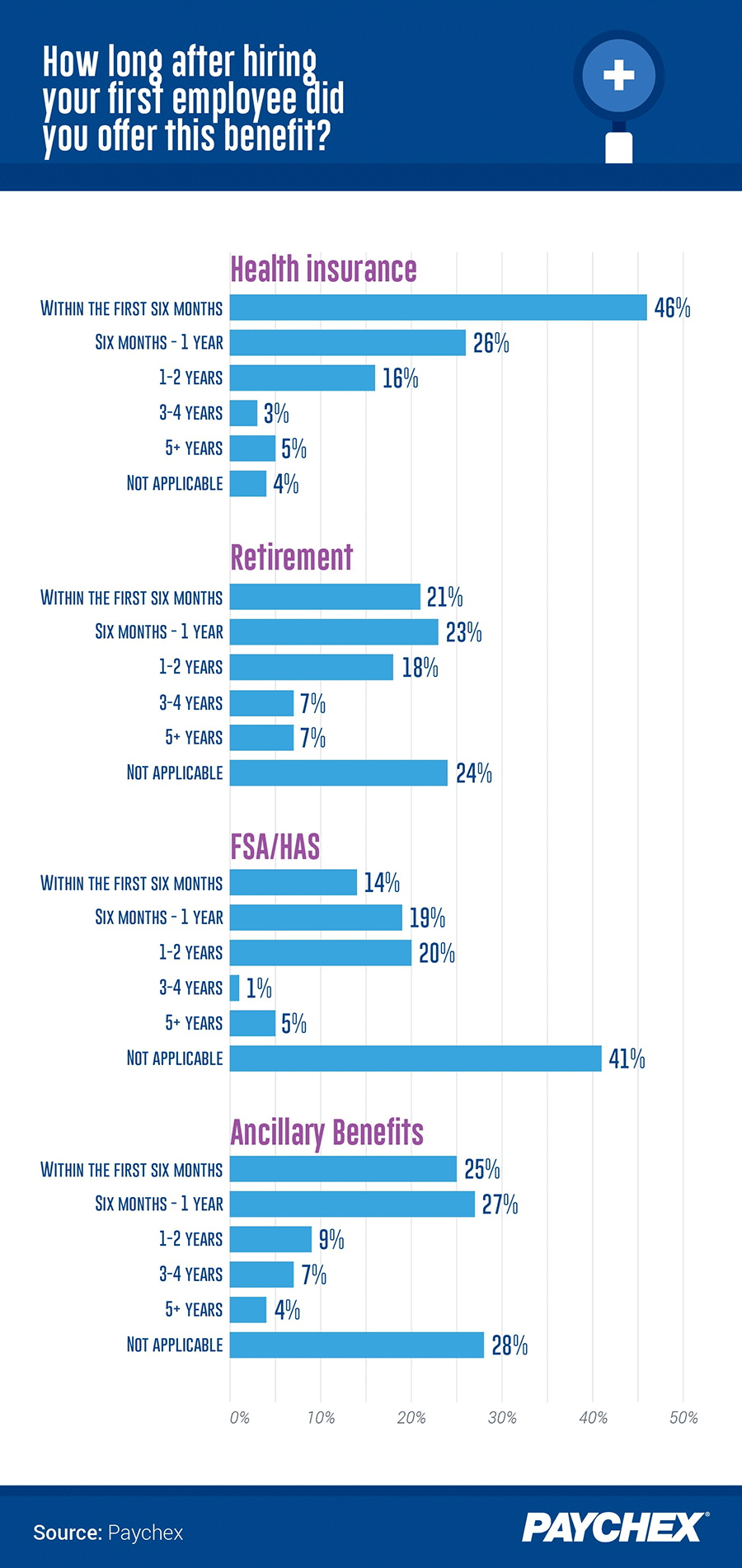 A Challenge for Most, but a Valuable Benefit for All That Do
For businesses, offering benefits to employees can be a challenge. This is especially true the smaller the business is and the business's economic environment. However, the value of offering benefits to employees, especially health insurance, is unanimously understood and appreciated. This survey showed that the majority of businesses that do offer benefits find them beneficial to their businesses and they see value in the benefits they offer.
As largely perceived, if a business doesn't offer benefits to its employees, a competitor will. As the size of a business grows and revenues increase, the value of benefits becomes clearer, as well as more achievable. While the perceived value of offering specific benefits varies, the trend reveals that benefits are a key to attracting and retaining employees, and building a talented, happy, and healthy workforce that will support future business growth.
About the Paychex Small Business Survey
Data included in this Paychex Small Business Survey was taken from an online survey, administered by Bredin, between February 12, 2016 and February 26, 2016. This survey polled 318 principals of U.S. companies with fewer than 500 employees.
This website contains articles posted for informational and educational value. Paychex is not responsible for information contained within any of these materials. Any opinions expressed within materials are not necessarily the opinion of, or supported by, Paychex. The information in these materials should not be considered legal or accounting advice, and it should not substitute for legal, accounting, and other professional advice where the facts and circumstances warrant.