Featured
With the lasting impacts of the pandemic and the "Great Resignation" still fresh in their minds, many employers are looking for creative ways to attract and maintain a talented workforce that will give the business a competitive edge in today's marketplace. To keep a healthy and productive workforce, employee well-being and work/life balance must be a priority for employers.
For these reasons and numerous other benefits, the 4-day workweek is gaining momentum in the U.S. By considering this alternative work schedule, employers can make quality of life a priority for employees without sacrificing productivity. By understanding the pros and cons of 4-day workweeks, you can leverage the overall benefits of this arrangement for your business and your employees.
What Is the 4-Day Workweek?
A 4-day workweek is an alternative working arrangement where employees work only four days per week often at the same full-time pay rate. Originally, the 4-day workweek was designed to be an overall reduction in hours — from the standard 40 hours down to 32 hours per week — but some employers have opted for variations, where employees work on a compressed work schedule that distributes the standard 40 working hours across four days instead of five.
This work arrangement is also referred to as flex time, flex scheduling, or alternative scheduling. It may also be referred to as "4/8 workweek" or "4/10 workweek" to designate how many hours the employee is expected to work per day. The 4/8 workweek indicates an employee will be scheduled for four 8-hour shifts, while the 4/10 workweek indicates an employee will be scheduled for four 10-hour shifts.
<iframe allow="autoplay *; encrypted-media *; fullscreen *; clipboard-write" frameborder="0" height="175" style="width:100%;max-width:660px;overflow:hidden;background:transparent;" sandbox="allow-forms allow-popups allow-same-origin allow-scripts allow-storage-access-by-user-activation allow-top-navigation-by-user-activation" src="https://embed.podcasts.apple.com/us/podcast/4-day-week-pilot-programs-igniting-interest/id1507824762?i=1000551842632"></iframe>
How Does a 4-Day Workweek Work?
Four-day workweeks were designed to build in more quality personal time for employees by reducing both the number of working days and the total number of hours per week when compared to a standard 5-day, 40-hour week. Ideally, a 4-day, reduced-hour workweek is implemented with no decrease in pay to the employee. By requiring fewer working hours and offering more time to recharge at the same compensation level, employers may be able to get the same weekly productivity from an employee in less total time worked per week.
As this working arrangement has grown in popularity, employers have adapted the model to fit their operating needs. Some employers may have all employees on the same schedule — working Monday through Thursday with the entire company closed on Fridays. Other employers may stagger employee schedules so that all employees get a weekday off per week, with a subset of employees scheduled off on varying days. This model allows the company to operate five days per week while still affording employees the benefits of a 4-day workweek.
Some employers may adopt the model to lower costs and fit their financial needs, opting to move employees to four 8-hour days while paying the same hourly rate, resulting in a net decrease in payroll costs. While this variation on the 4-day model can help employers control labor costs, it may result in lower satisfaction for employees who rely on higher earnings to make ends meet.
How Many Hours Are in a 4-Day Workweek?
When working 4 days, employees will typically be scheduled for four 8-hour days (32 hours per week) or four 10-hour days (40 hours per week). However, some employers have tried to strike a compromise by offering an alternative schedule of four 9-hour days (36 hours) days, giving employees added flexibility while still fulfilling the needs of the company.
Why Do So Many Businesses Work 5 Days a Week?
In short, many businesses work five days per week to "keep up with the Joneses." All businesses rely on the support of customers, vendors, and other external partners who have similar needs and operational hours. For decades, the standard for "normal business hours" has been set for businesses to be available Monday through Friday from approximately 8am to 5pm.
While there are certainly businesses who have proven to be successful without following this standard, companies may have justifiable concerns about disappointing customers or partners by closing for business during the standard workweek. Fortunately, many companies can still implement a compressed workweek for their employees and maintain a standard 5-day operation with some careful planning.
Shortened Workweeks in Other Countries
The concept of a shortened work week is not unique to the US. Other countries are experimenting with variations on shortened workweeks to leverage the benefits for both workers and employers. Several British organizations have banded together to pilot a four-day workweek for over 3,300 employees. Workers will contribute 32-35 hours per week across 4 days, and companies will monitor the overall effects on productivity, employee job satisfaction, stress, and burnout.
Employers in Spain are also testing 4-day, 32-hour workweeks for up to 6,000 employees across 200 companies. The government-funded pilot program is designed to help employers make the transition to a shortened workweek so they can benefit from the long-term positive effects with the goal of improving the country's overall productivity.
Does a 4-Day Workweek Increase Productivity?
Employees have repeatedly confirmed that having flexible schedules is of significant importance, but can increased schedule flexibility really translate to increased productivity? Early research seems to affirm there is a positive correlation between short workweeks and improved worker productivity.
In its whitepaper on the 4-day workweek, the Henley Business School reported numerous positive benefits, including:
64% of businesses saw increases in employee productivity and overall job satisfaction
70% of employees felt less stressed while on the job
62% of employees took fewer days off
Combined, these benefits ultimately lead to healthier, more productive employees for businesses that adopted this schedule.
Microsoft also experimented with a compressed workweek in its Japan offices and reported a 40% increase in employee productivity. In addition, those offices saw a 23% decrease in electricity costs and 60% fewer printed pages over the same time frame.
Benefits of a 4-Day Workweek
Implementing a 4-day workweek policy can offer numerous benefits to both employers and employees.
Increased Productivity
While the exact percentage of productivity improvement may vary from business to business, implementing a 4-day workweek has consistently shown to increase productivity for employees.
Reduced Business Expenses
When employees are only in the office four days per week instead of five, expenses such as electricity, water, and printing costs can be reduced. Furthermore, employees are putting less wear-and-tear on office equipment and furniture, leading to additional reductions of business expenses over time.
Decreased Employee Expenses
Implementing a 4-day workweek can also save on costs for your employees. One fewer commute per week can save on gas and auto expenses, but employees can also save over the long-term on costs such as childcare, office attire dry cleaning, or eating out during office lunch breaks.
Better Work/Life Balance
With an additional weekday off work, employees have more flexibility to spend time with family, invest in personal priorities, and accomplish errands that can be difficult to schedule outside normal working hours. This added flexibility can improve an employee's sense of fulfillment and provide greater overall work/life balance.
Disadvantages of a 4-Day Workweek
Before implementing a 4-day workweek, companies should consider the potential challenges and proactively identify solutions.
Customer Satisfaction
While employers and employees may be happier with a shorter workweek, customers may not feel as enthusiastic about a reduction in the time that workers are available each week. Depending on the industry, organizations may need to plan for shifting worker schedules or implementing additional customer service strategies to avoid any perceived or actual decline in customer support.
Lower Earning Potential for Hourly Employees
The original intent of a 4-day work week was to decrease working hours for employees with no discernible drop in pay. However, some companies are using this tactic as a way to save on labor costs by only scheduling employees for four 8-hour shifts (32 hours) instead of the traditional five 8-hour shifts (40 hours). Hourly employees may not be as excited about a 4-day workweek if it also means a potential reduction in weekly pay.
Difficulty Adjusting
Some employees have difficulty trying to accomplish their usual workload in four days instead of five. One fewer workday per week does have many personal benefits, but it also means one fewer day to connect with colleagues and accomplish work tasks. This can cause additional stress, especially in environments with already demanding deadlines.
Decreased Organizational Work Output
Although productivity generally increases for individual workers on a 4-day workweek, the overall organizational output may experience a decline when operating only four days instead of five. For example, manufacturers that shut down assembly lines for an additional day per week could lose more in lost production than is gained in additional productivity on the other four operating days.
Should You Shorten Your Workweek?
In today's competitive labor market, considering a 4-day workweek that builds added flexibility for your employees can help attract and retain top talent to your organization. When implemented effectively, a shortened work week can increase productivity and help your employees maintain a better work-life balance.
A 4-day schedule isn't for every business or every employee, however. Customers may complain if business hours are shortened, and some employees may feel pressured to accomplish the same amount of work in less time. With careful planning, these challenges can be proactively handled to ensure that those involved can make positive adjustments and reap the benefits of an alternative work schedule.
Before implementing this change in your business, you should have detailed and accurate time and attendance tracking in place. The quick and easy reporting will be invaluable as you evaluate your program and make adjustments for your employees.
Stress, both in and out of the workplace, is a fact of life for many employees and business owners. In fact, more than one in four business and HR leaders (26%) said they are extremely or very stressed, and this increased to 35% of leaders feeling stressed at companies with 250 to 500 employees.1
There are things you can do to help alleviate some of the burdens of competing priorities and other stressors. In the long run, providing employee resources can go a long way in demonstrating how much you value your workforce.
An EAP, which stands for employee assistance program, is one example of how you can help employees resolve a variety of issues that contribute to stress, which in turn may be adversely affecting their work performance and morale. EAPs may help improve engagement and productivity, and even reduce absenteeism and turnover. Here's a closer look at why you may want to consider an EAP as part of your benefits lineup.
What Is an EAP?
An EAP provides a confidential source that employees can use to find support and resources for certain challenges they face. The service is usually provided as part of a larger benefits package and connects employees to assessments, short-term counseling, referrals, and follow-up services. Depending on the situation, employees can access certain services from the safety and privacy of their own home.
What Does an Employee Assistance Program Do & Why Is It Important?
Employee assistance programs are designed to connect employees with the best resources for handling personal challenges that can impact their ability to manage stress and remain productive while at work. EAPs can suggest resources that help with many needs from mental health counseling to personal service discounts on babysitting or insurance.
EAPs have trained representatives that can evaluate the needs of the employee and connect them to the best resource to help with that need. Whether it's recommending a counselor or providing a list of local photographers to lessen the stress of planning an upcoming wedding, the representatives that work with EAPs can quickly and efficiently go to work for your employees.
What Does EAP Coverage Include?
While the details of an individual program are identified in the plan documents, many EAPs provide critical support for serious issues. Some of the issues and services often included in an EAP are (but aren't limited to):
Mental health programs: Anxiety, depression, grief, crisis intervention, and behavioral health issues such as addiction or eating disorders are some examples of issues supported through these programs.
Health and caregiving: In addition to managing their own health (e.g. establishing a fitness plan, getting nutrition guidance, or coping with chronic diseases such as diabetes, heart disease, or hypertension), employees may be faced with additional challenges like being the caregiver for a loved one. Through an EAP, employees can get help locating eldercare or daycare services, nursing homes, or even tracking down an in-network physician for a child going to school out-of-state.
Family services: All families can benefit from support in one way or another. Help is available with EAP marriage counseling services, family planning, child safety, physical or emotional abuse, and mediation.
Counseling referrals: One of the overarching benefits of an employee assistance program is having readily available, confidential support from qualified professionals for personal, family, and work-related issues. Counseling services can include assessments, remote short-term support, or referrals.
Substance abuse: Chemical dependency, addiction, alcoholism, gambling, and crisis intervention are a few examples where support from a qualified professional through the EAP can make a positive and potentially life-saving impact in an employee's life.
Financial services: EAP services can connect employees with help to improve financial wellness — budgeting advice, achieving healthy spending habits, loan consolidation, debt repayment, setting up an emergency fund, and more.
Work issues: Navigating a career change, establishing a plan for professional development, managing workplace stress and responsibilities, making travel plans, or managing relationships with coworkers are all examples of how an EAP can help employees with work-related issues and help prevent or overcome burnout.
How Does an Employee Assistance Program Work?
The specific offerings of an EAP vary depending on the plan documents of the program. However, an EAP typically covers your employees and could also cover eligible household members, including a spouse, domestic partner, children, or other dependents. EAPs often maintain a network of partners who can help meet a range of needs, such as legal firms, childcare professionals, elder care specialists, nutritionists, fitness experts, and more. With an EAP, your employees and their qualified household members have access to a confidential resource they can call when crises or general life management questions arise.
The range of services may vary from on-call counselors and referrals to local resources that can help them solve their challenges. Members can also access a virtual library of free resources and online self-help tools. Access to care counselors is available 24/7, and all communications are personal and confidential.
An EAP is not health insurance. However, a combination of a health insurance plan and an EAP could be useful to your organization and appreciated by employees.
Benefits of an EAP
When life's challenges outpace your employees' ability to cope, it can negatively impact both their performance and productivity. Having adequate support can help employees manage stress and solve problems, which may reduce the negative impact on the company's bottom line and overall morale.
Stress Management
Employees nationwide are currently dealing with stress: whether it's the ongoing impact of the pandemic, working at home and contending with work/life balance, are dealing with health issues, need to take care of kids, or are working long hours. In the 2022 Paychex Pulse of HR Survey, 60% of HR leaders said they were concerned about employee burnout, an 18% increase from before the pandemic. Your staff can leverage an employee assistance program to support employees in keeping stress levels under control, even during these challenging times.
Decreased Absenteeism
Absenteeism and stress are closely related. When you layer this on top of the numerous issues that may already be keeping employees from work — being caregivers or getting sick themselves — absenteeism can become a serious issue. An EAP can help an employee find the resources that can help save them time and mitigate unhealthy stress levels. Having these tools on hand can have positive impacts, such as improved time management and more energy throughout the workday.
Reduced Accidents and Fewer Workers' Comp Claims
When employees have readily available access to resources that improve their health, manage their problems, and reduce stress, their overall wellness can improve. Stress management can help employees be more productive, as well as work smarter and safer, especially those who are involved in various forms of physical labor. Investing in an EAP may likely reduce accidents and could ultimately lower your workers' compensation claims.
Affordable Resources
For many employers, providing healthcare coverage is one of the more costly components of a benefits package. A healthcare assistance service like an EAP can help manage that cost over the long-term by helping provide the advice, support, and resources employees need to be physically and mentally healthier, thus lowering their health care claims over the long-term. Additionally, an EAP can help employees be more efficient in managing their healthcare expenses.
Greater Employee Retention
Employees who are engaged and satisfied with their work tend to stick around longer. Not only can access to an EAP empower employees to lead healthier, more fulfilling lives but offering an EAP as a benefit demonstrates that you care about their overall well-being, which can increase feelings of loyalty to your organization. Roughly half of companies with 10 to 500 employees expect that hiring quality staff will be more challenging in the next 12 months.1 Offering benefits like an EAP can really set your company apart.
Likewise, feeling stressed or overworked, an inability to achieve sufficient work/life balance, and not having access to resources are some of the reasons why employees choose to leave a job. An EAP, with its network of resources, functions to help employees better manage feelings and situations. When you consider the true cost of losing an employee (impact on morale, productivity loss, cost of recruiting, hiring, and onboarding a new person), investing in an EAP to help support your retention efforts makes a lot of sense.
Other EAP Benefits to Employers
There are additional benefits of an employee assistance program for employers. In certain cases, EAPs can directly help a company resolve ongoing issues. Each program's offerings are different, but certain programs will provide consultations to managers or executives on how to handle difficult situations within the workplace. For example, an EAP can be used as a resource during employer/employee interactions. If a worker is experiencing performance issues or discloses personal problems to an employer, a referral to an EAP resource may be appropriate. However, it's important to evaluate this from a policy standpoint and obtain expert HR or legal advice to ensure the strategy you're considering complies with relevant state and federal regulations.
An EAP can also help a business meet employees' needs while staying within its budget. Many employees and potential job candidates want a variety of benefits, and an EAP is one way a smaller organization can remain competitive for top talent and retain valued staff once hired. It may be a good time to audit your employee benefits package to determine whether an EAP would benefit your organization.
How Much Does an Employee Assistance Program Cost?
When added to a larger employee benefits package, EAPs can come at a very reasonable cost to employers. While the exact figure will vary across providers and service offerings, many EAP add-ons cost between 75 cents and $2 per member per month, according to the Society for Human Resource Management.
The exact costs will vary based on:
The number of employees covered
The number of services offered
Frequency of use
Chosen EAP provider
What Are the Steps for Launching a Successful EAP?
The most important step for launching a successful employee assistance program is identifying which services are needed by your employees. To that end, employers looking to add an EAP to their existing benefits package should take the following steps.
1. Gather Employee Feedback
Your employees may be willing to share what they need most, especially if they understand that the information is to be used to help you improve company benefits offerings.
2. Explore Provider Offerings
There are numerous EAP providers, each with their own unique plans and offering sets. By comparing several providers, you can start to narrow the field and identify which providers align with the services and benefits sought by your employees.
3. Compare the Numbers
Each plan will have its own limitations on number of covered employees, number of services offered, and how often employees can access the service. By comparing these figures, you can calculate a rough annual cost to your organization.
4. Integration With Your Existing Benefits Plan
Once you have chosen a plan, work with your EAP provider to seamlessly integrate this service into your existing benefits package.
How To Adopt an EAP at Your Business
Challenging situations, from stress on the job to navigating an emergency, can take a toll on individuals. Help your staff get the support they need by investing in an employee assistance program. Ready to get started? An EAP is included as part of all Paychex HR Services offerings, and clients can get started by contacting their dedicated HR professional. If you're evaluating your benefits plan on a broader scale or looking to switch providers, consider how Paychex can help you attract and keep an engaged and productive workforce.
Learn how a mentally healthy workplace is good for business and take steps today to improve the mental health of your employees. For additional resources, check out our mental health resource page.
---
12023 Priorities for Business Leaders, Paychex
A Paychex survey reveals that more than 40 percent of the employees surveyed are experiencing some combination of mental health, performance, and stress issues since the COVID-19 pandemic began1. They reported problems such as depression, lack of motivation, reduced focus, insomnia, and decreased teamwork. Poor mental health in the workplace is a problem.
The reasons for this downturn in mental health depend on the individual, but stressors may include the isolation of working remotely, changes in daily routine, worrying about the health of family members, and financial anxiety, to name a few. Employees may be feeling distracted and demotivated, or depressed and anxious. When they are unable to focus on their jobs, the effects can be devastating to businesses.
What Is Employee Mental Health?
Mental health describes our state of social, psychological, and emotional well-being and is an integral part of our overall wellness. A vast body of research links mental and physical health, which work together influencing how we think, feel, and act. The National Institute of Mental Health (NIHM) reports that chronic illnesses such as cancer, heart disease, or diabetes can make a person more likely to have or develop a mental health condition. Conversely, some mental health conditions, like depression, may play a role in increasing a person's risk of physical illness.
Mental health touches every aspect of our lives, especially workplace performance. Key performance indicators such as productivity, creativity, and social engagement can all take a hit if an employee's mental health is suffering. Prioritizing mental health in the workplace can help your workers flourish and reach their full potential, which is what businesses need to thrive and grow.
What Causes Poor Mental Health at Work?
We spend the vast majority of our waking hours in the workplace. Whether at the business or in a remote office at home, employees are managing workloads, engaging with customers and other employees, and tasked with the daily pressures of performing their duties.
There are many ways a work environment can contribute towards poor mental health at work. Excessive stress and frustration due to toxic or inexperienced leadership and unclear communication can build up over time. Layer this with a lack of clear roles and expectations, long or inflexible work schedules, unrealistic demands, and lack of support for employees and it's no surprise a worker can feel unsatisfied, depressed, and exhausted. Other factors can compound the issue — too many unpleasant or rote tasks, being subjected to discrimination, watching favoritism play out with coworkers, harassment or bullying, no sense of teamwork, and lack of recognition. Don't overlook the ripple effect of mental health at work as employees struggle to balance personal and work demands as well as growing financial pressures.
Importance of Addressing Mental Health in the Workplace
Make no mistake, the success and longevity of a business rely on the collective, positive mental health of its workers. Positive mental health gives a person resiliency against life's stressors, challenges, and setbacks — obstacles that often go hand-in-hand with a job. Being fortified against these negative emotions and anxiety that accompany these difficult times can help a person navigate with agility and remain productive.
When a manager or supervisor makes a practice of addressing the importance of mental health in the workplace, everyone benefits. A healthy state of mind can translate to higher levels of creativity along with a greater sense of self-worth and sense of happiness. These are prized attributes for nurturing high performance and strong corporate culture.
The High Cost of Poor Employee Mental Health in the Workplace
Lost productivity, absenteeism, having to recruit and train employees due to high turnover, and even higher health insurance costs are all potentially related to poor employee mental health. Even for small businesses, these costs can add up.
In fact, in a Paychex study2, we learned that business leaders and managers report that stress negatively affects their life outside of work, including reduced sleep, worsened work/life balance, and less time with the family.
A Disconnect Between Employers & Employees on Mental Health
While the employers we surveyed said they are aware of the costs of mental health issues to their business, they may not be as aware of the extent of employee's mental health struggles. Employers say that since the COVID-19 pandemic began, they are:
More than 3x more likely than employees to believe employee motivation or focus has improved
2x as likely to think company teamwork is better
Conversely, many of the employees surveyed said they felt less motivated since the pandemic began and didn't think teamwork was better or had changed appreciably.
One reason may be that employees don't feel comfortable talking about their personal or mental health issues with superiors. In a Paychex survey, more than half of respondents – 54 percent – said they felt uncomfortable talking to their supervisors about mental health. Some even feared that discussing it could lead to being fired or furloughed (30 percent) or cost them a promotion (29 percent). If employees did talk about their personal issues, they were most likely to confide in co-workers.
Impact of Poor Employee Mental Health in the Workplace
Although they may not be as aware of their employees' declining mental health, employers are aware of the dramatic impact of workplace mental health issues on their bottom line. As many as 40 percent say mental health issues can have a negative impact on productivity, revenues, customer service, and the potential to compete. Drill down further, and the impacts can spread to talent retention and acquisition and create a grim feedback loop that can be difficult to break. Employers must be careful not to overlook the following effects of mental health in the workplace.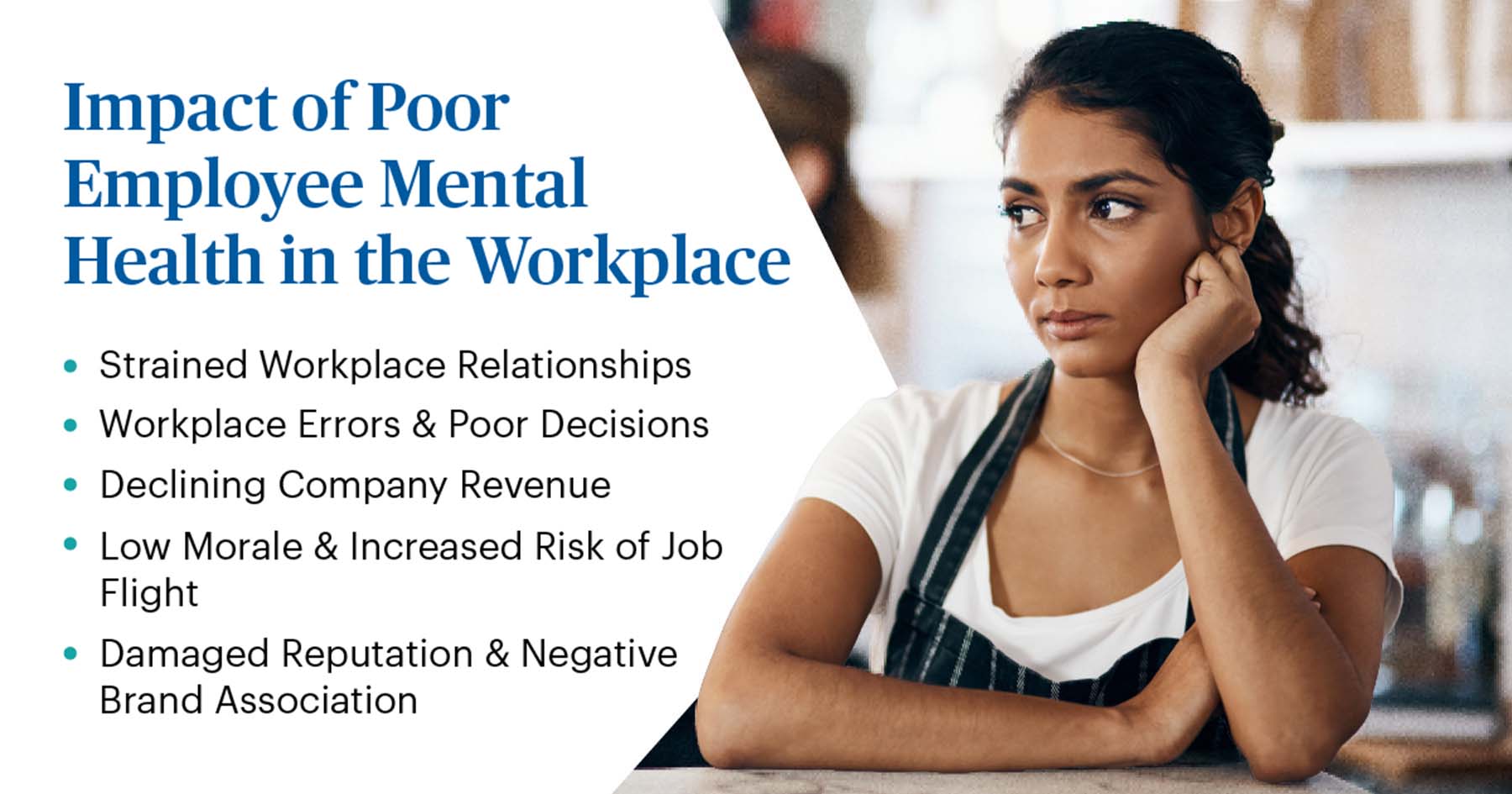 Strained Relationships With Coworkers
Strained relationships with coworkers can be the result of a sense of unhealthy rivalry. In such situations, interactions will feel strained and edgy rather than impart a sense of teamwork. If an employee does not feel comfortable around their coworkers, they are likely to avoid interactions and be hesitant to share their ideas and insights that contribute to innovative problem-solving.
Poor Relationships With Managers or Superiors
With the hierarchical structure of most businesses, managers and superiors hold sway over their employees, which can leave employees feeling anxious and vulnerable. For instance, an overbearing boss who micromanages every detail can leave workers feeling an absence of trust in their competence and ability to do their roles. Other times, managers may hold unrealistic expectations for deadlines, sales quotas, or deliverables.
Working under an umbrella of constant stress will lead to strained relationships. Moreover, an over-tasked employee is at risk for being unable to meet expectations, including those of customers.
Workplace Errors & Poor Decision Making
Good decision making requires being able to focus on the issue at hand and weigh all possibilities. An employee burdened with chronic anxiety or depression is more likely to be distracted. Inability to focus on a task can increase the likelihood of making errors in the workplace ranging from inputting the wrong data into a computer, struggling to develop creative solutions to challenges, or failing to communicate in a timely fashion. Personal time management, project planning, and general control of the work environment may decline all of which can impact employee performance.
Declining Company Revenue
Revenue for any business is the cumulative result of many efforts. Innovation, attention to detail, and excellent service are just a few. Bottom line: strong employee mental health in the workplace fuels strong profits.
When energy is spent on managing difficult relationships rather than coming up with creative ideas and being productive, a business loses the valuable employee contributions it needs to keep an edge over its competition. Customers can also sense when a worker is unhappy or stressed and may seek to take their business where they will be greeted with a genuine smile and customer service backed with employees who have ownership in the client relationship.
Low Morale & Increased Risk of Job Flight
Happy employees who are satisfied with their job and have strong social networks in the workplace tend to exhibit high loyalty. Conversely, when interactions with colleagues and supervisors are tense and the business's internal structure leaves little room for growth, low morale is likely. Unless action is taken to help an employee feel valued and cared for, they are at risk for leaving the business to search for a more suitable arrangement elsewhere.
Damaged Reputation & Negative Brand Association
In an age when customers value how a business treats its staff and don't hesitate to share their experiences on social media, it's likely that low employee morale will make itself known to consumers, clients, and the public at large. Employees and the work they do put a face and reputation to the business. An employer who does not pay attention to workers' mental health needs risks having its corporate brand associated with callousness and negativity. It's likely that an adverse impact on talent acquisition and sales will ensue.
How Can Employers Support Mental Health in the Workplace?
Supporting mental health in the workplace does not have to be expensive or complicated. There are many strategies that will nurture a culture of mental health and well-being.
Offer a rich mix of benefits. Employers can help their workers feel less stressed about their health and their financial future with affordable health insurance, an employer-sponsored retirement plan, programs specifically dedicated to supporting employee mental health, and programs that offer financial fitness support.
Flexible scheduling or remote work. Allowing employees to work flexible hours or the ability for some remote work can be a relatively simple, low-cost option that may help their work/life balance.
Check-ins with supervisors. Regular meetings may give supervisors the ability to gauge how the employee is feeling. Discussions can include issues the employee is having, solutions available to them, and career pathing to keep the employee engaged and working towards goals.
A confidential online communication system. If a question or issue should arise, employees may contact their HR professional or supervisor online through an internal communication system. This can be a convenient, confidential way to keep supervisors and employees connected. It can also allow the supervisor to respond quickly and take any necessary steps.
Opportunities for enjoyment and enrichment. Consider including in your rich mix of benefits, other types of workplace perks. This can range from challenges or programs to improve physical and mental health to handwritten thank you cards acknowledging a job well done or appreciation of service during challenging times.
An Employee Assistance Program
Employee Assistance Programs (EAPs) offer free, confidential assistance that connects employees to a broad range of services that can include everything from finding childcare to fitness programs to counseling referrals. According to our 2021 study, roughly one in five small- to medium-sized business principals is extremely or very likely to offer an EAP within the next 12 months.
Effects of Good Mental Health in the Workplace
Wellness programs and benefits can be major factors for today's job seekers.
Sixty percent of employees surveyed say that employee wellness benefits will factor into the selection of their next job. Eighty percent between the ages of 18-39 will prioritize these benefits in a job search. And sixty-six percent of employees report feeling better about their employer after using a benefit.
Increase productivity with healthier, happier employees and create a more vibrant, supportive workplace. It's a worthwhile investment for an employer to address the many ways a work environment can impact an employee's health. A proactive approach can catch small problems before they escalate into something greater. Taking meaningful action to protect employee mental health is also a way to show your employees that you care about them as individuals. Doing so is an investment in overall employee performance.
Learn how a mentally healthy workplace is good for business and take steps today to improve the mental health of your employees. Examine the important role of mental health in the workplace here.
---
[1] 500 U.S. SMB Principals and employees — 250 each — at organizations with 2 to 99 employees. Survey was fielded December 10-30, 2020.
[2] 2023 Priorities for Business Leaders, Paychex
Heading
See Why 730,000+ Businesses Use Paychex
If you are looking to outsource Paychex can help you manage HR, payroll, benefits, and more from our industry leading all-in-one solution.