Featured
It's been a tough few years economically in the U.S. The pandemic and inflation have upended peoples' lives physically, mentally, and financially, making retirement seem even more like an improbable dream than before for many young people. As a result, some are adjusting their retirement goals.
But how is all of that affecting people who have already retired? To find out how many retirees are rejoining the workforce and what the experience is like for them and their employers, we surveyed 930 American employees, current and former retirees, and 206 hiring managers about their feelings on the matter.
Key Takeaways
1 in 6 retirees are considering returning to work, and 53% want remote positions.
55% of retirees went back to work because they needed more money.
74% of returned retirees feel judged by co-workers because of their age.
62% of hiring managers are skeptical about hiring retirees.
The Need To Go Back
There has been a lot of speculation about what inflation and the current economic climate mean for retirement, with some wondering if younger generations will be able to retire when all is said and done. But are these same issues leading retirees back to work as well?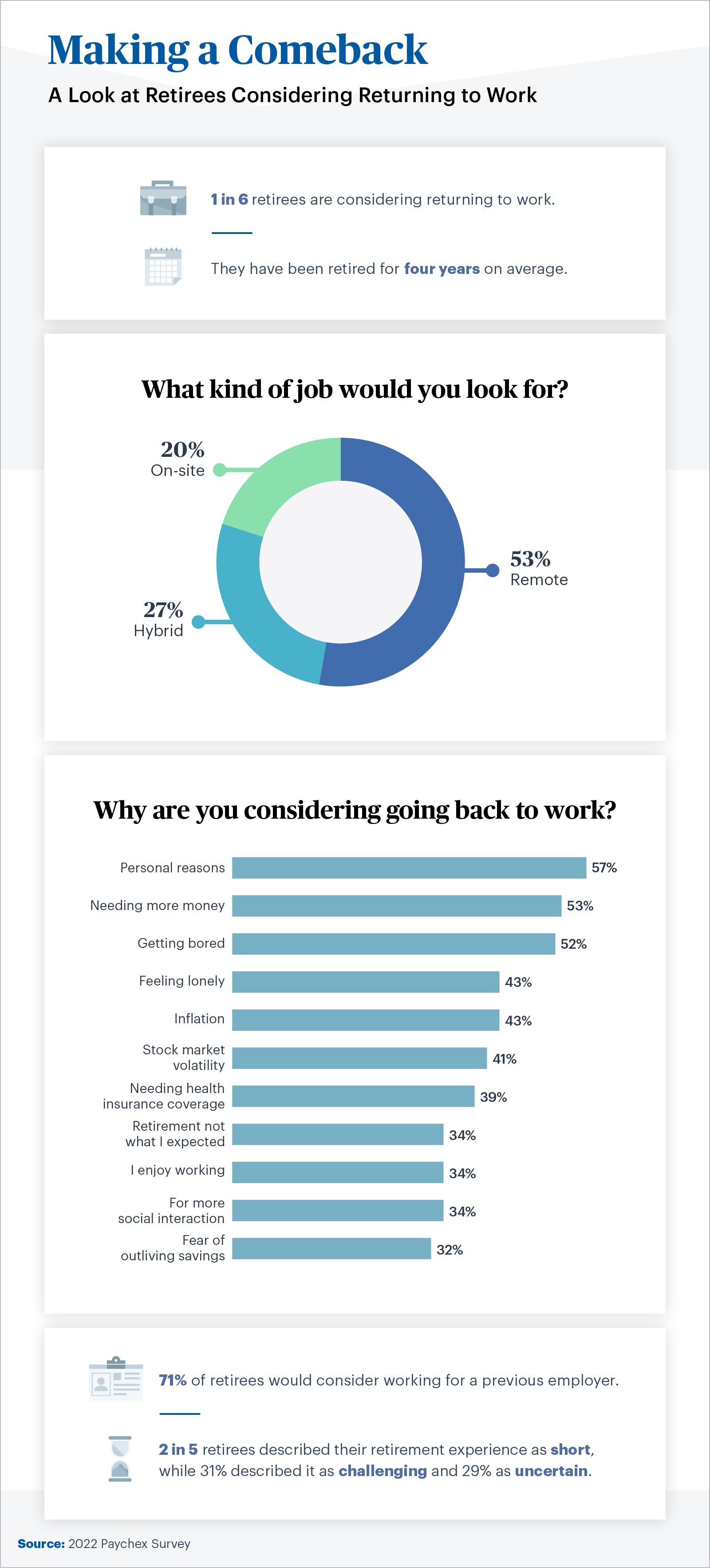 Among those we surveyed, one in six retirees are considering returning to work after being out of the workforce for an average of four years. With so many preferring to work from home these days, it's no surprise that more than half of our retired respondents would look for remote work (53%), 27% want a hybrid situation, and only 20% would seek an office job.
Most would want to work full-time (65%) instead of part-time (35%). This could be due to a need for more money — the reason cited by 53% of respondents. But nearly as many are thinking of going back to work because they're bored (52%).
Boredom is understandable, especially for those who went from working 40 hours per week to not working at all. For the same reason, it's not surprising that loneliness was the reason that 43% of retirees are considering working again. But the same number are also doing so because they're concerned about inflation.
Employment After Retirement
While their reasons may vary, many retirees have already decided to go back to work. Let's see what prompted them to return to the workforce and how they feel about it now.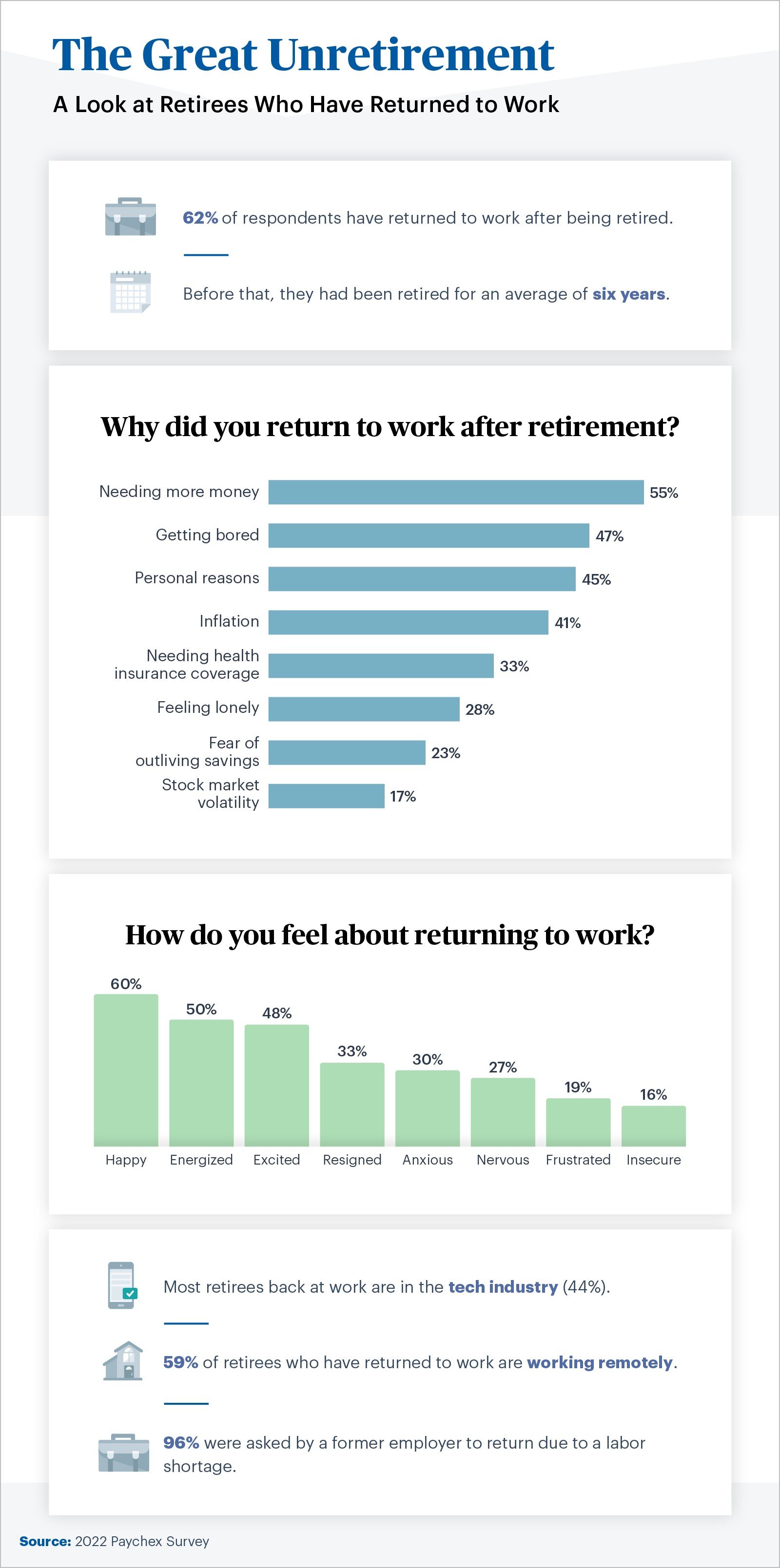 The overwhelming majority of retirees who returned to work have faced judgment from their co-workers (74%); only 3% haven't. Most of those working in finance (87%), education (83%), and information technology (72%) have experienced such discrimination.
One particular form of ageism that retirees feel they are dealing with when returning to work is younger employees making them feel insecure about their abilities, with 71% sharing this sentiment. With many having to work for employers who are younger than them, we were glad to learn that only 12% of our respondents find this extremely difficult. The majority feel that it's, at most, only a moderate challenge.
Recruiting Retirees
The state of our economy has pushed many to take serious measures to make more money — workers and retirees alike — such as getting second jobs. Is the competition making it harder for retirees to go back to work? And how do managers feel about hiring them?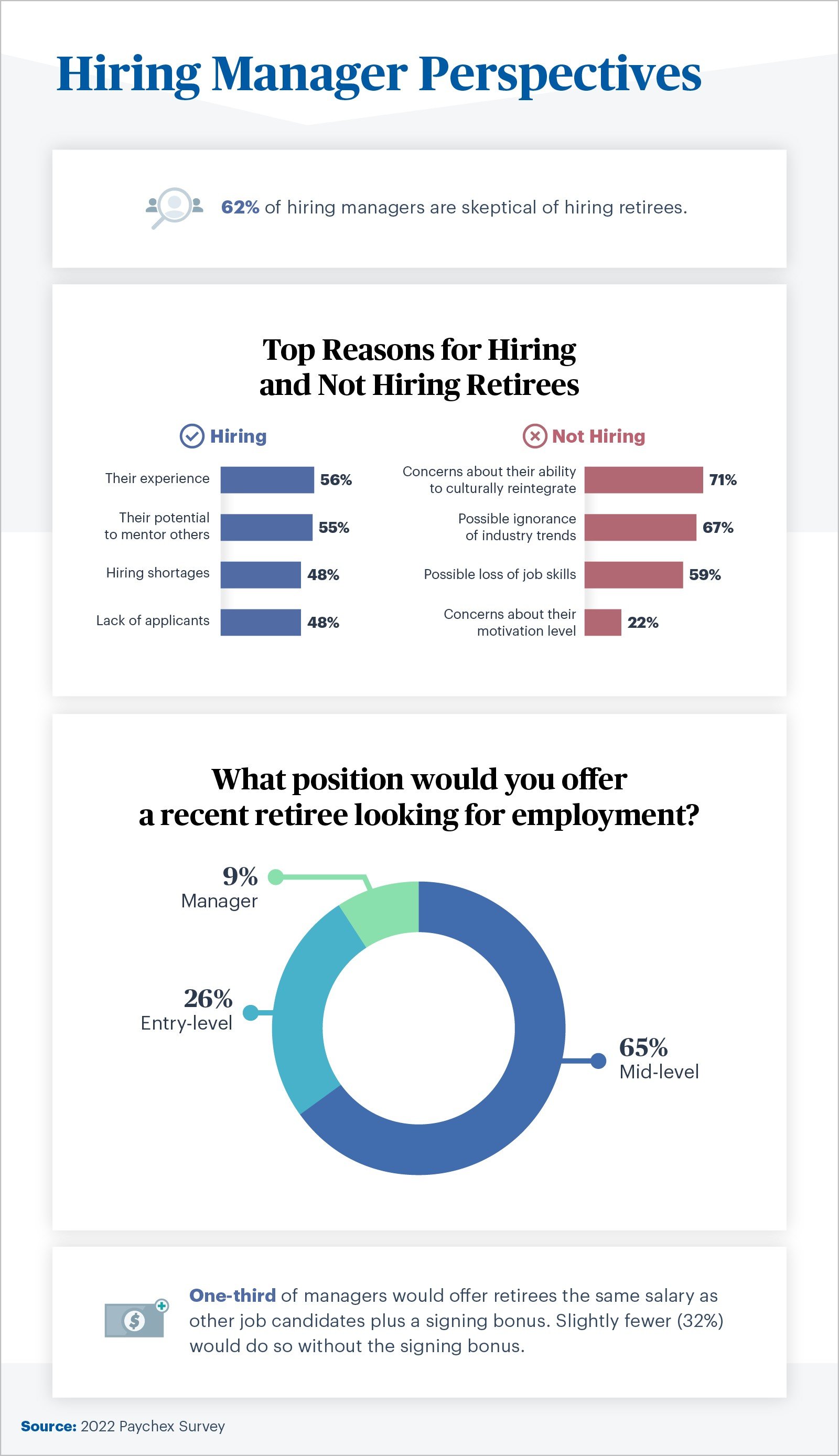 Our findings show that 62% of hiring managers are skeptical about hiring retirees, but they also shared some potential pros and cons. According to 56% of the hiring managers we surveyed, the main reason for hiring a retiree is their many years of experience. Nearly the same number feel that retirees can make great mentors in the workplace.
But the biggest reason to not hire a retiree is cultural, say 71% of hiring managers. Can these candidates integrate into the current company culture? This concern is followed by uncertainty about their knowledge of industry trends (67%) and whether they still have the skills needed for the job (59%).
When onboarding retirees, the top strategy hiring managers employ is taking it slow (50%) in case they need more time to adjust to the job. The next most common tactic was avoiding abbreviations and jargon that these new or returning hires may not understand (48%), followed by providing templates to help them find their bearings (44%).
<iframe allow="autoplay *; encrypted-media *; fullscreen *; clipboard-write" frameborder="0" height="175" style="width:100%;max-width:660px;overflow:hidden;background:transparent;" sandbox="allow-forms allow-popups allow-same-origin allow-scripts allow-storage-access-by-user-activation allow-top-navigation-by-user-activation" src="https://embed.podcasts.apple.com/us/podcast/helping-your-business-overcome-retirement-plan-barriers/id1507824762?i=1000600897214"></iframe>
Re-entering the Workforce
With concerns about inflation strongly impacting retirement, many retirees have either gone back to work or are considering it. Luckily, many hiring managers see the benefits of onboarding these experienced job candidates, despite ageism being a problem for post-retirees. Hopefully, their return will eventually make the workplace a more inclusive and adaptable place for people of all ages.
Methodology
For this campaign, we surveyed 930 Americans to explore their retirement plans. Among them, 16% were retired, 22% were still working, and 62% were retirees who had returned to work. We also surveyed 206 hiring managers to explore their sentiments about hiring retirees.
About Paychex
Paychex provides payroll and HR services for businesses of all kinds so that you can easily take your business from startup to enterprise.
Fair Use Statement
If you enjoyed our study, you're more than welcome to share it. We just ask that you link back to these findings and that your purposes are noncommercial.
Key Takeaways
80% of employees who left their jobs during the Great Resignation regret it.
Gen Zers have the most regret about swapping jobs during this time.
68% of employees say they have attempted to get their jobs back, but only 27% of employers have rehired employees that left during this period. 
Making Money Moves
It was a phenomenon never seen before. In 2021, an unprecedented 47 million Americans* quit their jobs to find new work. Hopes were high for better pay, benefits, and work-life balance, with the power resting more with the employee instead of the employer. This workforce migration sweeping the nation was dubbed the Great Resignation and has only recently slowed.
To explore whether employees participating in this mass movement have any regrets, Paychex asked Americans about their job satisfaction after resigning. A survey of 825 employees and 354 employers provides insight into how the Great Resignation has influenced the "Great Regret." 
High Hopes for a Living
Starting a new job is an exciting part of career building, but it has its challenges. To better understand the consequences for Americans who switched jobs last year, we asked job-hopping employees if they had any regrets, how long it took to get hired, and whether they were satisfied with their decision.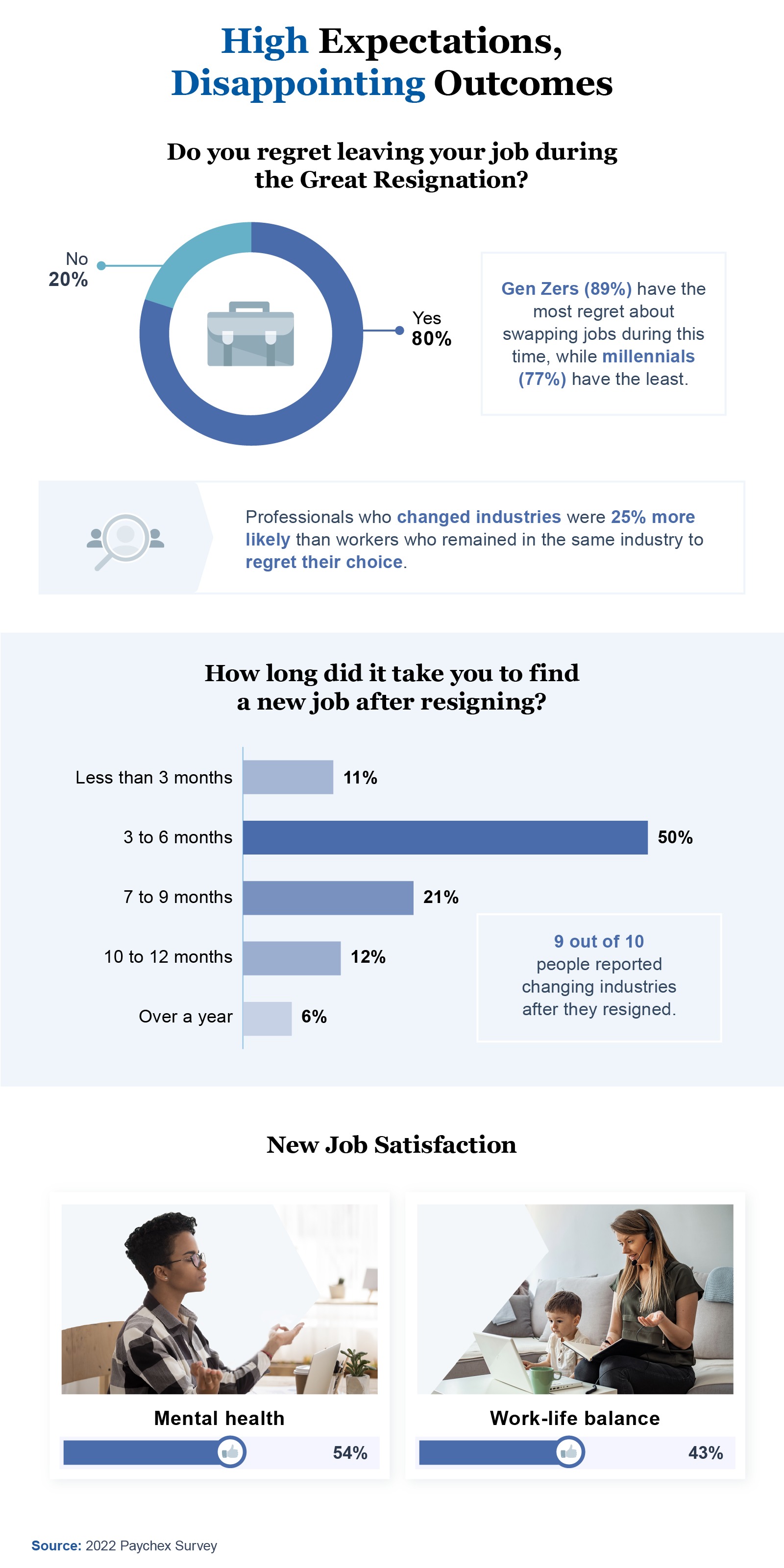 The Great Resignation not only changed the workplace; it also changed the minds of those seeking better work opportunities. Job-hoppers who left their positions during this time now see that the grass isn't always greener. In fact, eight in 10 respondents regret leaving their old jobs. Professionals swapping industries are 25% more likely than those who stayed within their industry to feel this way. And compared to other generations, Gen Zers are the most likely to regret their job change.
All respondents are currently employed, but those who left their jobs during the Great Resignation are only 11% more likely to be satisfied with their new salaries than their previous earnings. Perhaps equally disappointing is that it took 50% of respondents three to six months to find a new position. Another 39% searched for a new job for seven months or longer, while only a small percentage (11%) found one within a few months.
Although satisfaction with mental health and work-life balance influenced many resignations, only about half of respondents said they are satisfied with these things in their new workplace. Unfortunately, the youngest workers — Gen Zers — report the lowest levels of positive mental health and work-life balance.
Reminiscing About Work 
Many participants in the Great Resignation have regrets, but what specific issues are they experiencing? What do they miss about their old jobs, and have they tried to get them back?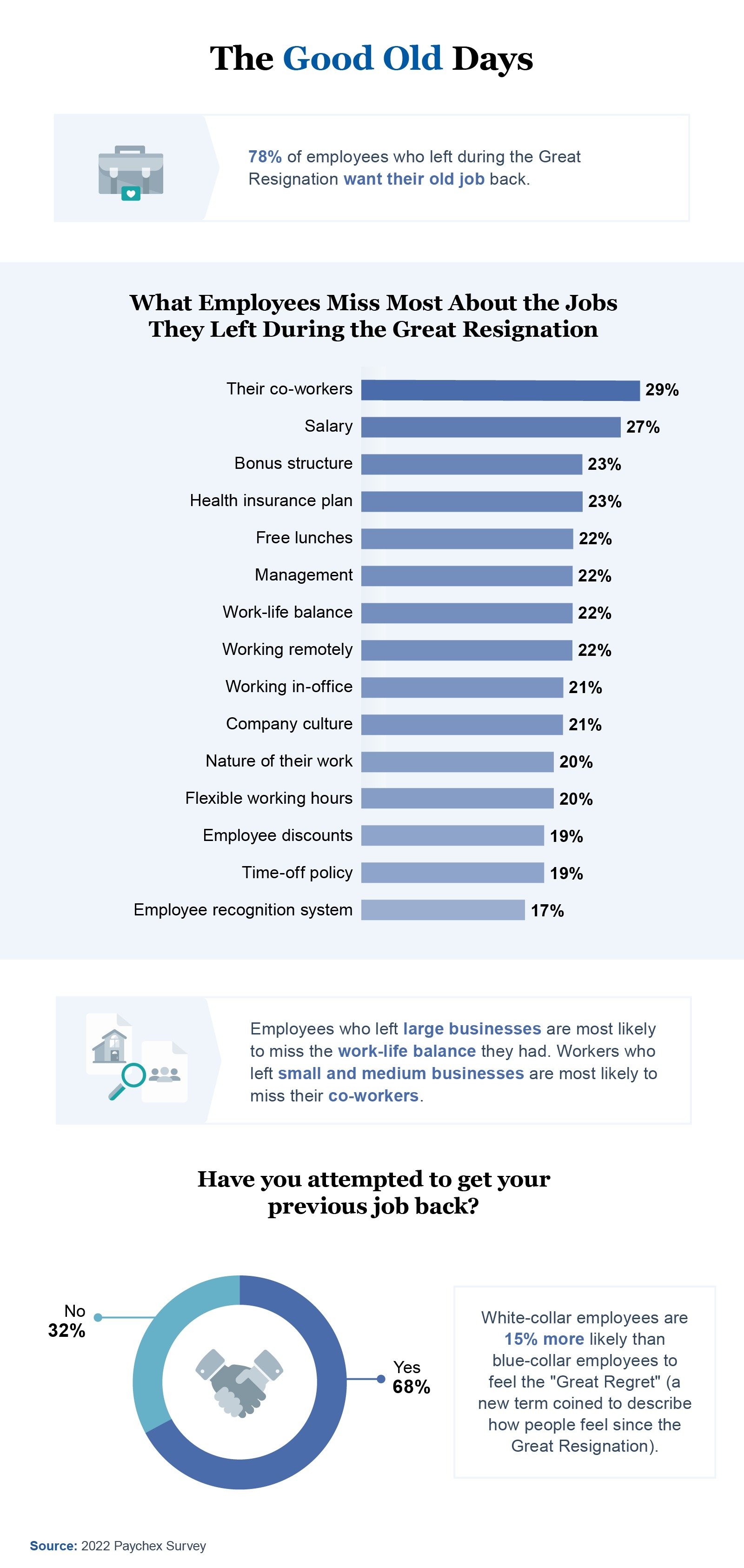 For some people, having a friend at work is important. According to Gallup research, comradery with co-workers can lead to increased employee work effort and retention. Our research shows that women are 31% more likely than men to miss their co-workers when they switch jobs. Co-worker friendships create a sense of community between colleagues, making for a positive company culture — another thing employees missed about their previous jobs. Women are 15% more likely to feel that way than men. 
When it comes to generational differences, Gen Zers are most likely to miss working in the office. And older Americans found that new positions aren't what they'd hoped for: Gen Xers are 20% more likely than Gen Zers to miss the work-life balance from their previous jobs.
Returning to the Team
To examine the Great Resignation and Great Regret from an employer's perspective, we asked them how they feel about rehiring job-hoppers and how their business is faring from these recent trends.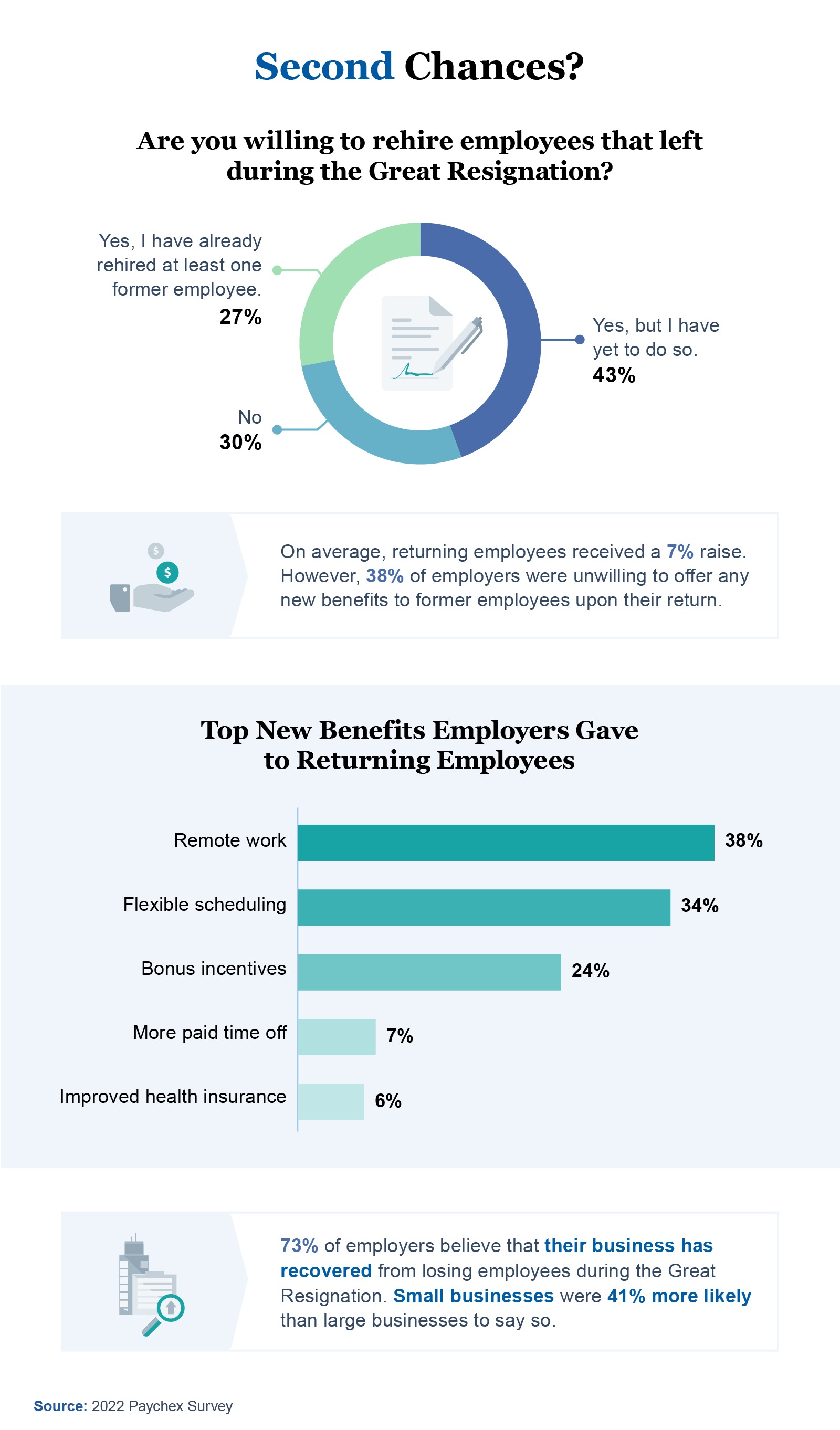 Workers who bring talent and harmony back to the workplace can be a great asset, especially for small businesses with few workers to rely on.
Many employers (70%) either want to give or have given people their jobs back, with medium-sized businesses the most likely to have done so already. Over 60% of employers (mostly small businesses) are even willing to offer new benefits to returning employees, like raises, remote work, and flexible hours. 
Some employers would also consider giving them raises, but large-sized businesses were slightly less likely to do this. Large businesses are also least likely to offer new benefits to rehires, with half of them saying they wouldn't make any such adjustments.
While the terms vary, many businesses would accept former employees back at work. But for others, workplace loyalty seems to keep employers from welcoming them back at all. Nearly a third of employers won't consider giving people their jobs back, and blue-collar employers are 17% more likely than white-collar employers to feel this way. 
Counting Our Missed Blessings
The Great Resignation has led to much regret by employees seeking new opportunities. It turns out that company culture and workplace loyalty means a lot to employees and employers alike. The good news is there's hope for job-hoppers who have had a change of heart about their decision to resign. Many employers are willing to rehire people and improve their benefits, too.
Methodology 
To explore how the Great Resignation and the Great Regret have impacted the workplace, we surveyed 1,179 respondents. Of them, 825 were employees, and 354 were employers. This data was fielded from Oct. 10, 2022 through Oct. 11, 2022. 
*Data about the Great Resignation was sourced from the U.S. Bureau of Labor Statistics.
About Paychex
Paychex provides HR and payroll solutions for businesses of every size, offering simple solutions to modern workplace issues and giving businesses the support they need to thrive.
Fair Use Statement
If the results of this study gave you insight into the Great Resignation and Regret, please feel free to share them. We ask that you only use our findings for noncommercial purposes and link back to this page as a credit to our work.
Key Takeaways
Nearly half of Americans plan to work multiple jobs for more than three years.
Respondents working just one job are 44% more likely than those working multiple jobs to feel productive.
Over half of hiring managers view a candidate with multiple jobs as a red flag.
The Age of Overemployment
Time is money, and keen workers are capitalizing on every second. While some struggle to balance even just one full-time job with the rest of their obligations, others are juggling multiple jobs — a lifestyle called "polyworking."
Paychex surveyed over 1,000 Americans, both polyworkers and people holding just one job, to learn more about the increasing interest in taking on multiple part-time jobs. We then analyzed who had the highest interest in the polywork lifestyle by location and industry.
Why are people becoming polyworkers, and how long do they plan to do it? How are they different from other employees? Whether you have one or multiple jobs, read on to find out what the rest of America is doing to make a living.
Popularity of Polywork
Since 2019, online search volumes about polywork (and related terms like "gig work" and "side hustle") have risen. We found that residents of certain states are more curious about the concept than others.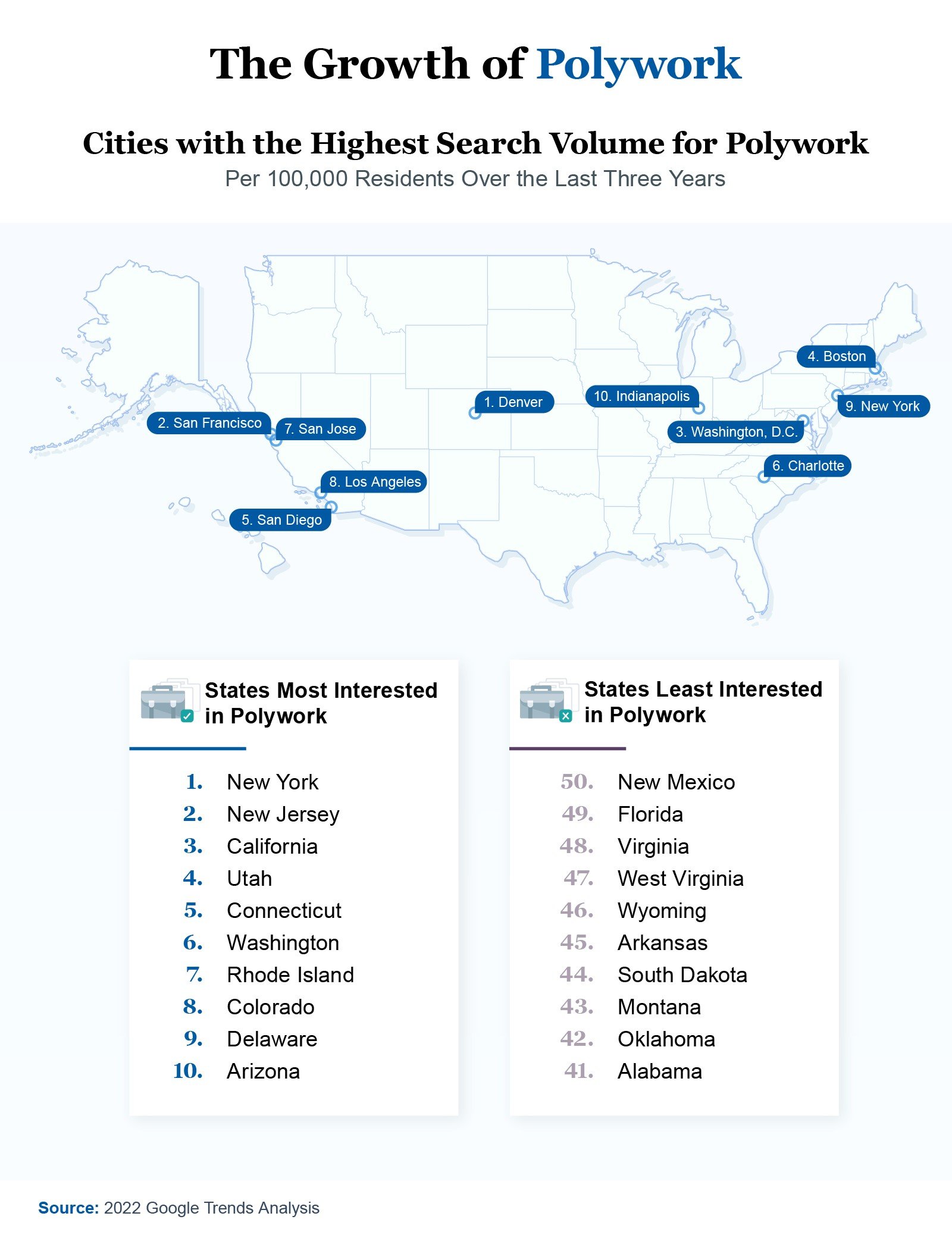 Residents of coastal cities, many of which are also the most expensive cities in the US, appear much more likely to be interested in polywork than residents of cities in the middle of the country. While Denver is a notable exception, six of the top 10 cities with the highest volume of polywork-related internet searches are on the coast. Boston and New York City led the pack in the east, while San Francisco, San Diego, San Jose, and Los Angeles generated the most searches out west.
From a state-by-state point of view, New York, New Jersey, California, Utah, and Connecticut residents are the most interested in polywork. On the other hand, New Mexico, Florida, Virginia, West Virginia, and Wyoming residents don't care nearly as much.
Either way, there were over 70 million freelancers in the U.S. as of 2022, which is 20% higher than the 2021 headcount. The number of people looking to transition to a multi-job lifestyle could easily keep rising through 2023 and beyond, especially in these places where people seem most keen on researching polywork.
Working Overtime
We surveyed 1,000 people about their work habits, including the number of jobs they currently hold. We asked polyworkers about their job levels, work locations, and ideal scenarios for working more than one job.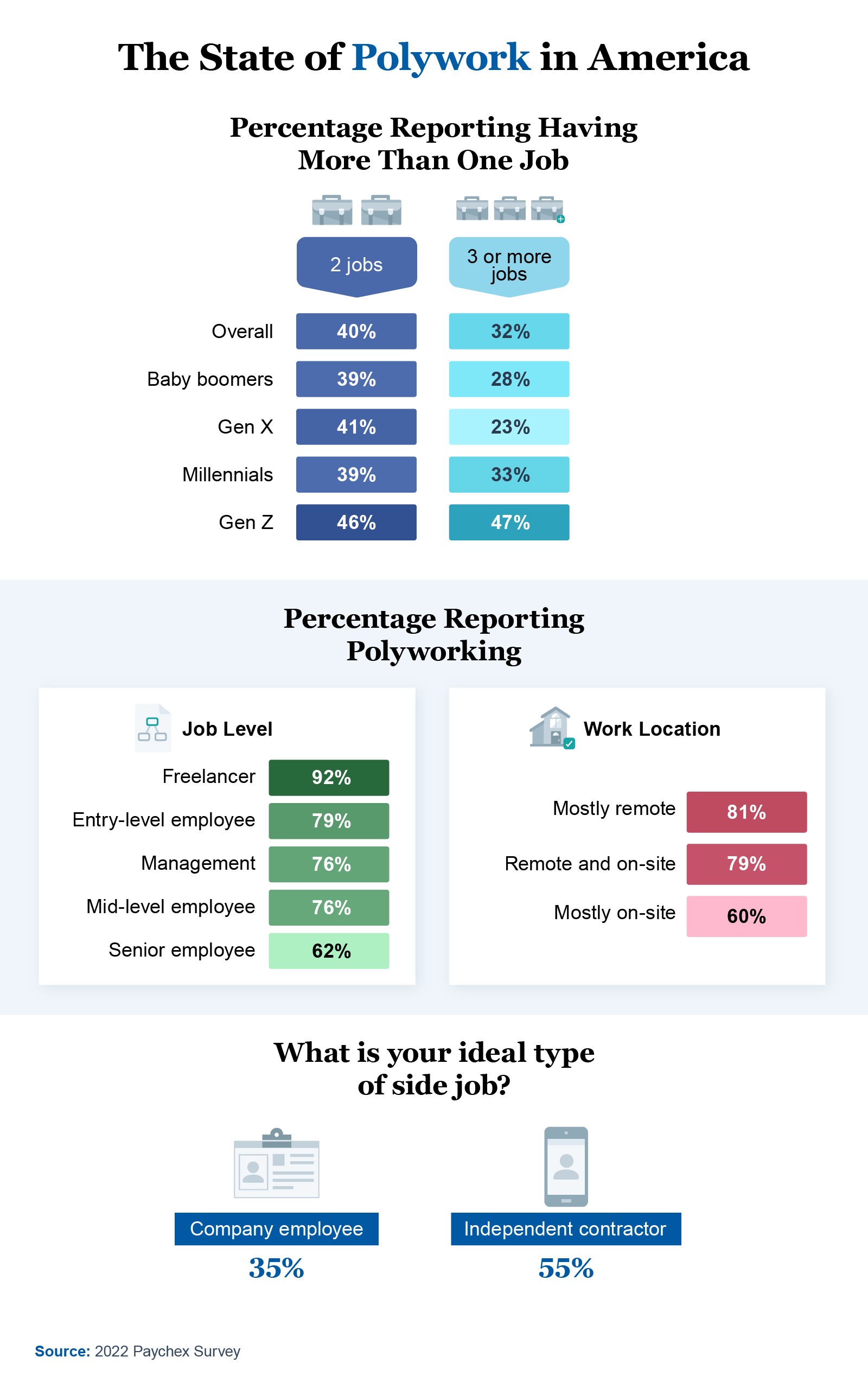 We found that 40% of respondents hold two jobs, while just under one-third juggle up to three or more. Gen Zers are more likely to polywork than other generations, with nearly half of them saying they're currently employed at two or three places.
Might that mean they're harder to lock into a single job commitment? To make your business attractive to young workers, consider offering them financial security, flexibility and be open to contract work, while emphasizing your company's commitment to authenticity and diversity.
The one-job lifestyle isn't for everyone, and polyworkers are no exception; nearly all the ones we surveyed are freelancers (92%). Most opt for a mostly remote work setting, and it's easy to assume why: The flexibility of remote work offers the luxury of more easily working two or more jobs. Still, balancing them can be challenging, which might mean some industries are more conducive to polywork than others.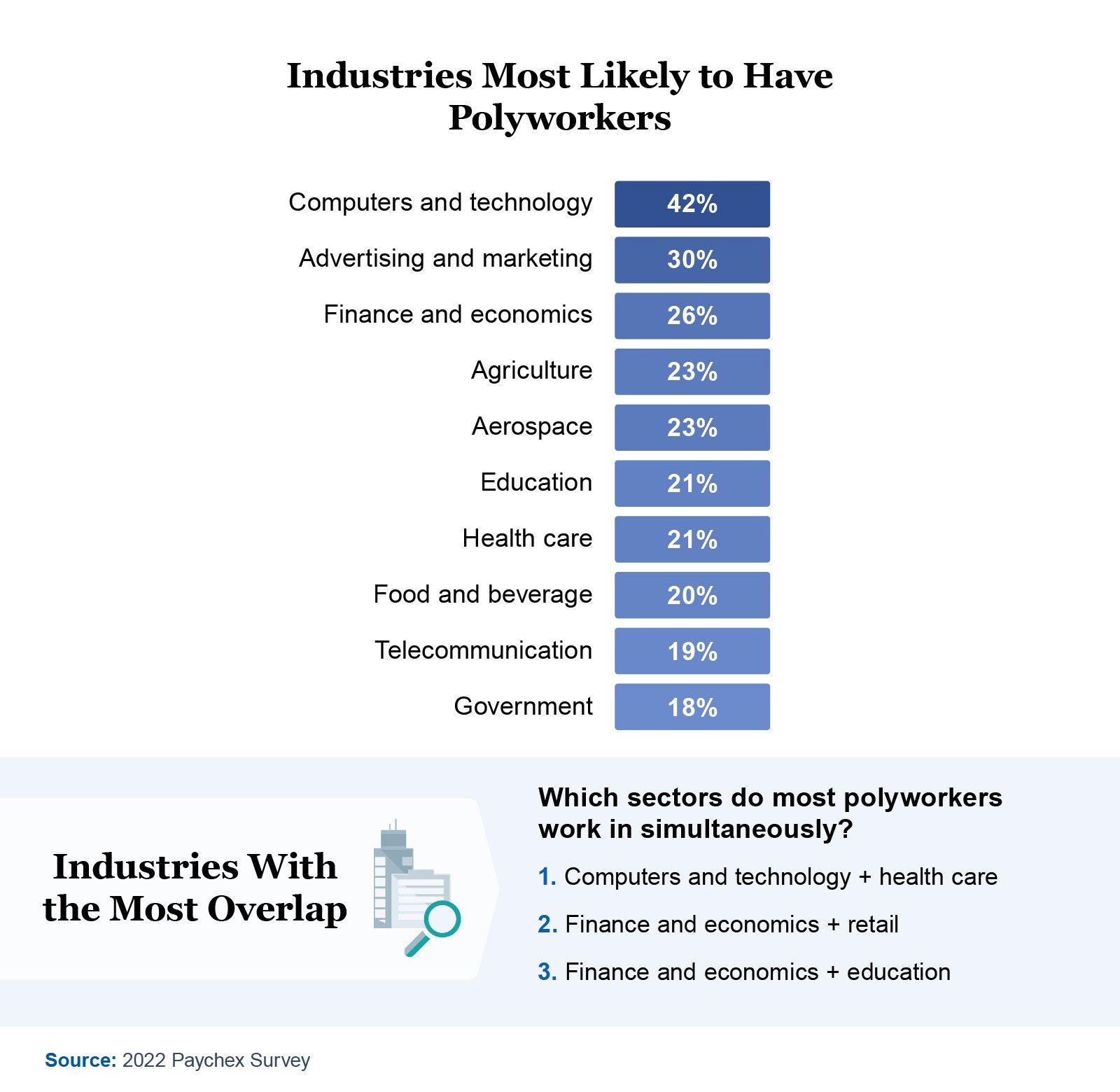 Computer and technology sector workers are most likely to have multiple income streams. This industry also has the most overlap with health care (people working in both simultaneously). While these workers might mix and match the most while working multiple jobs, people from many different professional backgrounds have taken on work in other fields as well. For example, finance and economics workers overlap with the retail and education sectors quite a bit, too.
Numerous Obligations
Whether polyworkers hold jobs in multiple industries or not, their plans may or may not be long-term. How long do they intend to keep it up, and why?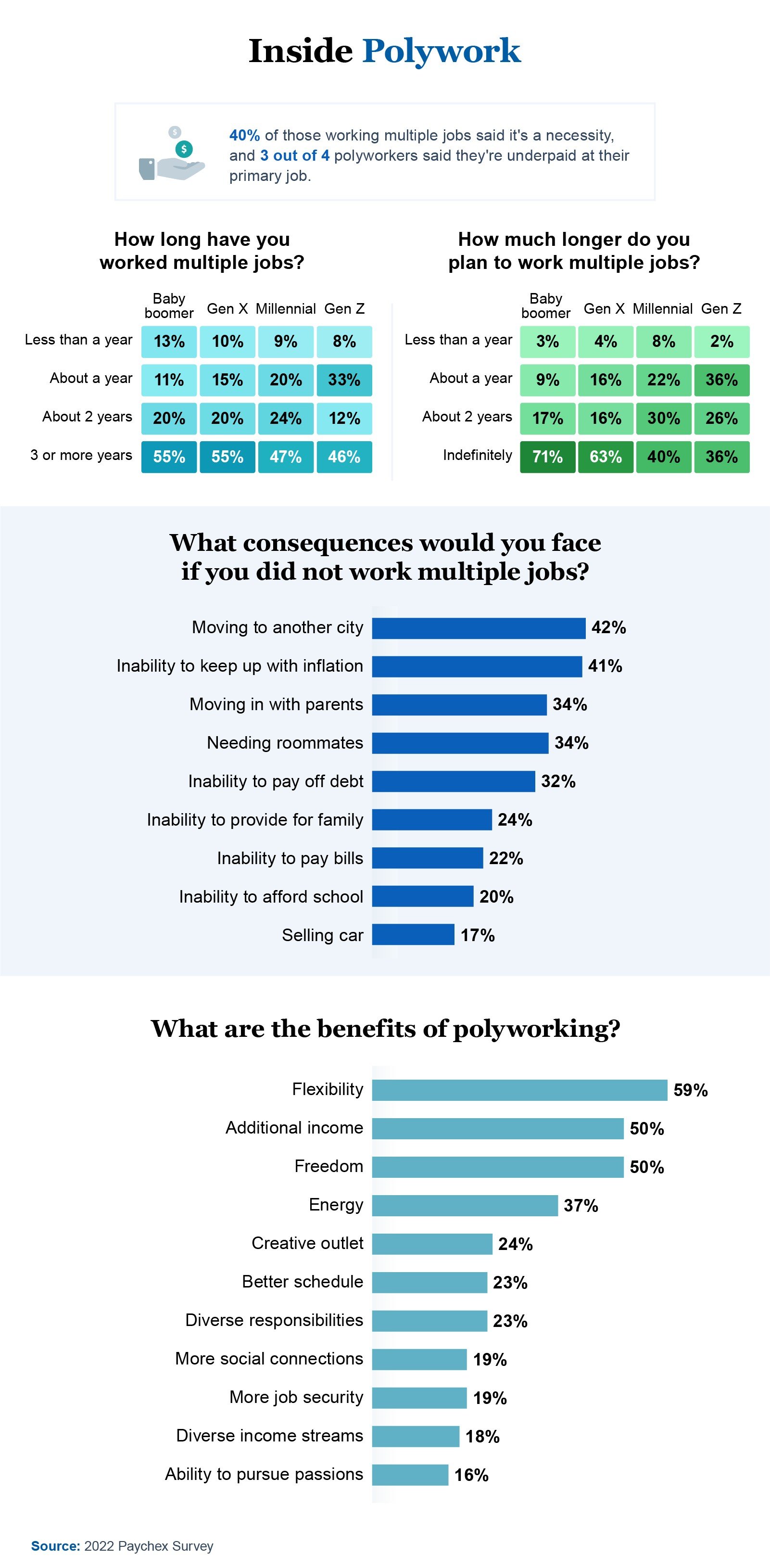 Nearly half of our respondents are polywork veterans, having worked multiple jobs for three or more years. Gen X has been working multiple jobs for the longest time, with 32% saying they have done so for five years or more.
But it's not just Gen Xers who are long-term polyworkers. Almost half of respondents plan to polywork indefinitely (47%), and their motivation varies. Without multiple income streams, Gen Xers and millennials most fear the possibility of having to move to a new home, while baby boomers are particularly worried about their inability to keep up with inflation.
That's one reason flexibility, additional income, and freedom are important to polyworkers. Having autonomy over their workloads and schedules allows them to structure their day however they need to, which is especially helpful to freelance polyworkers.
Taking a Toll
We now know why so many people pursue a polywork lifestyle, but how does it compare to that of one-job workers? Does the increased flexibility and freedom make them happier than those working nine to five?
In some cases, it might not. One-job workers are less burnt out and stressed than polyworkers. They also feel more inspired and productive at work. However, both types of workers were about equally satisfied with their career and work-life balance.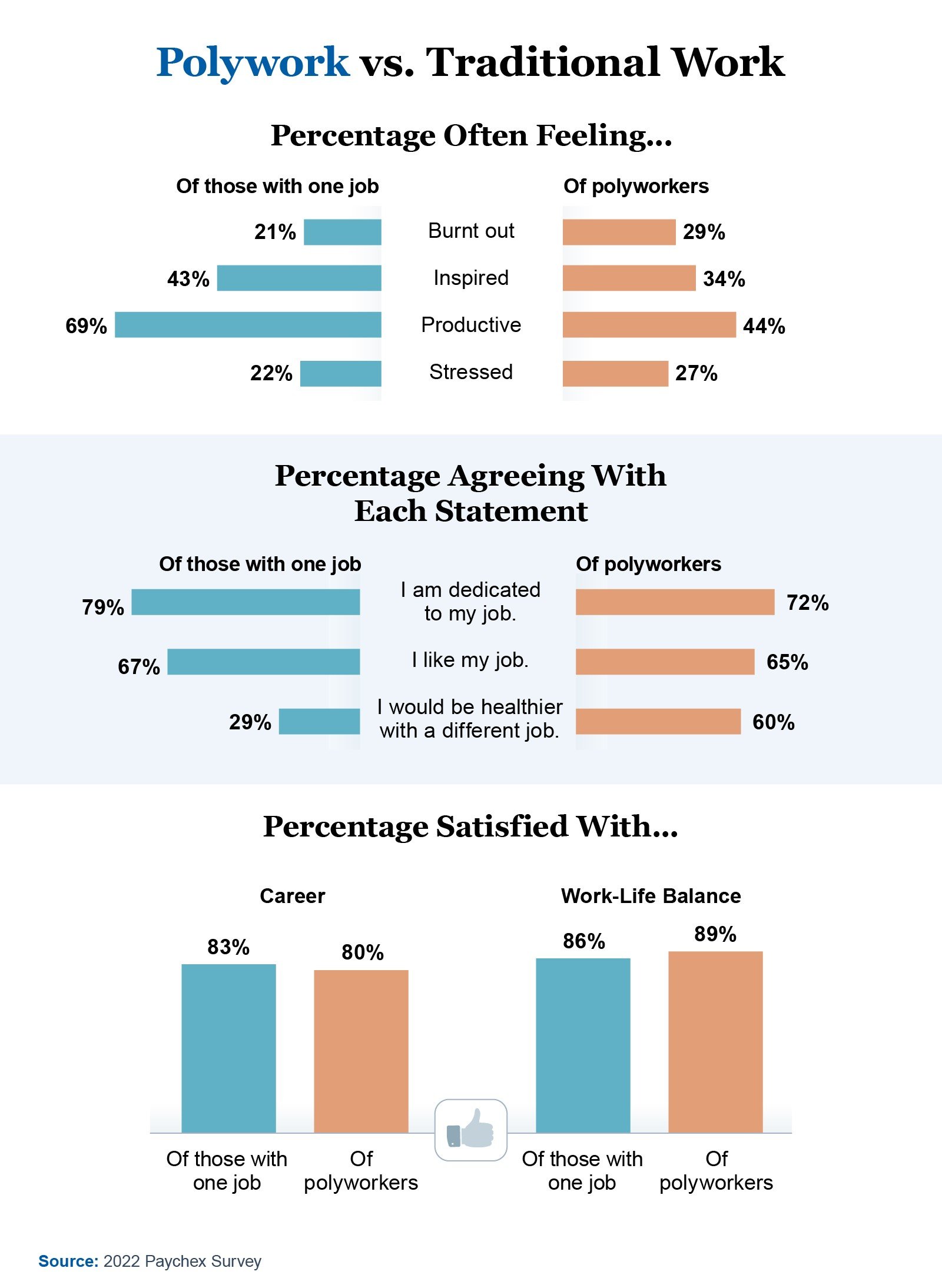 Some polyworkers are self-reportedly less dedicated to their jobs. They also generally like their jobs less and think they would be healthier if they had a different one. Even polyworkers working multiple jobs out of desire rather than necessity report these same sentiments.
Hiring a Polyworker
Higher levels of burnout and stress aren't the only issues polyworkers face. To find out how hard it might be for them to land the additional jobs they desire, we asked over 200 hiring managers how they feel about candidates already working other jobs.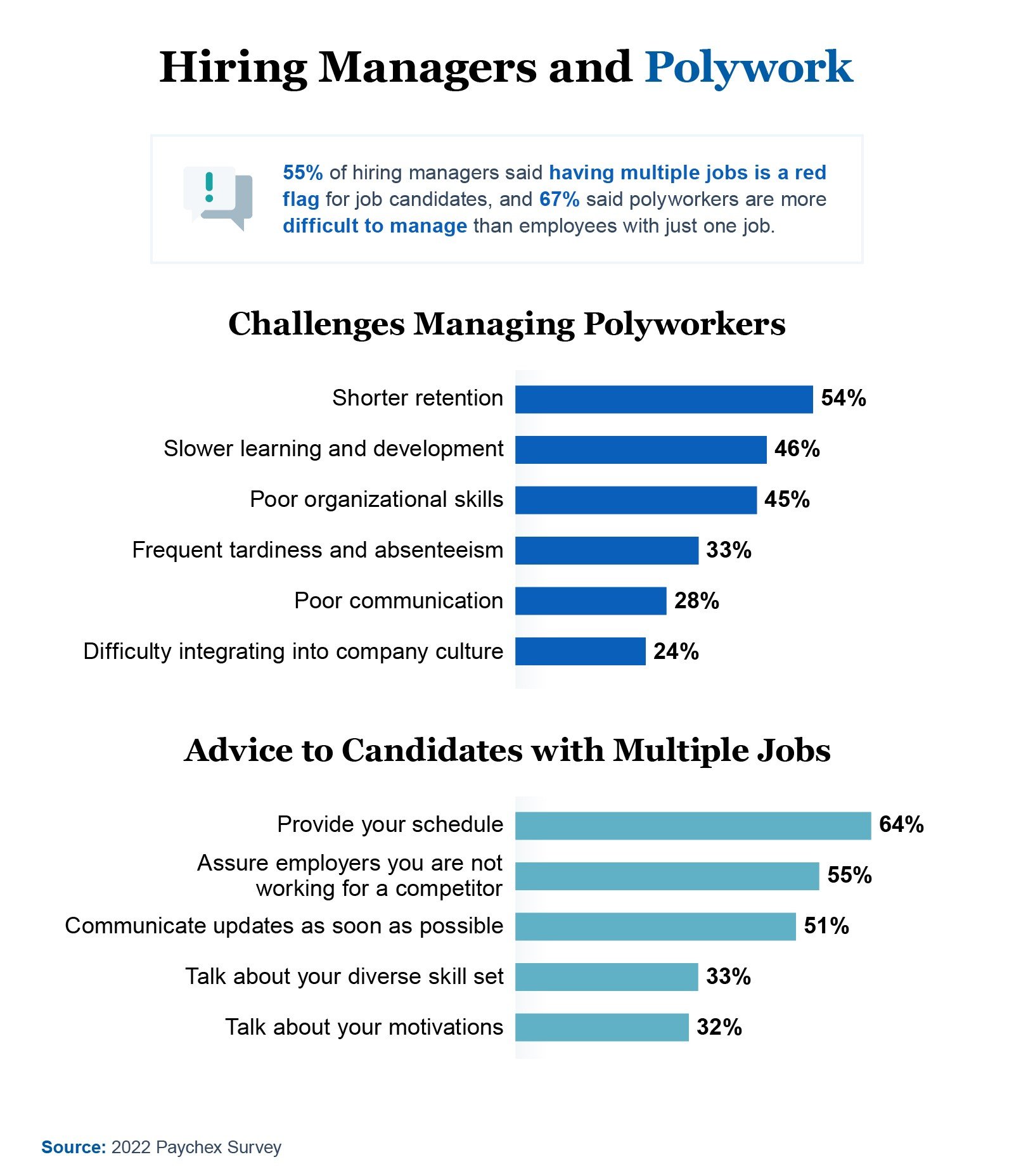 For polyworkers on the job hunt, hiring managers have some advice to give. The most important thing is to be transparent about your work schedule, so managers know when you're available and when you're not. They also appreciate knowing that they are competing with your other employers for your labor. Cover these bases in order to boost your chances of landing your next gig.
Over half of hiring managers say polyworking candidates immediately raise a red flag, and more than two-thirds say they're more challenging to manage than single-job employees. Manager also believe polyworkers don't stick around as long, are slower at learning and developing skills, and demonstrate poor organizational skills.
The Constant Hustle
The appeal of polywork is rising, but so far, people living in New York, New Jersey, and California are most interested in doing it. Most of the polyworkers we surveyed have held multiple jobs for at least three years with no plans to scale back, and more than half were Gen Z freelancers preferring remote work.
The flexibility and freedom of that lifestyle are simply too good for many to pass up, and quitting it could result in hardships like having to move or struggling to keep up with inflation. Is polywork here to stay, or will the traditional work model dominate once more? To each their own, but we'll be observing these trends well into the future.
Methodology
We surveyed 1,011 people in October 2022 about their work experience. Among them were 707 polyworkers and 304 people with only one job. Generationally, 11% were Gen Zers, 55% were millennials, 20% were Gen Xers, and 14% were baby boomers. Additionally, 57% were men, and 43% were women. We also surveyed 205 hiring managers. Finally, we looked at the search volume for the terms "polywork," "gig work," and "side hustles" in each U.S. state as well as the 25 most populous cities from January 1, 2019 through October 1, 2022.
About Paychex
As a leading provider of integrated human capital management solutions, Paychex offers services for your HR, payroll, retirement plan, employee benefit, and business insurance needs.
Fair Use Statement
If you know any polyworkers who might be interested in our findings, feel free to share this article with them. We just ask that you only do so for noncommercial use, and provide a link back to this original page so the contributors can earn credit for their work.
Heading
See Why 730,000+ Businesses Use Paychex
If you are looking to outsource Paychex can help you manage HR, payroll, benefits, and more from our industry leading all-in-one solution.