Featured
In the early months of the global COVID-19 pandemic, the swift and overwhelming shift from office work to an at-home environment might have seemed like a temporary change. The sudden blurring of work and home life, combined with partners, children, and roommates all suddenly working and learning from home as well, caused a considerable disruption to our work-life balance.
While some experts asked in the first half of 2020 what reimagining the work-life balance would look like after the pandemic, many Americans are now realizing that "after" may never really come. Instead, some major corporations (including Facebook, Twitter, and Square) have made the option of permanently working from home available to its workers.
Considering that the "new normal" has effectively become normal-normal, the question of how employees are coping with the pandemic and its effect on team morale is even more important. Read on to explore how team morale changed in the last year, how businesses are coping with these shifts, how morale is impacting workplace productivity, and whether going back to the office has helped or hindered employees' moods.
Bridging the Digital Gap
According to our study of 1,000 employed Americans, adapting to working from home abruptly during the pandemic has been more difficult than anticipated. Social isolation can be difficult to cope with, and digital methods of communication can be a poor substitute for the everyday face-to-face interactions many employees are accustomed to. For the millions of new telework employees, it can be difficult to reduce distractions, set effective boundaries, or make a communication plan that works effectively.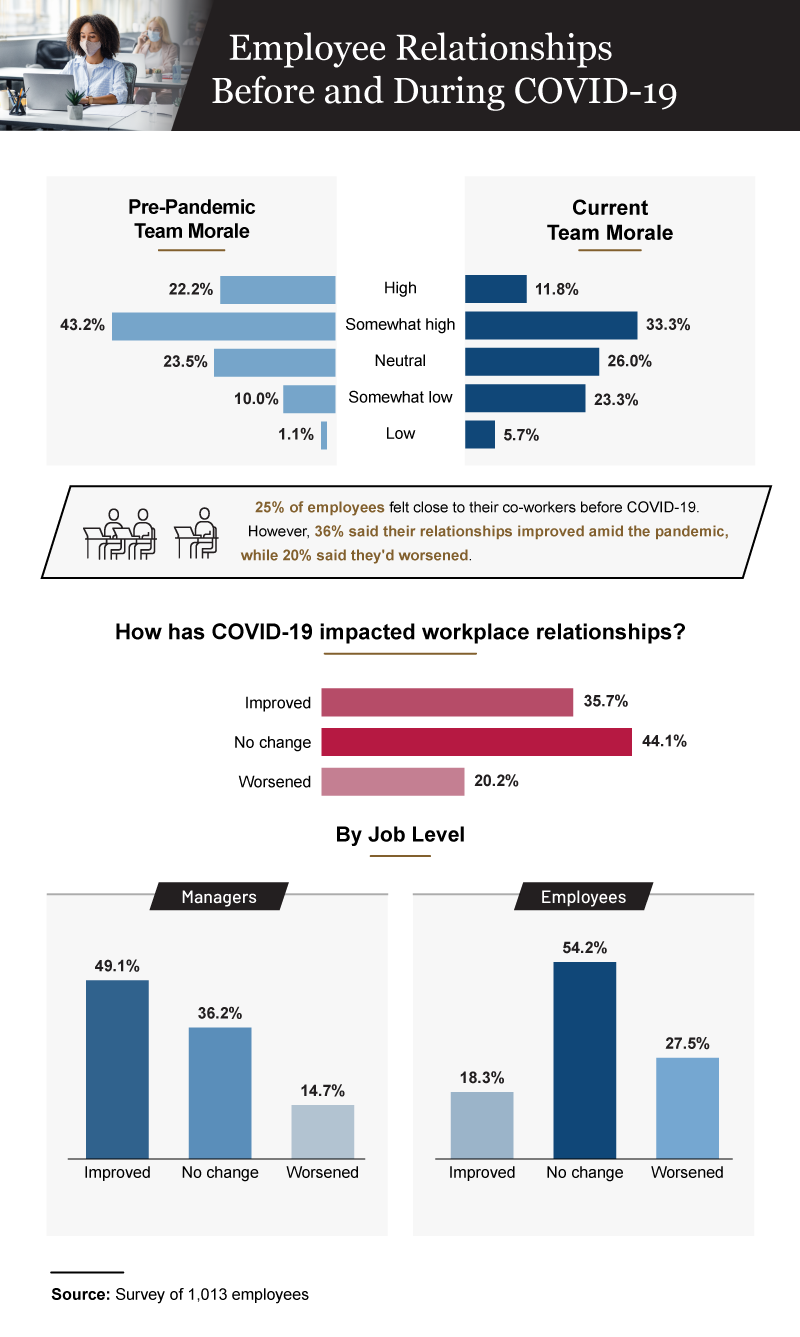 Our study shows that compared to the more than 65% of employees who considered their pre-COVID team morale either high or somewhat high, a majority said current workplace morale was neutral (26%), somewhat low (23%), or low (5.7%). Roughly a quarter of employees said they felt close to their co-workers before COVID-19, but another 36% felt their relationships have improved overall, compared to 20% who said their relationships have worsened.
While some have experienced positive changes in their peer connections, we found that upward momentum was more likely to occur among managers than employees. While 49% of managers said their relationships since COVID-19 have improved and just 15% said they'd gotten worse, we found just 18% of employees felt their relationships have improved, and 28% felt they've worsened.
We also analyzed morale data by industry, which suggested that not all teams were able to handle the impacts of COVID-19 similarly. Here are some key findings:
The Impact of Good Leadership During COVID-19
Managers may be more likely to feel closer with their peers since the COVID-19 pandemic began, and it could be the actions of managers that help employees successfully handle the stress of working remotely.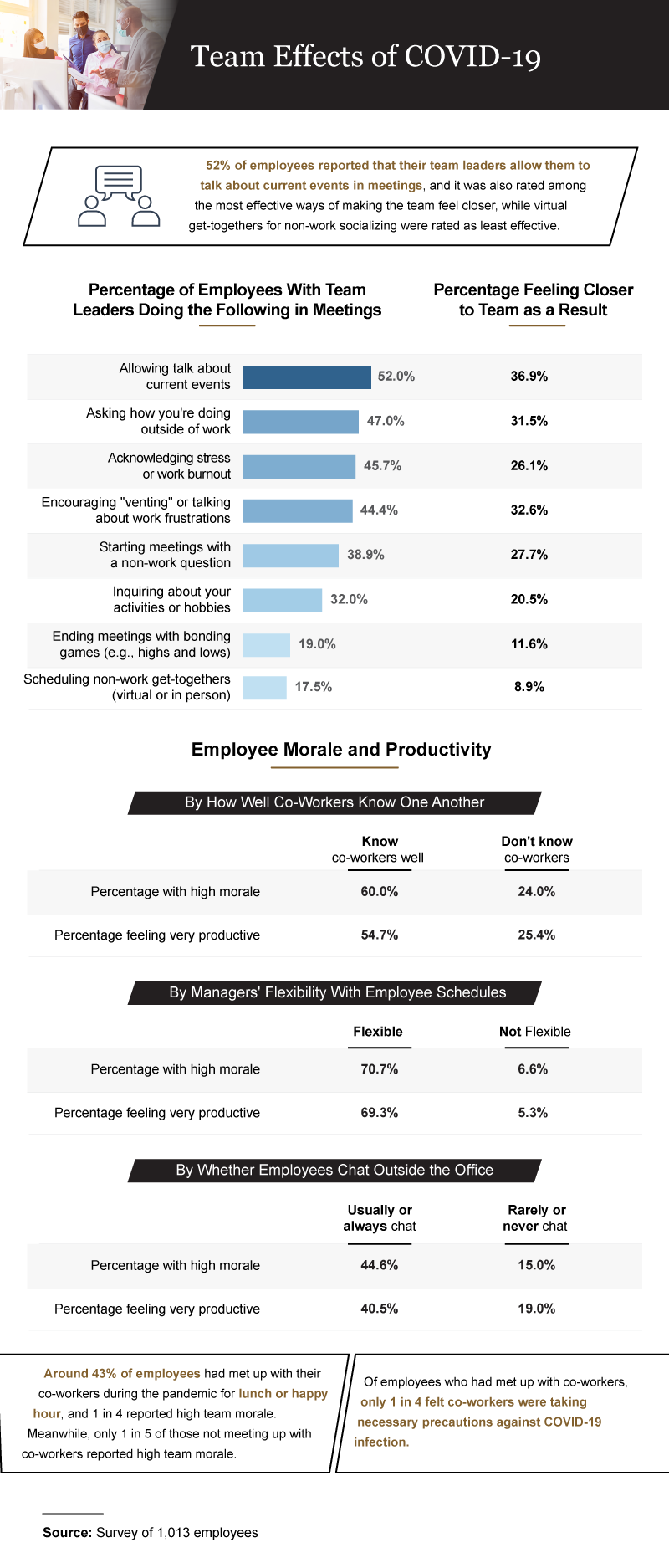 More than any other coping mechanism, 52% of employees said their manager or team leader allowed them to discuss real-world current events during team meetings. Roughly 37% of employees getting to discuss current events on the clock said it helped bring their teams closer together. While just 44% of managers encouraged or allowed "venting" or talking about work frustrations during meetings, nearly 1 in 3 employees said this tactic was successful at bringing teams together. Checking in with how employees have been doing (32%), starting meetings with non-work questions (28%), and acknowledging stress and burnout (26%) were other successful methods of helping teams feel increased unity.
Employees who reported knowing their co-workers well were 36 percentage points more likely to have high morale, followed by employees who communicated with one another in non-work settings (30 percentage points). Most notably, employees working for managers who offered flexibility with employees' work schedules were 64 percentage points more likely to indicate a high morale. Flexible work schedules also made employees 64 percentage points more likely to identify as feeling very productive.
Benefits of Working in the New Normal
According to our study, half of employees we polled who had recently returned to their work spaces admitted they were worried about becoming infected with COVID-19.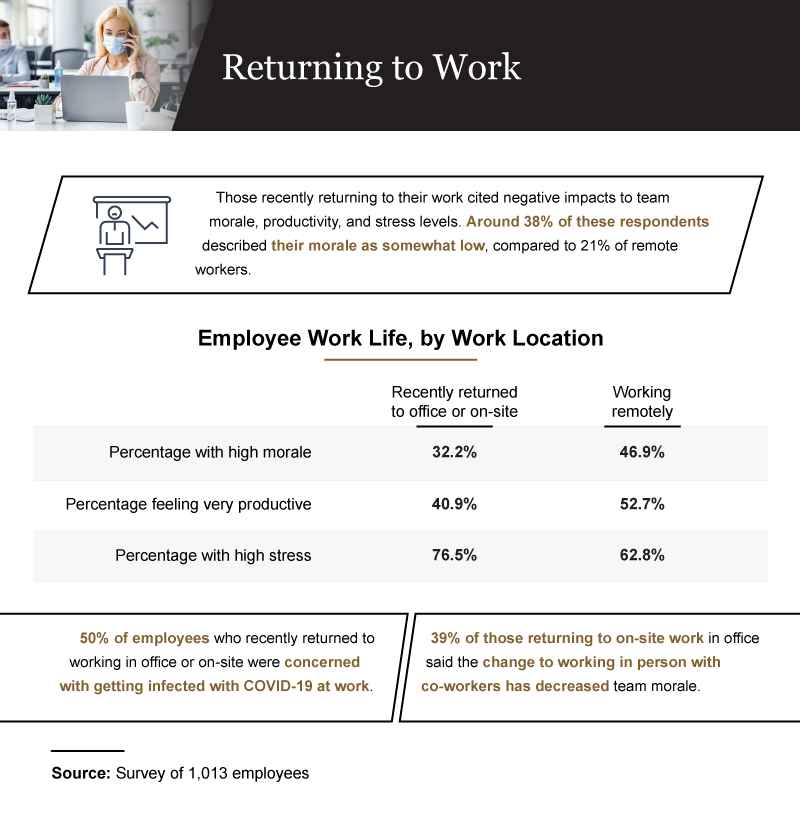 As we found, returning to an office or workspace after working remotely also negatively impacts team morale. Compared to 21% of remote workers, 38% of those who returned their work spaces reported somewhat low morale. Remote employees were also nearly 15 percentage points more likely to indicate having high morale, 12 percentage points more likely to feel very productive, and almost 14 percentage points less likely to report high stress. Thirty-nine percent of employees working back on-site acknowledged the change from working remotely as decreasing team morale.
Regardless of the challenges that are sometimes associated with working remotely, even very motivated employees are more likely to thrive in that environment, compared to those who've returned to their on-site workspaces. We found remote employees had the highest levels of morale (46.9%), as well as the highest levels of productivity (52.7%).
Here were some other findings from our study, which may be useful to companies noticing low morale among certain employees:
Seasoned employees were more likely to suffer from low morale due to COVID-19, compared to those with a year or less at the company.
Only 15% of employees with a year or less at the company reported low morale.
Around 30% of employees with three years or less of experience reported low morale.
Around 38% of employees with over six years of experience reported similarly low morale.
A New Workplace Perspective
This last year was full of learning, adjusting, and resetting expectations. For the millions of Americans still working remotely during COVID-19, there may be no end in sight to these new digital office spaces. While team morale has generally decreased since the pandemic began, managers and team leaders have the opportunity to create positive working environments that help teams feel closer together rather than further apart. And while telecommuting certainly has its challenges, those surveyed who'd already returned to the office were generally less productive, more stressed, and had lower morale overall.
At Paychex, our Coronavirus Help Center is designed to help answer all of the questions you have about helping your business and employees meet the challenges of today. From understanding your state's reopening guidelines to understanding your company's finances, we compile all of the resources you need in one location. Our HR Solutions are also tailored to your business needs to help you keep up with changing regulations and workplace trends. 
Methodology and Limitations
We surveyed 1,013 currently employed respondents ranging in age from 18 to 70 in order to explore how COVID-19 has affected team morale. The mean age was 38 with a standard deviation of 11 years. 41.9% of our respondents identified as female, 57.8% identified as male, 0.3% identified as nonbinary.
Survey data has certain limitations related to self-reporting. These limitations include telescoping, exaggeration, and selective memory. We didn't weight our data or statistically test our hypotheses. This was a purely exploratory project that examines team morale amid the COVID-19 pandemic.
Fair Use Statement
Are your readers trying to make the most out of their remote work environments or struggling with returning to the office? Share the results of this study for any noncommercial use with the inclusion of a link back to this page in your story to provide access to our full findings and methodology.
In a perfect world, we would be able to completely separate our personal lives from work lives. However, this is rarely the case. You may see an employee showing signs of extreme fatigue or displaying more emotions while on the job. They may have trouble concentrating or withdraw from co-workers. These are all symptoms of work burnout, but they could also be signs of underlying mental health problems that job responsibilities can exacerbate.
In the U.S., nearly 1 in 5 adults live with a mental health issue, yet taking a mental health day or discussing difficulties at work may not be easy. Are supervisors more comfortable divulging their mental health struggles due to their position, or are individual employees more open to speaking up? We surveyed nearly 1,000 employees and over 380 supervisors, gathering information on their companies' mental health resources, how comfortable they feel broaching the topic, and their overall experience with mental health at work. Keep reading to see what they had to say.
Working on mental health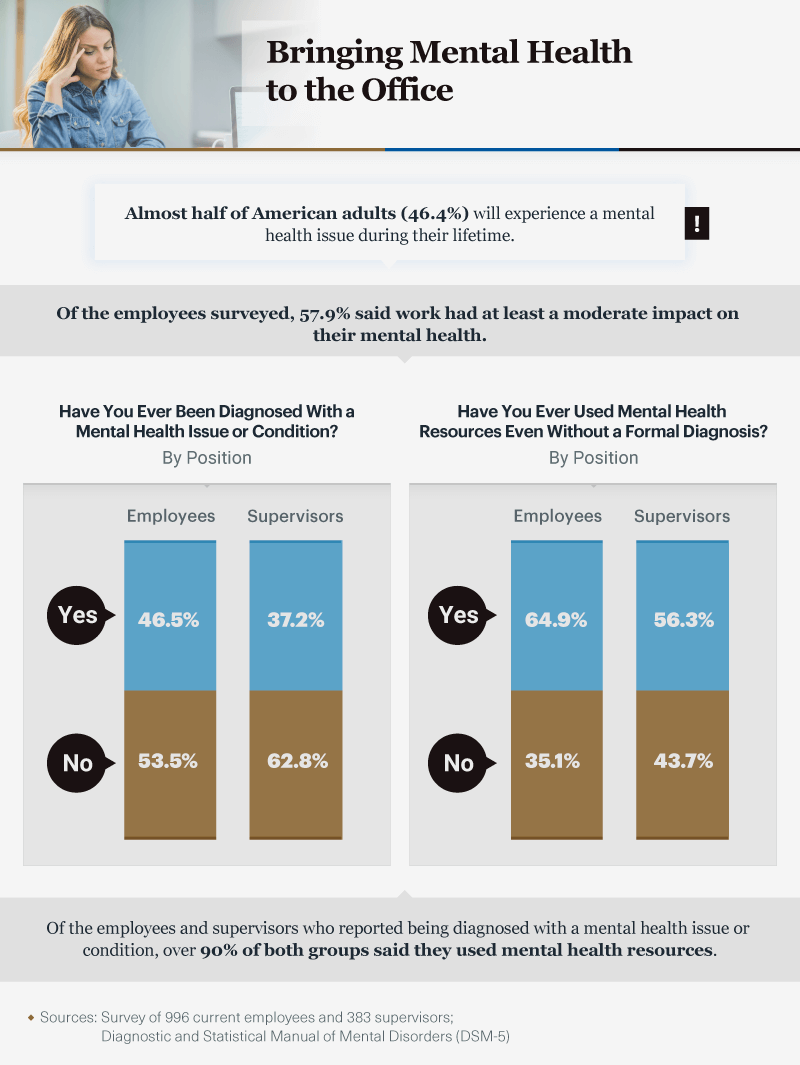 Mental health issues stem from various sources — while some are rooted in genetics, others are influenced by environmental stressors. In 2018, a third of Americans worked 45 hours or more each week, with nearly 10 million people working more than 60 hours. This increase in work hours and decreased time off has made Americans fatigued — and not just physically. Fifty-eight percent of employees surveyed said work had at least a moderate impact on their mental health. The effects may not always qualify for a diagnosis, but 46.5% of employees and 37.2% of supervisors reported being diagnosed with a mental health issue.
With or without a diagnosis, some companies offer mental health resources to employees. On top of having policies in place to prevent discrimination or stigma, companies can also provide free and anonymous screenings to help employees identify underlying issues or better understand their mental health. With or without a diagnosis, 64.9% of employees and 56.3% of supervisors reported they had utilized mental health resources. However, those who had been diagnosed were significantly more likely to seek help — over 90% of both employees and supervisors with a diagnosis reported using their company's mental health resources.
Let's talk about it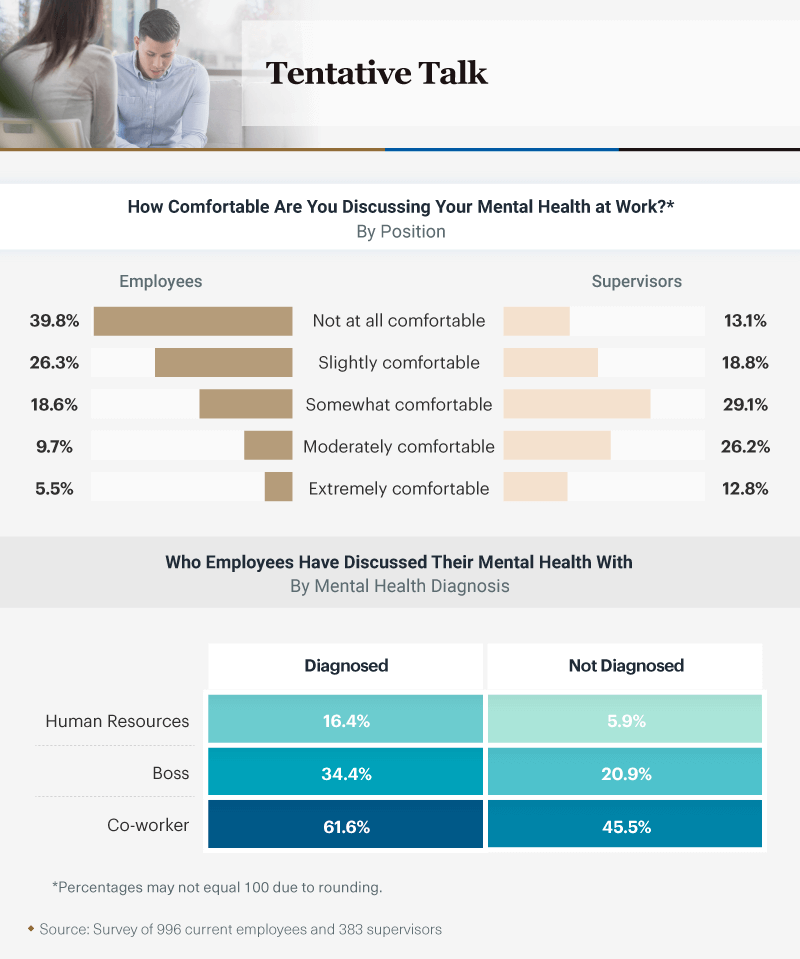 Broaching certain topics can be difficult, especially with colleagues or superiors. It can be intimidating to bring up something as personal and stigmatized as mental health. But supervisors were significantly more comfortable discussing their mental health at work compared to lower-level employees. While nearly 40% of employees were not at all comfortable discussing their mental health at work, only 13% of supervisors felt the same. On the other hand, 29.1% of supervisors were somewhat comfortable with the topic, and 26.2% were moderately comfortable. For lower-level employees, only 18.6% were somewhat comfortable, and less than 10% were moderately comfortable.
Supervisors may be more comfortable getting personal due to the position they hold, while entry- and intermediate-level employees may feel uncomfortable speaking up. Those in higher positions may have a sense of security and freedom that lower-level employees feel they don't have.
For those who did speak up, both with and without a diagnosis, the majority was most likely to speak with a co-worker than anyone else at work. Nearly 62% of those who had been diagnosed reported discussing their mental health with a co-worker, while 45.5% of those without a diagnosis said the same. When it came to discussing the topic with a boss, however, only 34.4% of those with a diagnosis and 20.9% of those without broached the subject.
Uncomfortable conversations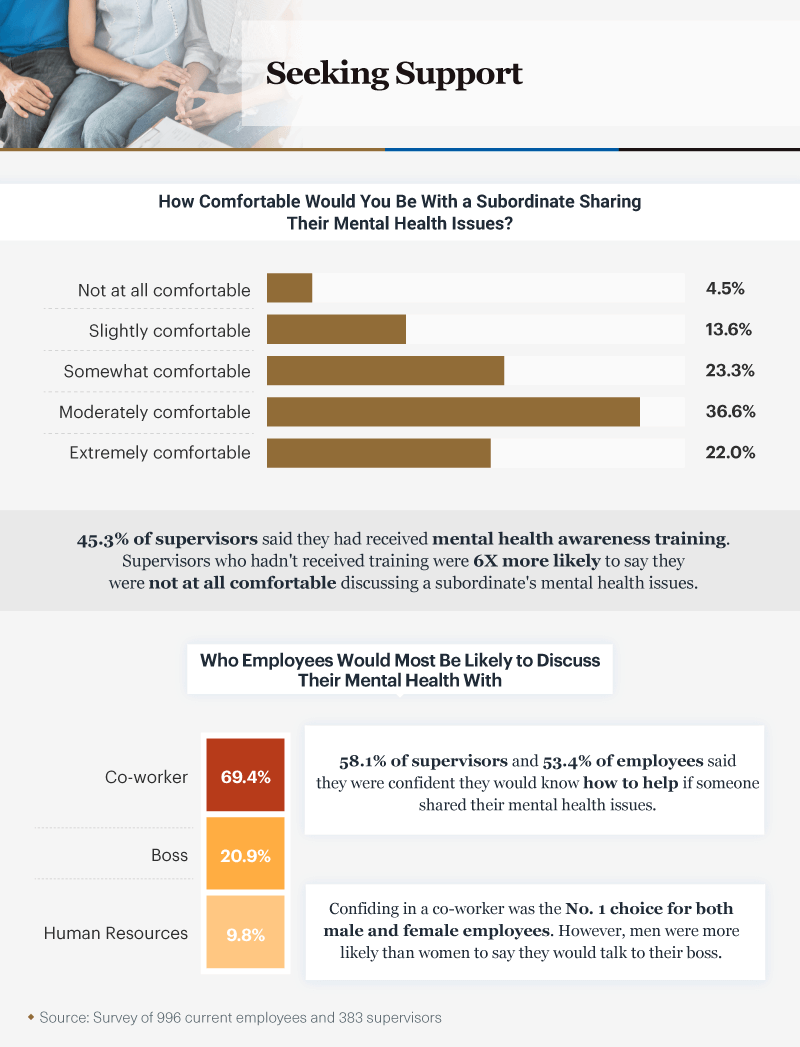 Despite legal protection from the Americans with Disabilities Act (ADA), many people continue to hold their tongue about mental health in the workplace. However, considering many people are likely unaware of the protections afforded by the ADA regarding mental health, they're also likely unaware of how their superior feels about the matter. The majority of supervisors reported feeling moderately comfortable with their subordinates coming to them about their mental health struggles, with only 4.5% not at all comfortable.
One of the driving factors behind comfort is adequate training. Only 45% of supervisors said they had received mental health awareness training, and for those who hadn't, they were six times more likely to say they were not at all comfortable discussing mental health issues with a subordinate.
On the other side of the conversation, lower-level employees seemed to share a certain level of discomfort when it came to talking about their mental health with superiors. Over 69% of employees were most likely to talk about their mental health with a co-worker, while only 20.9% would discuss the topic with a boss and 9.8% with an HR manager. Confiding in friends and peers is better than not confiding at all — the problem is that people would rather confide in those who are likely not equipped to help them beyond lending an ear.
Americans spend a huge portion of their lives at work — 90,000 hours over a lifetime — and with work stress contributing to physical and mental health issues, offering basic mental health training for people in supervisory positions could make both sides feel more comfortable. Not only would superiors feel more prepared when confronted with a mental health problem, but employees may also feel more comfortable seeking their support.
What options do employees have?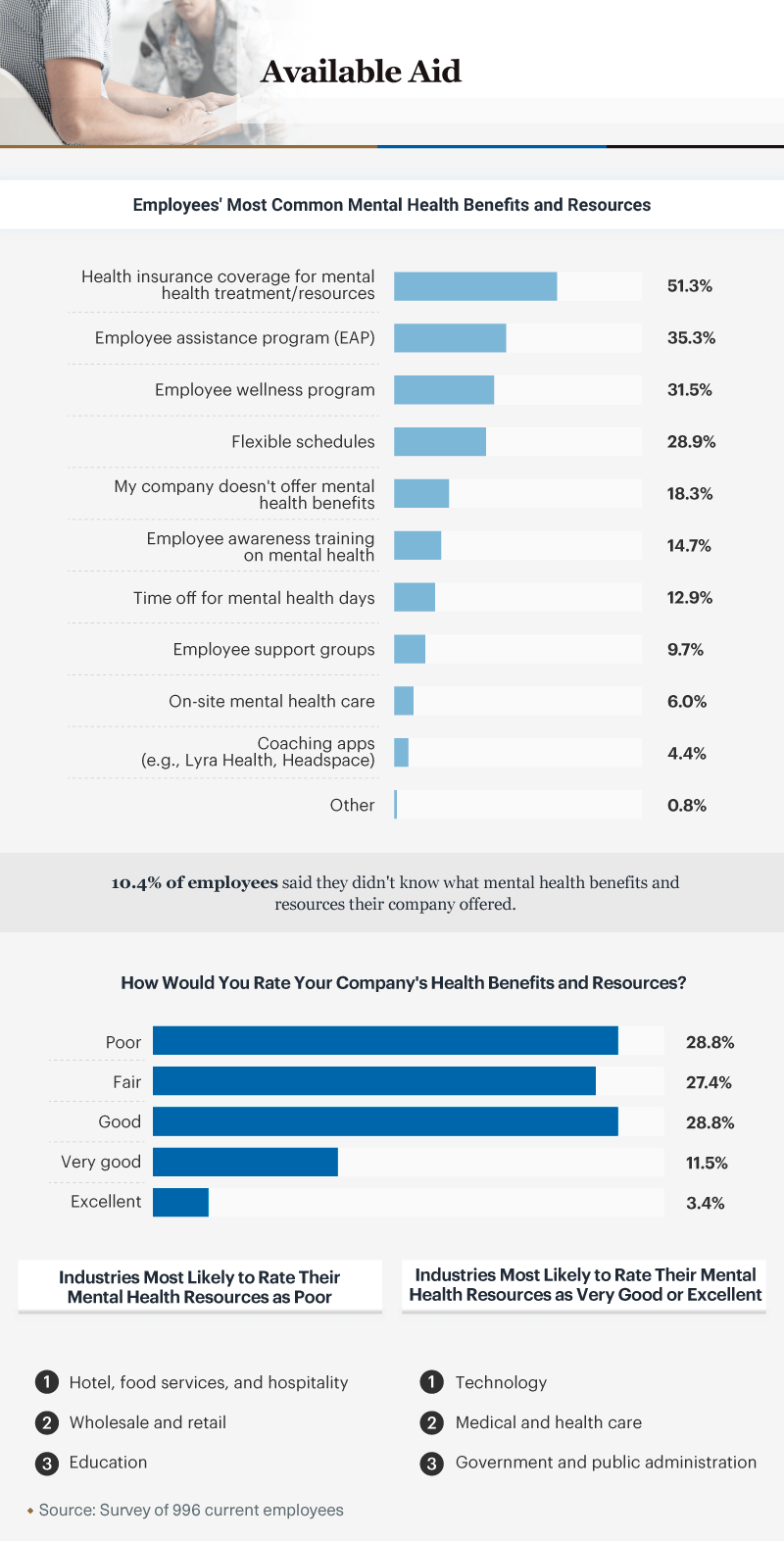 Companies may be required to provide certain benefits to employees, including disability coverage if the state mandates it. While most people associate work benefits like health insurance and disability coverage with physical health, both benefits may cover employees' mental health too.
Over half of respondents reported health insurance coverage as a mental health benefit offered by their employer, but other benefits are for the mental side of wellness. Thirty-five percent of employees reported having access to an employee assistance program (EAP), which provides assessments and services for various challenges that could potentially interfere with employees' well-being or work performance.
While EAPs and on-site mental health care are helpful in addressing issues, a healthy work/life balance also plays a part in stress and mental well-being. Companies that offer flexible schedules, time off for mental health days, and proper mental health training for employees can make the workplace a safe and healthy place, rather than a source of stress. Nearly 30% of respondents reported their company had, and almost 13% were offered time off for mental health days — both of which are on the rise in the workforce.
Despite the numerous benefits available, 10.4% of employees didn't know which ones their company offered, and 18.3% said their company didn't offer any benefits or resources. Even when benefits are offered, employees may not embrace them. Roughly 29% of employees rated their company's mental health benefits as poor, compared to just 11.5% rating them as very good. Opinions of benefits varied by industry, though. Employees working in the hotel, food services, and hospitality industry were the most likely to rate their company's mental health resources as poor, followed by the wholesale and retail and education industries. On the other hand, those working in technology, medical and health care, and government and public administration were the most likely to rate their resources as very good or excellent.
Consequences to the company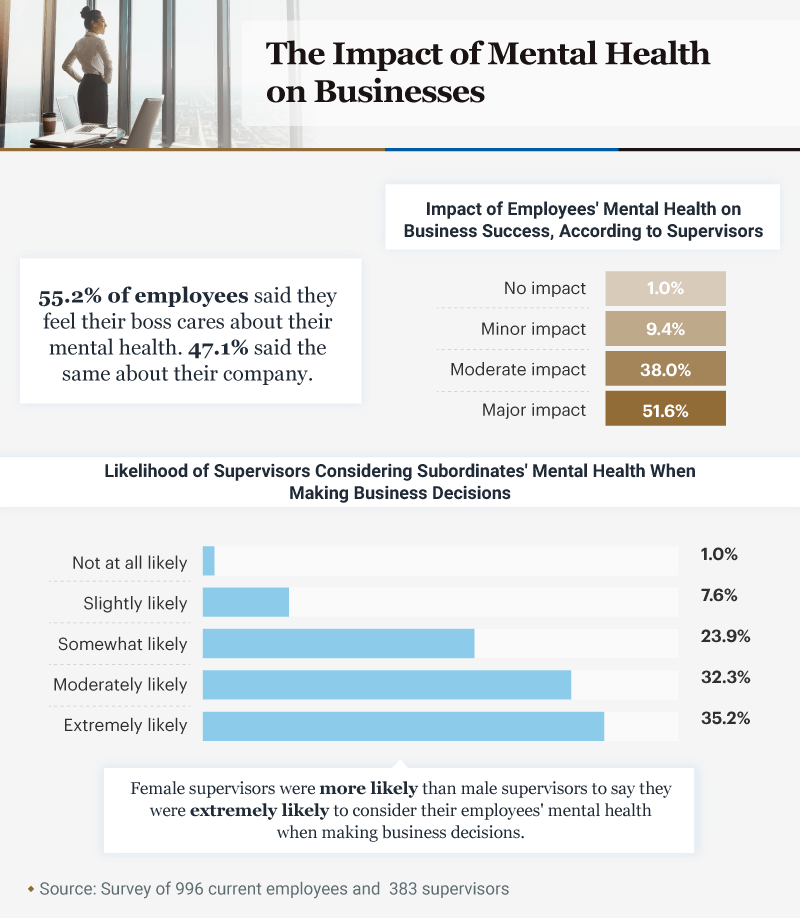 When talking about the link between work and mental health, most of the focus is on jobs' influence on employees' mental well-being, but the relationship is interdependent. Employee mental health can cost companies money — and the price is rising twice as fast as those associated with other medical expenses. Supervisors are clearly aware of this connection, though. Over half of supervisors thought employees' mental health had a major impact on the success of their business, with only 1% claiming it had no impact.
While employers likely care about employee mental health beyond the effect it can have on their bottom line, employees have their own perceptions about how much their boss and company care. Just over 55% of employees felt their boss cares about their mental health, and 47.1% said the same about their company.
Given that mental health can have an impact on finances, productivity, and turnover, supervisors considered mental health when making business decisions. Over 35% of supervisors said they were extremely likely to consider their employees' mental health when making decisions, with female supervisors being more likely than their male counterparts to do so.
Attitude changes

Despite increasing talk about mental health and benefits provided by employers, the stigma surrounding mental health often remains, especially in the workplace. Half of employees surveyed believed people at work would view them differently if they were to discuss their mental health openly, and a quarter were unsure of the reaction. But superiors and employers can change the way mental health is addressed. The social stigma attached to mental health may not go away overnight, but making employees feel safe to express their struggles freely starts with communication.
Protected from discrimination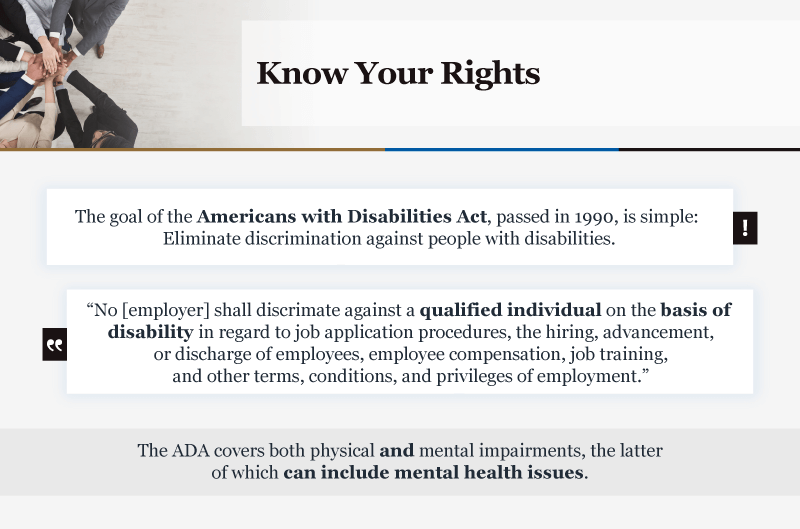 A significant part of discussing mental health at work is employees knowing their rights. As mentioned earlier, the ADA protects employees from being discriminated against based on their disability, including mental health issues. The regulations identify multiple mental health issues that qualify employees for protection, including major depressive disorder, bipolar disorder, PTSD, OCD, and schizophrenia.
You're not alone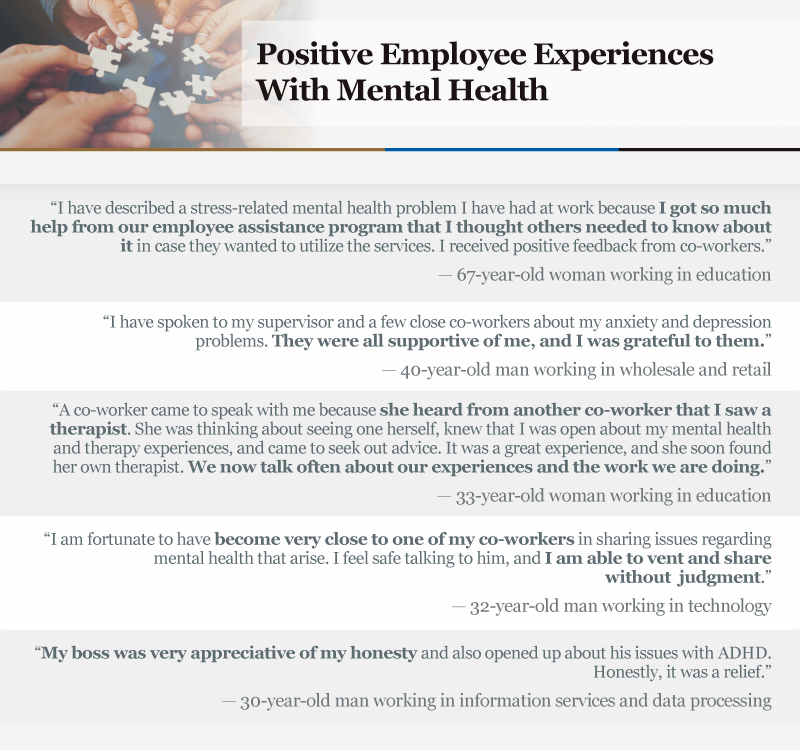 Following a discussion of their mental health struggles, some employees said they found help at work. Others felt their co-workers and employers mistreated them, whether using their struggles against them in arguments or firing them for speaking freely.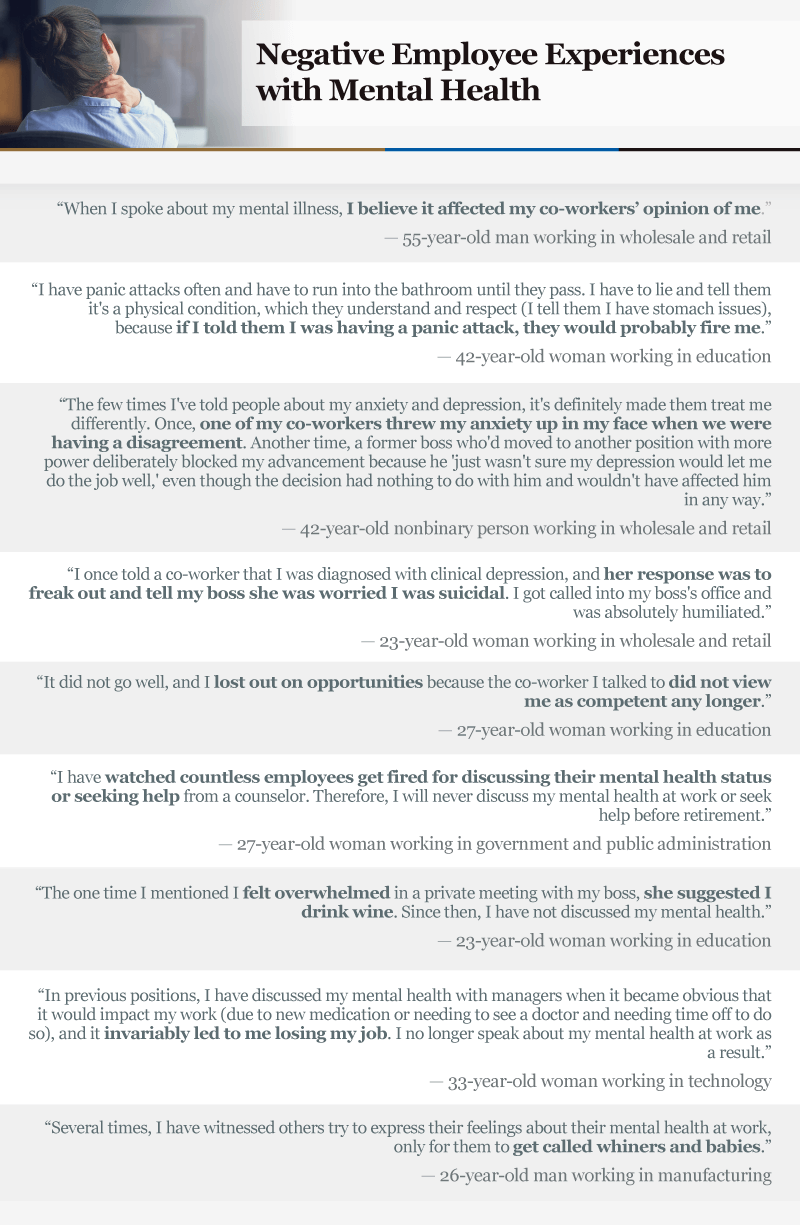 Other respondents said they experienced a negative change after their disclosure. But it's important to remember that even if an employee's company is open about mental health and the ADA provides protections, hearing about negative experiences can instill fear, preventing them from speaking up at all.
Making the office a safe space
Mental health struggles are a fact of life — at some point, everyone will feel stressed, overwhelmed, and need a break to regroup. But unlike physical health, it can be difficult to articulate the issue or feel comfortable asking for help. Employees may still fear disclosing their struggles, and supervisors may not have sufficient training.
From mental health days and flexible schedules to employee assistance programs and on-site mental health care, there are plenty of ways companies can make work a safer space to talk about and address mental well-being. At Paychex, we can help guide your company in employee benefits, insurance, and HR services to ensure your employees feel taken care of while your business thrives. A healthy work environment is a productive work environment. To learn more, visit us online today.
Sources
Methodology
We conducted two surveys: one of 996 current employees and one of 383 supervisors. "Employees" were defined as workers who identified being in entry-level or intermediate job positions. "Supervisors" were defined as workers in middle-management roles or higher and had to report they had subordinates who reported to them.
For the employee survey, respondents were 56.1% women and 43.9% men. The average age of respondents was 34.9 with a standard deviation of 10.4.
For the supervisor survey, respondents were 54.3% men and 45.7% women. The average age of respondents was 37 with a standard deviation of 10.4.
For some parts of this project, respondents in both surveys were asked to rate how strongly they agreed with various statements. They were given the following rating scale:
Strongly agree
Agree
Neither agree nor disagree
Disagree
Strongly disagree
Respondents were asked to answer this way for the following:
Whether they were confident they'd know how to help if someone at work came to them about their mental health struggles
Whether they felt their boss cares about their mental health
Whether they felt their company cares about their mental health
No statistical testing was performed on this data. The claims listed are based on means alone.
Limitations
The data presented here are self-reported. There are common issues with self-reported data, including exaggeration and selective memory. In this study, it's possible that sentiment-based questions, such as how much employees thought their boss cared about their mental health, were answered based on one or two specific experiences, rather than a respondent's overall experience because a particular memory was most prominent in their mind.
Fair use statement
One way to help destigmatize mental health is by having open and understanding conversations about it. If you want to share this study to spark a discussion in your workplace, you're free to share this for any noncommercial reuse. We just ask that you link back here so that people can see the entire study. It also gives credit to our hardworking contributors.
Paychex analyzed workers' earnings and health care plan costs across various metro areas to calculate how many weeks they must work each year, on average, in order to fund their employee-only (no dependent) health insurance plans.
Employees in Raleigh, NC, work the fewest weeks to afford such a plan—only around one-quarter of a week. In second place is a relatively nearby area: the Virginia Beach–Norfolk–Newport News area in Virginia/North Carolina. One reason is that in North Carolina, employers cover the majority of employee-only coverage (however, workers may be partially responsible for the cost of added dependents).
Metro areas in Colorado and Utah claim third and fourth place for fewest weeks worked to fund individual health plans. Additionally, two areas in Arizona make the top 10 as well as one spot in Minnesota/Wisconsin, a second in Virginia, and one apiece for Connecticut and Florida. While industries and specific occupations do play into the equation, this regional overview yields some interesting results regarding pay and health care plans in certain metro areas.
Heading
See Why 730,000+ Businesses Use Paychex
If you are looking to outsource Paychex can help you manage HR, payroll, benefits, and more from our industry leading all-in-one solution.