Will Student Loan Repayment Catch on with U.S. Businesses?
Employee Benefits
Article

Last Updated: 04/04/2016
In a bid to attract debt-saddled millennial employees, several U.S. companies are offering the innovative benefit of student loan repayment programs. Here's a closer look.
Is student loan repayment going to catch on with U.S. businesses in 2016? This year, several companies plan to unveil some variation on this new employee benefit. Whether it turns out to be a recruiting "silver bullet" remains to be seen.
Currently, outstanding student loan debt in this country totals a staggering $1.3 trillion. This translates, on average, to more than $35,000 owed by individual student borrowers—a debt that weighs on prospective employees (particularly, those belonging to the millennial generation). In recognition of this unprecedented degree of individual debt, businesses are exploring a "student loan repayment or match benefit" as a means to attract talented job candidates.
Last year, PriceWaterhouseCoopers (PwC) announced it would offer a student loan repayment program, paying out as much as $10,000 worth of student debts for associates and senior associates (with 1-6 years of work history), in the form of annual direct payments of $1,200. "As a firm that recruits more than 11,000 new hires off campuses each year, this is an opportunity to differentiate ourselves with a key talent group—millennials—and provide a meaningful way to help reduce their debt," said Tom Codd, PwC vice chairman and U.S. human capital leader.
At Natixis Global Asset Management, every full-time employee with outstanding Federal Stafford or Perkins Loans will be eligible for contributions of up to $10,000. The financial services firm determined in a study of retirement-plan participants that "35% of millennials who do not contribute to a company-sponsored retirement plan cite the need to pay off student loans as a factor."
Smaller companies are getting on the student loan repayment bandwagon as well. ChowNow, an online ordering and restaurant marketing platform, announced last year that it, "will help indebted employees with up to $1000 per year toward student loans." Christopher Web, the company's CEO said, "Like everything, you have to stand out to attract talent."
According to the Society for Human Resource Management, only three percent of U.S. employers offer some type of company-sponsored student loan repayment program. Not surprisingly, a study by IonTuition found that employees burdened by student-loan debt find this a very attractive benefit:
Nearly 80 percent of student participants want to work for a company "with repayment assistance with a matching opportunity"
49 percent prefer student loan payment contributions to a 401(k) plan
55 percent would prefer that money they contribute towards health care be directed to lowering student loan balances instead
Will this concept take hold as a trend in compensation and benefits in 2016? Thus far, more than 100 companies have signed on to launch such programs, says Tim DeMello, founder of Gradifi, the platform used by PwC for its student loan repayment program. Here's more information on the "student loan landscape" to determine whether this approach makes sense for your business.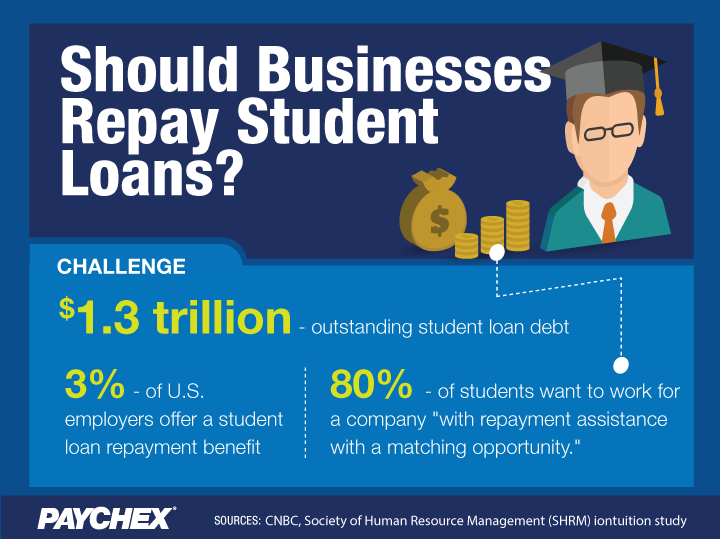 Tags