The HR Landscape in Perspective: A Leadership View of Today's Top HR Issues
Article
03/31/2017
What's on the minds of today's HR leaders? What are the most challenging issues in the HR field today?
While trend lists can provide valuable insights, getting to the heart of the matter may require information from actual practitioners and insiders working in the field. A recent Paychex survey collected such information, including on-the-job insights from more than 400 HR professionals, regarding some of the pressing challenges and opportunities they face.
A Survey of HR leaders
Our recent online survey polled the collective insights of 402 professionals working in HR leadership positions, including VPs and managers – both newcomers and seasoned professionals. We believe this strong respondent base provided qualified insights into what's happening in HR today.
Just over 50 percent of respondents identified themselves as "HR managers," while roughly 40 percent identified as filling "supervisor" and "director" roles. Approximately 6 percent identified themselves as a leading VP or Chief Human Resource Officer (CHRO) position.
Over half of respondents indicated careers that have lasted between four and 10 years in the HR field. Newcomers with less than four years' experience represented roughly 24 percent of the group, while long-term professionals with more than 10 years' experience represented around 15 percent of those surveyed. Respondents came from a range of industries, but overall tended to represent larger companies with over 100 employees (62 percent).
The key issues: benefits and performance
The survey prompted respondents with a series of questions regarding their current outlook on the HR domain and the immediate challenges they face.
Perhaps not surprisingly, the number one issue reported by these HR leaders was benefits management. This is likely due to the increasing complexity of the benefits arena as well as the shifting regulatory landscape that has added many new facets to the issue.
Following at a close second in priority was performance management. This is an issue that has been gaining attention in recent years as HR leaders struggle not only to quantify performance criteria, or ensure consistent processes and tools across the company, but also firmly integrate hiring and performance into larger business growth initiatives.
Recruitment and retention, ranked as the third-most (24 percent) important issue on HR executives' agendas. When specifically asked what issue has made their role as an HR leader increasingly difficult, 37 percent of respondents highlighted attracting and retaining talent as the number one challenge to their job.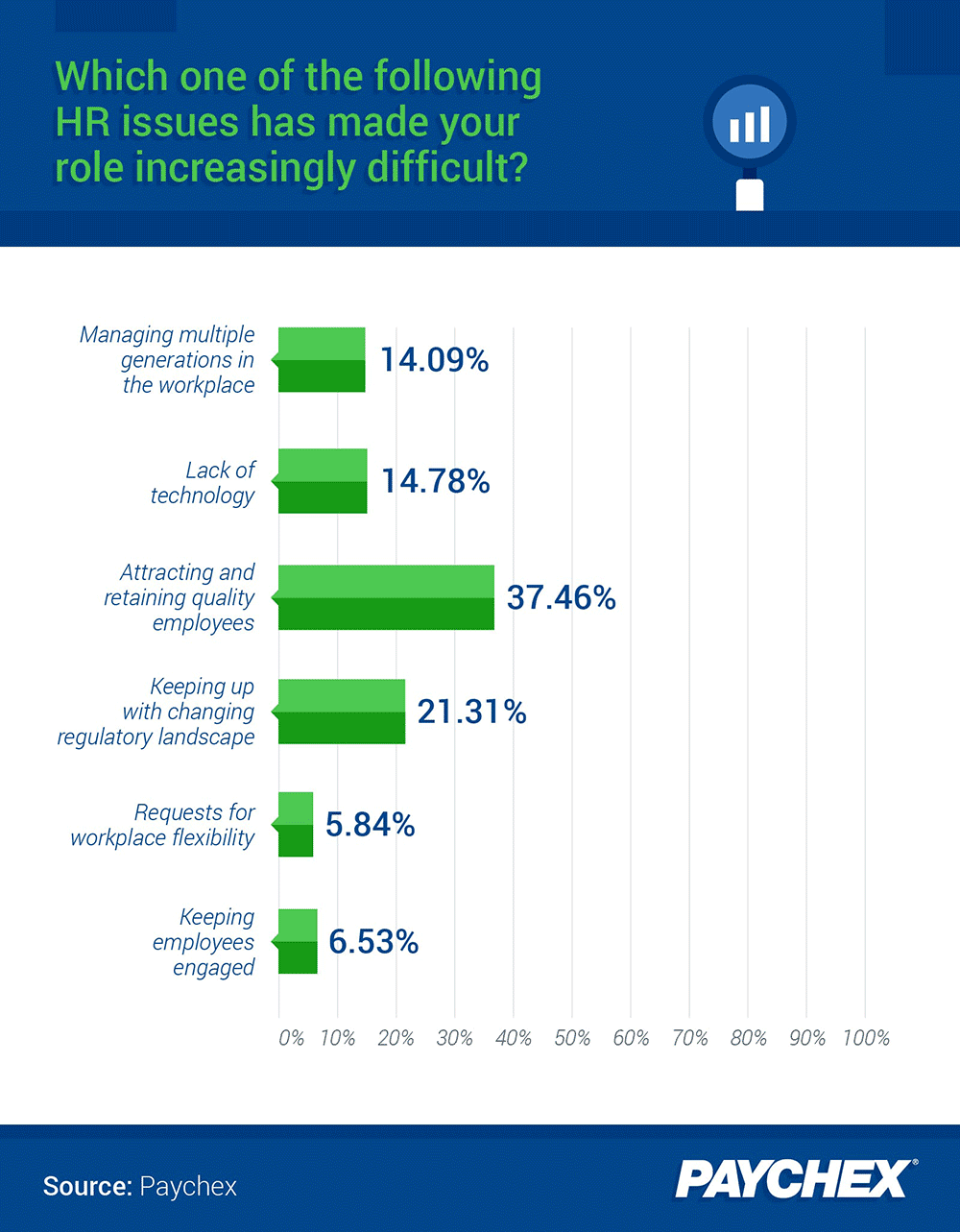 Regulatory issues are still important
Another commonly mentioned issue challenging HR leaders right now is keeping up with the changing regulatory landscape. Undoubtedly, compliance concerns have dogged HR professionals as of late, and the landscape has been quick to change while promising seemingly little in terms of long-term stability. Regulatory compliance itself ranked among the top concerns, and 78 percent of HR leaders reported that managing employment regulations has become increasingly more difficult.
When asked which regulatory issue was of primary concern, respondents mentioned healthcare reform and the compliance issues surrounding the Affordable Care Act as the most challenging. Overtime regulations were a concern for about 20 percent of respondents, followed by minimum wage and workers' compensation laws.
The opportunity for technology in increasingly difficult times
When asked to put a broad perspective on their roles and situations, a majority of respondents agreed that managing HR issues has becoming increasingly difficult.
One factor that continues to shift the HR landscape is technology. In all aspects, from connectivity to data and analytics, technology is helping HR executives deal with their challenges like never before.
Payroll did not feature high on the list of key issues for HR professionals, and more than 60 percent of respondents noted that this was a technology solution their companies used.
Approximately half of respondents said they use technology solutions for time and attendance, but talent management and employee engagement tools were far less used, just 26 percent and 20 percent respectively. This perhaps suggests that there is opportunity for innovation and adoption of new tools that can fill this gap—as these were items identified as key challenges.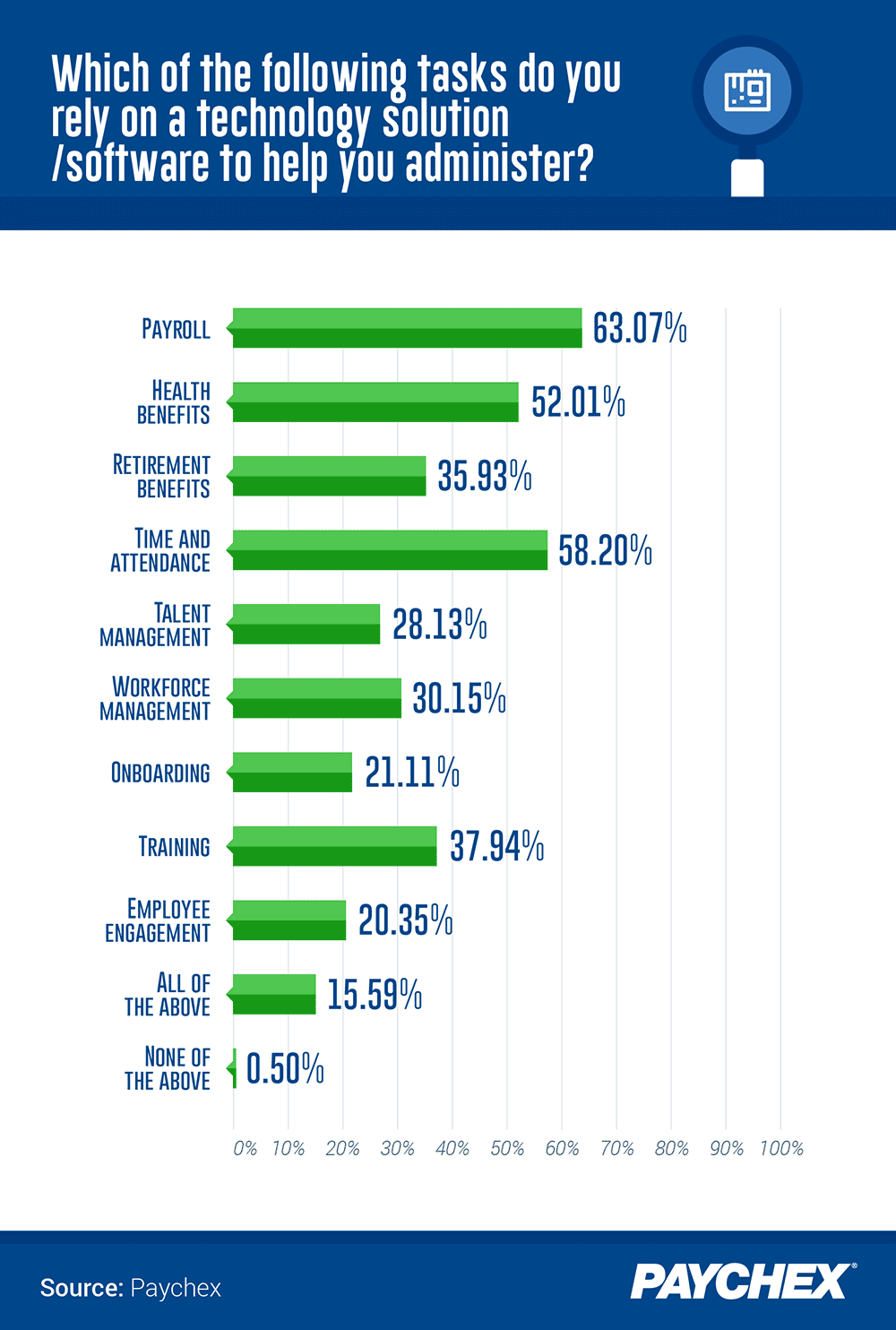 As noted above, a primary issue facing HR leaders is benefits management. There has been considerable technological advancement in this area recently. And while 56 percent of respondents report using some form of health and benefits management solution (and 36 percent for retirement benefits), it would seem that there's still a great deal to do and improve. It's certainly an area that is ripe for new advances and further adoption of technologies that can make benefits management easier, more accessible, and more efficient.
When asked about using multiple solutions or an integrated approach, respondents said they mostly employed a fully integrated solution. The benefits of an integrated solution are clear. But as we look at the gap between the key issues facing HR leaders and where the technology is being used, perhaps there is further opportunity for HR to adopt solutions that will meet more of their specific needs.
When asked why they chose the software/solution they did, answers varied for respondents. The most common themes included efficiency, ease of use, convenience, and price.
Change is constant
While HR leaders report challenges stemming from a constantly shifting landscape, technology emerges as a key area that should present solid business solutions.
From benefits management solutions and people analytics to the growing array of engagement and talent management applications, there are exciting possibilities in technology solutions for HR leaders to consider.
About the Paychex HR Survey
The Paychex HR Survey was administered by Cint and was conducted online between May 20, 2016 and June 2, 2016. It polled 402 HR leaders who held the titles of HR manager, HR supervisor, HR director, vice president of HR, or chief HR officer (CHRO).
This website contains articles posted for informational and educational value. Paychex is not responsible for information contained within any of these materials. Any opinions expressed within materials are not necessarily the opinion of, or supported by, Paychex. The information in these materials should not be considered legal or accounting advice, and it should not substitute for legal, accounting, and other professional advice where the facts and circumstances warrant.