Exploring HR Issues and Expectations Amid the Pandemic
Human Resources
Article

Last Updated: 02/25/2021
The global COVID-19 pandemic has had a profound impact on the way millions of Americans work every day, and it may continue to impact the way they work in the future. As many businesses continue to assess what the long-term impacts of COVID-19 will be (including capacity mandates and social distancing recommendations), they also have to think about the impact the pandemic will have on their employees.
The transition to a remote or mobile work environment can be difficult, and these unprecedented times have forced both businesses and their employees to adapt to a new normal. These dramatic changes can be a challenge to the mental health and sense of motivation for workers everywhere.
As businesses continue to iterate and innovate new operational guidelines, they're learning how to do more with less. Employees may feel removed from their traditional HR resources at work during the pandemic, but that doesn't mean they need them any less. For an inside look at remote HR issues, we surveyed over 1,000 people in September of last year, including over 408 employees and 598 HR professionals, about the impact of the COVID-19 pandemic while working from home. Read on as we explore which types of businesses are seeing the largest increase in HR complaints, the issues dominating the workforce, and the expectations (and realities) employees have of HR teams during the pandemic.
Increased Demand on HR While Working Remotely
Since the COVID-19 pandemic began, 48% of employees indicated having reported an issue to their HR departments. According to more than half of HR managers (55%), the number of issues being reported had increased since the pandemic began, and it had stayed the same as before for another 24% of HR managers. Just 1 in 5 HR managers said they experienced a decrease in HR issues during the pandemic.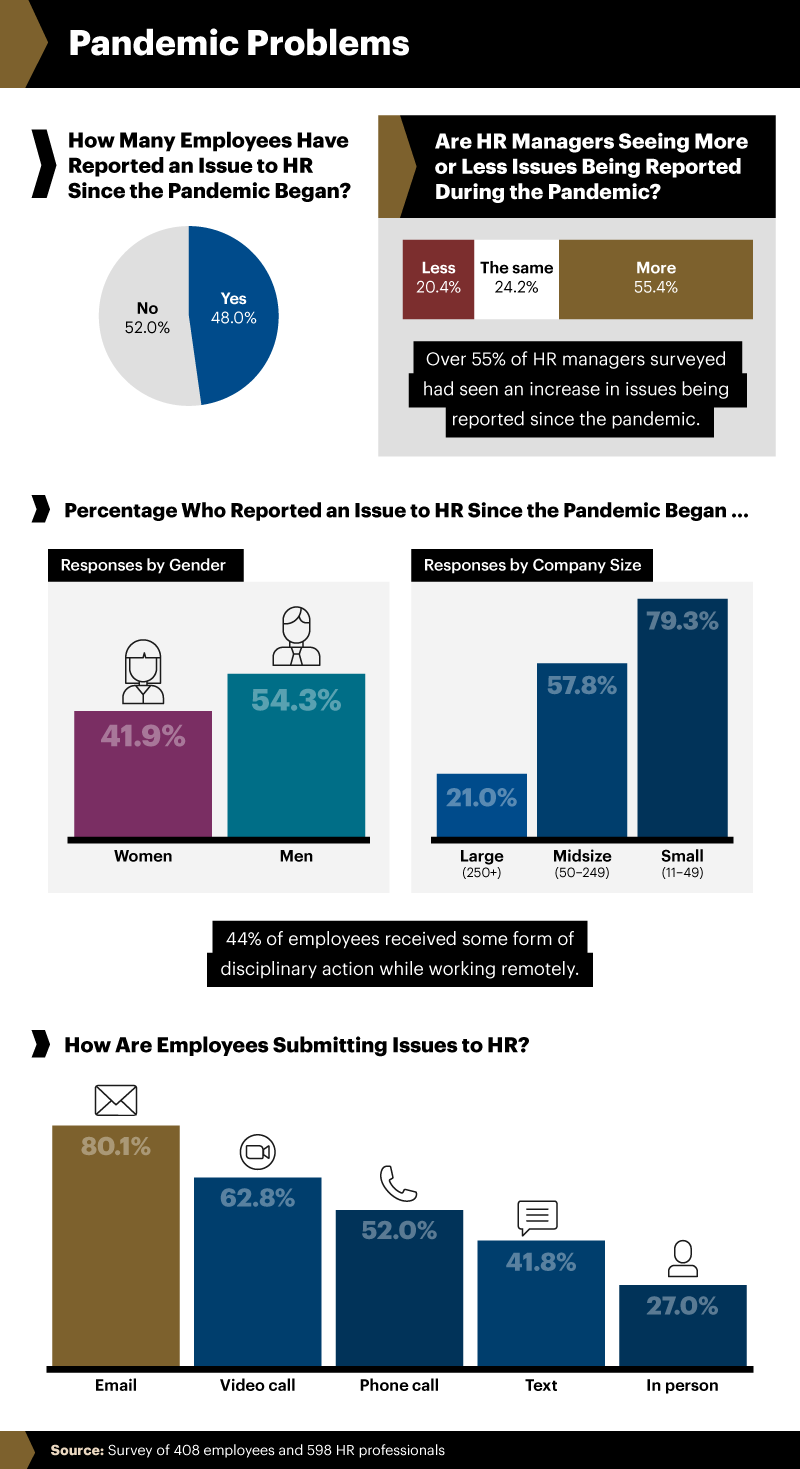 More than half (54%) of HR reports being filed during the pandemic came from male employees, compared to those issued by women (42%). Seventy-nine percent of small businesses (with between 11 and 49 employees) saw an issue reported to HR, followed by 58% of midsize companies (between 50 and 249 employees), and 21% of large companies (250 or more employees). Forty-four percent of employees also indicated having received some form of disciplinary action while working in a remote environment.
For employees submitting issues to HR, 80% submitted via email, followed by video call (63%), phone call (52%), text message (42%), and direct in-person conversations (27%). Learning how to establish productive communication in these digital landscapes can be one of the biggest hurdles both businesses and employees are facing. That's why technologies like instant messaging and video-conferencing tools have become crucial to ensuring employees feel connected to their teams and resources while working remotely.
Common Workplace Concerns During COVID-19
According to the HR professionals we surveyed, as seen in the chart below, these five issues have become more prevalent while employees are working remotely: employee benefits (48%), employee stress (39%), employee disputes (35%), workplace safety (32%), and equipment or technology issues (31%).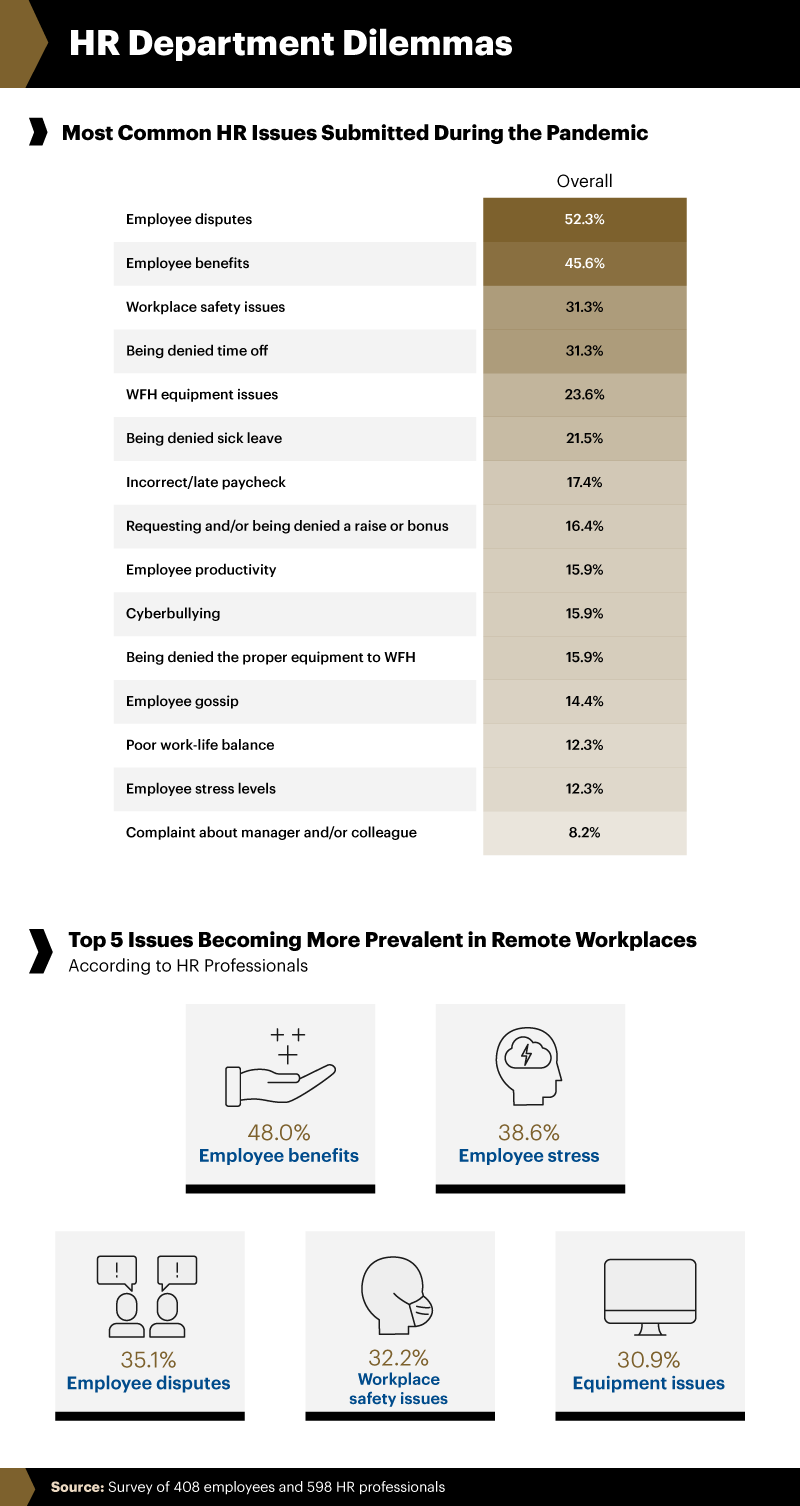 The most common HR issues employees submitted during the pandemic included employee disputes (52%), issues with employee benefits (47%), as well as issues with workplace safety (31%). In 2020, the COVID-19 pandemic has drastically altered the way employees are thinking about benefits, shifting the benefits they value most for themselves and their families.
While slightly less common, being denied time off from work (31%) and WFH equipment issues (24%) were also common problems being reported to HR. In many ways, finding a work-life balance has become more important than ever, which requires companies to be flexible in the scheduling issues (including adjusting to having children at home during work hours or others within the household who are also working remotely) that have become part of the new normal for millions of working Americans. Women (34%) were more likely than men (29%) to report being denied time off to HR. Women were also 14 percentage points more likely to report issues with employee productivity to their HR teams.
Raising the Bar for HR Engagement
The number of issues being reported to HR has increased during the COVID-19 pandemic for many businesses (particularly among small and midsize firms), and the expectations employees have of their HR resources have changed as well.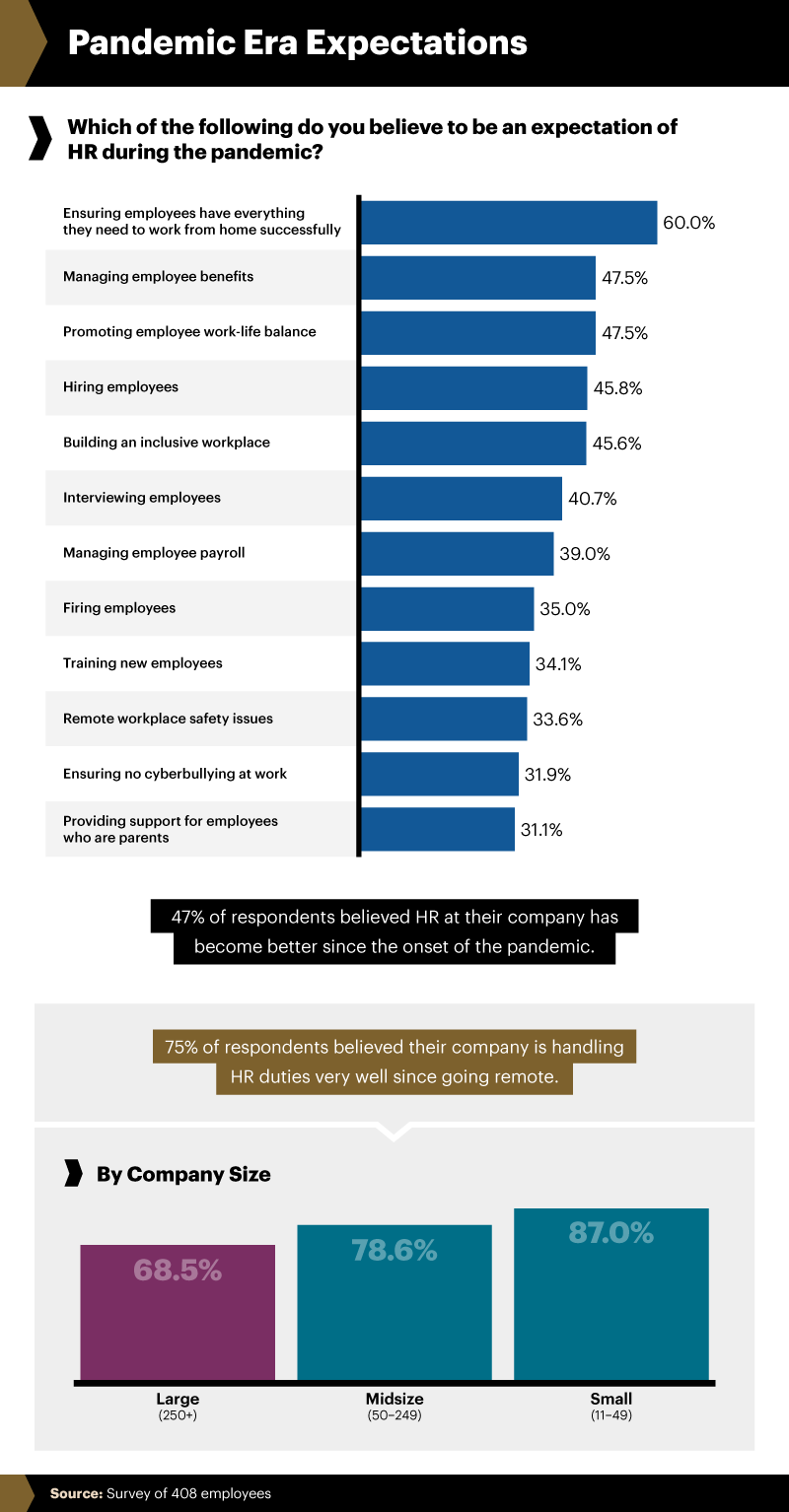 Sixty percent of employees expected their HR departments to ensure they have everything they need to work remotely during the COVID-19 pandemic. Additionally, nearly half of employees believed HR should be responsible for managing employee benefits (48%), promoting employee work-life balance (48%), hiring employees (46%), and building an inclusive workplace environment (46%).
That said, nearly half of employees (47%) agreed that HR at their company has gotten better since the pandemic began, and 75% felt their company is handling HR responsibilities well since going remote. Employees at small companies (87%) were more likely to feel positive about the HR presence at work, compared to those working for large companies (69%).
Nonnegotiable Workplace Decisions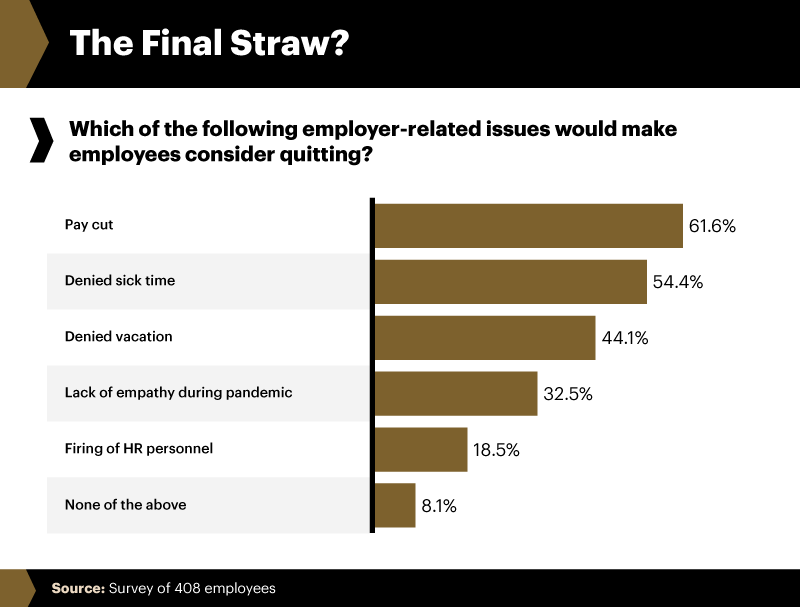 When asked what would most press them to ponder quitting their job, employees identified having their pay cut (62%), being refused sick time off (54%), and being refused vacation time (44%). Thirty-three percent of employees admitted they would consider quitting if their employers showed a lack of empathy during the pandemic.
On behalf of employers, keeping up with changing regulations and operations can feel like a full-time job in itself, which may make empathy difficult to prioritize.
The Internal HR Struggles
Since transitioning to a remote work environment, the benefits HR professionals appreciated the most included spending less time commuting (55%), having happier employees (45%), and having fewer HR issues to deal with (43%).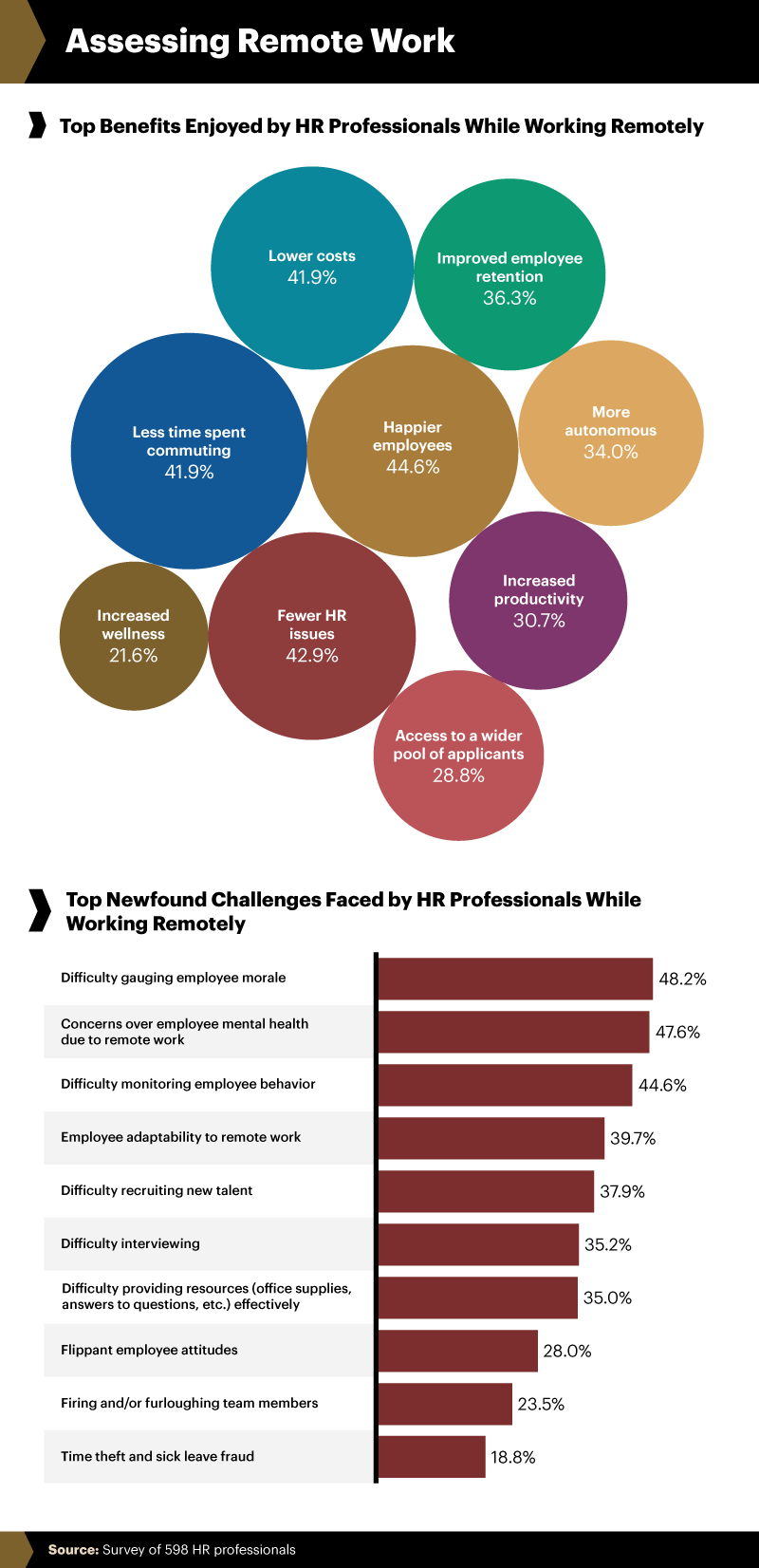 While the general mood of their teams was identified as a benefit by many, another 48% of HR professionals reported gauging employee morale has been the most common newfound challenge created by the pandemic. Other common concerns included employee mental health as a result of remote work (48%), being unable to monitor employee behavior (45%), and the overall challenge of adapting teams to working outside the office (40%). Another 38% of HR professionals acknowledged they've struggled to recruit new talent during the pandemic, and 35% said interviewing employees or potential recruits has also been challenging.
The New HR Normal
As a result of the COVID-19 pandemic, millions of working Americans have transitioned into remote environments for the first time, requiring companies and their employees to adapt to these new digital frontiers without warning or time to acclimate to the changes. Since the pandemic began, many HR professionals working for small and midsize businesses reported an increase in the number of issues being reported, particularly around employee disputes, employee benefits, and even more sensitive topics, including both perceived racism and sexism. And while the demand for HR resources has increased, the challenges for HR professionals have also changed.
At Paychex, we provide HR solutions that are tailored to meet your business needs, big or small. We offer compliance services to help you discover and supply fundamental benefits for employees, including health insurance, retirement plans, and employee assistance. Our HR consulting services can help you identify where the opportunities or gaps in your current human resources programs are to help you provide your employees with the HR assistance they need to succeed during the COVID-19 pandemic and beyond.
Methodology and Limitations
We collected responses from 1,006 professionals, including 408 employees and 598 HR professionals, by administering online surveys via Amazon Mechanical Turk. Of the 1,006 professionals polled, 43% of respondents were female, roughly 57% were male, and less than 1% identified as nonbinary. Respondents ranged in age from 25 to 58 with an average of 36 and standard deviation of nine years. An attention-check question was used to identify and disqualify respondents who failed to read questions and answers in their entirety.
The main limitation of this study is the reliance on self-report, which is faced with several issues such as, but not limited to, attribution, exaggeration, recency bias, and telescoping.
Tags