Hiring for Emotional Intelligence: Strategies for Finding Employees Who Demonstrate Emotional and Social Skills
While it's important to gauge emotional intelligence among job candidates, it can be difficult to explore this in the short span of an interview. We asked more than 850 employees for their insights into the types of cues employers can look for throughout the process.
The human mind has always been a mystery, and despite expanding cognition, psychology, and neuroscience, the inner workings of the brain remain largely unknown. In fact, the mind is often boiled down to numbers — GPAs, standardized tests, and IQ scores have represented intelligence for over 100 years. But these numbers are often only a part of the equation.
While cognitive intelligence is typically measured by an intelligence quotient (IQ), these scores only encompass cognitive functions like processing, reasoning, and memory and exclude other equally important forms of intelligence. A similar test, called an emotional quotient (EQ), measures individuals' emotional intelligence, or their ability to identify emotions within themselves and others along with controlling and adequately managing emotions — skills that are vital to meshing with society.
Despite emphasis historically being on IQ or so-called "book smarts," emotional intelligence and EQ scores have become increasingly important, especially in the business world. According to some, emotional intelligence may even be more important than cognitive intelligence in the workplace. However, the problem is that interviews don't usually include an emotional quotient, and without a proper examination, gauging emotional intelligence in the short span of an interview can be difficult for employers.
To navigate this issue, we sought to find cues employers could look for throughout the hiring process to identify job candidates with high emotional intelligence. By surveying over 850 people and administering the validated Wong and Law Emotional Intelligence Scale, we learned how applicants with higher emotional intelligence would typically answer various interview questions and what behaviors may signal higher or lower EQ. Additionally, respondents were given a definition of EQ and asked about its importance to them and their employers. To learn the signs of EQ and the sentiment toward it, keep reading.
Weighing the importance of EQ
There may be talk about emotional intelligence being a catalyst for success in the workplace, but how do people really view its importance? Most people perceived emotional intelligence as being less important to their boss and company than it was to them personally. While around 43% of respondents said EQ was extremely important to them, only 33.4% and 30% thought it was extremely important to their boss and company, respectively.
While high emotional intelligence definitely benefits employees in the workplace, it may be viewed as more important to respondents because of the added benefits outside of their career. Understanding and managing one's own emotions along with understanding and addressing those of others plays a major role in physical and mental health and helps maintain successful personal relationships. While individuals certainly value these aspects of emotional intelligence, they may not think their boss or company feel the same. Taking the focus away from technical skills and experience and putting more emphasis on the value of emotional intelligence may change the perception that employees have of their company.
Key questions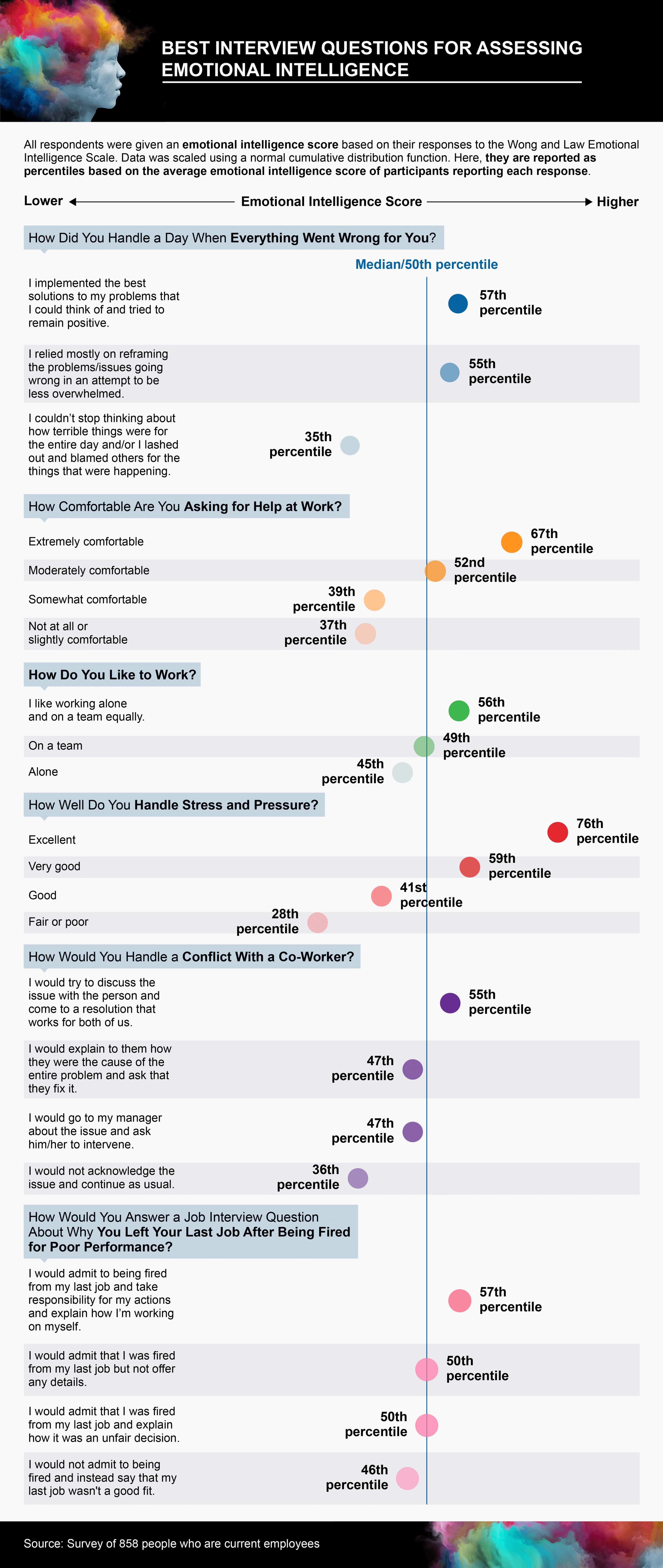 Identifying emotional intelligence may be easier to do outside of the workplace. Those who are in touch with their feelings, can control their thoughts, show empathy in all situations, and can apologize and forgive typically are on the more emotionally intelligent side. But how do these traits translate to interview settings? When asked about handling a day when everything seemed to go wrong, those with above-average emotional intelligence reported implementing effective solutions and remained positive or reframed the problem in an attempt to be less overwhelmed. In other words, they looked for solutions and ways to manage their reactions to the issues rather than dwelling on the negative.
Those with higher emotional intelligence also reported being extremely comfortable asking for help at work and liked working alone and in a team equally. It's important to note that while emotional intelligence helps people work well with others, preferring to work on a team was a sign of slightly below-average emotional intelligence. Going with the flow and working well with others but also working well alone seems to be the sweet spot for those ranking in higher percentiles for EQ.
Managing emotions is a huge part of emotional intelligence, and in the workplace, stress is bound to pop up. When asked about handling stress and pressure, those who answered "excellent" scored in the highest average percentile for emotional intelligence (76thpercentile). Even those who answered "very good" scored above average in EQ (59thpercentile). Higher emotional intelligence means employees can navigate high-stress situations easily — not only do they already know their triggers, but when these situations arise, they can de-escalate and continue focusing on the task at hand.
Assessing applicants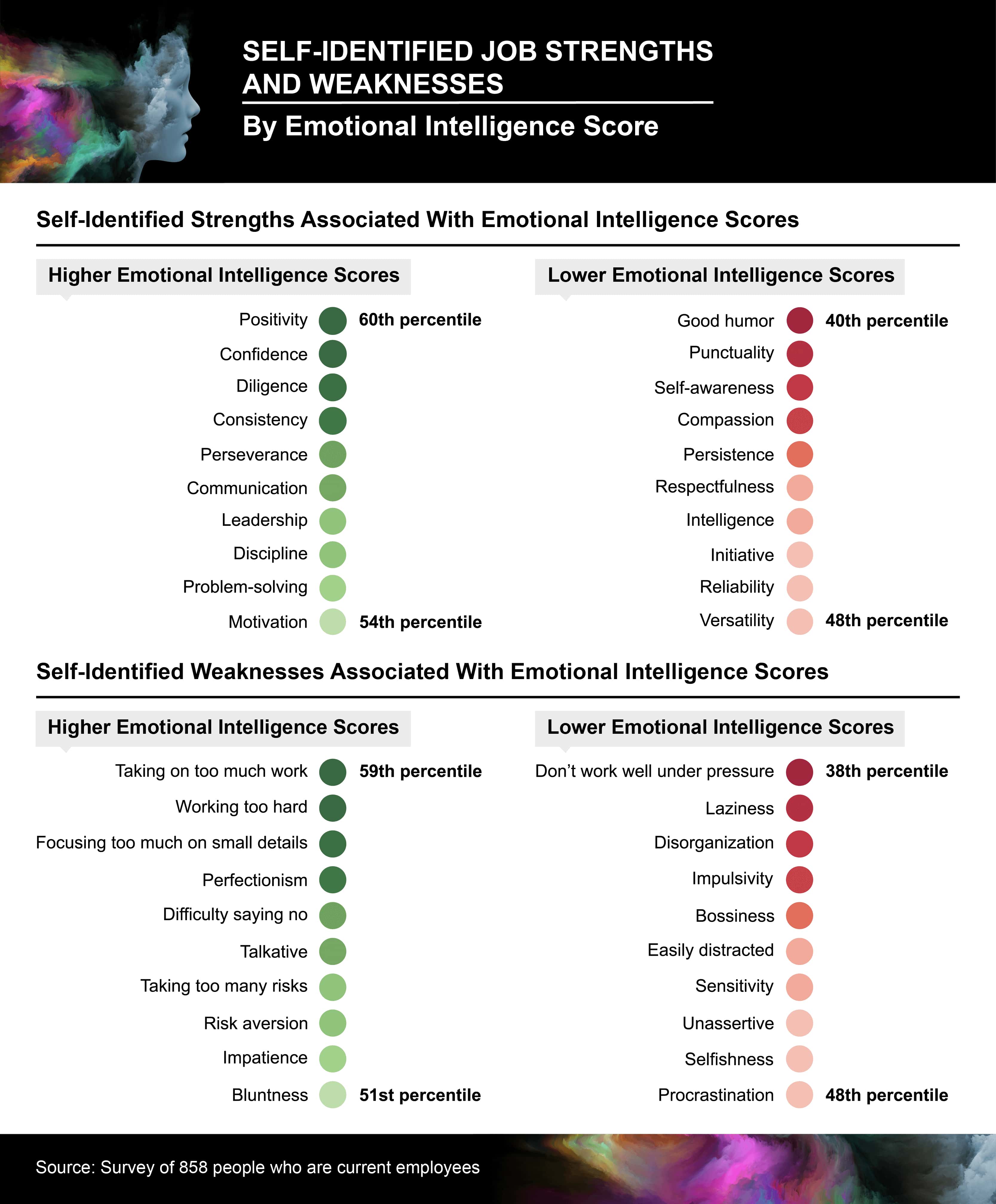 At some point during the hiring process, an employer is likely to ask a candidate about their greatest strengths and weaknesses. There are plenty of tips on answering this question well, like turning weaknesses into strengths or giving answers no other candidate likely would. Original answers may stand out from the rest, but they don't necessarily mean higher emotional intelligence. Instead, when asked to self-identify their strengths, respondents who answered with "positivity," "confidence," and "diligence" had the highest average emotional intelligence scores. On the other end of the scale, answers like "self-awareness," "punctuality," and "good humor" were associated with lower average emotional intelligence scores.
Naming weaknesses can be difficult — most candidates don't want to divulge a weakness that can cost them the potential job; however, weaknesses like "focusing too much on small details," "working too hard," and "taking on too much work" may not be seen as weaknesses at all. In fact, answers similar to those are indicative of higher emotional intelligence.
Indicative behaviors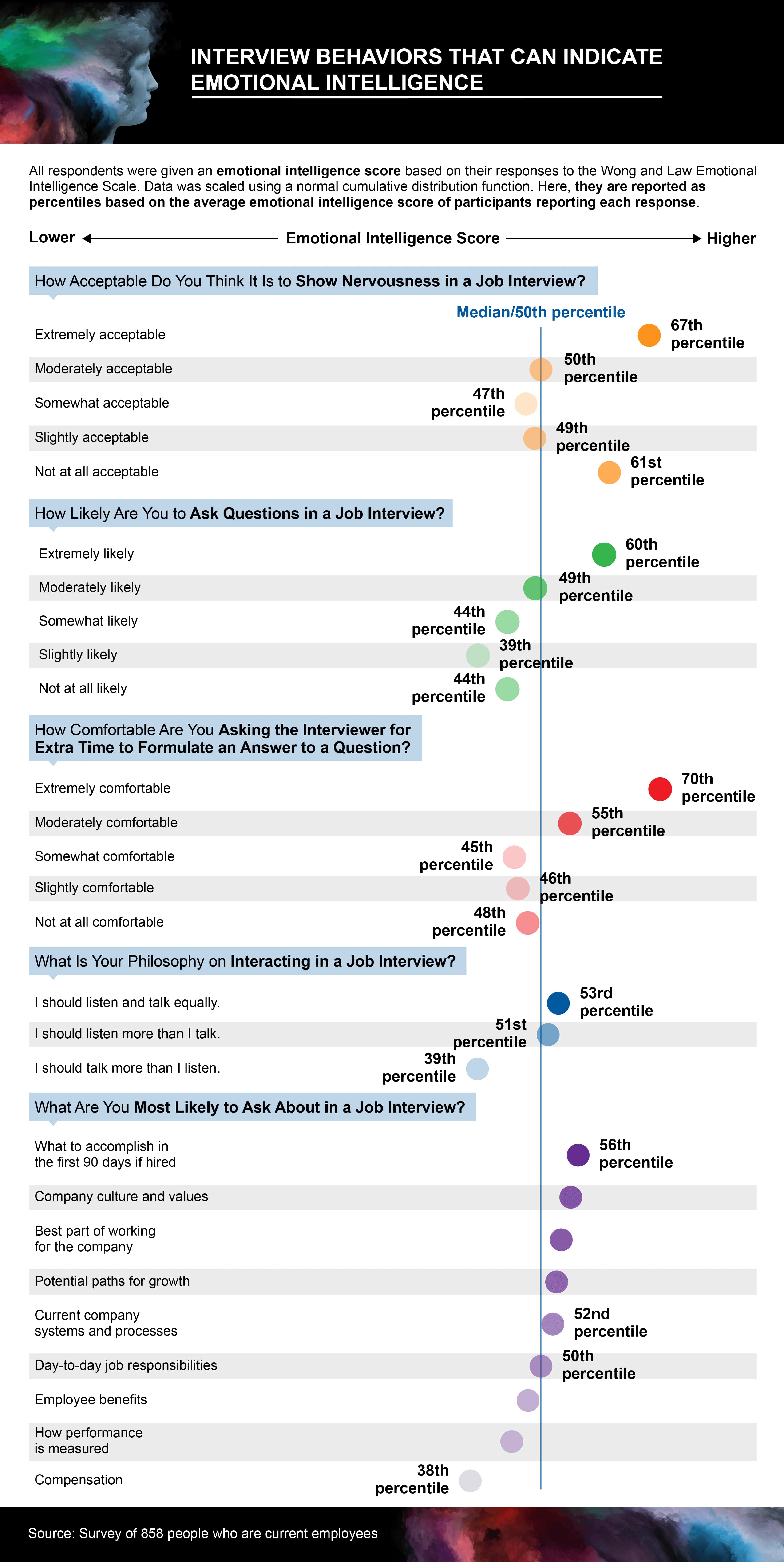 Most aspects of emotional intelligence take place inside someone's mind, so how does that translate to behavior on the outside? In an interview setting, showing nervousness is surprisingly pretty split. Those who thought it was extremely acceptable to show nervousness or anxiety during a job interview averaged in the 67thpercentile for emotional intelligence. However, those thinking it was not at all acceptable averaged in the 61st percentile. Higher emotional intelligence generally means a better understanding of anxiety, how to express it, and how to regulate it. Having a high emotional intelligence doesn't mean hiding or suppressing emotion; rather, it's all about how the emotion is expressed.
Signs of higher emotional intelligence are less split when it comes to comfort in asking and answering questions during an interview. The higher that scores climbed above the median EQ score, the more likely people said they were to ask questions in a job interview and be comfortable asking the interviewer for extra time to formulate an answer.
Asking questions isn't enough of a sign of emotional intelligence, though. The types of questions being asked also matter. A possible sign of lower emotional intelligence is asking about compensation — candidates who said they were most likely to ask about salary scored in the 38thpercentile for emotional intelligence. On the other hand, candidates asking about the company culture, values, and what to accomplish in the first 90 days if hired scored at least in the 55thpercentile.
Demographics demonstrating EQ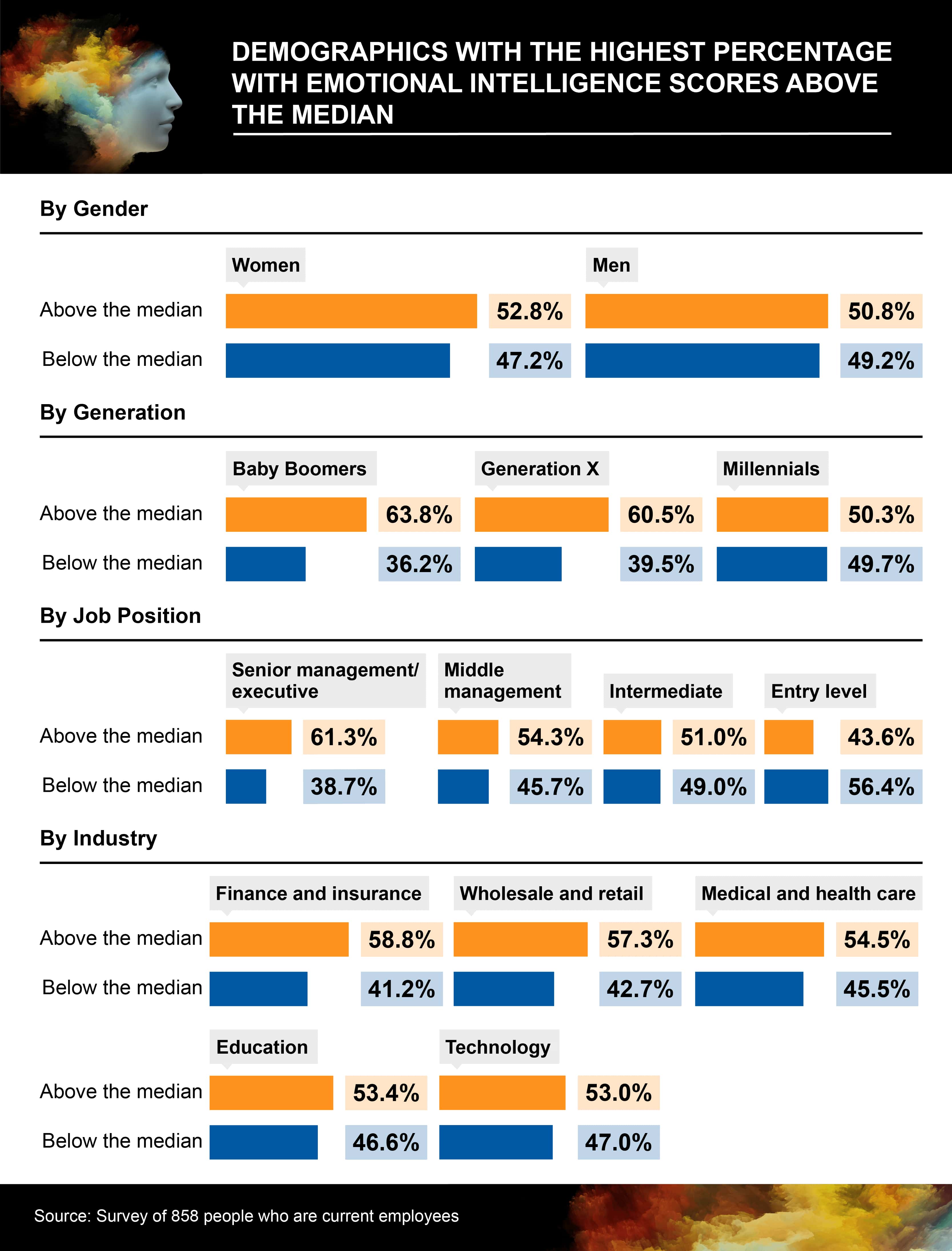 Just like cognitive intelligence varies among people, so too does emotional intelligence. With the ability to improve emotional intelligence over time, does that mean older individuals have higher EQs? According to research by University of California, Berkley psychologist Robert Levenson, EQ scores peak at age 60, which could explain why older generations (baby boomers and Gen Xers) were more likely than millennials to have emotional intelligence scores above the median. Almost 64% of baby boomers surveyed had EQ scores above the median, and 60.5% of Gen Xers did as well.
There was also a significant difference when looking at emotional intelligence by job position. The majority of those in entry-level positions were actually below the median (56.4%), while those in intermediate positions were pretty evenly split. Over 61% of those in senior management or executive positions, however, had emotional intelligence scores above the median — more so than any other job position. Emotional intelligence is beneficial in every level of a person's career, but the higher it is, the more success one can have in climbing the corporate ladder.
Employ intelligently
There's no denying that technical skills and experience are important when hiring a new employee. But with standard interviews focusing on resumes and qualifications, emotional intelligence can often be overlooked. Paying attention to job candidates' answers can provide interviewers with an idea of their emotional intelligence. While our data is not a concrete rubric to emotional intelligence, these answers and behaviors are solid cues to emotional intelligence levels.
Giving candidates options similar to the ones presented here could also increase the success of gauging EQ and hiring employees who are more inclined to succeed. Whether you're looking for tips on how to build your business through hiring top talent or want to improve your team by developing emotional intelligence — at Paychex, your company's success is our priority. To explore our employee training or learn more, visit us online today.
Sources
Methodology
We surveyed 858 people who are currently employed about job interviews and the workplace. Respondents were 53.5% men and 46.5% women. The average age of respondents was 35.9 with a standard deviation of 10.3.
All respondents completed the Wong and Law Emotional Intelligence Scale. Based on their responses, each respondent was given a calculated emotional intelligence score.
Respondents were asked a series of potential questions that are common in job interviews, as well as how they would handle various workplace scenarios. They were asked to choose the answer option that best described how they would handle a question or situation. We then looked at the answers given and calculated the percentile rank for the average emotional intelligence score for each answer option. Answers where the average emotional intelligence score was in a higher percentile indicated that emotionally intelligent people are more likely to give that answer or deal with a situation in the way described.
For the top self-identified strengths and weaknesses of people with higher and lower emotional intelligence, some answer options were excluded from our final visualization of the data due to low sample sizes.
For the self-identified strengths of people with high emotional intelligence, the following traits were excluded:
Precision
Patience
Ownership
Assertiveness
For the self-identified strengths of people with low emotional intelligence, the following traits were excluded:
Courage
Education
Competitiveness
For the self-identified weaknesses of people with high emotional intelligence, the following traits were excluded:
For the self-identified weaknesses of people with low emotional intelligence, the following traits were excluded:
For the part of this project that looked at which demographics had the most people above the median emotional intelligence score, the median emotional intelligence score was calculated. Then, respondents were grouped based on whether their score fell above or below that median. In our final visualization of the data, the number of people in each demographic in these groups is represented as percentages.
When asked about what generation they were a part of, respondents were given the following options:
Greatest Generation (Born 1927 or earlier)
Silent Generation (Born 1928 to 1945)
Baby Boomers (Born 1946 to 1964)
Generation X (Born 1965 to 1980)
Millennials (Born 1981 to 1997)
Generation Z (Born 1998 to 2017)
In our final visualization of the data, the Greatest Generation, the Silent Generation, and Generation Z were excluded due to low sample sizes in those groups.
When asked about their current job position, respondents were given the following options:
Entry level
Intermediate
Middle management
Senior management
Executive level
In our final visualization of the data, senior management and executive level were combined.
Limitations
The data we've presented here rely solely on self-reporting. There are common issues with self-reported data, such as exaggeration and selective memory. For example, when reporting how they acted or responded in particular scenarios, respondents could have responded based on one occurrence that was prominent in their memory but not necessarily typical of them.
Additionally, this project is meant to serve simply as a guide within the hiring process. We understand that questions in a job interview are rarely asked as multiple-choice questions, as we've done here. There are also other potential ways of answering the questions we posed.
Fair use statement
Finding employees who are emotionally intelligent and capable of having productive and pleasant interactions with their co-workers can be difficult to recognize during the hiring process. If you know someone who is getting ready to hire, consider sending them this study (for noncommercial purposes) to learn the signs of emotional intelligence. Please make sure to link back here so that they can review the entire study. Doing so also gives our contributors recognition for their hard work.