Here's How the Net Neutrality Repeal Could Impact Small Businesses
Next week may mark the beginning of the end of net neutrality rules, and a recent Paychex survey revealed that this concerns many small business owners. Learn more about what we found in our research, and what the loss of net neutrality could mean for businesses.
April 23, 2018, may mark the beginning of the end of net neutrality. The Trump administration starts rolling back rules directing internet service providers (ISPs) to allow equal access to all online content, regardless of the content's type or source. Net neutrality rules, established in 2015 under the Obama presidency, prohibits ISPs from favoring or blocking particular products or websites based on online clout or level of brand awareness. Net neutrality created a level playing field, giving small and large companies the same opportunities in cyberspace.
What is the impact of repealing net neutrality laws?
As a result of the Federal Communication Commission's (FCC's) vote to repeal net neutrality, ISPs can factor corporate clout and brand awareness into speed and quality of service, potentially affecting users' ability to reach and use a company's website as effectively as they do today. The change could significantly impact small businesses seeking desirable online positioning and faster website loading speeds.
With the FCC's repeal, ISPs can block access to particular websites, throttle the speed at which someone can use a site, or dictate the speed at which someone can use a particular site. However, broadband companies like Comcast and Verizon have to disclose to users how they handle web traffic. Nevertheless, net neutrality supporters worry that broadband companies now will give preference to their own video-streaming services over those of competitors.
Loss of net neutrality concerns many small business owners
A recent Paychex Small Business Survey revealed notable concern around the loss of net neutrality. Some of the key findings include:
59 percent of small business owners think repealing net neutrality will mean less traffic to their firms' websites because internet service providers will favor large corporations over theirs.
44 percent believe that repealing net neutrality rules will hurt their company website.
44 percent are unsure of how the repeal will affect their business.
12 percent think the repeal of net neutrality will benefit their business.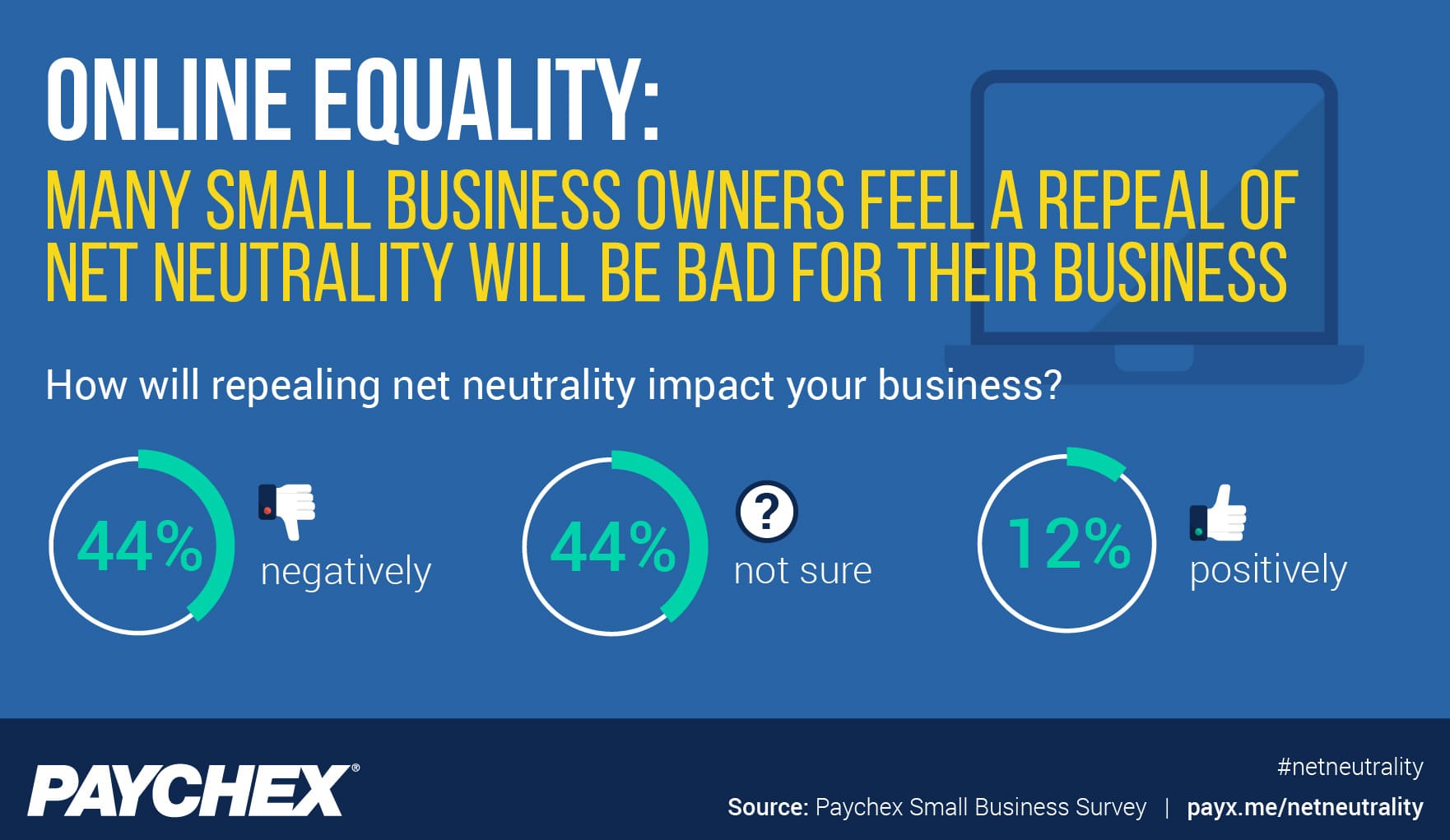 FCC facing legal challenges to net neutrality repeal
The repeal of net neutrality begins on April 23, but some of the more substantial components won't legally take effect until after that, as the Office of Management and Budget needs to approve them for budgetary and data collections reasons.
The FCC could face challenges to the net neutrality rollback in the form of lawsuits filed by a coalition of more than 20 state attorneys and several advocacy groups. In addition, some state and local legislators are considering moving forward with net neutrality laws in their own jurisdictions.
While the future of online equality hangs in the balance, it's important for business owners to control what they can control: evaluating their current business website(s) and ensuring that it's as optimized as possible for a quality user experience.
About the Paychex Small Business Snapshot
Data included in the Paychex Small Business Snapshot was taken from the results of the Paychex Small Business Survey. The survey was conducted online between January 22, 2018 and March 12, 2018 and polled 522 principals of U.S. companies.