5 Minutes a Day to a Better Social Media Strategy
Marketing
Article

Last Updated: 09/15/2016
Every small business owner knows how quickly you have to master the art of multi-tasking. Add social media manager for company accounts and it could start to seem that your to-do list is completely overwhelming. But five minutes a day could help you improve your strategy and increase your engagement.
Every small business owner knows how quickly you have to master the art of multi-tasking. One minute you're supervisor, HR contact, and marketing coordinator, the next you're the customer service rep, logistics specialist, and inventory manager. Top off all those responsibilities with managing your company's social media accounts, and your to-do list could start to seem overwhelming. Fortunately, it doesn't take long to effectively connect with your audience on social media. Here are some helpful social media tips that can help you improve your strategy and increase engagement in just 5 minutes a day.
Include Social Media in Your Daily Routine
Because content gets refreshed so regularly and updates occur by the second, social media isn't one of those tasks you should complete all at once.
One of the best ways to stay on track with posting is to incorporate social media into your daily routine. So if you start your day with checking emails, save a few minutes to send off a tweet or a Facebook post. If evenings work better for you, take a couple moments for a status update before closing up shop. Stay consistent and soon posting will become a daily habit.
Use Scheduling Software
While it's important to stay current on trending topics and engage with your followers daily, scheduling software like Hootsuite can reduce the pressure that comes with live posting. Hootsuite allows you to schedule the time and day your posts goes out, attach photos, and blast your posts to multiple social media platforms. Set aside a chunk of time early in the week to plan your content and schedule your posts. Check in every day to respond to your followers, follow people back, and watch your audience grow.
Get Notified
Having push notifications sent to your mobile device is a great way to stay in the social media loop. Most social platforms provide a setting for email notification when a follower comments, likes, or shares your post. You can also create settings that notify you when certain topics are trending, or what people in your area are talking about. This saves a ton of time that would be spent scanning your news feed, and prevents you from having to check back in to see if your posts got any feedback.
Post Engaging Content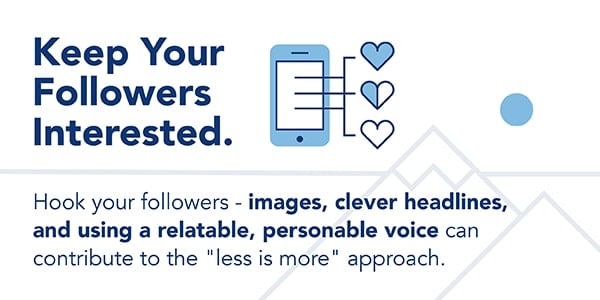 This is one of those universal social media tips—of course you want to post engaging content, that's the point! But you can also save time spent on social media by planning and sharing eye-catching content in an authentic and concise manner. How? Well if your content is really good, you won't feel the need to post multiple times a day. Just once or twice will be enough to hook your followers and keep them interested. Images, clever headlines, and using a relatable, personable voice can contribute to the "less is more" approach. Did the power go out at you store? Share a witty anecdote about the situation with your audience. You found a great article you want to share? Borrow an image from the article and attach to your tweet so that it appears inline.
The social media landscape is evolving all the time, so check back often for more social media tips and ideas how to better connect with your audience.
Tags