Memorable Mistakes and Treasured Triumphs: Exploring the Journey to Success through Entrepreneurial Eyes
Startup
Article

Last Updated: 07/12/2018
New business owners each have their own unique set of ups and downs. We asked entrepreneurs to share details about their journeys, including the triumphs they treasure and the mistakes they've made that paved the way for valuable lessons. Here's what we found out.
From self-help books to seminars and webinars to motivational posters, everyone seems to have an opinion on what professional success is supposed to look like.
Today, small businesses aren't just thriving – in fact, they're hiring more than ever before, helping to solidify the notion that entrepreneurs truly are the backbone of the American economy.
To learn more about what the journey of a business owner looks like, we interviewed 31 entrepreneurs about the triumphs they treasure and the mistakes they've made that paved the way for valuable lessons. Want to know what real success looks like for today's entrepreneurs or the most common mistakes many of them admit to making along the way? Read on to see what we uncovered.
Seeing Progress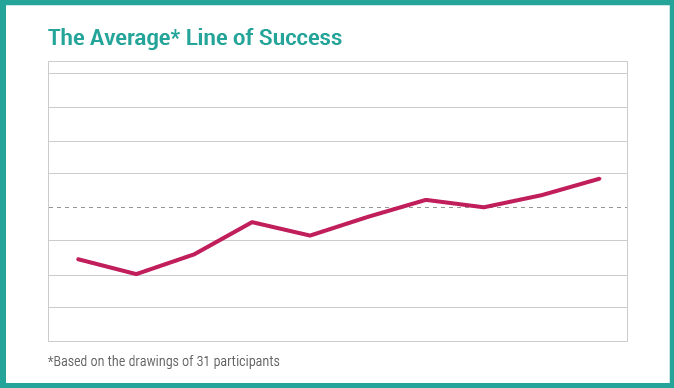 The journey to success for many entrepreneurs isn't linear. Despite the allure of owning your own business or becoming your own boss, starting something from scratch can be a terrifying experience. The fear of failure, embarrassment, and financial ruin can stand between you and your dreams if you let it. In reality, research has shown 80 percent of businesses survive their first year, and roughly half make it to at least five years.
We asked business owners to visualize their journey thus far to show what real success looks like for entrepreneurs in America today. As you can see, their experiences weren't without challenging moments. For many, the valleys of struggle or disappointment occurred more than once but were often met by even higher feelings of accomplishment and prosperity.
Trials and Tribulations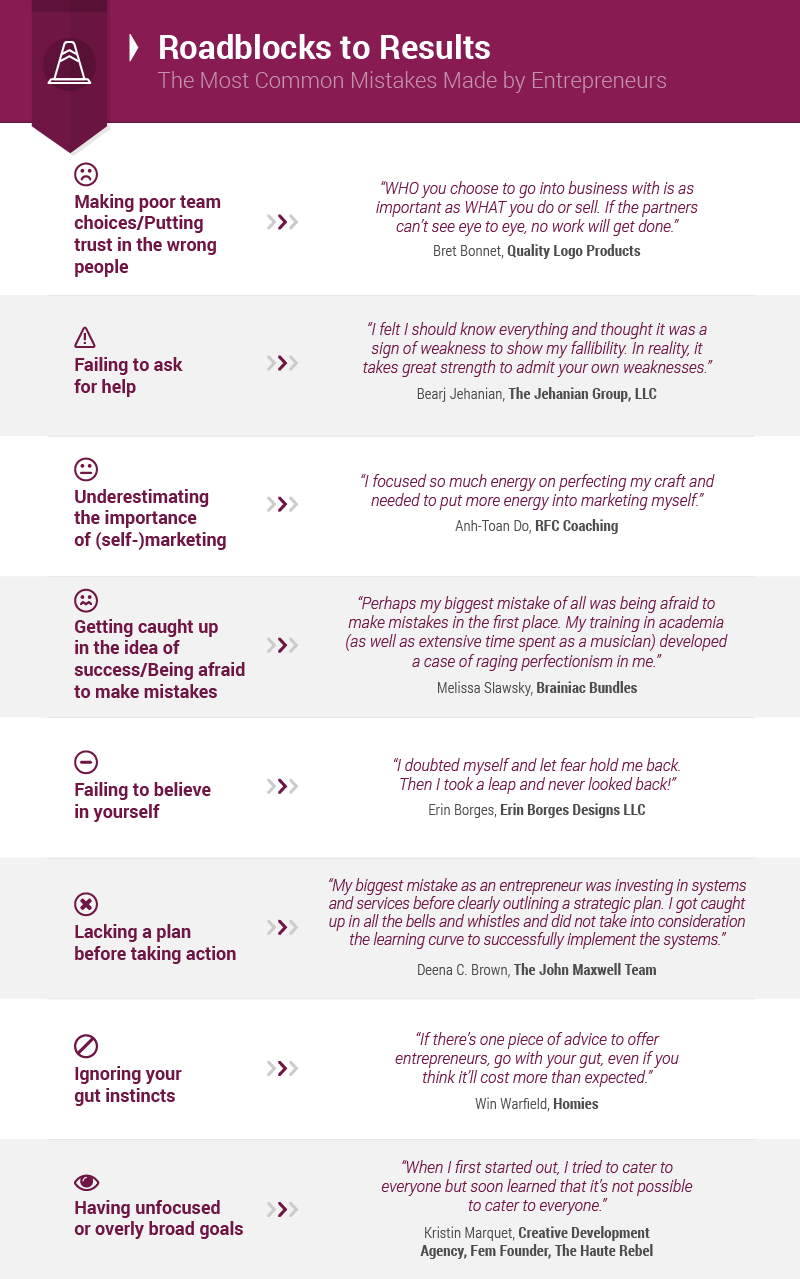 So what obstacles are most small business owners encountering on the path to success? Of the 31 entrepreneurs interviewed about their journeys, these were the most common learning experiences men and women encountered along the way.
According to Melissa Slawsky, owner of Brainiac Bundles, getting caught up in the idea of success and being too afraid to embrace the valuable lessons of failure can be a mistake. As Melissa told us, "Perhaps my biggest mistake of all was being afraid to make mistakes in the first place. My training in academia (as well as extensive time spent as a musician) developed a case of raging perfectionism in me."
Our panel of business owners also admitted that failing to ask for help in times of need could stand between you and your achievements. Of course, trusting the wrong people can be just as dangerous. As we learned from Bret Bonnet of Quality Logo Products, Inc., "Who you choose to go into business with is as important as what you do or sell. If the partners can't see eye to eye, no work will get done."
Annals of Achievement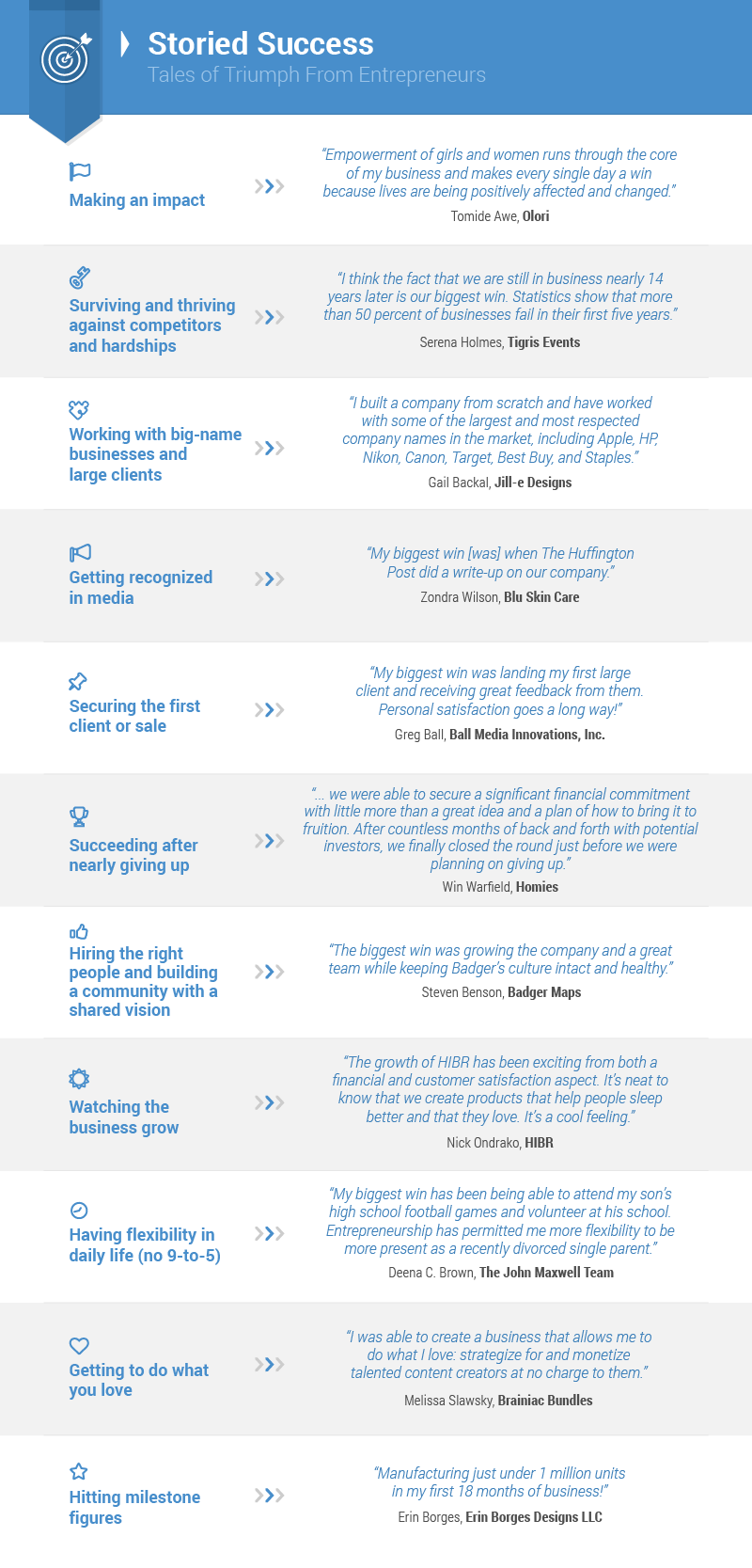 Success as a business owner isn't entirely defined by failure, though. While not all business models and ventures work out over time, the lessons entrepreneurs told us they experienced during the most prosperous times of their careers may help give you a sense of what building your own brand, product, or enterprise might feel like.
From watching their businesses grow over time to reaping the rewards of life as an entrepreneur, to the advantages of getting to work for yourself and on your own time, these are just a few stories business owners shared with us. As you can see, success is measured differently for many of these self-made managers, and while big-brand collaboration and mainstream attention were the epitome of accomplishment for some, others rooted their greatest triumphs in their communities, overcoming adversity, and even the success of others.
Their Stories in Their Words
Here you can explore more of the stories entrepreneurs shared with us on what they think it takes to make it as a startup in America. Read on to learn more about their biggest mistakes, their most meaningful successes, and what being an entrepreneur means to them on an emotional level.
Your Pathway to Success
The journey most entrepreneurs experience as they traverse the professional and economic landscape as business owners isn't always a straight path. Both the successes and failures many of the people interviewed admitted to experiencing along the way helped them establish stronger and more prosperous brands over time – even if they had to learn some tough lessons. As the saying goes: It's the journey, not necessarily the destination, that matters most.
For every step of the way, let Paychex be a partner in your small business experience. By providing the solutions, insights, and services you need to get things done effectively, you'll have more time to focus on what really matters: building your brand. From our payroll services to everything you need to onboard new employees, provide benefits, and maintain financial wellness, Paychex has the HR solutions you need. To learn more, visit us at Paychex.com and let us help you take your business even further.
Methodology
We interviewed 31 entrepreneurs. The data we are presenting relies on self-reporting. No statistical testing was performed, so the claims listed above are based on means alone. As such, this content is purely exploratory and anecdotal. Answers were edited for length and content.
Tags