This Morning in D.C.: Examining the Momentum of American Entrepreneurship
The Small Businesses, Big Ideas event, presented by The Hill, brought together a group of key policymakers, small business owners, entrepreneurs, and investors who all examined the current state of entrepreneurship in the U.S. today. Here's a recap of the day's discussions.
Wednesday morning's Small Businesses, Big Ideas event, presented by The Hill, brought together a group of key policymakers, small business owners, entrepreneurs, and investors who all examined the current state of entrepreneurship in the U.S. today. These groups identified common challenges for those embarking on new ventures, and ways to overcome potential pitfalls throughout the process of business ownership. Here's a recap of the day's discussions.
The current state of small businesses and entrepreneurship
In the past decade since the recession, small businesses and entrepreneurship have experienced a bounce-back, according to a new Paychex Small Business Research Report. In fact, nearly 80 percent of respondents in the report would recommend starting their own business today, an indication that optimism is up in the entrepreneurial landscape.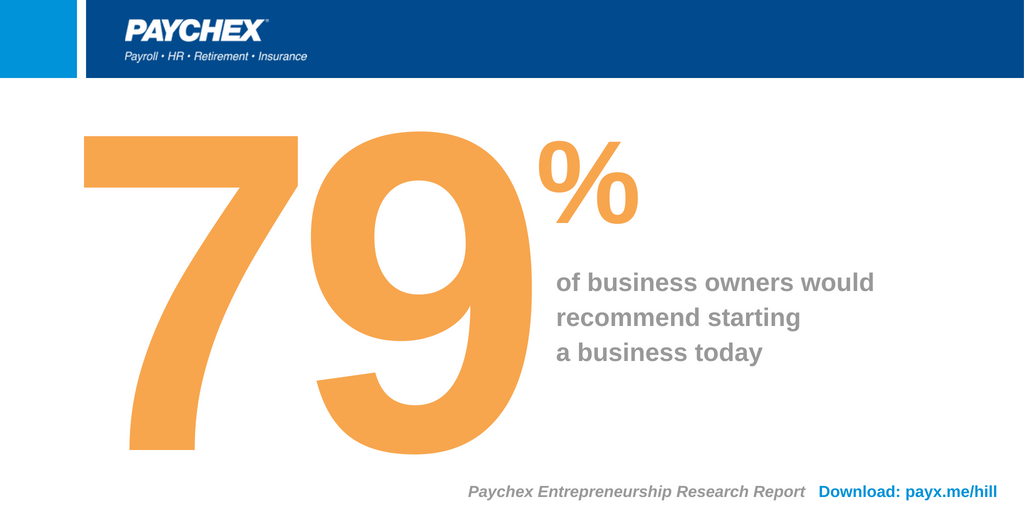 In fact, entrepreneurs across generations are part of this momentum: "encore entrepreneurship," or ventures being undertaken by individuals age 50 and older, has increased consistently in the past decade, according to the report.
While part of entrepreneurship is certainly about risk, there is strength in diversity and inclusion, said Sen. Ben Cardin, D-Md. Cardin noted that trend lines on women-owned and minority-owned businesses in particular are positive, although there's still much work to be done and resources to be invested in this area. Recent findings from a recent Paychex study echoed these sentiments, finding that the number of minority and women-owned small business owners has increased exponentially, although challenges are still prevalent.
Uptick in rates of creation of women and minority owned businesses, but lags behind in scale, hiring, investment  - @thebeacondc #SmallBizBigIdeas @SylvanLane @TheHillEvents

— Virginia PTAP (@VirginiaPTAP) May 9, 2018
Entrepreneurial challenges all around
Even for the most seasoned business people, entrepreneurship doesn't come without its challenges. It's why a panel of business owners this morning noted that entrepreneurship is most successful for those who are ready to put in the work and "have a hustle, not necessarily a gilded path." While challenges can vary depending on the venture, this morning's speakers noted some common ones, including:
Securing startup costs and funding, whether it's from a venture capitalist, via business loans, or another source.
Maintaining cash flow once the business is off the ground.
Regulatory compliance, which can be complex and leave many small businesses unsure of how to proceed.
The threat of cyber attacks and figuring out how to handle the costs associated with mitigating such risks.
The tightening labor market and competition for top talent. While certain industries are experiencing a pinch in their attempts to find workers with certain labor skills, all businesses should understand this shift in the job market.
Steps toward growth
While much of a small business owner's path can be lined with challenges, ample solutions are available too. As this morning's venture capitalist panel put it, a formula for growth can be equated to: 1) the simplicity of your business's story; 2) your ability to scale; and 3) capital efficiency.
What specifically can businesses do to facilitate growth in their venture?
Find mentors. Identifying, embracing, and communicating with a mentor and your social networks can both boast a positive return on your leadership skills.
Seek out help for your business. If you're just starting out, a loan from the U.S. Small Business Administration may make sense for your venture. If you're struggling to stay on top of regulatory compliance around complex issues such as tax reform, a call to your accountant first thing in the morning isn't usually at the top of your to-do list, noted Deloris Wilson, Inclusive Education Fellow at BEACON Initiative. Instead, consider getting assistance to help you handle these complexities while you focus on your business. 
Get a handle on your cash flow. SBA Administrator Linda McMahon mentioned that understanding the cash coming in and knowing where your cash is going are both vital for business success. Look for resources that can help give you peace of mind, such as protection against payroll interruptions.
Stay competitive in your efforts to hire and retain quality employees. McMahon and Martin Mucci, Paychex president and CEO, both mentioned that the manufacturing, IT development, and services fields are particularly in need of skilled labor. The reality is that the labor market is tightening all around for industries across the board. You may need to reexamine your benefits package, technology adoption, and policies around flexible and mobile work options as the job market continues to become more competitive.
While challenges and barriers can exist for any entrepreneur or business owner, the state of small business is strong and optimism is high. For more in-depth analysis about today's entrepreneurial and small business landscape, download the Paychex report now.