Putting Your Faith in Microbusinesses: What Makes a Microbusiness Trustworthy?
Startup
Article

Last Updated: 07/31/2017
Microbusinesses may be small, but they account for more than three-quarters of private-sector employers in the U.S. So when it comes to earning customers' trust, how do microbusinesses stack up against larger corporations? Take a look at what our recent research found.
Microbusinesses may be small, but they account for more than three-quarters of private-sector employers in the U.S., and more than 1 in 10 jobs across the country.
These businesses may not be comprised of large teams, but together, they're the backbone of the American economy.
Given reduced resources, microbusinesses may not always offer customers the bells and whistles of a larger corporation. We surveyed over 1,000 potential customers to understand how different factors build trust and impact their decision to support local businesses.
Curious to see what brings new customers in – and what could be driving them away? Keep reading to see what we learned.
Trends in Customer Acquisition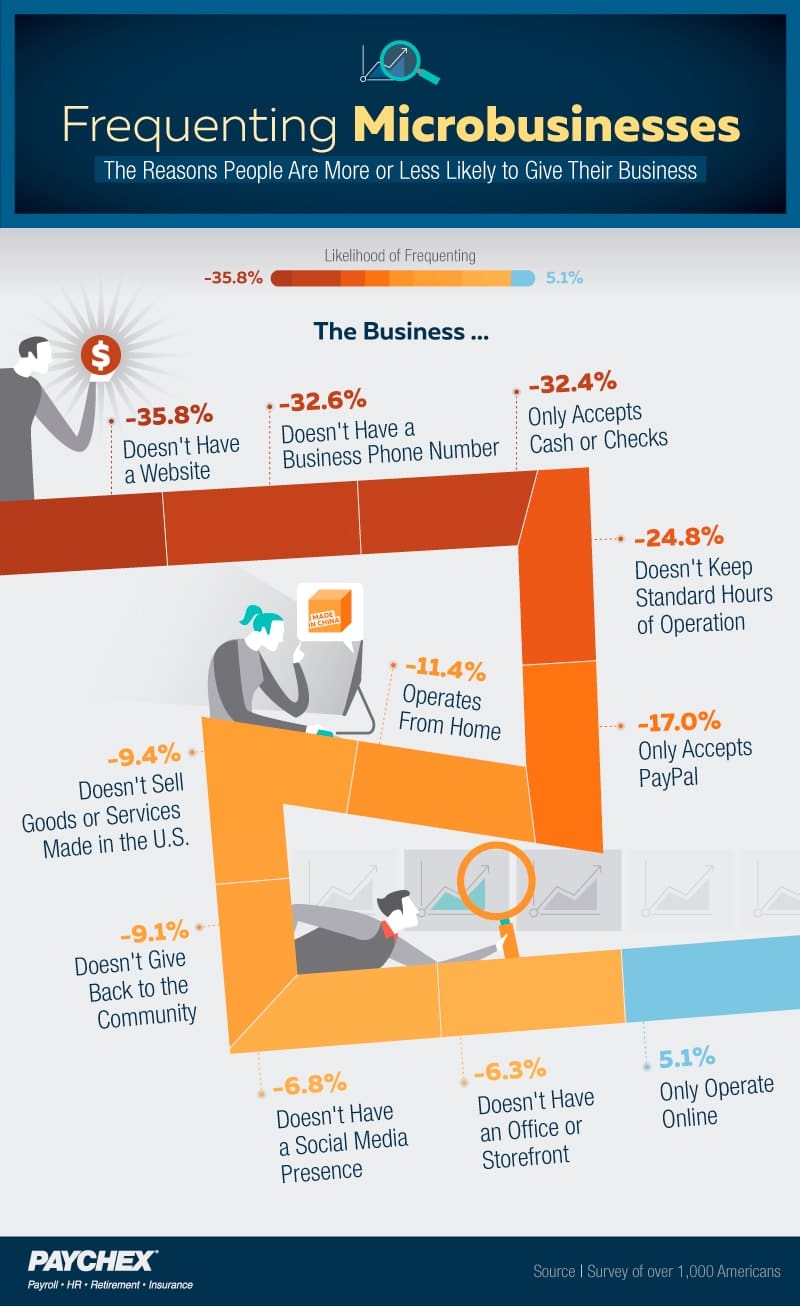 Microbusinesses are small and defined as having fewer than 10 employees, which can make it difficult to prioritize which additional features might genuinely impact a customer's bottom line.
Almost 36 percent of participants said a microbusiness without an online presence or website would make them less likely to utilize their services. From basic information like location and hours of operation to the company's mission statement, websites can be a crucial way to attract new business.
Nearly a third of respondents also said businesses without a dedicated phone number, or that only accepted cash or checks, would make them look elsewhere for their goods or services. Fewer people today carry cash or checks, and brands unwilling to accept credit cards or digital wallet payments may end up losing business over this decision.
Microbusinesses that operated exclusively online were just over 5 percent more likely to earn customers as a result of their online presence. Millennials, especially, have been identified as a generation that appreciates the ability to conduct their business online.
Building Trust With Potential Customers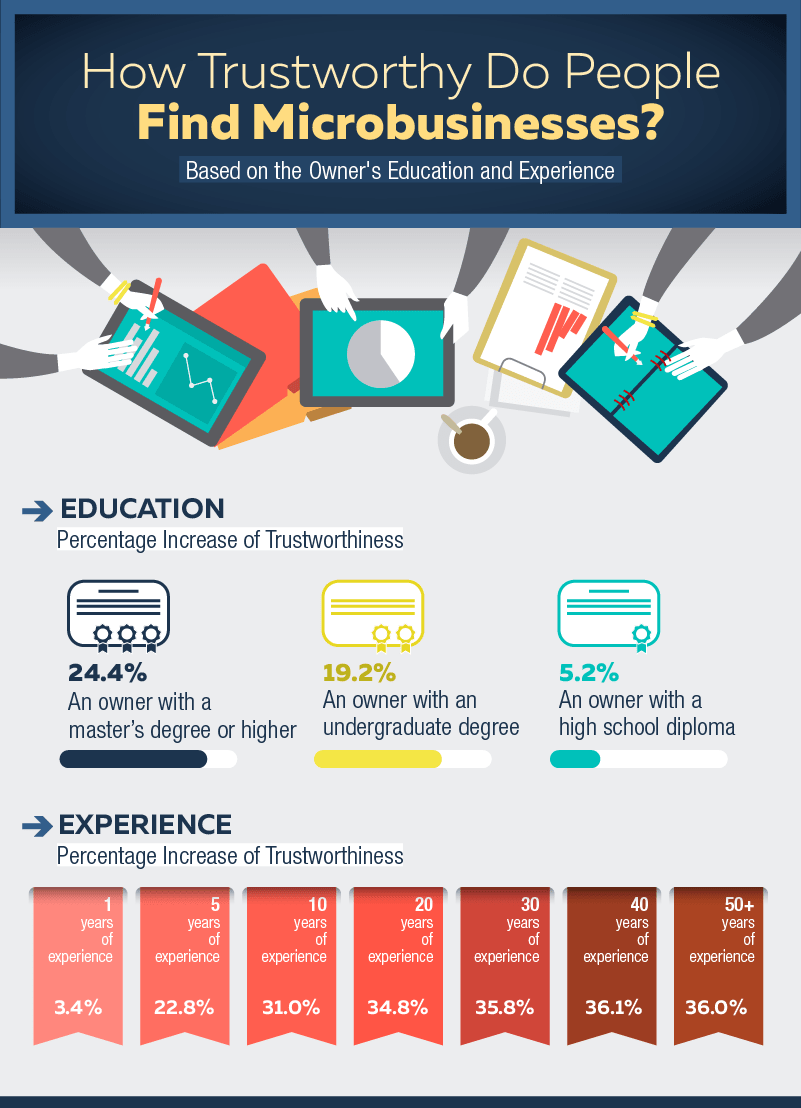 Building trust with customers is important – and not always easy. It can help dictate to whom they give their business. Nearly a quarter of people were more likely to trust a microbusiness owner with a master's degree or higher, compared to less than 20 percent with an undergraduate degree, and just over 5 percent for business owners with a high school diploma.
Like increased levels of education, an owner's tenure in business or within their industry created an increased sense of trust among would-be customers. Owners with 40-50 years or more of experience earned more trust from around a third of the potential customers surveyed. However, this was only a 5 percent increase from those with 10 years of experience.
Additionally, nearly 23 percent of respondents identified owners with just five years of experience as more trustworthy, compared to less than 4 percent of people who trusted owners more with only one year of experience.
How Employees Impact Trust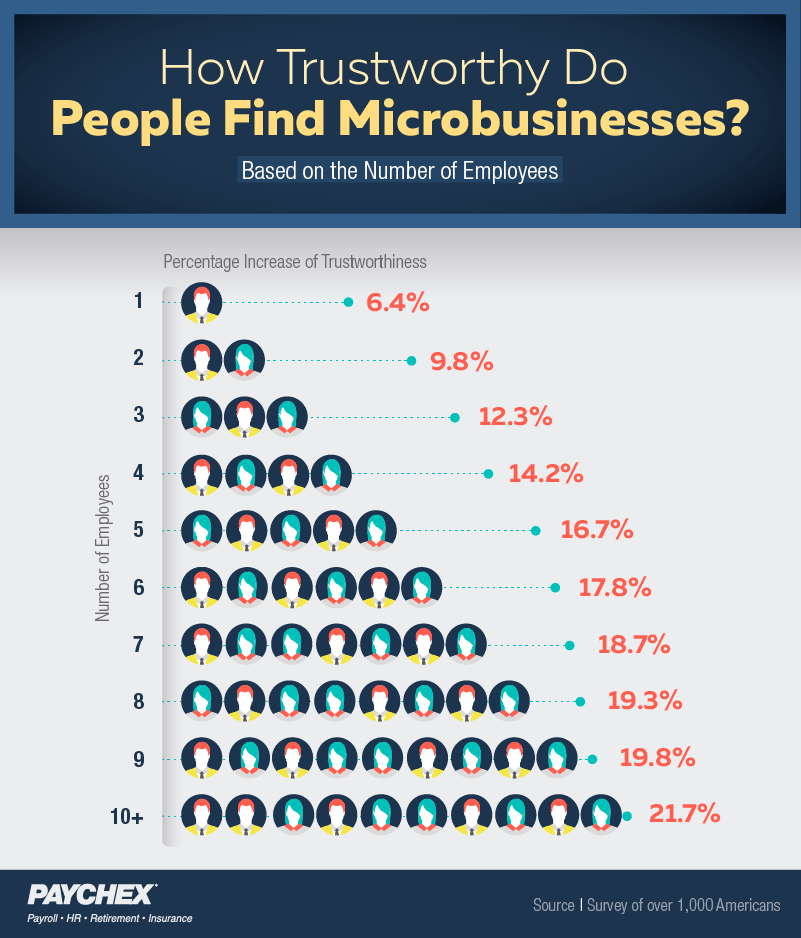 While microbusinesses tend to have small teams, businesses with more employees earned a higher level of trust from potential customers.
Businesses where the owner was the sole employee earned the least amount of trust from those surveyed (a 6.4 percent increase). Brands with three employees nearly doubled their trust earned over just one employee, with more than a 12 percent increase in credibility.
Microbusinesses employing 10 or more people gained the most trust from prospective customers (almost 22 percent). Even just one additional employee – from 9 to 10 – earned a 2 percent increase in trust from participants.
Gender and Age in Small Business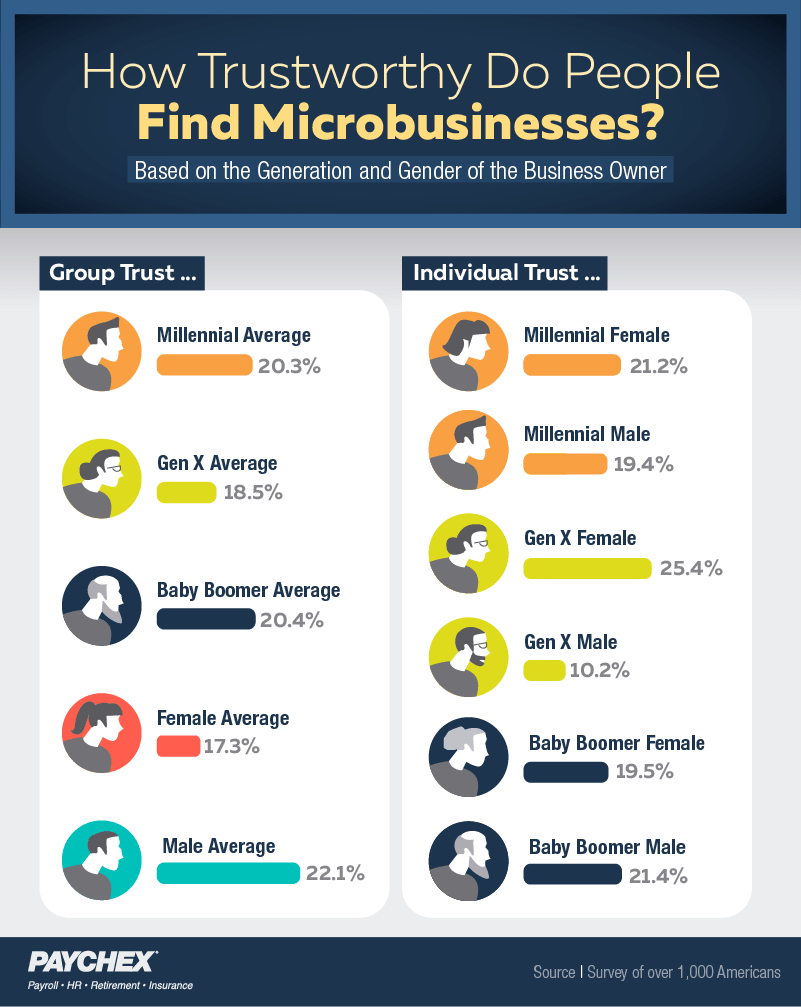 Our survey found women were more trusted as business owners than men.
Other research has indicated women are usually more trusted as CEOs in bigger corporations, and female entrepreneurs can sometimes be more successful because of the way they value creativity and relationships in the business environment.
Gen X female business owners earned more than a 25 percent increase in trustworthiness, and millennial female business owners earned just over a 21 percent increase. Only female baby boomers were considered less trustworthy than men of the same age – a nearly 20 percent increase compared to over 21 percent.
With age, potential customers were more inclined to think older or younger owners were more trustworthy than middle-aged business owners. Millennials and baby boomers were attributed a 20 percent increase in perceived trust, compared to around 18 percent earned by Gen X business owners.
How Men and Women See Business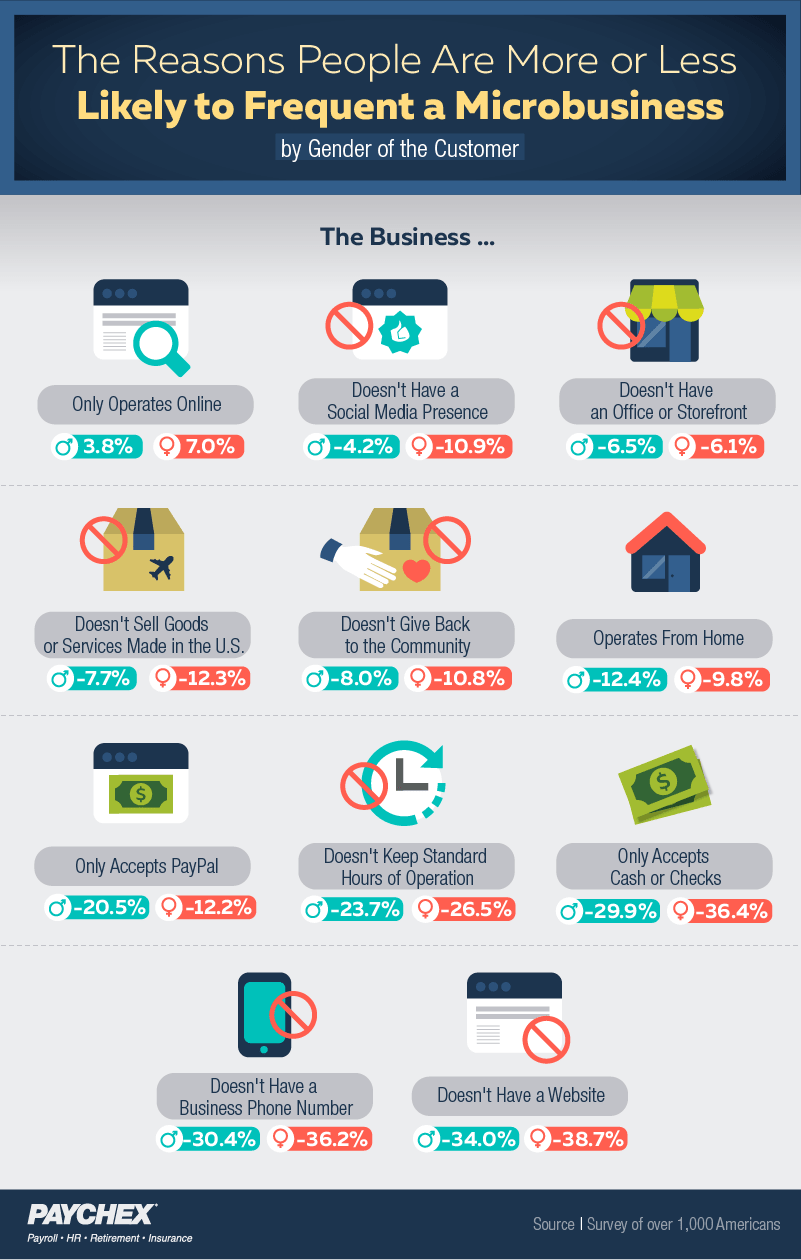 Women were more likely to be critical of lacking business operations than men.
Women were nearly twice as likely to frequent a small business that operated exclusively online, and they were also more than twice as likely to avoid a small business with no social presence. Over a third of men and women would even avoid a small business without a website.
More than 1 in 10 potential male customers acknowledged avoiding businesses that operated out of someone's home, and over 20 percent would not support a business that only accepted PayPal as a form of payment.
Men and women were the least concerned with businesses that operated without a traditional office space or storefront.
Small-Business Trust, By Demographic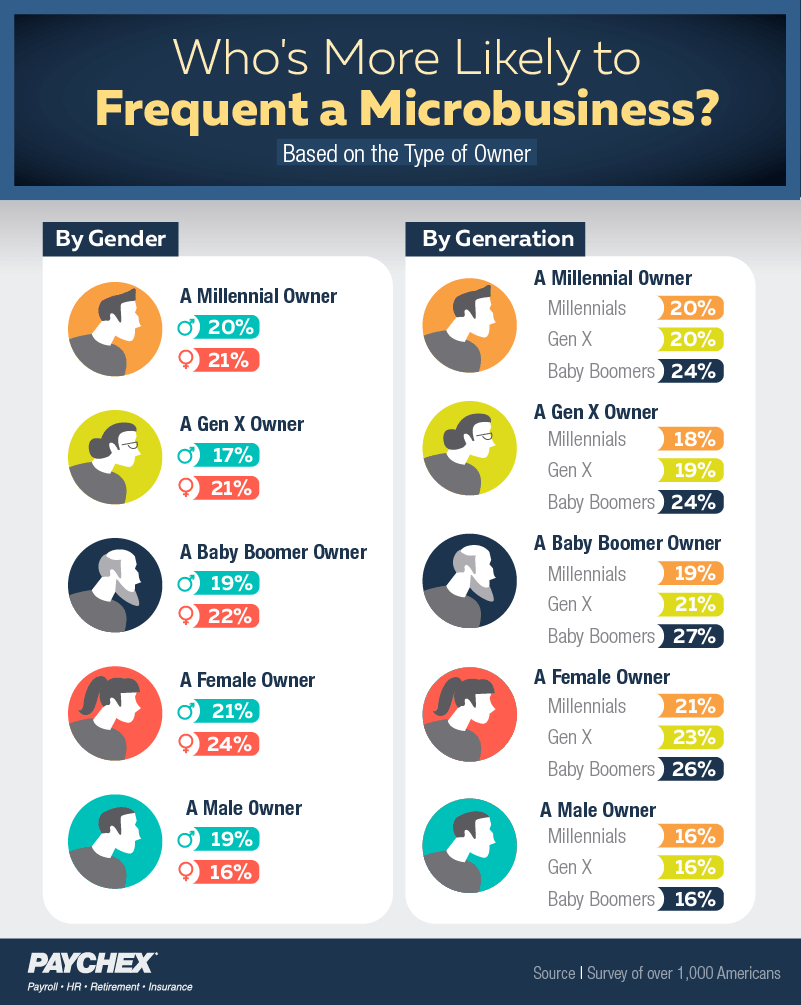 According to the more than 1,000 potential customers surveyed, millennials were more likely to support business owners their own age than those who were older and were more inclined to frequent female business owners than men.
Even Gen X customers were more likely to do business with owners who were either younger or older than them, identifying Gen X business owners as those they were least likely to shop with.
Female business owners were seen as more trustworthy than men by every demographic – including men. At most, baby boomers described themselves as 10 percent more likely to do business with female owners than men.
Smart Business Operations
Certain elements of your business presence may be outside of your control. However, creating an online presence for your brand in the form of social media or web content, as well as diversifying and growing your staff, may help build trust between your business and the community you're looking to serve.
Potential customers surveyed were clear that expanded payment options, standard hours of operation, and multiple points of contact were key considerations when determining what businesses to frequent. Your business doesn't have to be big to be savvy, and these simple tips could help grow your client base without significant overhead costs.
Methodology
We surveyed over 1,000 potential customers about their microbusiness preferences.
Tags