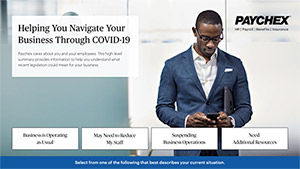 Use Our Online Tool to Better Understand Government Funding Programs
+ Expand for
- Less
Details
Access vital funding to help your business remain open, continue paying your employees, and recover from unplanned circumstances due to the COVID-19 pandemic.
Paychex has created an easy-to-use online tool that details the specific federal relief programs and refundable credits available through the Families First Coronavirus Response Act (FFCRA) and the Coronavirus Aid, Relief, and Economic Security Act (CARES). The tool includes helpful links to applications and a comparison chart of loan programs (Paycheck Protection Program and the Economic Injury Disaster Loan program) to help you address what would best meet the needs of your current circumstances.
We recommend discussing these options with your accountant or trusted advisor to determine the best course of action to leverage the incentives available.
Paychex is actively working to help make the PPP loan application process simpler. If you're a Paychex client, we're creating a report and ensuring it reflects changes introduced April 2 by the federal government. To utilize the report, your business or your clients' business must have run payroll with Paychex in 2019.