How the Proposed Federal Overtime Rule Could Impact Businesses and Employees
With the release in March 2019 of a Notice of Proposed Rulemaking to revise the federal overtime regulations, Paychex analyzed data to show the potential impact on businesses with 1 to 49 employees.
Editor's note: This information was valid as of its publication date. On Sept. 24, 2019, the Department of Labor adopted its Final Overtime Rule.
In March 2019, after many months of anticipation, the U.S. Department of Labor (DOL) released a Notice of Proposed Rulemaking (NPRM) to revise the federal overtime regulations, kicking off a 60-day public comment period to gather feedback.
The proposal would increase the standard salary threshold for executive, professional, and administrative white-collar workers to $35,307 per year ($679 per week) from the current level of $23,660 per year ($455 per week) that was established in 2004, meaning all employees who meet the applicable duties test under the existing regulations but earn less than the new salary threshold must be receive time and one-half their hourly regular pay rate for all hours worked more than 40 in a workweek.
As expected, the proposed rule is much more modest than the overtime rule proposed under President Obama that would have set the salary threshold for the EAP white-collar exemption at $47,476. After President Trump took office, DOL officials indicated plans to go back to the drawing board and rewrite the overtime regulations.
Meanwhile, a Federal District court enjoined and later dismissed the Obama administration's Final Overtime Rule just eight days before it was set to be enacted. As part of the Trump administration's rewrite process, the DOL put out a Request for Information seeking public comment on where to set the salary threshold, whether to update the threshold automatically every few years, and whether to vary the threshold by region to account for cost differences.
The new proposal, if adopted, would allow employers to include bonuses and commissions toward up to 10 percent of an employee's salary. However, the proposal does not currently contain the automatic adjustments to the salary threshold that were part of the Obama administration's final rule. As proposed, an update to the salary threshold would continue to require notice-and-comment rulemaking.
Before the 2016 Final Overtime Rule was halted by a legal battle, some businesses had begun to prepare for the potential effects to their workforce. At the time, the DOL indicated their data showed that the rule would affect an estimated 4.2 million workers, an estimate that has changed to about 1 million workers based on the new proposed rule.
How will employers be impacted?
To help understand the anticipated consequences of the proposed rule, Paychex conducted an analysis of its small business clients with 1 to 49 employees, examining the data at a national level, then by regional, state, and industry type. The data show that 3.6 percent of employees nationwide working for a small business would be impacted by the proposed changes to the overtime regulation, which according to U.S. Census numbers from 20161 would be an estimated 1.85 million employees. Also, 19.5 percent of small businesses included in the data have at least one affected salaried employee.
The impacted employees would likely be covered by the federal wage and hour law and corresponding minimum wage, overtime pay, and recordkeeping requirements to ensure they are paid time and one-half their regular rate of pay for all hours worked more than 40 40 in a workweek.
Smaller businesses, those with 1 to 19 employees, have a higher percentage of affected employees (4.5 percent), but in general, those same businesses would be the least impacted by the proposed changes (18.0 percent). Conversely, business with 20 to 49 employees would have 2.3 percent of their employees affected while impacting 30.2 percent of those same-sized businesses. To explain the differences in data between employers of different sizes, consider that the larger of the small businesses are more likely to have at least one employee affected, but since this group has more employees per company, that is a small percentage of their overall employee count.
Regional and state differences
The proposed changes to the federal overtime regulations would hit the South more than any other region, with 23.2 percent of businesses and 4.3 percent of employees potentially meeting the criteria for the overtime rule – that's nearly 4 percent greater than the national level for businesses and 0.7 percent more for affected employees than the next-highest region (Northeast, 3.6 percent).
In looking at data from the top 20 most-populous states for percentage of businesses impacted, the South has eight represented, including North Carolina (25.0 percent), Georgia (24.8), Tennessee (24.7), and Florida (23.7) ranking as the top four. Florida and Georgia would tie for the top for affected employees at 4.6 percent each under the thresholds proposed in the new federal overtime law.
The leading states in the other three regions for businesses impacted are Arizona (20.7 percent) in the West; Ohio (22.9) in the Midwest with Indiana (22.8) a close second; and New Jersey (20.8) edging New York (20.0) in the Northeast.
States in each region with the most affected employees are Arizona (3.7) in the West; Indiana (4.0) in the Midwest; and New York (4.0) in the Northeast.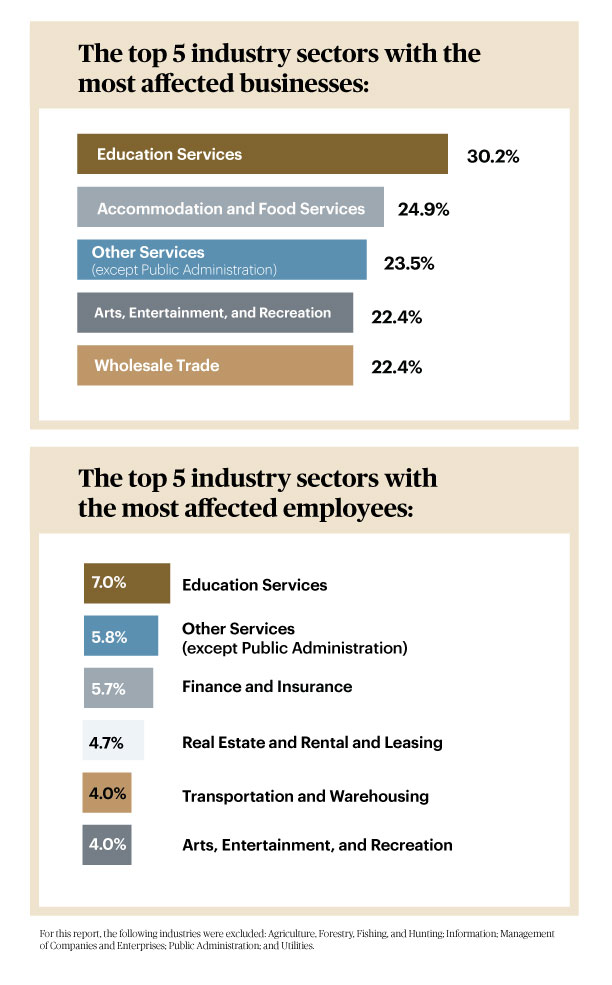 Industry trends 
In looking at industry trends, businesses were separated into subsets such as Education Services, Health Care, Social Assistance, Administration and Support, Construction, and Scientific and Technical Services, to name a few.
The greatest percentage of employees expected to see a change due to the proposal fall in Educational Services (7.0 percent), with Other Services (5.8 percent) – comprises businesses engaged in providing services not specifically provided for elsewhere in the classification system – with the second-most affected percentage of employees. Finance and Insurance employees (5.7) would be followed by Real Estate and Rental and Leasing employees (4.7) for those most-impacted.
At the industry level, businesses in the Accommodation and Food Services (24.9 percent) subset along with Arts, Entertainment, and Recreation (22.4 percent) would lead most other subsets except for Educational Services (30.2 percent). Other Services (23.5 percent) would slide in the top four industries most affected.
Click here for more data by region, state and industry. 
What's next?
The public comment period on the Notice of Proposed Rulemaking ends May 21, 2019. A final rule is not expected to be released much before the end of the year.
Employers can begin preparing for a potential change. An increase in the salary threshold for certain white-collar employee exemptions from overtime requirements could bring the classification of currently exempt employees into question. Employers are encouraged to begin assessing employee classifications under the Fair Labor Standards Act and applicable state laws to identify workers who might potentially need to transition to a non-exempt status or for whom a salary increase might be necessary to retain their current classification, assuming they also meet the required duties test.
Tracking employee hours and creating schedules that help manage potential overtime situations can be time-consuming and onerous for small businesses, especially with the necessity of staying compliant with ever-changing federal and state laws and regulations. It could be time to consider a time and attendance solution that helps with the administration process, especially where you anticipate an increase in the number of non-exempt employees for whom a record of all hours worked is required under federal recordkeeping laws. 
"Paychex is already working with clients to help them prepare for the adoption of the final rule to revise overtime regulations," said Tammy Tyler, employment law compliance manager at Paychex, Inc. "We're encouraging our clients to review and update their job descriptions and compensation levels to better identify which employees may need to be reclassified. Employers should also consider time and attendance systems to simplify the recordkeeping process."
Methodology
The analysis uses aggregated payroll information from March 2019 for a subset of Paychex clients with 1-49 employees. Results are summarized to the employee level, with salaries annualized. Salaried employees that are paid overtime are reported in the non-salary employee category. The state analysis is based only on the 20 largest states, based on U.S. population. Definitions of the industry sectors reported can be found at the Bureau of Labor Statistics. For this report, the following industries were excluded: Agriculture, Forestry, Fishing, and Hunting; Information; Management of Companies and Enterprises; Public Administration; and Utilities.
1https://www.census.gov/programs-surveys/bds/data/data-tables/2016-firm-and-estab-release-tables.html