Employee Retention: What Makes Employees Stay or Leave
What's one of the greatest challenges of building a business? Ask a CEO, CTO, entrepreneur, or manager and they may tell you the same thing. Read on to learn more about what that challenge is and how businesses address it.
What's one of the greatest challenges of building a business? Ask a CEO, CTO, entrepreneur, or manager and they may tell you the same thing — finding and keeping great employees.
Talent can make or break a business. It's also the toughest thing to hold on to, which is why we asked 2,000 employees across a variety of industries, age groups, and regions to tell us why they left their previous jobs (hint: salary and overwork play a key role here) and what kinds of benefits might have influenced them stay.
Below, you'll discover our detailed findings and some insights that can help you hang on to your company's best and brightest employees.
The Reasons Employees Leave a Job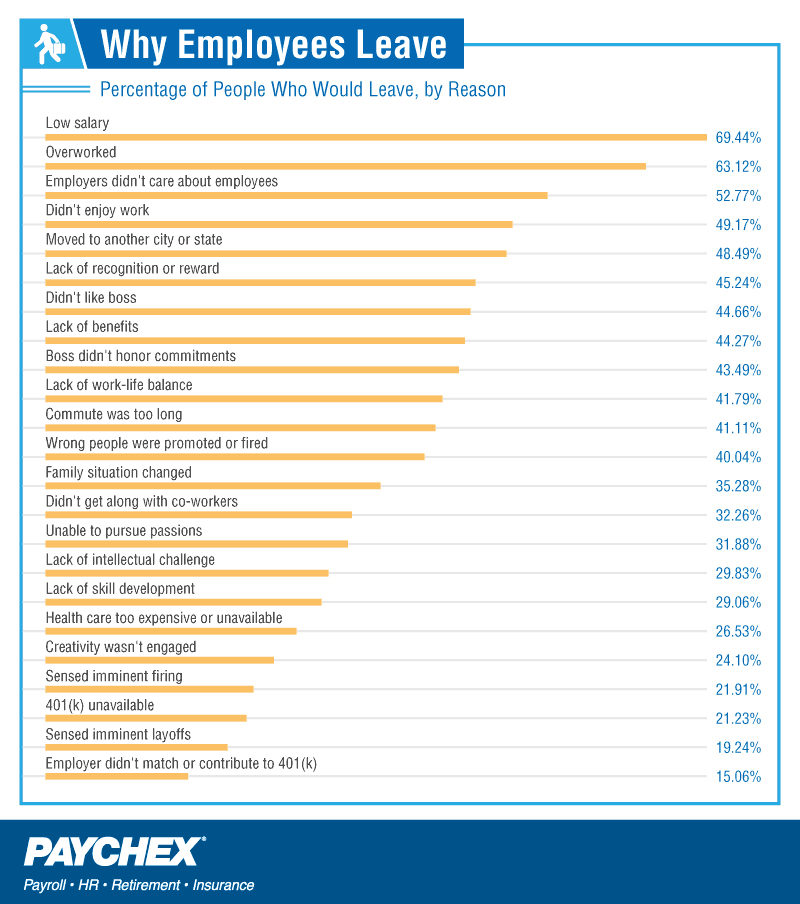 Of the 2,000 people surveyed, 69 percent said that low salary was the primary reason they have left or would leave a job. Sixty-three percent said they have left or would leave a job if they were overworked. And just over 50 percent cited an employer's disregard as a reason to quit.
On the other end of the spectrum, fewer than 20 percent of respondents said they left because their employer didn't match their 401(k) contributions or because they sensed layoffs were on the way.
Generational Job Dissatisfaction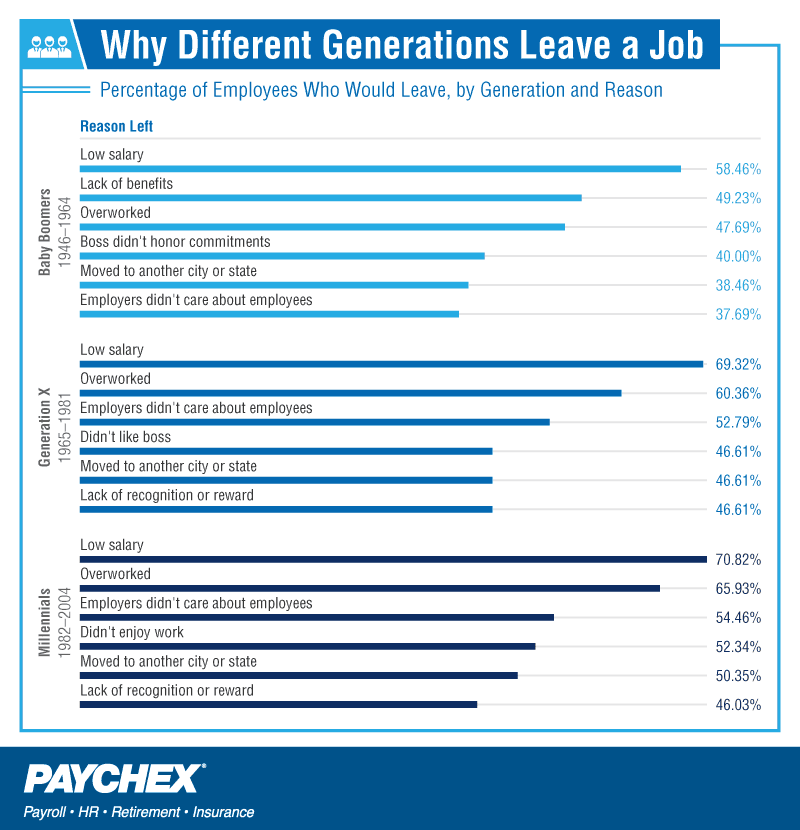 Now that we've seen the top reasons employees quit, let's break those reasons down by generation. As you might expect, there are some key differences—however there are also some key similarities.
All three generational categories (baby boomers, generation x, and millennials) ranked a low salary as a top reason to leave, but millennials put more importance on salary, with a whopping 70.82 percent of those surveyed marking it as a reason they quit. Generation x and baby boomers weren't far behind, with just over 69 percent (gen x) and 58 percent (boomers) saying they'd left for financial reasons.
Ranking second-highest on the boomers' list of reasons to leave was a lack of benefits (49.23 percent), followed by "overworked" (47.69 percent), and "boss didn't honor commitments" (40 percent).
Generation x and millennials, on the other hand, were on the same page about the second- and third-ranked reasons they'd leave: "overworked" (60.36 percent and 65.93 percent, respectively) and "employers didn't care about employees" (52.79 percent and 54.46 percent, respectively).
Primary Reasons for Leaving a Job, by Industry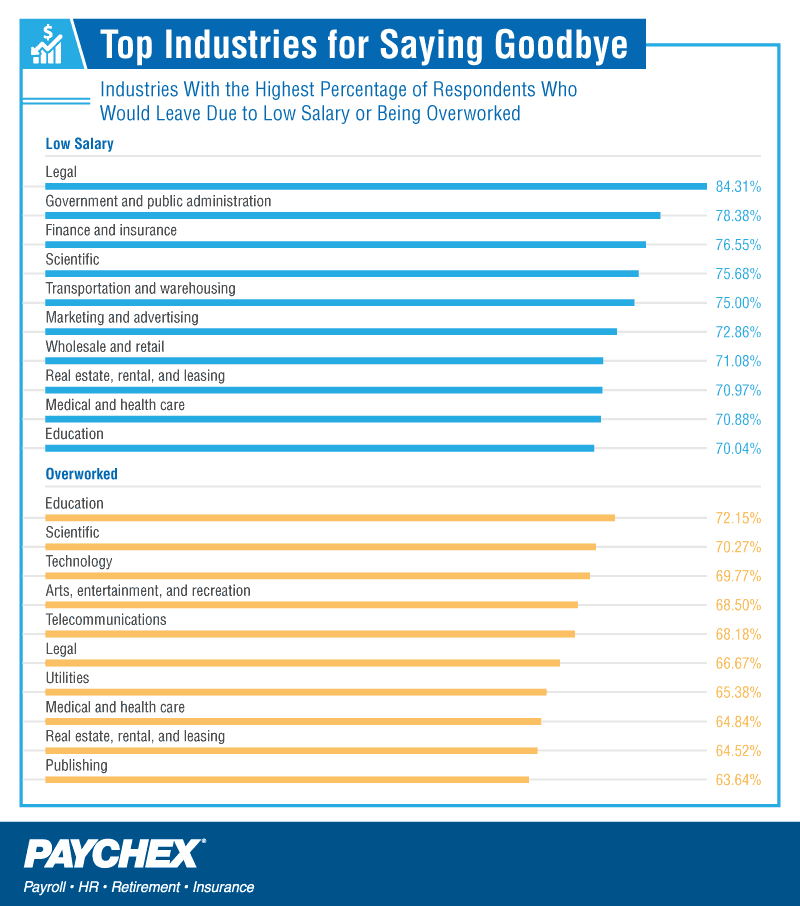 When it comes to keeping good employees, some industries have a better handle on things than others. Our results show that employees in the legal, government, public administration, financial, and insurance industries were the most likely to leave because they didn't feel their salary was high enough.
As for overwork — the second-most-common reason for leaving a job—employees in the education, scientific, technology, arts, and entertainment industries most often cited this reason for their departures.
Regional Salary and Overwork Dissatisfaction
When we split up our survey data by region, more trends emerged. The region where employees were most likely to quit over salary issues: the Mid-Atlantic. The region where employees were least likely to quit for that same reason was the Mountain region.
As for being overworked, the region reporting the highest number of employees who quit over long hours is New England. And the least likely region to quit if kept late at work? The East North Central.
Benefits That Retain Talent

So we've explored why people quit, but what about why they stay? How do you keep your best talent when they're thinking about departing?
Our survey says good bonuses, paid sick days, work-from-home days, flexible schedules, and inexpensive, quality health care are all good ways to keep employees happy.
Which Benefits Are Most Important to Each Generation?
When it comes to employees' reasons for staying at a job, the benefits that matter vary a bit by generation. Baby boomers and generation x rank inexpensive, quality health care highest on their lists of reasons to stay, while millennials long for better bonuses.

Boomers and millennials rank paid sick days in their top three reasons to stay, while generation x puts work-from-home days on their wish list. And boomers are the only group that lists 401(k) matching in their top five. While many millennials might have a 401(k), they might not be contributing to it or expect their employer to contribute either.
Each Sector's Favorite Benefits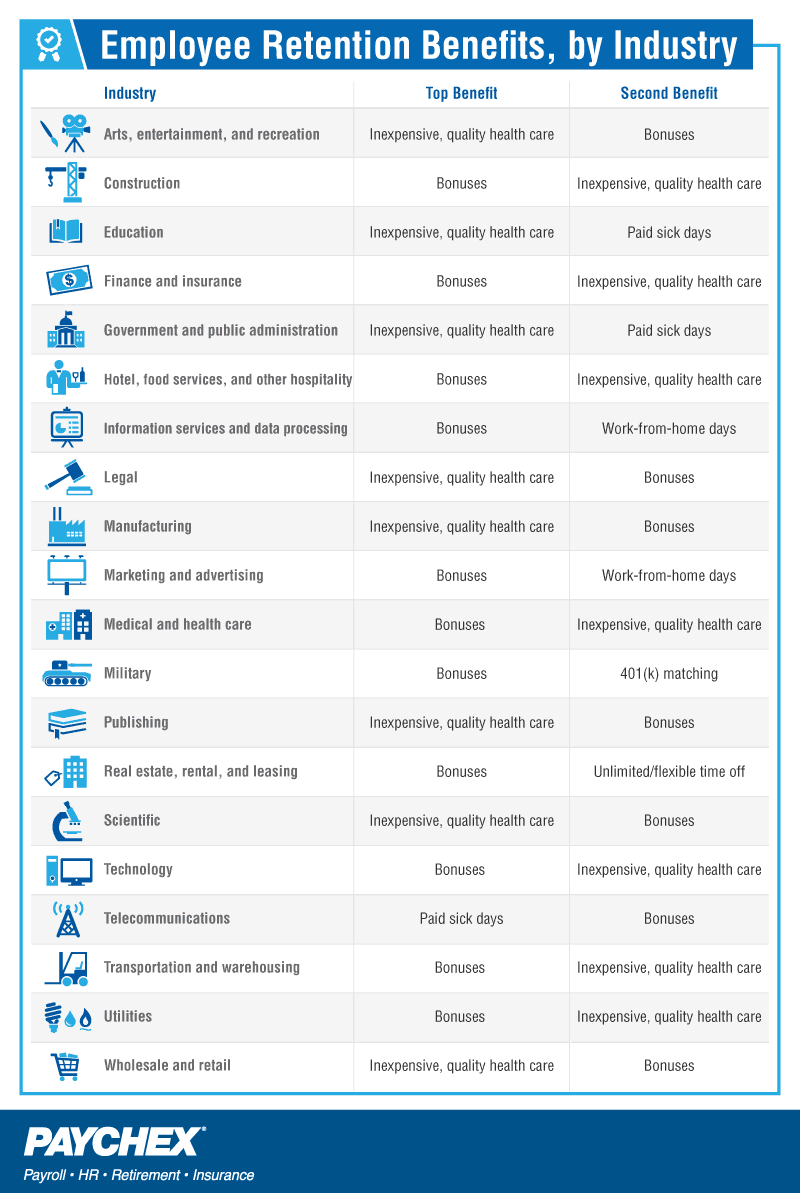 As for industry-specific answers, bonuses rank high across many industries, including finance, insurance, marketing, and technology—all industries that lose a lot of employees over salary issues. Inexpensive, quality health care also ranks high across the board; while the marketing and information services industries value their independence, ranking work-from-home days as a top-two benefit.
Who Is Most Likely to Tough It Out?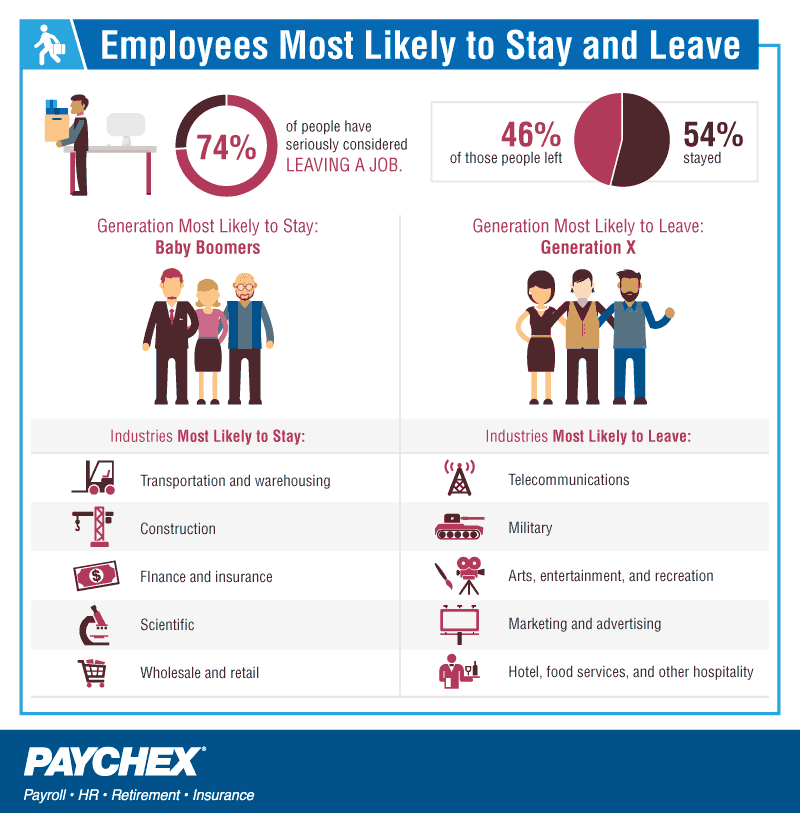 Seventy-four percent of people surveyed have seriously considered leaving a job, while forty-six percent of those actually left. Boomers were the most likely to stay, while generation x was the most likely to go.
Keeping Your Talent
As our 2,000 survey respondents demonstrate, the most important tools for keeping your best people are good salaries, bonuses, and quality health care, as well as ensuring that employees aren't overworked.
Need help administering benefits, organizing payroll, and keeping those benefits running smoothly? Visit Paychex.com. Paychex is an industry leader in human capital management as well as the architect of this survey.
Textual Sources
https://www.forbes.com/sites/financialfinesse/2015/09/10/3-big-mistakes-millennials-are-making-with-their-401k-accounts/#554f3bf23035
Methodology
We surveyed 2,000 employees in the United States.