HR Issues: Common Problems Employees Have With HR
Human Resources
Article

Last Updated: 09/11/2017
HR is vital to business success, but what are the areas where this department is getting it right, and where are they falling short? We recently surveyed 1,000 employees and 90 HR professionals to better understand some top HR issues. Here's what we found.
It's easy to see that HR is vital to the success of a business. After all, they're often the department passing out paychecks, signing talent, and keeping workers – the backbone of any successful company – feeling happy, healthy, and supported.
Of course, not all companies get HR right.
And even those that do probably have a little room for improvement.
Which is why we asked 1,000 employees at different companies how they felt about HR. What do their HR departments do? Do they do it well? What are their biggest complaints? Which areas could be improved? We asked 90 HR specialists these same questions.
Here's what we learned.
What HR Does – And What Employees Think HR Does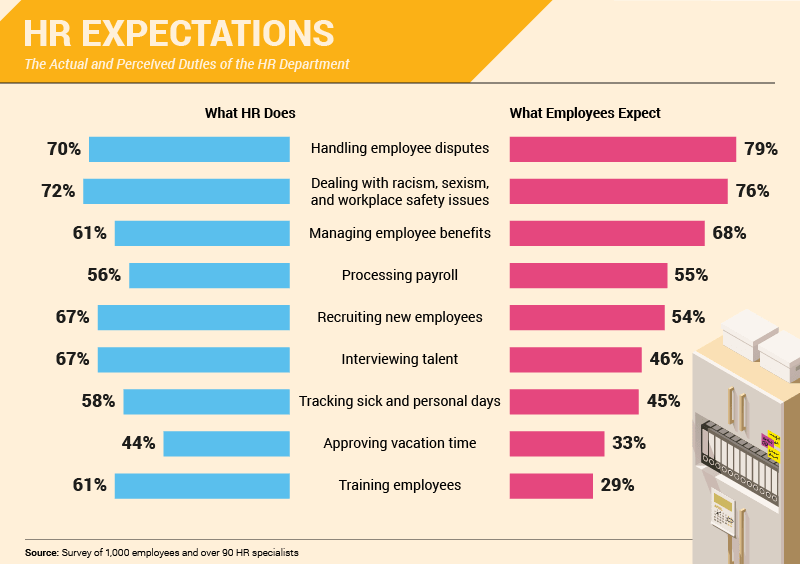 What do employees think HR does … and how does that match up to what HR professionals actually spend their time doing?
The answers are interesting.
The majority of both employees and HR professionals agree that it's HR's responsibility to handle disputes, racism, sexism, and conflicts in the workplace. They also agree that HR should manage employee benefits and oversee paychecks.
It isn't until you ask about training that the expectations and reality seem to disconnect: 67 percent of HR professionals say interviewing talent is in their job description, and 61 percent also say they are responsible for training that talent. However, only 46 percent of employees say HR is responsible for interviewing talent and 29 percent think their HR department handles employee training – an interesting perspective since, presumably, those same employees may have been interviewed and trained by HR during their own hiring processes.
Common HR Complaints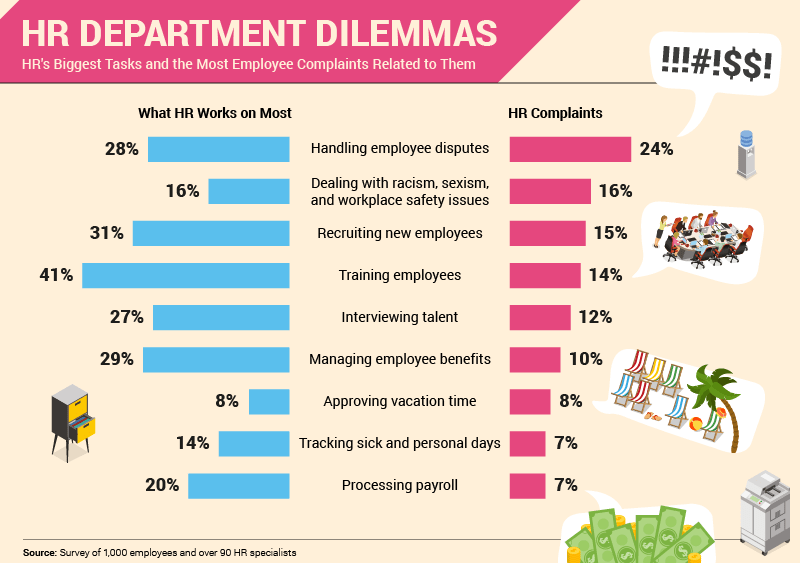 What do employees complain about the most in terms of their HR department's performance? Almost a quarter of employees take issue with how their HR department handles employee disputes. Let's put that into perspective, in terms of what HR spends most of their time on: training employees, recruiting new employees, and managing benefits. HR specialists say they spend almost half of their time training employees. After that, recruitment and managing employee benefits take up around 30 percent of HR's time.
What's notable here is that 24 percent of employees are dissatisfied with the way in-office disputes are being handled. Though there are many tips on how to handle toxic behavior in the workplace, oftentimes HR is tending to other tasks.
An HR Scorecard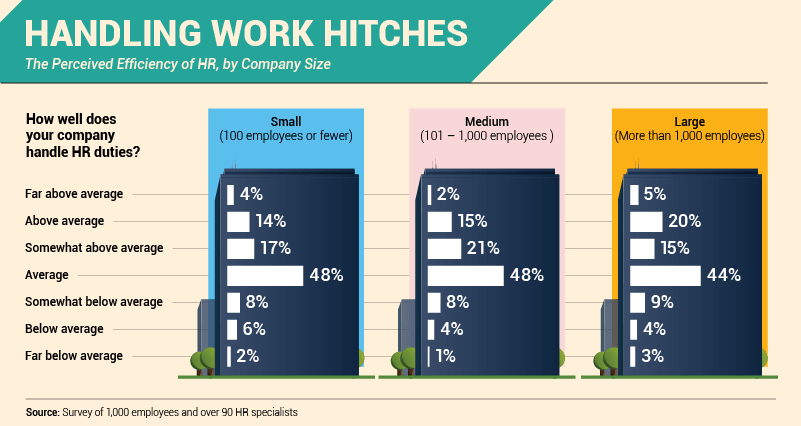 When we asked employees to rank their HR department's overall performance, the overwhelming response – for companies both large and small – was "average," with just under 50 percent of all employees giving HR middle-of-the-road marks.
The good news is that few HR departments ranked below average. Only 16 percent of small companies, 13 percent of mid-sized companies, and 16 percent of large companies got below-average rankings. And large companies were the most likely to get high rankings, with 5 percent of employees saying their HR department performs far above average and 20 percent giving kudos to their HR department for performing above average.
The Biggest HR Mistakes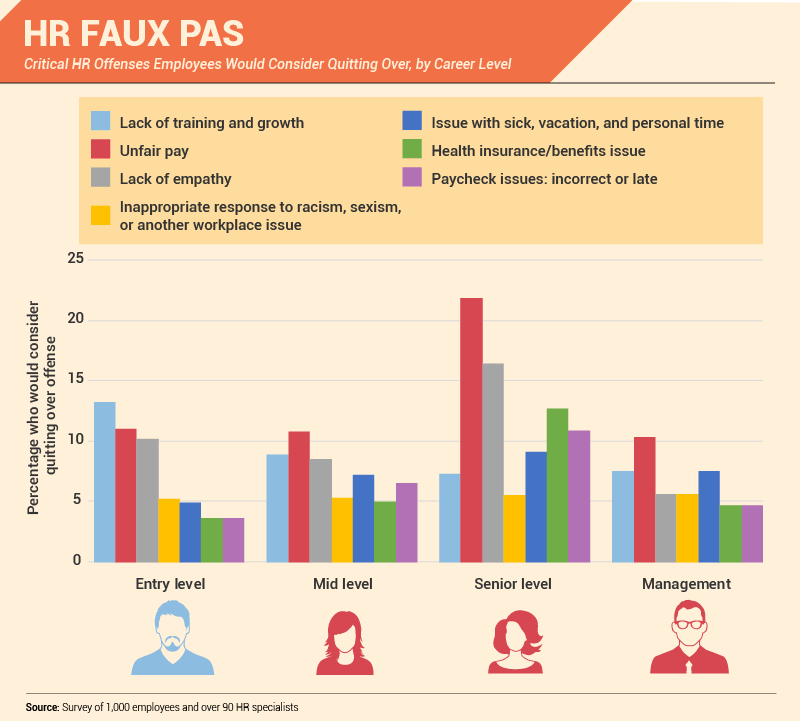 If recruiting and training talent are where HR professionals spend most of their time, the next logical question is this: How can they use that time to attract and keep top talent?
We asked our survey respondents which HR offenses would make them pack up their belongings and quit. Entry-level employees were most concerned with growth and training opportunities, while middle-level, management, and senior-level employees ranked fair pay highest on their scales.
But here's where it gets interesting: Senior-level employees were about twice as likely as middle-level employees and three times as likely as management to cite lack of empathy as a reason for quitting. They also had a lower tolerance for paycheck mistakes, health insurance problems, and sick or vacation time issues.
Entry-level employees were more willing to forgive health insurance issues and incorrect paychecks as long as training and growth opportunities were in place.
Employee Expectations, by Company Size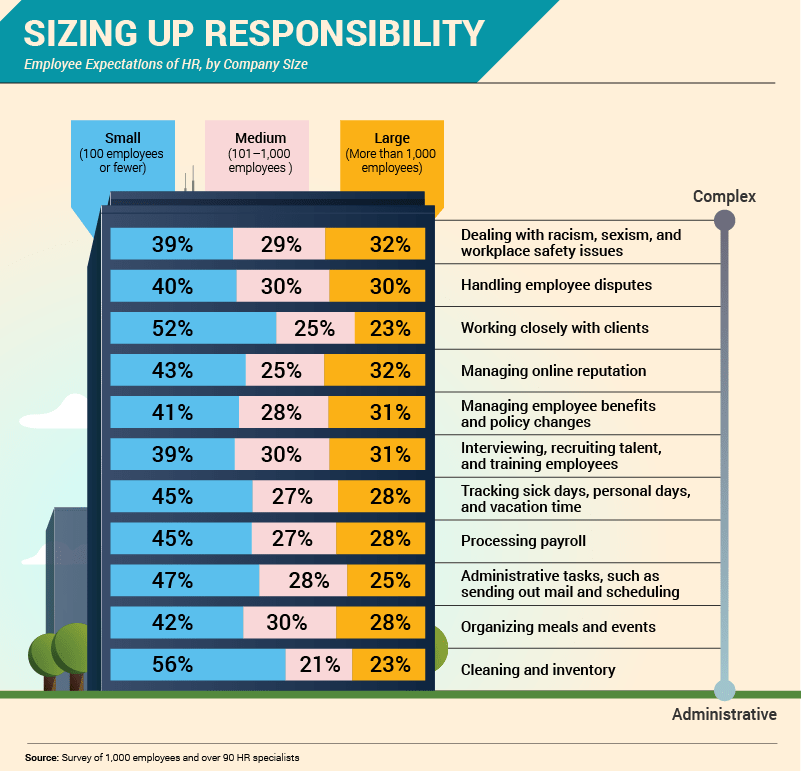 "HR is here to resolve employee disputes" may be the No. 1 employee expectation across all survey respondents – but what happens when we divide the data by company size? Do employee expectations differ in small businesses versus larger corporations?
The short answer is yes.
The long answer is that employees of smaller companies tend to expect their HR teams to do more across the board. Fifty-two percent of employees of small companies expect HR to work closely with clients (this may include managing accounts payable, being a customer concierge, or even managing client relationships), compared with 23 percent of those in large corporations and 25 percent of those in mid-sized companies.
HR Expectations, by Company Size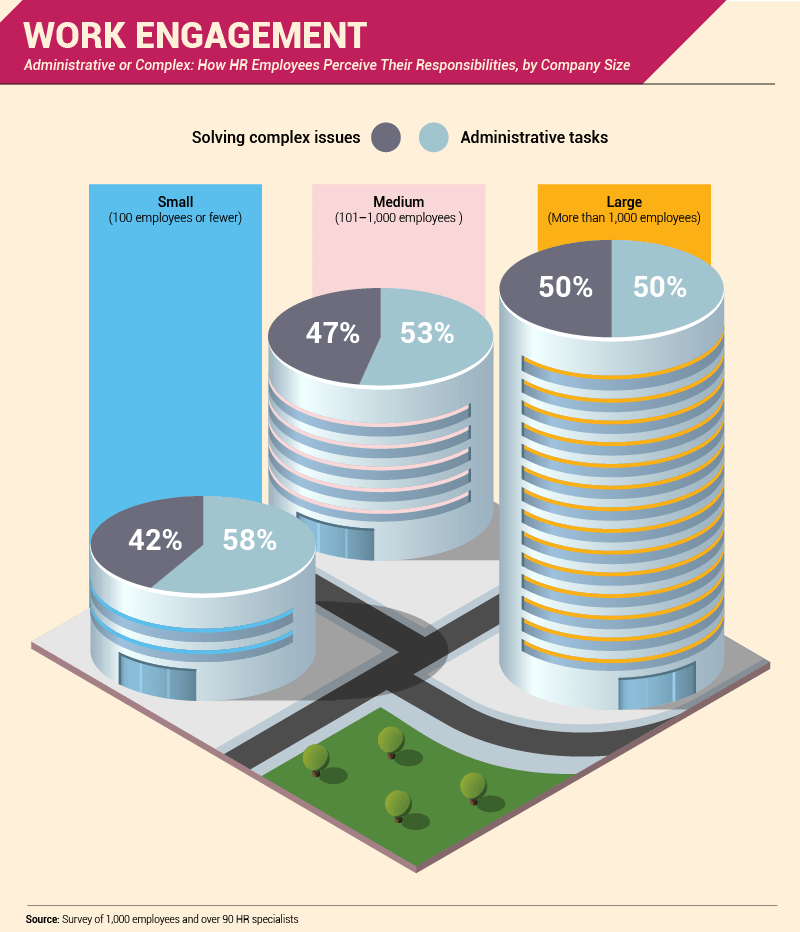 Is HR responsible for more administrative day-to-day tasks, or high-level strategic problem-solving? According to HR pros, the split is about half and half, with larger companies having a true 50-50 split and small and midsized companies spending a bit more time (58 percent and 53 percent, respectively) on administrative work.
This finding meshes with most employee expectations: 55 percent of employees of small companies said HR is responsible for cleaning and inventory, compared to just 23 percent of employees at large corporations.
Improving HR Expectations and Realities
The good news from this survey is that the vast majority of employees ranked their HR departments at least average, and employees at large companies often ranked their departments well above average.
What's also clear is that there's always work to do. A quarter of employees surveyed said they were disappointed with their HR department's handling of employee conflict, and survey results show that employees' understanding of HR roles and responsibilities doesn't exactly match up with HR professionals' day-to-day reality.
The first step to improving your HR department may be to simply find the right tools to help your HR team focus on the most important issues. At Paychex, we help HR departments keep more of their valuable time by assisting with processes like online payroll, hiring and applicant tracking, and managing employee benefits. One of our HR consultants can even work directly with you and your office when you need them most. Visit Paychex.com for more information on how our services can help expand and enhance your HR capabilities today.
Methodology
We surveyed 1,000 workers to ascertain their biggest complaints regarding their human resources department. We asked them questions about what they perceived HR duties to be, how happy they were with HR performance, and which offenses were most critical. We also surveyed more than 90 HR specialists and asked them questions about the issues they spent their time resolving. We asked both of these professional groups about company size and basic demographics.
Tags