Strategies for Managing Remote Employees
Human Resources
Article

Last Updated: 03/17/2020
While considering how to best manage employees as they work from home these best practices can help guide you through the process.
While working away from the office may offer various opportunities to employees, it's important that businesses think strategically about how best to develop and manage a remote workforce. It may also be top-of-mind as companies consider ways to implement work from home (WFH) policies to some or all of their staff members in response to the recent coronavirus outbreak.
Remote work setups offer benefits for employees and employers alike. Working from home may offer staff significant work/life balance opportunities, such as improved focus on projects and elimination of commute times. For businesses, they can reduce costs (e.g., expenses related to utilities, janitorial services, office supplies, or even mortgage and lease arrangements) and help maintain a healthy workplace when viral illnesses are at their peak.
No matter the circumstances that have employers considering a remote workforce policy, implementation often doesn't come without challenges. Maximizing these benefits while navigating potential pitfalls requires a clear strategy, the right infrastructure, and a close eye on both culture and human resource management. If you're planning to evaluate your current WFH policy or anticipate having remote employees, best practices can help guide you through the process.
<iframe allow="autoplay *; encrypted-media *; fullscreen *; clipboard-write" frameborder="0" height="175" style="width:100%;max-width:660px;overflow:hidden;background:transparent;" sandbox="allow-forms allow-popups allow-same-origin allow-scripts allow-storage-access-by-user-activation allow-top-navigation-by-user-activation" src="https://embed.podcasts.apple.com/us/podcast/dont-let-your-top-talent-become-someone-elses/id1507824762?i=1000559422630"></iframe>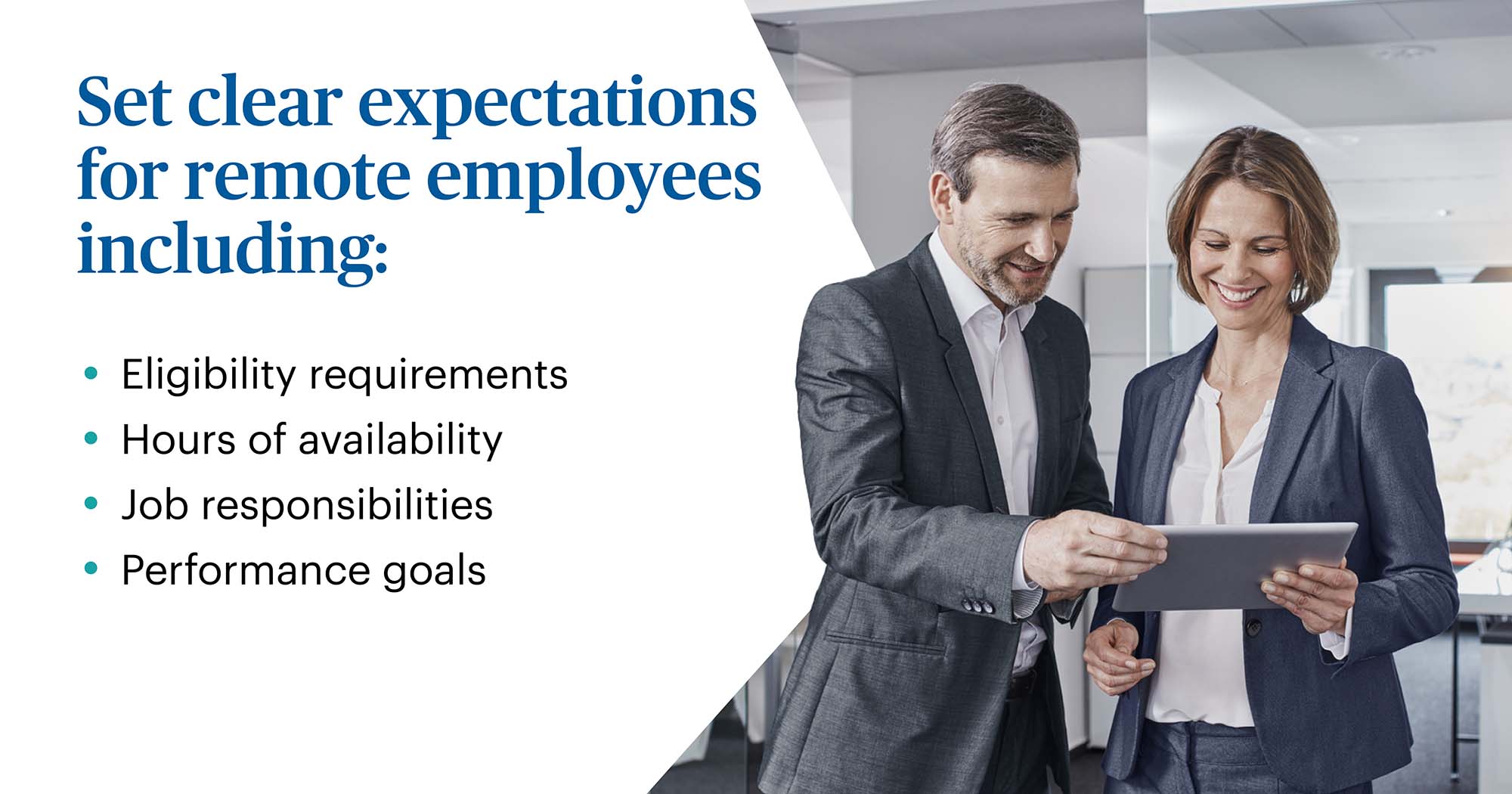 Set clear expectations and document policies
Successfully allowing your employees to work remotely starts with establishing clear parameters. No matter the circumstance for considering a WFH policy, it's important to set and communicate expectations for remote employees from the beginning, including:
Which positions may be eligible to work from home;
Guidelines around hours of availability;
Job responsibilities; and
Performance goals.
A remote arrangement or WFH policy should also address how to properly track overtime, communication frequency, and data security best practices.
When a manager takes time to discuss the expectations about working offsite, it sets a precedent for clear and open communication. This is critical to effectively managing remote employees. This conversation should be ongoing, whether the setup is permanent or only for a period of time.
Evaluate your technology
Technologies that help employees collaborate and connect can be essential for managing remote employees. As such, your IT strategy may need to evolve to accommodate this. Consider hardware investments such as laptops, smartphones, and tablets. A good rule of thumb is for workers to test-run these devices before starting to work from home, so as to make sure they can connect to the internet and any job-specific internal networks while away from the worksite.
It's also just as important to leverage cloud-based software systems and collaboration tools that make it possible to have conference calls, host webinars, work on documents simultaneously, engage in video chat, and participate in a way that can help increase productivity and build relationships.
Virtual communication options such as Microsoft OneNote, SharePoint, Slack, OneDrive, Yammer, and Google Hangouts allow employees to share knowledge, encourage conversation, and enhance meetings while staying connected with their supervisor, team, and company. Providing technical training to instruct remote employees and their managers on virtual tools and resources can encourage use.
Outline how supervisors can stay visible without micromanaging
Managers need to maintain communication with their teams and have visibility into work output. In a remote work setup, managers may need to check in more regularly with employees, but this could be perceived as micromanaging. It may be worthwhile to talk with supervisors before employees start working from home to discuss how to keep teams focused and productive when they're working remotely.
Create human capital management infrastructure
HR software can help facilitate collaboration across the company, allowing managers and staff located in other offices to easily share resources with remote employees.
From an HR perspective, companies can take a variety of steps to improve their ability to manage and serve a remote workforce. Cloud-based HR software can give employees self-service access to a range of different applications such as:
Time and attendance reporting
Benefits enrollment
Information management
A flexible human capital management infrastructure can make it easier to successfully serve a remote workforce, while potentially delivering an outstanding HR experience.
Promote culture and information sharing
When your team is dispersed, it's important to have a clear plan for promoting culture, disseminating knowledge, and communicating values. Tools such as an employee handbook and regular communications from leaders can help convey that information. This may include facilitating regular meetings, companywide discussions, and forums.
Provide meaningful learning and growth opportunities
Knowledge-sharing is also critical when explaining key performance indicators for job evaluation. Feedback and follow-through on the remote employee's performance is critical to productivity and accountability.
Look for opportunities for the employee to evolve and develop in their role. A learning management system (LMS) is an ideal way to administer, document, track, report, and deliver educational resources, training programs, and opportunities to all employees. An LMS not only allows employees to learn when it is most convenient for them, but it allows for anytime, anywhere access on any device — a notable benefit for offsite workers.
Consider remote employee engagement and teambuilding activities
In the absence of face-to-face contact with colleagues and managers, remote employees could feel forgotten, disconnected, or unmotivated. Teambuilding activities can play an important role in engaging and nurturing a sense of camaraderie, and can help workers stay productive and positive.
You may also want to consider activities based around health and wellness to help keep employees engaged and connected. In a recent Paychex survey of in-office and remote employees, only 22% of in-office respondents said their work environment positively impacted their fitness level, and just 42% of remote respondents said the same. Initiatives such as team-based step-counting contests or fitness challenges can be organized and tracked remotely to include all workers, regardless of location. This can be especially impactful if employees struggle to fit in physical activity around their work schedules.
When a business has remote workers, a combination of clear communication, effective technologies, and efficient collaboration tools must be part of the equation. A dedicated HR professional can guide you through each of these steps, and help make sure the company and remote employees are set up for continued success.
Tags