Mental Health at Work During COVID-19
For many reasons, maintaining good mental health is an important component for driving quality of life. Disorders, such as depression, can take a toll on individuals, affecting everything from their immune system to their sleep and interpersonal relationships.
From a strictly economic perspective, the effects of poor mental health can also be fiscally devastating: Employee depression is thought to cost companies around $44 billion in lost productivity per year, and as high as 6.7% of all U.S. adults are thought to have at least one depressive episode annually. Today, prolonged social distancing, massive loss of life, and the economic toll of the COVID-19 pandemic are expected to deeply impact Americans' mental state.
Challenging times are likely ahead for employers that have employees who are returning to the workplace with mental health stressors. For that reason, we surveyed more than 1,000 full-time employees in the United States to learn how the COVID-19 pandemic affected their work ability and state of mind. Read on for key insights into how American workers fared across the country and what employers can do about it.
State of Mental Health
The vast majority of survey respondents told us they've spent some portion of the COVID-19 pandemic working remotely or from home. About 65% of respondents said they are fully remote, and another 12% stated they're working a combination of on-site and remotely. Yet, many may think the social isolation of working remotely would severely impact one's mental health.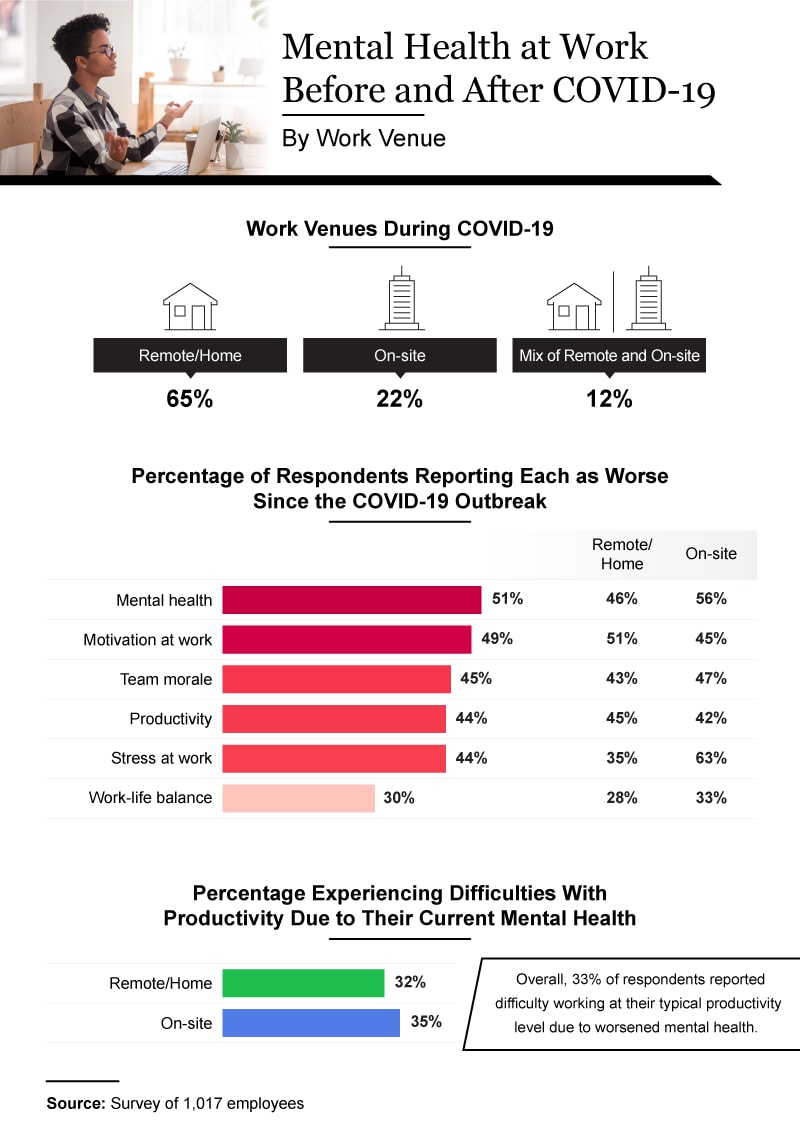 Around 51% of all respondents said their mental health had worsened during the COVID-19 outbreak – but the percentage of people agreeing with that statement was significantly higher in those working on-site (56%), compared to those working remotely (46%). However, work motivation tended to be more negatively impacted by remote workers (51%), compared to on-site employees (45%). On-site workers said they were far more stressed (63%) than remote workers (35%).
In total, about one-third of workers said they were having difficulties working at their typical level of productivity due to their current state of mental health. Around 35% of those working on-site agreed with this statement, compared to 32% of remote workers.
Confiding During COVID-19
Mental health experts and advocacy organizations often advise that those struggling with mental health issues tell a close friend and a licensed health care professional. That has become a little more difficult in the age of social distancing, while aiming to prevent the spread and contraction of COVID-19.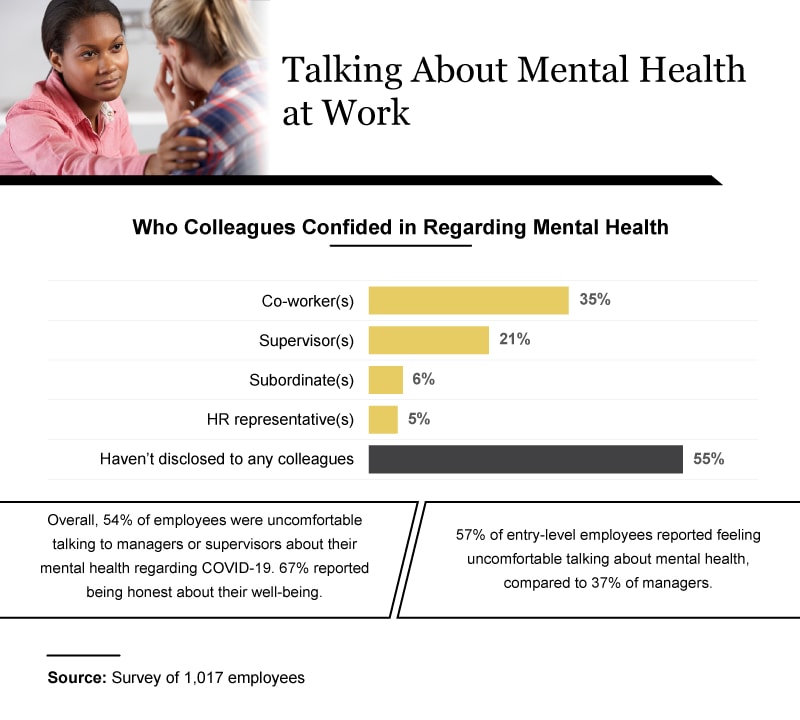 We asked survey respondents who they discussed their mental health with – if anyone at all. More than half of respondents – 54% – said they felt uncomfortable talking to their managers and supervisors about mental health, and roughly the same percentage of respondents said they did not disclose their mental state to anyone at work. Some even feared that discussing it could lead to being fired or furloughed (30%) or may cost them a promotion or new responsibilities in the workplace (29%).
Despite the discomfort surrounding the conversation, some employees did talk to those around them about their mental health. Those most likely to be confided in were co-workers, according to 35% of employees who discussed mental health. Only 21% discussed mental health with a supervisor, and just 5% said they spoke with an HR representative.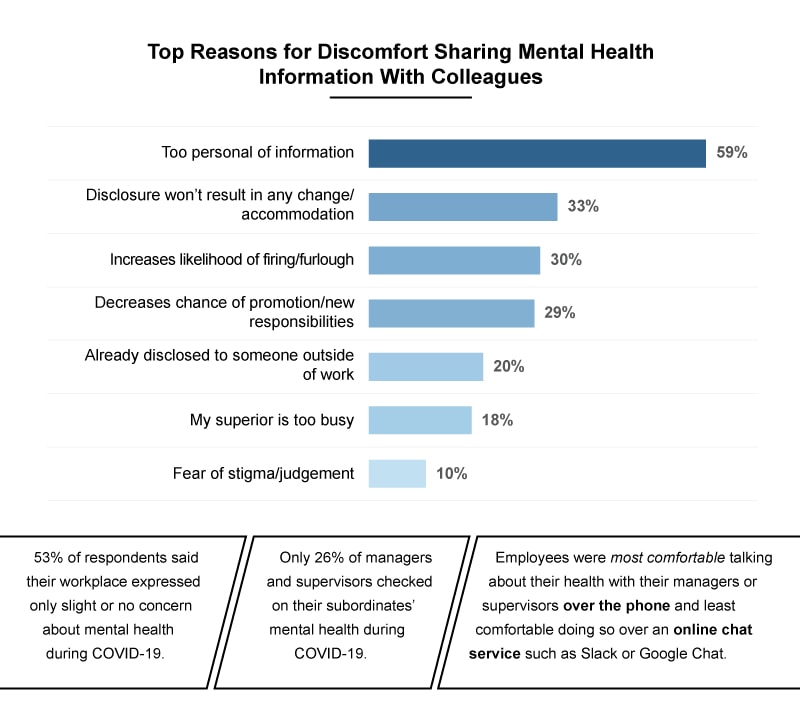 Our survey data showed that even though mental health was a difficult subject to talk about for most, employees were willing to be honest with their employers when asked. And though the disclosure of this information is a personal decision, in many ways it can be a proactive step toward making positive changes or even accommodations.
Early Action
Even before COVID-19, an estimated 1 in 6 people experienced a common mental health issue like anxiety or depression in any given week. With record-breaking job loss and the potential for an economic downturn, many are likely to brace for the worst – especially if a second wave of COVID-19 arrives in the fall or later.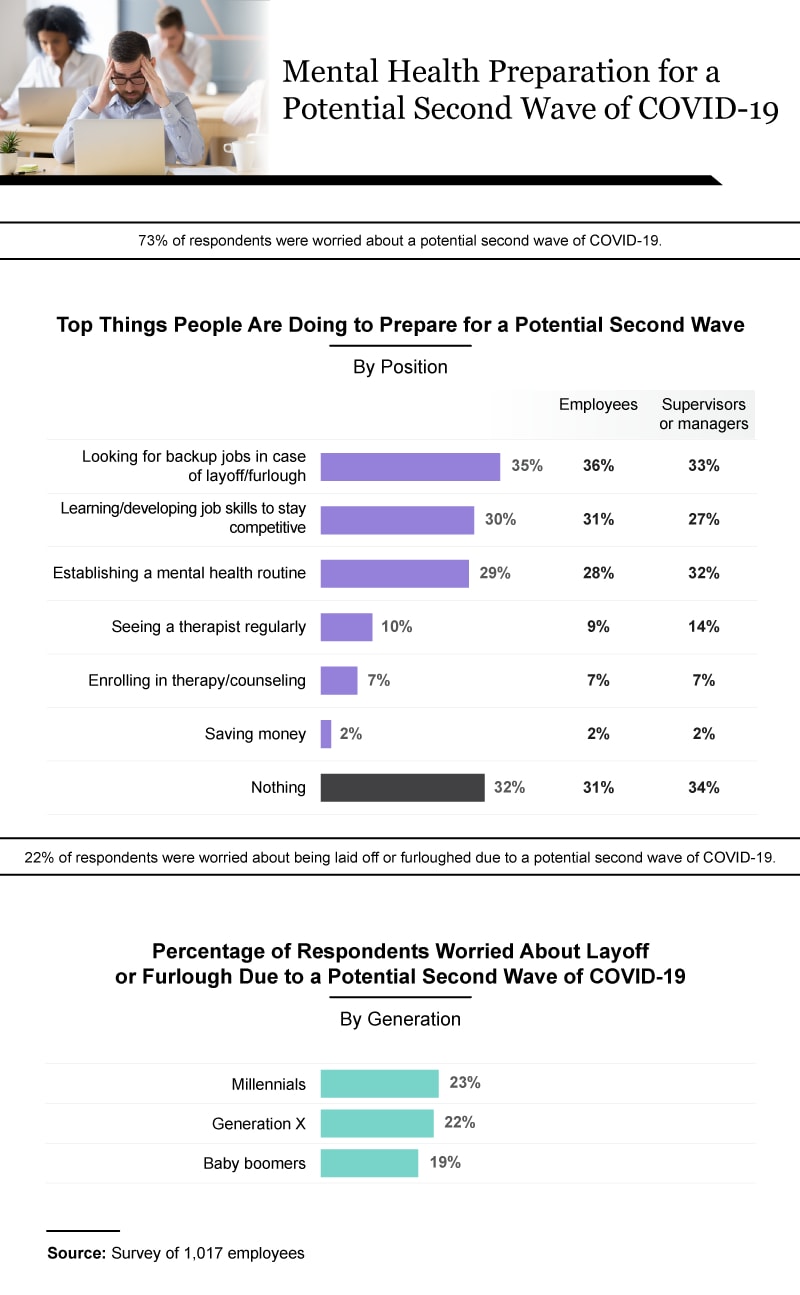 Our survey suggests that most people – around 73% of respondents – were deeply troubled by the prospect of a second wave of the coronavirus. The good news, however, was that they're preparing for it.
More than one-third of those who'd been able to keep their jobs were still looking for backup work in the event of a layoff or furlough. Another 30% of respondents said they're learning new job skills to stay competitive, while another 29% said they're establishing a mental health routine. These numbers did not vary significantly between generations or between employees and supervisors and managers, perhaps suggesting that workers on all rungs of the organizational ladder were worried about potential job loss.
Practical Pitfalls
In recent years, there has been much public debate over how companies can monitor their employees' mental health, especially since depression can be one of America's most costly health conditions to employers. Given the unprecedented times that the COVID-19 pandemic has introduced, we asked survey respondents what their companies were doing to help them stay mentally afloat and whether they're satisfied with those practices.
Here were some key findings when we asked employees to rate mental health policies at work:
Around 40% of employees said their company did not provide adequate policies or procedures to address health and well-being during the COVID-19 pandemic.
On-site employees were more likely to report inadequate mental health policies at work (43%), compared to remote workers (38%).
So, what do employees need in a mental health policy? We had employees select policies implemented by their employers in response to the COVID-19 pandemic and then had them rate each on how helpful it was for their mental health.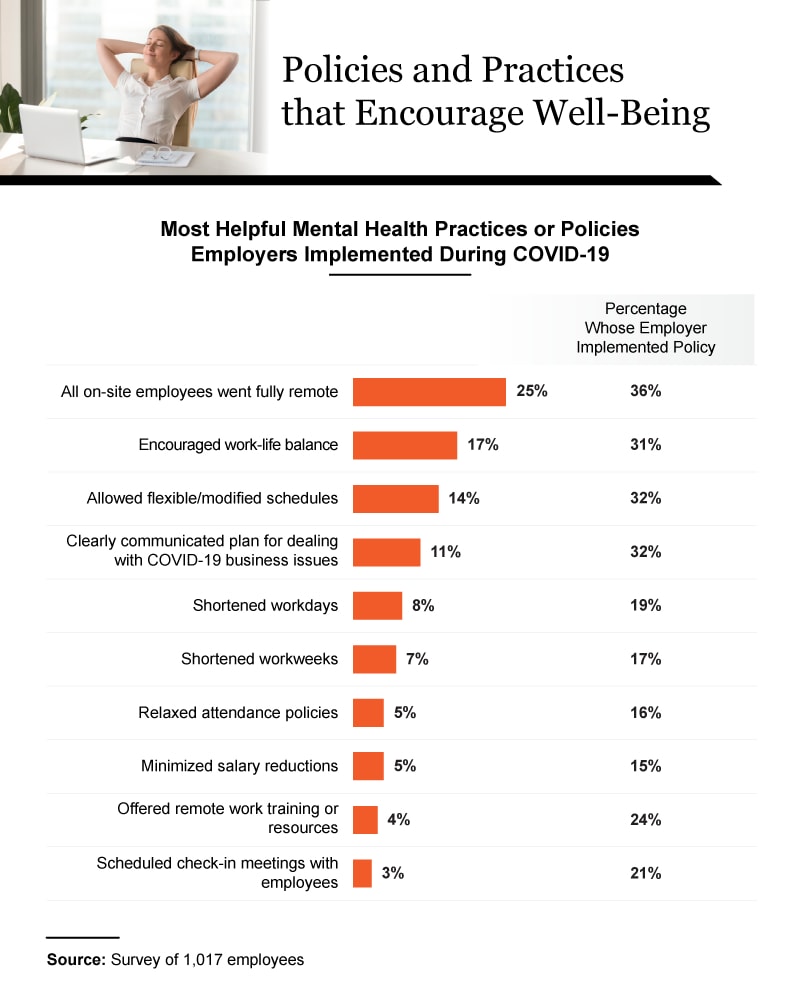 Our survey suggests that the most helpful or favored measure was working fully remote (25% of respondents found this helpful), followed by an encouraged work-life balance and allowing flexible or modified schedules. Scheduled check-in meetings were rated as the least helpful for mental health, though 1 in 5 workplaces had implemented this measure. When we analyzed the experiences of on-site employees, we found they required different policies for their mental health, with shortened workdays being most helpful.
Having a mental health policy that met employee needs directly affected productivity: Our study showed companies that addressed mental health adequately had more productive employees. Around 55% of those who rated their company's mental health policy highly reported feeling productive, compared to just 38% of employees who gave their company mental health policy low marks. What's critical to an adequate mental health policy? Employees most desired mental health counseling, mental health workshops, and an improved work-life balance in their policies.
Workforce Well-Being
Our survey of over 1,000 workers across the United States suggests that mental health is extremely important year-round, but especially in the face of a pandemic.
COVID-19 has already impacted the economy and the size of America's workforce, but it also has the potential to significantly affect workplace productivity and morale. As human resources managers and high-level leadership shoulder much of this burden, it's important to seek solutions that will make employees feel cared for.
Paychex offers a variety of HR solutions to help keep your workforce happy and healthy. From employee assistance programs to benefits that alleviate burnout, Paychex can help you explore and weigh the best options for your business. To learn more about how companies can put in extra effort to keep their employees happy at work, visit Paychex.com and browse our long list of useful tools and resources.
Methodology
We surveyed 1,017 full-time employees in the United States about their mental health at work during the COVID-19 pandemic. The survey started collecting results on May 29, 2020 and completed on June 1, 2020. Ages of employees ranged from 19 to 78 with an average age of 37. Age standard deviation was 11.73. Fifty-one percent of respondents were male, and 49% were female. The employees we surveyed ranged in job level, from entry level to senior or executive management. We had 679 respondents report that they worked remotely during COVID-19, while 233 worked on-site, and 127 worked both on-site and remotely during the pandemic. In order to explore how COVID-19 has affected employee mental health and work habits in various ways, we asked employees to rate factors like mental health, motivation, stress, and work-life balance using a five-point scale ranging from "much worse" to "much better" with a neutral value in the center. To understand the policies that helped employees the most, we asked respondents to first identify policies implemented by their company during COVID-19 and then had them choose the single most positively impactful policy from that list.
Limitations
Survey data has certain limitations due to self-reporting, which include exaggeration, telescoping, and selective memory. Data were not weighted, and we did not statistically test our hypotheses. This was an exploratory study of mental health at work during the pandemic.
Fair Use Statement
There's no doubt that recent events and the current state of the economy are impacting the mental health of American workers everywhere. If someone you know would benefit from the information in this project, please share our findings for any noncommercial reuse. Our only request is that you link back here so people can view the entire project and review the methodology. This also gives credit to our hardworking contributors for their efforts.