How to Help Your Employees Find Work/Life Balance While Working Remotely
The desire for a healthy work/life balance has perhaps never been greater, as stress is impacting the workforce in significant ways. Since the COVID-19 pandemic has taken widespread hold across the world, employees are facing unprecedented challenges in how they manage work life and home life.
More than half of respondents in a recent Paychex study said their mental health had worsened during the COVID-19 outbreak. No matter where they're getting their work done, many employees are struggling to maintain a balance between their work and home lives, particularly as the pandemic continues to take a toll.
Despite these challenges, helping your employees to find work/life balance can have far-reaching positive impacts on your organization.
What is work/life balance?
Work/life balance is the state of feeling adequately fulfilled, both in your personal life and your professional life. In general, this means acknowledging the importance of allocating time to both personal and professional goals.
Note, however, that this definition is about balance, not equality. Striking this balance is a highly personalized process, and different individuals may need to spend different amounts of time on their work life vs home life. This balance can also shift as a result of life events. Changes in your family structure, job duties, or work environment can all temporarily pull you more in one direction or the other.
Ultimately, though, maintaining a healthy work/life balance is about the result - with a balance in place, an employee can spend the time needed at work and at home without feeling that they are missing out on important career or personal milestones.
Why is work/life balance important? This is the template text that will be pasted at your cursor location.
Finding a healthy work/life balance is critical to maintaining good mental health, which allows employees to do their best – both at home and at work. Employees with an adequate work/life balance are more satisfied with their job duties and overall career choices, and research shows they are more productive.
On the other hand, when the balance between time spent at work and time away from work is poor, employees may suffer from stress and burnout, even when they enjoy their jobs. Since many employees are now working from home as a result of the pandemic, the lines between work and personal environments can be blurred, making it difficult to find time away from work. Similarly, with the line between work and personal environments blurred, many individuals can feel frustrated or overwhelmed when personal obligations interfere with the workday.
How to improve work/life balance for employees
With so much at stake, employers should be proactive in helping their employees to find a healthy work/life balance, especially when managing remote teams. Your employees will appreciate your efforts in caring for their health, happiness, and overall well-being.
Your initiatives should focus on your employees' needs, interests, and concerns. Depending on your employees' working conditions, this may involve actively helping them prioritize personal needs over professional ones.
Here are some ideas for helping your employees to find balance.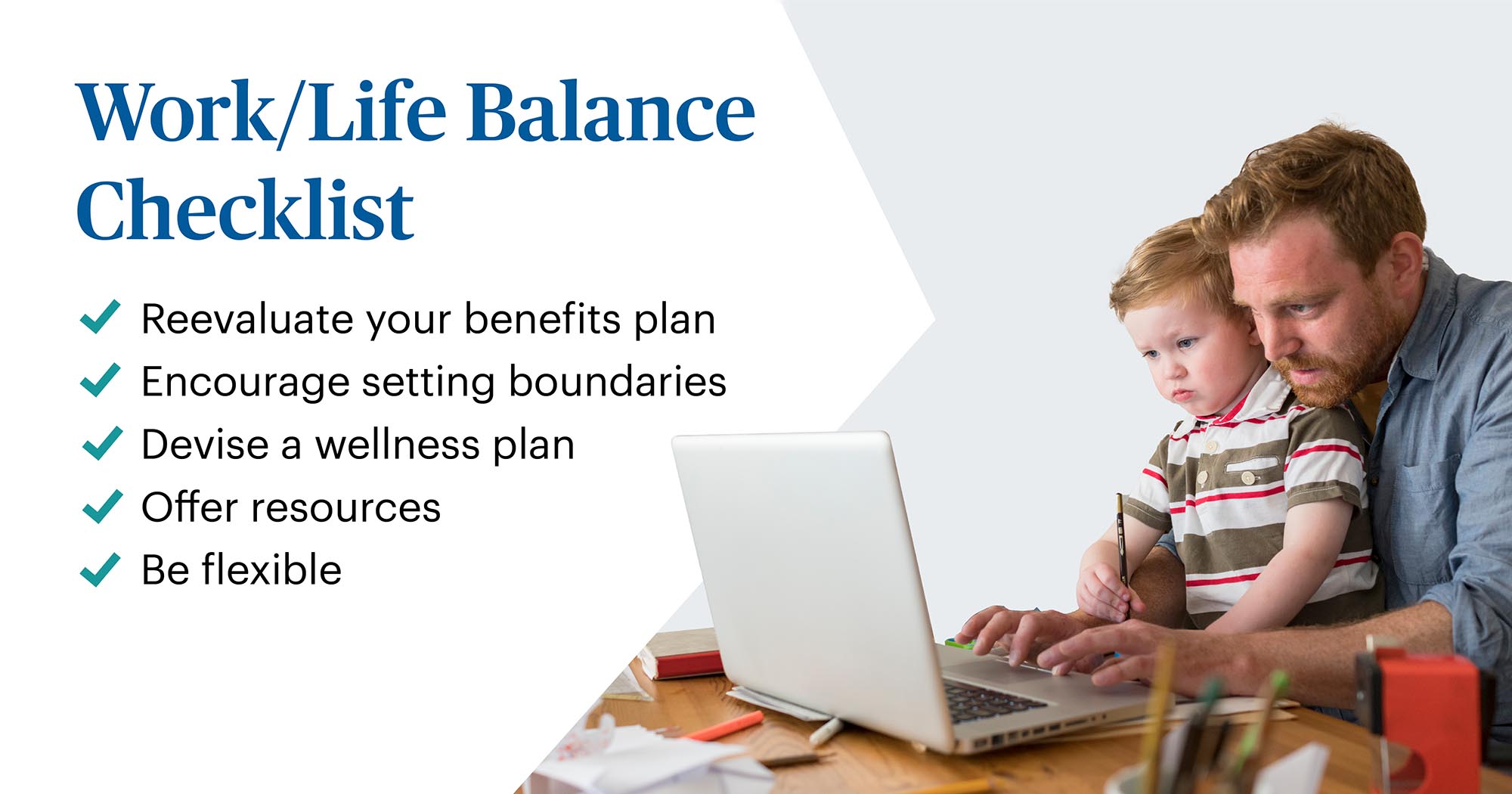 Reevaluate your benefits plan
Some resources, such as mental health counseling or medical insurance, may be limited in scope or limited to only certain employees. Reevaluate your company benefits plan to make sure you are adequately covering as many employees as possible with benefits that will address their concerns.
With the onset of COVID-19, employees may be especially concerned about access to proper healthcare and continued financial stability. By making sure your company-provided benefits help cover temporary leaves of absence, medical issues, and paid time off if needed, your employees are likely to feel more secure and less stressed.
Encourage set boundaries
When home and work are separated by physical distance, maintaining boundaries can be easy. But for employees who are not traditionally in work-from-home environments, remote workplaces can cause added stress and upset an otherwise healthy work/life balance. Your employees may need some help in coming up with creative ideas for maintaining these healthy boundaries, especially while working from home. Use your team meetings as an opportunity to discuss best practices for setting boundaries, such as how to deal with multiple family members sharing space during the workday or how to set up a private home office.
Devise a wellness plan
There are numerous options for classes, materials, or incentives to help kickstart a wellness plan for your employees. If you have a larger team, you may want to start with a challenge between employees or departments, such as walking, keeping a gratitude journal, or other wellness tasks. Spice up your weekly team meetings or emails with helpful tips and reminders. Make it fun by appealing to their competitive side and offering small incentives for participation and a commitment to personal well-being.
Offer resources
Employees may have the best intentions to improve their health, but they may not be able to do so without the right tools. Some employees may not even be aware of the resources at their disposal.
Find statistics or other easy-to-read, encouraging resources to share with employees. Even though it may sound simple, some workers may not be aware of how certain behaviors such as too much sitting, eating nutrient-poor foods, or not getting outside can negatively affect their health.
Offer support services, both internal and external to your organization. Encourage employees to chat with members of your HR team for help on finding the resources they need and assessing eligibility for work-based employee assistance programs. This will let them know that you support them and want to provide the tools they need to maintain a healthy work/life balance.
Be flexible
Many business owners and employees alike want at least some control over when, where, and how their work tasks are completed. The fallout from the pandemic has added increased concerns for health and safety, but it has also added countless scheduling issues due to school and business closures or reduced hours.
Companies large and small recognize the importance of flex time, which is one way to achieve work/life balance. In fact, this continues to be a top non-traditional benefit, offered almost twice as much as other perks like free meals, according to the third annual Paychex Pulse of HR Survey.
Benefits of work/life balance for employees
Investing this time and effort in helping your employees find a healthy work/life balance can pay big dividends. Here are just some of the advantages for employers in making employee wellness a priority:
Encourages teamwork: Allowing employees to set their own hours by offering flexible schedules not only helps improve work/life balance but it also stresses the importance of teamwork. Businesses that plan schedules in advance may limit work interruptions and foster employees to work together to complete tasks and hit deadlines.
Reduces absenteeism: Employees facing mental health issues generally take more days off and are less productive than their healthier colleagues, whereas employees with access to on-the-job wellness offerings are more motivated to show up daily to work and stay engaged. Finding balance can also keep employees physically healthier, which means they will take fewer sick days. Even if an employee gets sick, initiatives like flex scheduling can help maintain social distancing and keep the majority of your team healthy.
Attracts talent: Promoting wellness at work is a powerful recruiting and retention tool. Employees are less likely to leave a job that offers flexible schedules and additional wellness benefits. Current employees can become "brand advocates," helping to create a positive perception among potential job candidates.
Increases productivity: Healthier employees tend to be happier employees. This leads to a sharper focus on job responsibilities and stronger motivation to achieve work-related objectives. Healthy employees are more likely to recover quickly in the event of an illness or injury and to be less troubled, in general, by both mental and physical chronic conditions.
Work/life balance examples
As businesses adapt to maintain an engaged and happy workforce, now may be the time to use technology to your advantage. Here are just a few examples of how incorporating technology can help guide your team toward work and life balance.
Convert to mobile payroll management. Your business likely already uses some form of digital payroll management, but truly mobile systems are a relatively new and untapped resource. Converting to a mobile payroll system can help your team share data while working remotely and increases the accuracy and ease of use for time tracking when away from the office.
Offer non-traditional benefits. One of the unexpected advantages of the work-from-home lifestyle is that businesses can offer remote events that wouldn't be possible in person. Big-name personalities and high-profile artists are able to participate in many online events since no travel is required. Online concerts, workshops with impressive keynote speakers, and educational webinars are being offered at a fraction of the cost for comparable in-person events. Tap into these online opportunities and offer them as fun benefits for your employees.
Finding balance in the new norm
Helping your employees find a balance between work and their personal life can positively influence your overall corporate culture, and even lead to innovation. Fortunately, technology can mitigate some of the stress of work-from-home lifestyles by helping HR teams facilitate more flexible work schedules and offer additional remote employee benefits.
Learn how a mentally healthy workplace is good for business and take steps today to improve the mental health of your employees. For additional information check out our mental health resource page.
If you or your team are having a difficult time adjusting to new work environments amidst the pandemic, consult with a Paychex HR professional. An independent opinion can help determine where you may need to shift resources or reallocate job responsibilities to help your team maintain an optimum work/life balance.