Exploring the American Worker's Retirement Readiness
Human Resources
Article

Last Updated: 05/23/2022
8 in 10 workers believe their employer should do more to support their retirement. 
It's not always easy to put money away for retirement (no matter how near or far away that time may be), but there's no doubt that most people want to be able to retire at some point.
Retirement is still very much at the forefront when it comes to people's priorities these days, but are employees able to hit their retirement goals given the current financial landscape? And what are employers doing to support their employees' retirement aspirations?
We wanted to find out, so we conducted a survey of 803 employees and 203 employers. Read on to find out how much employees were able to save, what they felt their employers should be doing to support their retirement goals, and much more.
Key Findings
79% of workers can't afford to increase their retirement contributions.
73% of workers believe they should be saving more for retirement.
48% of workers have low or no satisfaction with their retirement benefits, while only 19% report high satisfaction.
33% of workers expect to retire late.
A Timeline for the Endgame
Shifting economic landscapes and priorities may alter timelines for retirement, but many people would likely prefer to retire sooner rather than later, as there has been a lot written about the benefits of retiring on time (or early).
We asked our respondents about their expected retirement timelines, whether they felt they should be saving more for retirement, and why they might not be.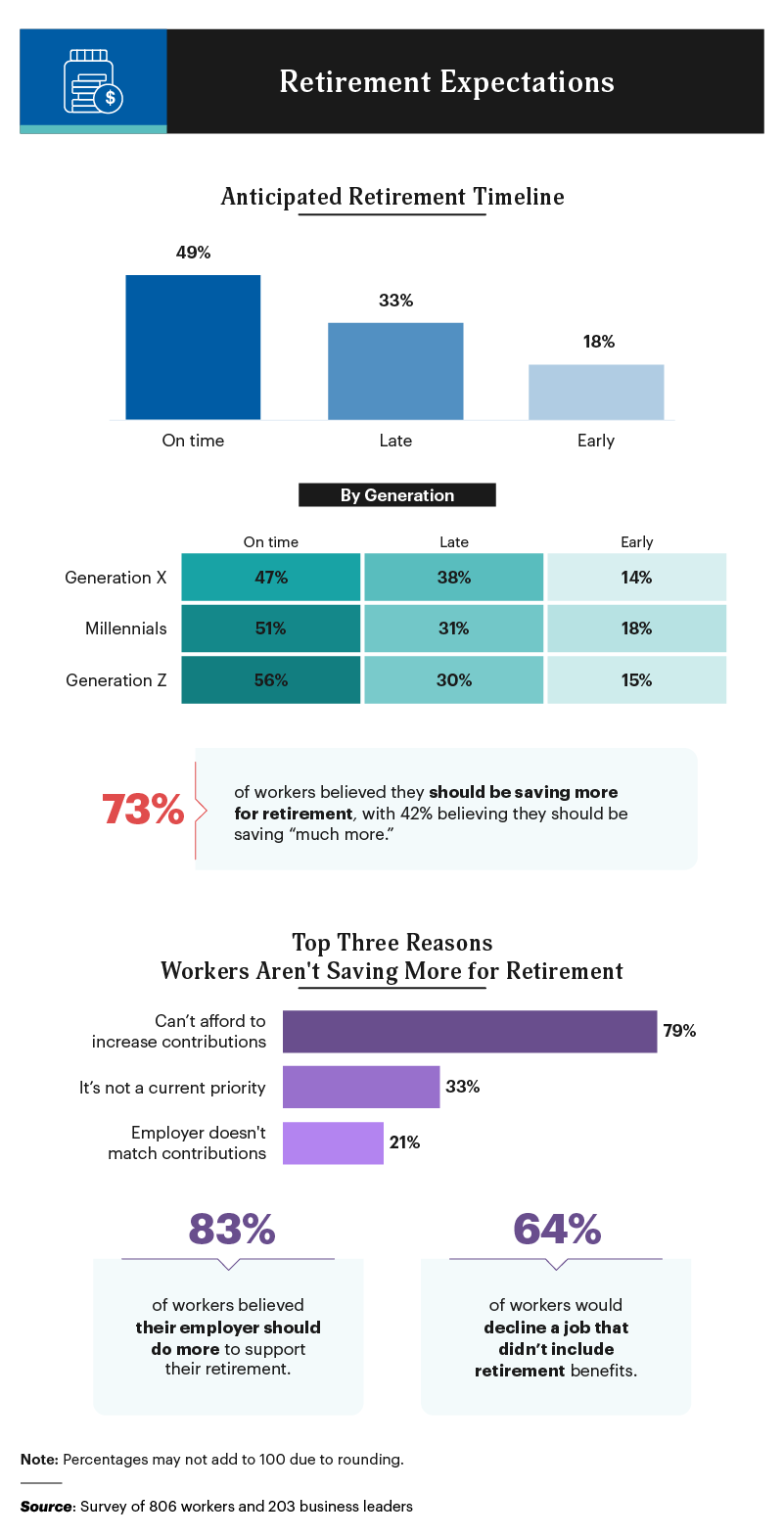 Overall, 49% of respondents said they expected to retire on time, while 33% said they would likely retire late. Retiring late isn't exactly uncommon, with more people doing it now than ever before. While a majority of respondents expected to retire on time or late, a notable percentage expected to retire early. Nearly 1 in 5 millennials expected to retire young —perhaps inspired by the FIRE (Financial Independence, Retire Early) movement, and its focus on an independent lifestyle enabled by frugality, long-term financial thinking, and passive income.
The overwhelming majority (79%) of those who felt they weren't saving enough said they couldn't afford to increase their retirement contribution. And while only 21% said their employer didn't offer matching as a benefit, 83% of employees felt their employer should do more to support their retirement. Though there are things you can do to save for retirement even if your employer doesn't offer a 401(k), 64% of our respondents said they'd avoid applying for a job that doesn't include these benefits.
What People Are Contributing
While every worker is responsible for meeting their individual retirement goals, employer contributions are often crucial when it comes to achieving them. So, what did the average employee's contribution look like, and how did employers' contributions compare?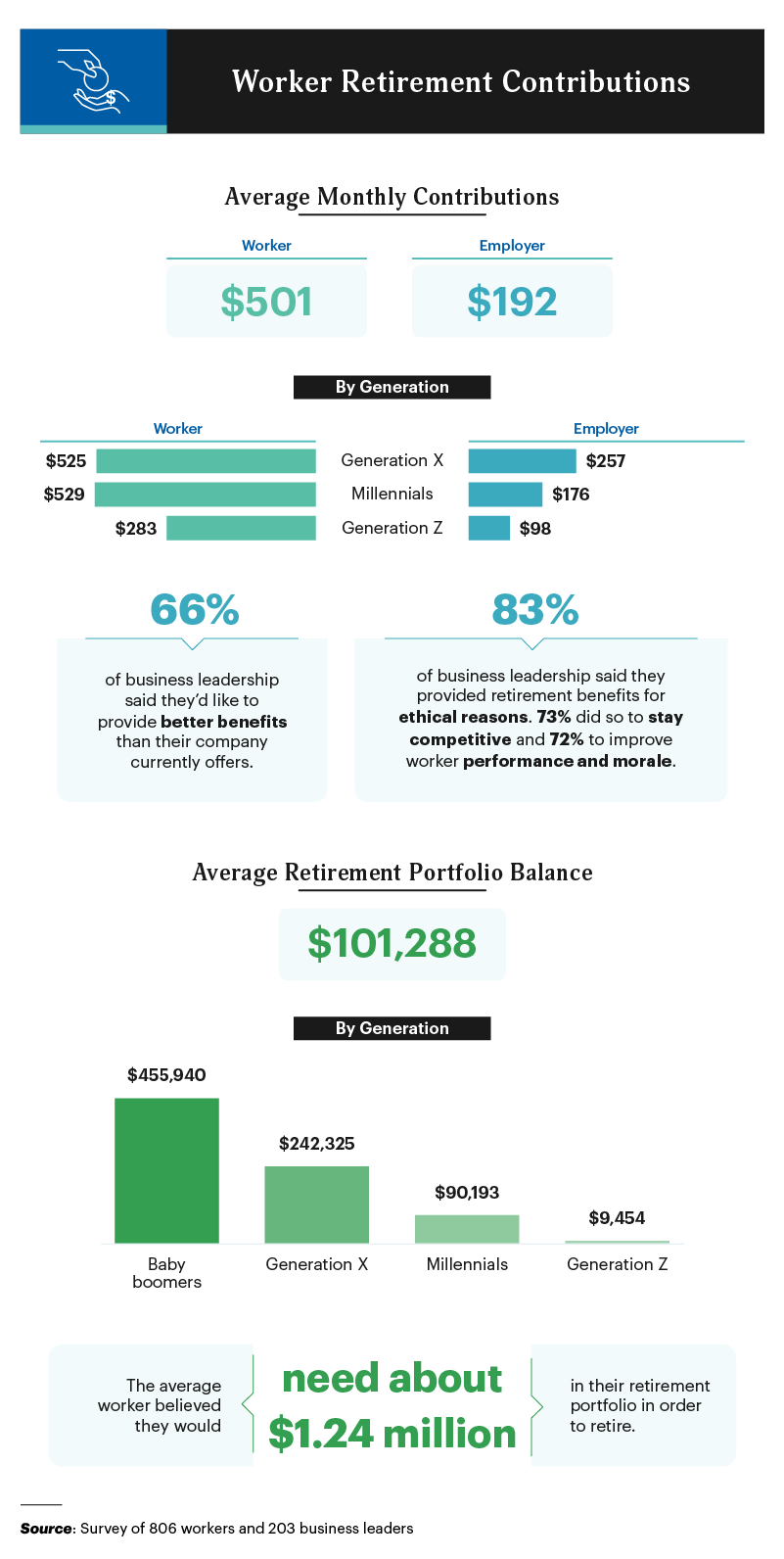 Our study found that, on average, employees contributed $501 to their retirement monthly, while the average employer contribution was significantly lower: $192/month. Even though a retirement contribution match is one of the most common benefits that employers offer, they're often capped at a certain percentage.
Ethics were the most common reason (83%) business leaders cited for offering retirement benefits, and 63% wished they could provide better benefits. In the face of economic realities, it seems that many business leaders may be providing what they can, and not what they wish they could.
All things being equal, benefits like retirement savings and health insurance can be the deciding factor for a job seeker weighing their options. Understandably, staying competitive is one of the main reasons employers (73%) gave us for providing retirement benefits to their workers.
Getting What Employees Deserve
Good retirement perks attract and retain good employees. That's simple enough on the surface, but employee expectations for their retirement benefits compared to what their employers provide often differ. So, how well were employers living up to employees' expectations?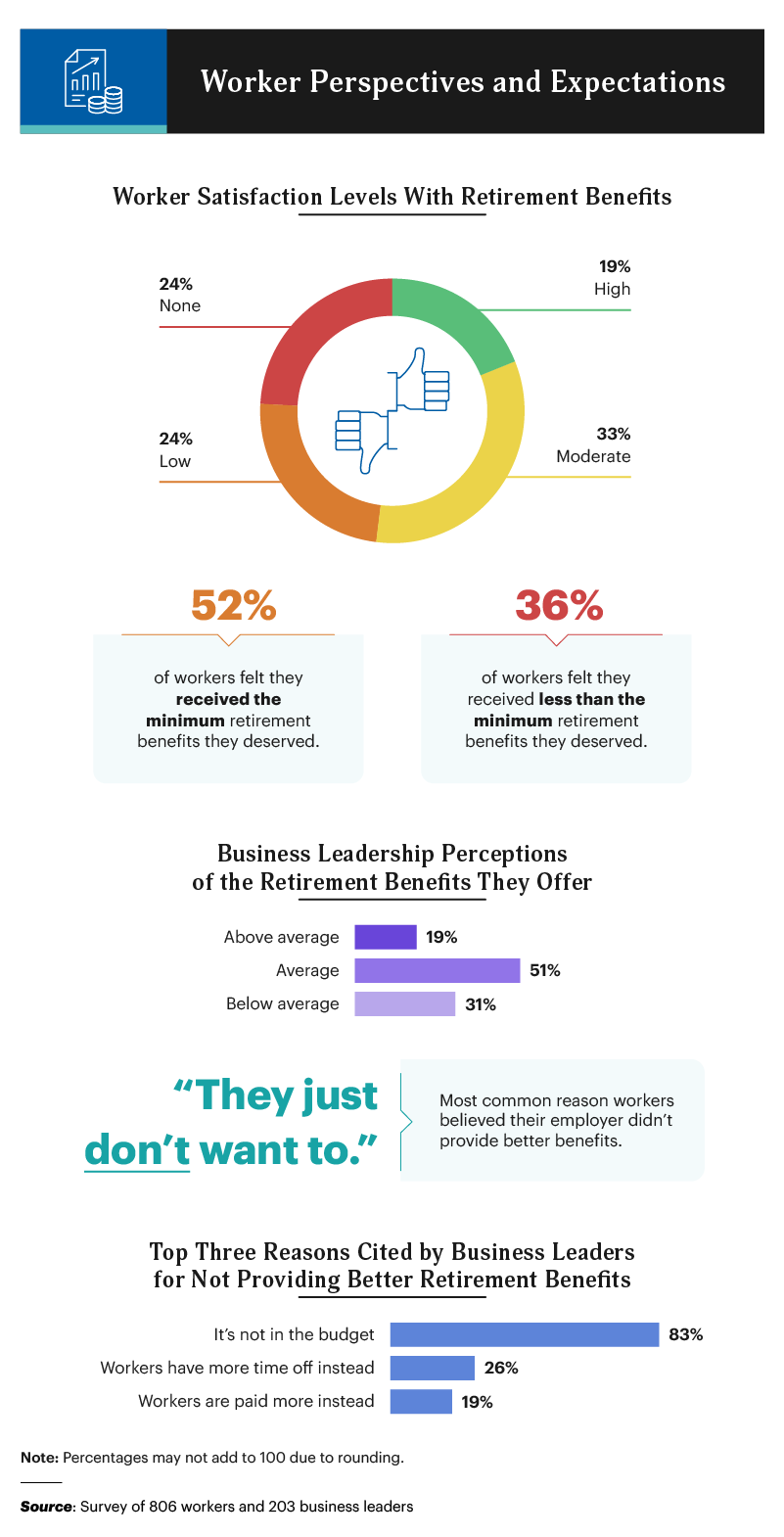 According to most employees, their retirement package left much to be desired. Nearly half (48%) reported low satisfaction or not being satisfied at all, and 33% were only moderately satisfied.
Less than 1 in 5 employees felt highly satisfied with their retirement benefits.
This makes sense, given the stark difference between employees' expectations and the retirement benefits they actually receive. 52% of workers felt that they received the bare minimum they deserved, and 36% felt they got even less than they deserved.
Approaching that question from an employer's perspective, 70% of business leaders believed they offered average or above average retirement benefits. Within the context of findings from the Bureau of Labor Statistics that 67% of workers are offered retirement plans, perhaps these respondents felt that any plan offered, regardless of its quality, was the average standard.
So, why weren't employers meeting their employees' expectations? According to a majority of employees who believed their retirement benefits were inadequate, their company just simply didn't want to provide better retirement benefits.
However, according to business leaders, an overwhelming majority (more than 4 in 5) said their organization just can't afford to provide better retirement benefits than they currently offer. Though times are tough for employers and employees alike, businesses would likely benefit from adapting to address their employees' needs by offering retirement benefits or improving their current retirement benefits.
Looking to the Future
Retirement is an important part of both our professional and personal lives. Though respondents in our study felt they weren't getting the retirement benefits they deserved and weren't always able to save as easily, there's hope that employees and employers, alike, can put more emphasis on the importance of retirement benefits.
Creating a better financial situation for employees is crucial to running a business effectively, and that's where Paychex comes in. As the nation's number one 401(k) recordkeeper, Paychex offers a variety of retirement services and plans for businesses and their employees. From initial enrollment to recurring plan maintenance, Paychex takes care of the details and can find the right plan for businesses of all sizes.
Methodology
For this study, we surveyed 806 workers and 203 business leaders in the U.S. Our respondents ranged in age from 18 to 74 years old, with an average age of 37. Survey quotas were used to ensure sufficient sample sizes for each generation. To help guarantee accurate responses, all survey respondents were required to identify and answer an attention-check question. In some cases, questions and answers have been paraphrased.
Fair Use Statement
If you're an employer or employee interested in retirement and you enjoyed our study, you're welcome to share it. We just ask that you link back to these findings and that your purposes are noncommercial.
Tags