Analyzing Which Industries, Occupations, and Groups Are Most Affected by Workplace Injuries and Illnesses
Human Resources
Article

Last Updated: 06/17/2016
Far from being a rarity, workplace injuries cause American workers to miss millions of hours of hours in order to recuperate. But which industries and employees are most likely to be injured. Read more and get a better understanding of on-the-job injury trends in the U.S.
An employee slips on a wet floor, becomes injured lifting a heavy object, or gets in an accident in a company vehicle. The situation may sound like a rarity, but the reality is that in 2014, American workers collectively spent 1,157,410 days off work recuperating from workplace injuries and illnesses. Clearly, the issue is an important one that affects both employees and employers in the U.S. today.
But which industries are most affected? Which employees are most likely to be injured? What types of injuries do they sustain, and exactly what is causing them? And how much time off do workers need to recover? Using the latest data from the Bureau of Labor Statistics (BLS), we tackled these questions. Keep reading to gain a better understanding of on-the-job injury trends in the U.S.
Injuries and Illnesses, by Industry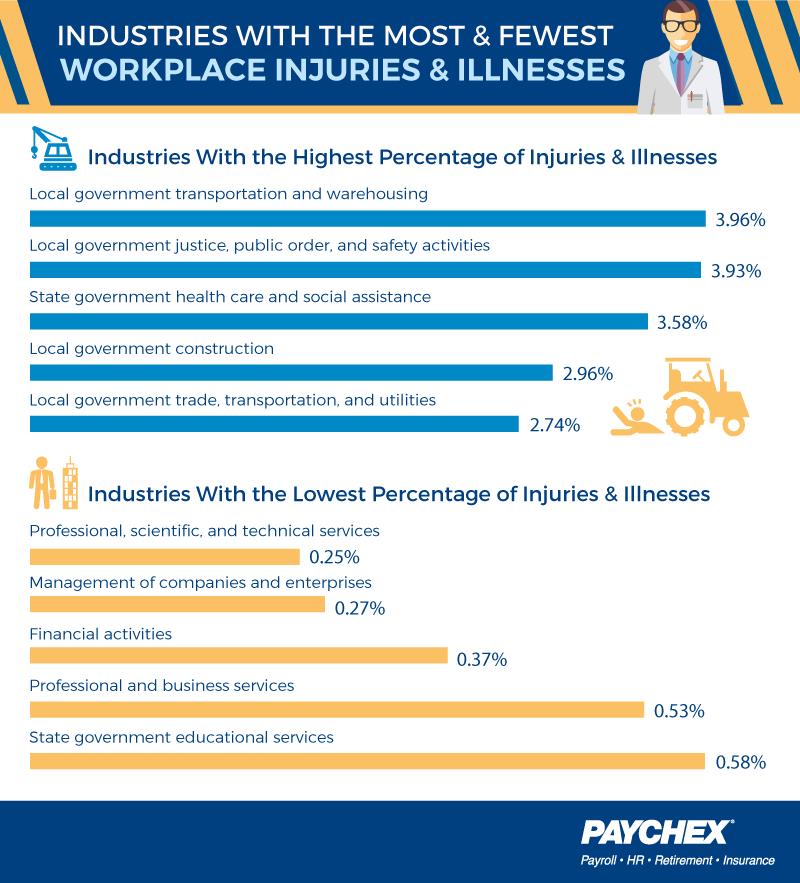 Five government industries top the chart for the highest rate of workplace injuries and illnesses. The sector that saw the highest rate of incidents is local government transportation and warehousing, in which nearly 4% of workers became ill or injured in a year. Among the occupational risks for employees are transportation incidents, overexertion, vehicle emissions, electrocution, and falls. Local government justice, public order, and safety experienced the second-highest injury rate: 3.9%. State government health care and social assistance came third, with a 3.6% injury rate.
The industry with the lowest rate of work-related injuries and illnesses is professional, scientific, and technical services, with an injury rate of 0.25% (or 1 in every 400 workers). Workers in the management of companies and enterprises sector experienced a similarly low rate (0.27%) and employees in the financial activities sector had an injury rate of 0.37%.
Injury-Related Days Off, by Industry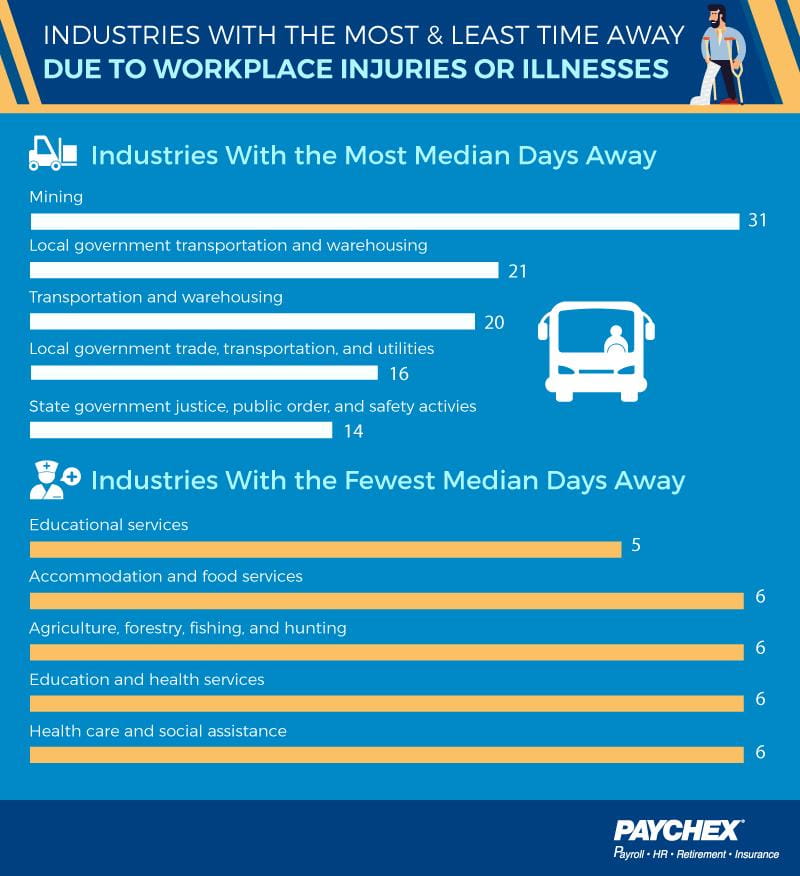 How does time off to recuperate from injuries and illnesses factor into the equation? Injured workers in the mining industry experienced a median 31 days off work – over 38% more than the next-highest industry. This indicates that mining injuries are likely to be more severe than those sustained in other fields. In second place for most injury-related time off is the local government transportation and warehousing industry with a median of 21 days off, followed closely by the private-sector transportation and warehousing industry with a median of 20 days off.
On the low end, ill or injured workers in the educational services sector required a median of five days off to recuperate. These people are employed at schools, colleges, universities, training centers, and other educational facilities. A four-way tie for second place, with a median of six days off to recuperate, occurred among the accommodation and food services industry (hotels and restaurants); the agriculture, forestry, fishing, and hunting industry; the education and health services sector; and the health care and social assistance sector.
Injury-Related Days Off, by Age and Gender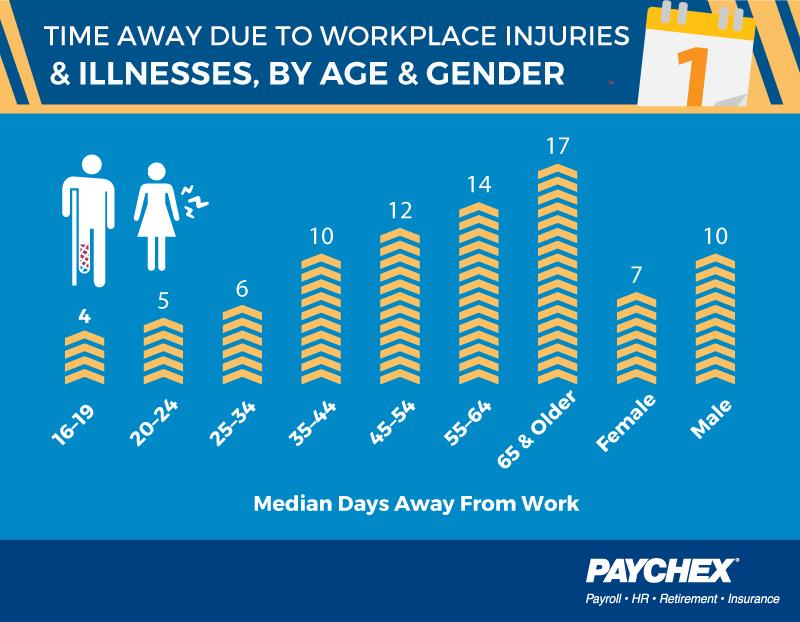 When it comes to days off required for occupational illnesses and injuries, a clear trend emerges: The amount of time off needed to recuperate steadily increases as employees age. Workers age 16 to 19 took a median of four days, while employees 65 and older had a median of 17 days.
Research indicates that although seniors' bodies may heal as well as those of younger people, it simply takes longer. Additionally, older people are more prone to chronic conditions: Nearly half of workers 55 and older deal with arthritis and hypertension, according to the CDC.
Separating the statistics by gender also yields an interesting picture: Men require a median 10 days off to recuperate from workplace injuries, while women need only seven. This is likely due to the most common types of injuries sustained by each gender, which we will explore in greater depth below.
Common Workplace Injuries and Illnesses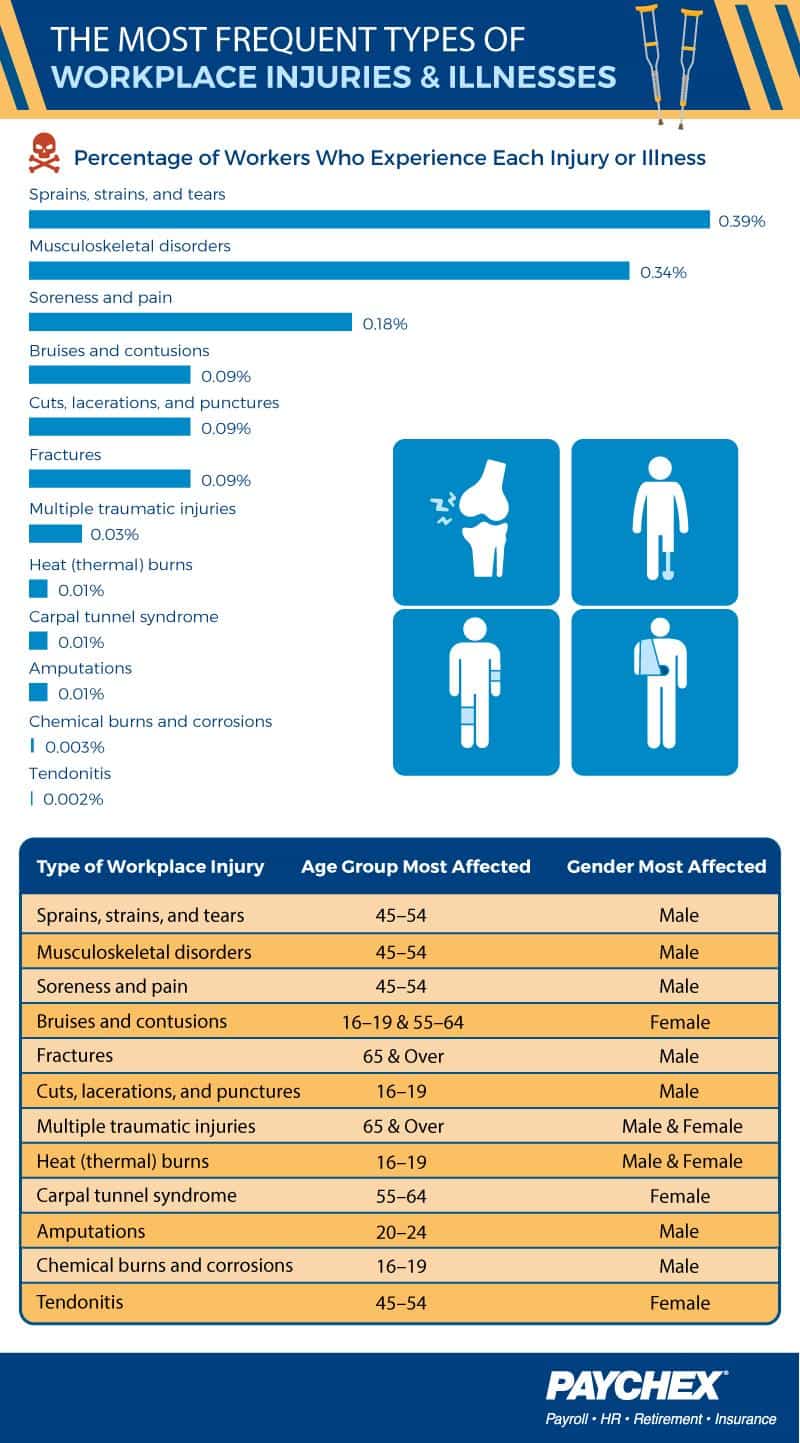 The leading occupational injury is sprains, strains, and tears. They affect 0.39% of full-time employees (in other words, at a rate of 38.9 cases per 10,000 workers). Musculoskeletal disorders affect 0.34% as well as general soreness and pain affect 0.18%. Among these three injuries, men were more affected than women, and people aged 45 to 54 experienced them at the greatest rate.
Tied for fourth-leading injury were bruises, contusions, and cuts; lacerations and punctures; and fractures. Women had a greater rate of bruises and contusions than men, and workers aged 16 to 19 and 55 to 64 were most affected. Men and people aged 65 and older had the highest rate of fractures, while men and people aged 16 to 19 saw the most cuts, lacerations, and punctures.
Of the 12 most common injuries, only three were most likely to affect women over men: bruises and contusions, carpal tunnel syndrome, and tendinitis. Both genders are equally likely to experience burns and traumatic injuries.
What Causes Occupational Injuries?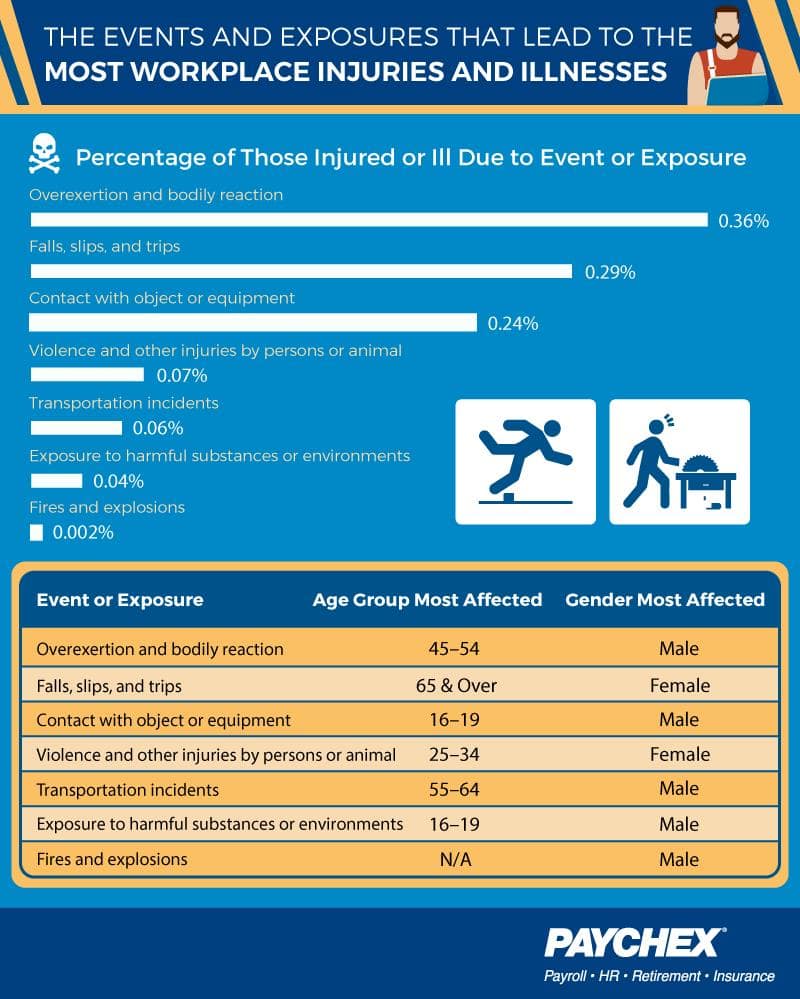 Next, we looked at the most common causes of all these workplace injuries. The leading factor was overexertion and bodily reaction, which occurred at a rate of 36 per 10,000 workers (or 0.36%). These injuries accounted for 33% of total cases. Men and people aged 45 to 54 were most likely to be affected. Falls, slips, and trips were the second-most common type of injury, occurring at a rate of 0.29%. These accounted for 27% of the total, most commonly affecting women and people aged 65 and older.
Of the seven injuries, men were most affected by five of them. The only categories that affected women most were falls, trips, and slips as well as violence and other injuries by a person or animal. Murder is actually the leading cause of death due to a workplace injury for women. The age groups were fairly equally represented when in terms of injury rates. People aged 16 to 19 had the leading rate in two of the seven categories – the most of any age group.
Body Parts Injured, by Age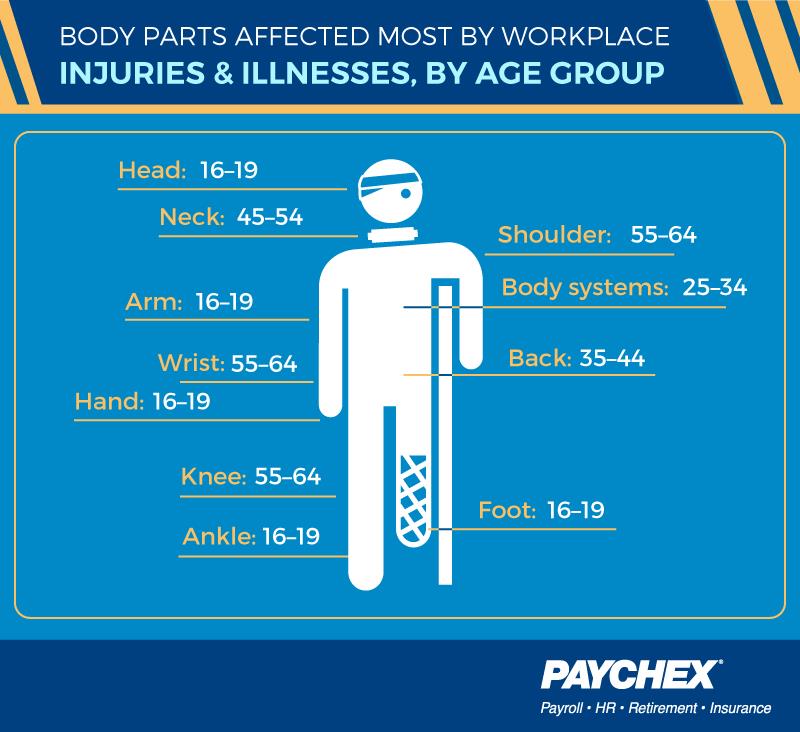 Next, we analyzed the parts of the body where people were most likely to sustain injuries. For workers aged 16 to 19, injuries to the head, arm, hand, ankle, and foot are the most common. Body systems injuries (e.g., hypothermia) are most common among those aged 25 to 34, and back injuries are most common for those aged 35 to 44.
Older employees are most prone to injuring different body parts. Injuries to the neck are most common among workers aged 45 to 54. People aged 55 to 64 see the highest rate of knee, shoulder, and wrist injuries.
Top Sources of Workplace Injuries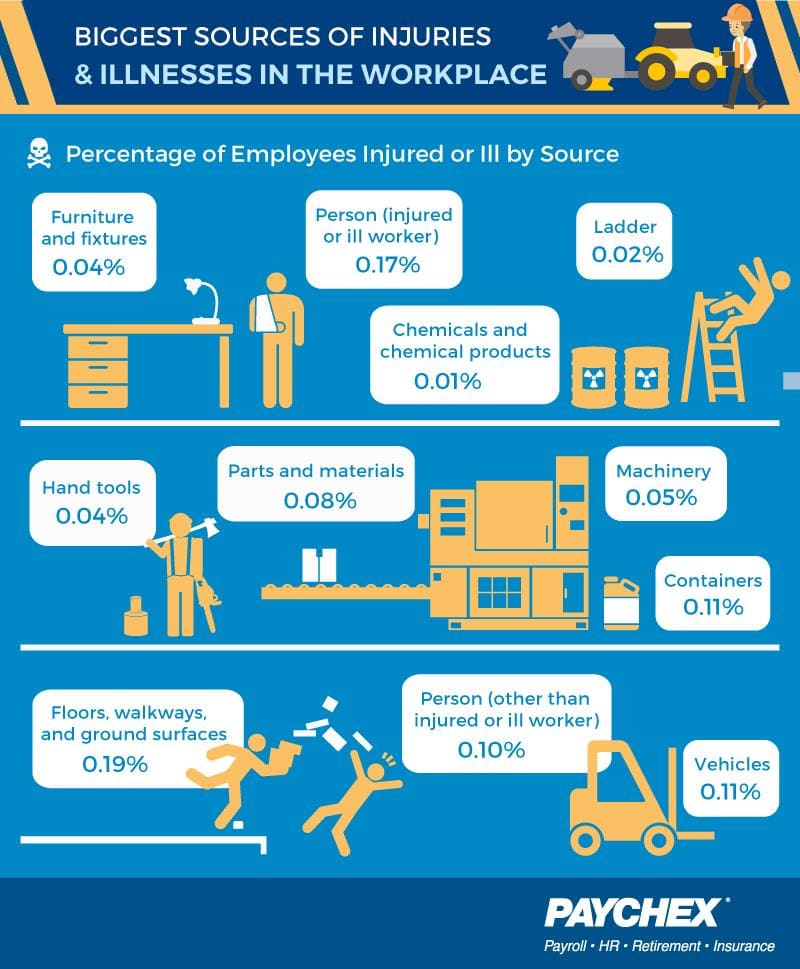 How are these employees getting injured at work? The leading source of injuries is floors, walkways, or ground surfaces, with an injury rate of 19 per 10,000 workers (or 0.19%). The second-leading source is a person's own actions at a rate of 0.17%.
Containers and vehicles are the source of injuries at a rate of 0.11% apiece, followed by a person (other than the worker) as the source of the injury. Machinery, tools, and chemicals also account for various types of injuries and illnesses.
Leading Injuries, by Occupation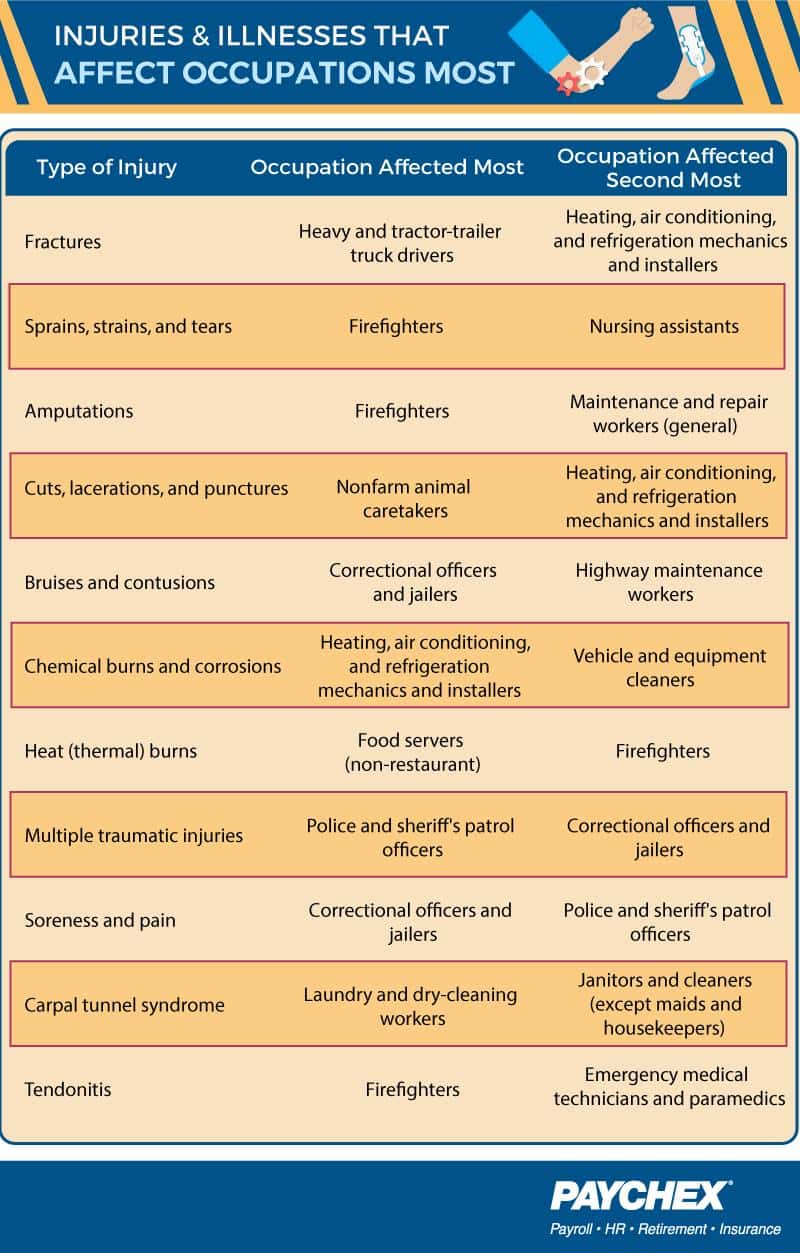 By their nature, some occupations inherently carry a higher risk of injuries – including specific types of injuries. Firefighters top the list for sustaining three types of injuries: sprains, strains, and tears; amputations; and tendonitis. Correctional officers and jailers have the highest rate of bruises and contusions as well as soreness and pain.   
Mechanics and installers in the heating, air conditioning, and refrigeration industry sustain the most cuts and lacerations as well as chemical burns. Truck drivers sustain the most fractures, animal caretakers endure the most puncture wounds, and laundry and dry-cleaning workers are most affected by carpal tunnel syndrome.
Increasing Safety on the Job
Our analysis offers some startling insights into the pressing issue of workplace injuries and illnesses. Transportation and warehouse workers in the local government sector industries experience occupational injuries at the highest rate, workers in the mining industry require the most days off to recuperate, and the amount of time off workers require to heal increases with age.
For employers across the country, improving worker safety is a vital issue – whether in an office, in a warehouse, or on the road. Steps such as forming safety committees, performing safety audits, and educating employees about potential hazards can all potentially cut down on injuries.
Employees can take steps to improve safety too. For starters, they can ensure they get enough sleep – or get tested for sleep apnea if they display any symptoms, as research indicates the condition can double the risk of workplace injuries.
Paychex cares about your company and your employees, offering payroll services, HR solutions, safety programs, retirement  and insurance services for businesses of all sizes. To learn more about how Paychex can benefit your business, visit  Paychex.com.

Methodology
The information presented above was taken from the BLS.gov 2014 report on "Nonfatal occupational injuries and illnesses requiring days away from work." Rates per 10,000 people were provided and then calculated as a percentage.
Source
https://www.bls.gov/news.release/osh2.toc.htm
Tags