Paychex HR and Payroll Services in Massachusetts
Businesses in the Bay State can take advantage of Paychex payroll services in Massachusetts to help them meet their goals. Whether you're located near Fenway Park in Boston, Worcester Art Museum, or the Naismith Memorial Basketball Hall of Fame in Springfield, payroll in Massachusetts can be simple with the help of Paychex and our expert staff.
Paychex Massachusetts Locations
No matter where you operate in Massachusetts, rely on Paychex to help you complete critical payroll processing, HR solutions, and employee benefits services.
27B Midstate Drive, Suite 104
Customer Support in Massachusetts
Our customers in Massachusetts are our top priority, which is why we offer multiple support options — 24/7, U.S.-based service with experienced professionals, live chat features, and in-app help options.
Paychex Services for Massachusetts Businesses
The Single Platform for Your HR, Payroll, and Benefits
Paychex Flex® provides a single, integrated system to help Massachusetts-based businesses manage human resources, benefits, and payroll more simply.
Find the Right Solution for Your Business in Massachusetts
Answer a few questions and we can recommend solutions that work for your business and employees.
Find Your Solution
How many employees do you have?
Paychex Is the Smart Choice for Payroll and HR in Massachusetts
Pays 1 in 12 U.S. Private Sector Employees
We help ensure a smooth and accurate payday, every pay period.
Industry Expertise Since 1971
We have decades of experience supporting businesses with critical payroll and HR services.
Top 401(k) Recordkeeper
Serving more than 90,000 401(k) plans, we're the largest 401(k) recordkeeper by number of plans in the U.S., according to PLANSPONSOR magazine.
Additional Resources for Businesses in Massachusetts
It's been a tough few years economically in the U.S. The pandemic and inflation have upended peoples' lives physically, mentally, and financially, making retirement seem even more like an improbable dream than before for many young people. As a result, some are adjusting their retirement goals.
But how is all of that affecting people who have already retired? To find out how many retirees are rejoining the workforce and what the experience is like for them and their employers, we surveyed 930 American employees, current and former retirees, and 206 hiring managers about their feelings on the matter.
Key Takeaways
1 in 6 retirees are considering returning to work, and 53% want remote positions.
55% of retirees went back to work because they needed more money.
74% of returned retirees feel judged by co-workers because of their age.
62% of hiring managers are skeptical about hiring retirees.
The Need To Go Back
There has been a lot of speculation about what inflation and the current economic climate mean for retirement, with some wondering if younger generations will be able to retire when all is said and done. But are these same issues leading retirees back to work as well?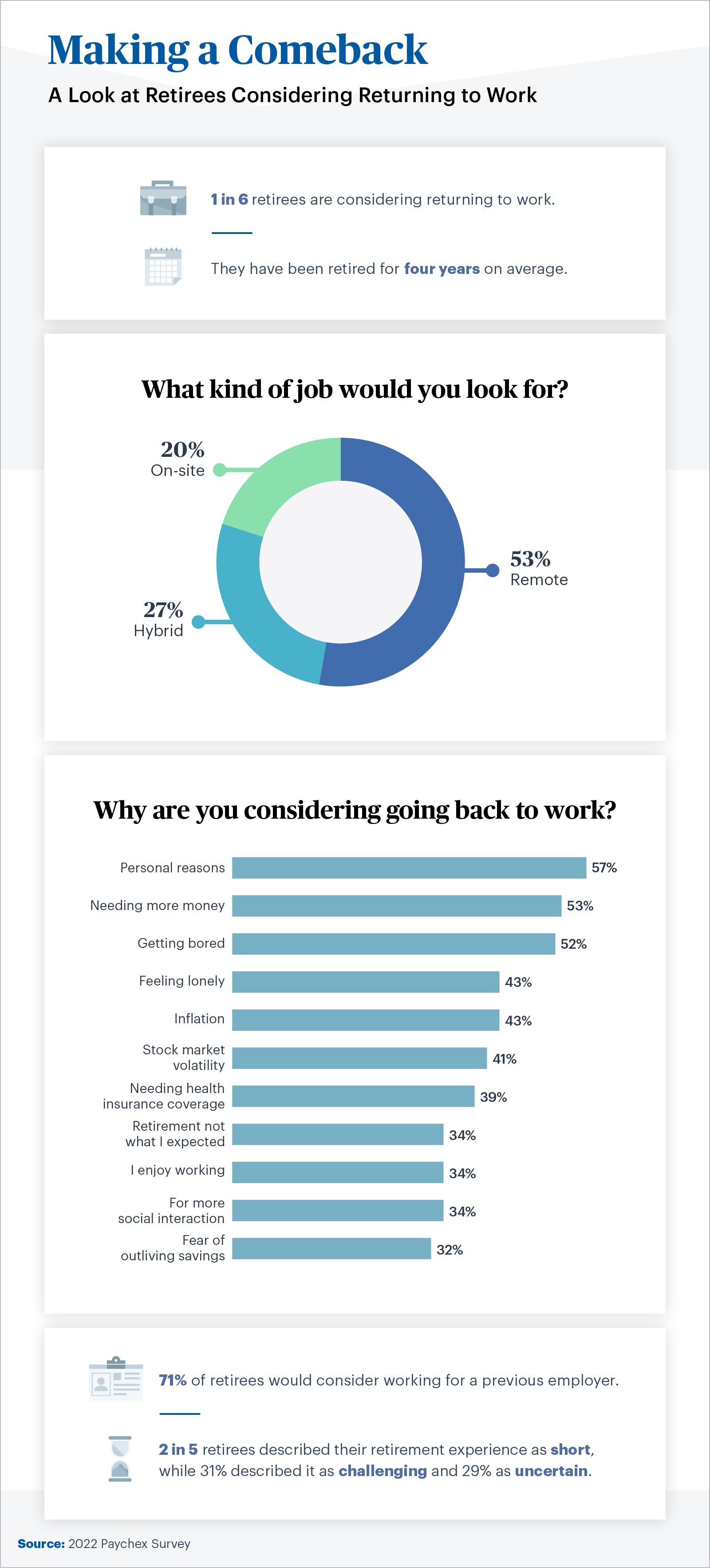 Among those we surveyed, one in six retirees are considering returning to work after being out of the workforce for an average of four years. With so many preferring to work from home these days, it's no surprise that more than half of our retired respondents would look for remote work (53%), 27% want a hybrid situation, and only 20% would seek an office job.
Most would want to work full-time (65%) instead of part-time (35%). This could be due to a need for more money — the reason cited by 53% of respondents. But nearly as many are thinking of going back to work because they're bored (52%).
Boredom is understandable, especially for those who went from working 40 hours per week to not working at all. For the same reason, it's not surprising that loneliness was the reason that 43% of retirees are considering working again. But the same number are also doing so because they're concerned about inflation.
Employment After Retirement
While their reasons may vary, many retirees have already decided to go back to work. Let's see what prompted them to return to the workforce and how they feel about it now.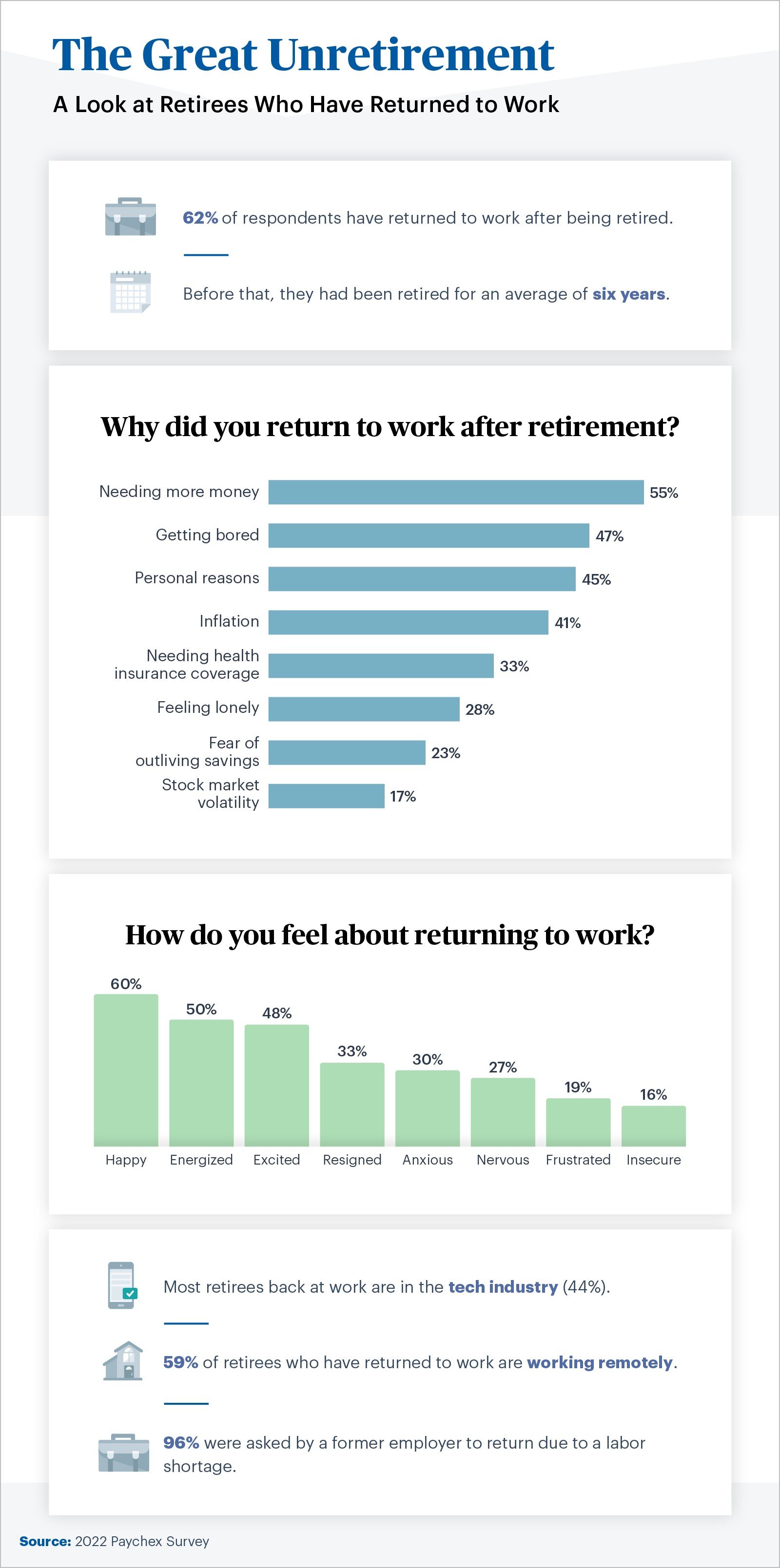 The overwhelming majority of retirees who returned to work have faced judgment from their co-workers (74%); only 3% haven't. Most of those working in finance (87%), education (83%), and information technology (72%) have experienced such discrimination.
One particular form of ageism that retirees feel they are dealing with when returning to work is younger employees making them feel insecure about their abilities, with 71% sharing this sentiment. With many having to work for employers who are younger than them, we were glad to learn that only 12% of our respondents find this extremely difficult. The majority feel that it's, at most, only a moderate challenge.
Recruiting Retirees
The state of our economy has pushed many to take serious measures to make more money — workers and retirees alike — such as getting second jobs. Is the competition making it harder for retirees to go back to work? And how do managers feel about hiring them?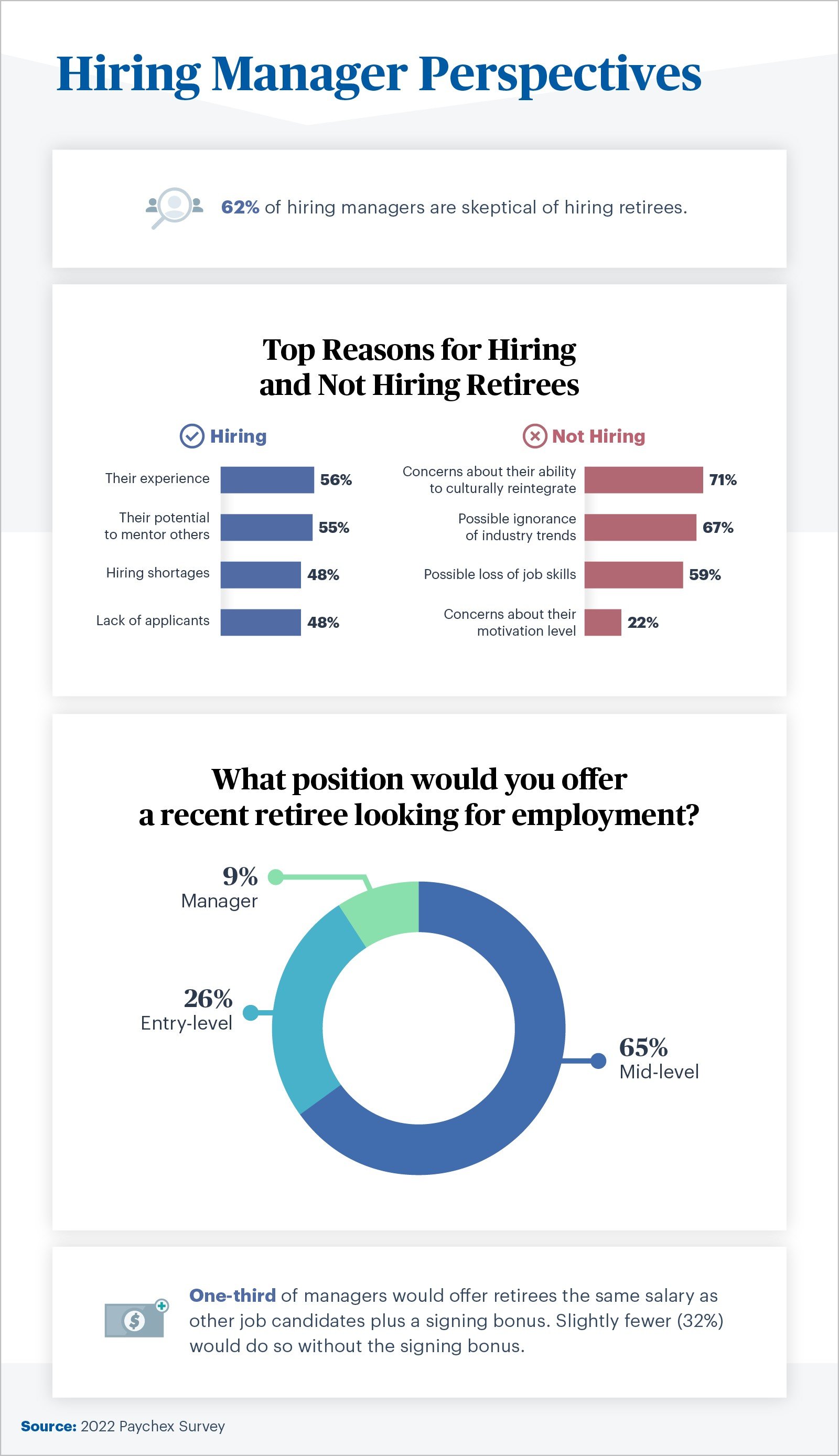 Our findings show that 62% of hiring managers are skeptical about hiring retirees, but they also shared some potential pros and cons. According to 56% of the hiring managers we surveyed, the main reason for hiring a retiree is their many years of experience. Nearly the same number feel that retirees can make great mentors in the workplace.
But the biggest reason to not hire a retiree is cultural, say 71% of hiring managers. Can these candidates integrate into the current company culture? This concern is followed by uncertainty about their knowledge of industry trends (67%) and whether they still have the skills needed for the job (59%).
When onboarding retirees, the top strategy hiring managers employ is taking it slow (50%) in case they need more time to adjust to the job. The next most common tactic was avoiding abbreviations and jargon that these new or returning hires may not understand (48%), followed by providing templates to help them find their bearings (44%).
Re-entering the Workforce
With concerns about inflation strongly impacting retirement, many retirees have either gone back to work or are considering it. Luckily, many hiring managers see the benefits of onboarding these experienced job candidates, despite ageism being a problem for post-retirees. Hopefully, their return will eventually make the workplace a more inclusive and adaptable place for people of all ages.
Methodology
For this campaign, we surveyed 930 Americans to explore their retirement plans. Among them, 16% were retired, 22% were still working, and 62% were retirees who had returned to work. We also surveyed 206 hiring managers to explore their sentiments about hiring retirees.
About Paychex
Paychex provides payroll and HR services for businesses of all kinds so that you can easily take your business from startup to enterprise.
Fair Use Statement
If you enjoyed our study, you're more than welcome to share it. We just ask that you link back to these findings and that your purposes are noncommercial.
Key Takeaways
Nearly half of Americans plan to work multiple jobs for more than three years.
Respondents working just one job are 44% more likely than those working multiple jobs to feel productive.
Over half of hiring managers view a candidate with multiple jobs as a red flag.
The Age of Overemployment
Time is money, and keen workers are capitalizing on every second. While some struggle to balance even just one full-time job with the rest of their obligations, others are juggling multiple jobs — a lifestyle called "polyworking."
Paychex surveyed over 1,000 Americans, both polyworkers and people holding just one job, to learn more about the increasing interest in taking on multiple part-time jobs. We then analyzed who had the highest interest in the polywork lifestyle by location and industry.
Why are people becoming polyworkers, and how long do they plan to do it? How are they different from other employees? Whether you have one or multiple jobs, read on to find out what the rest of America is doing to make a living.
Popularity of Polywork
Since 2019, online search volumes about polywork (and related terms like "gig work" and "side hustle") have risen. We found that residents of certain states are more curious about the concept than others.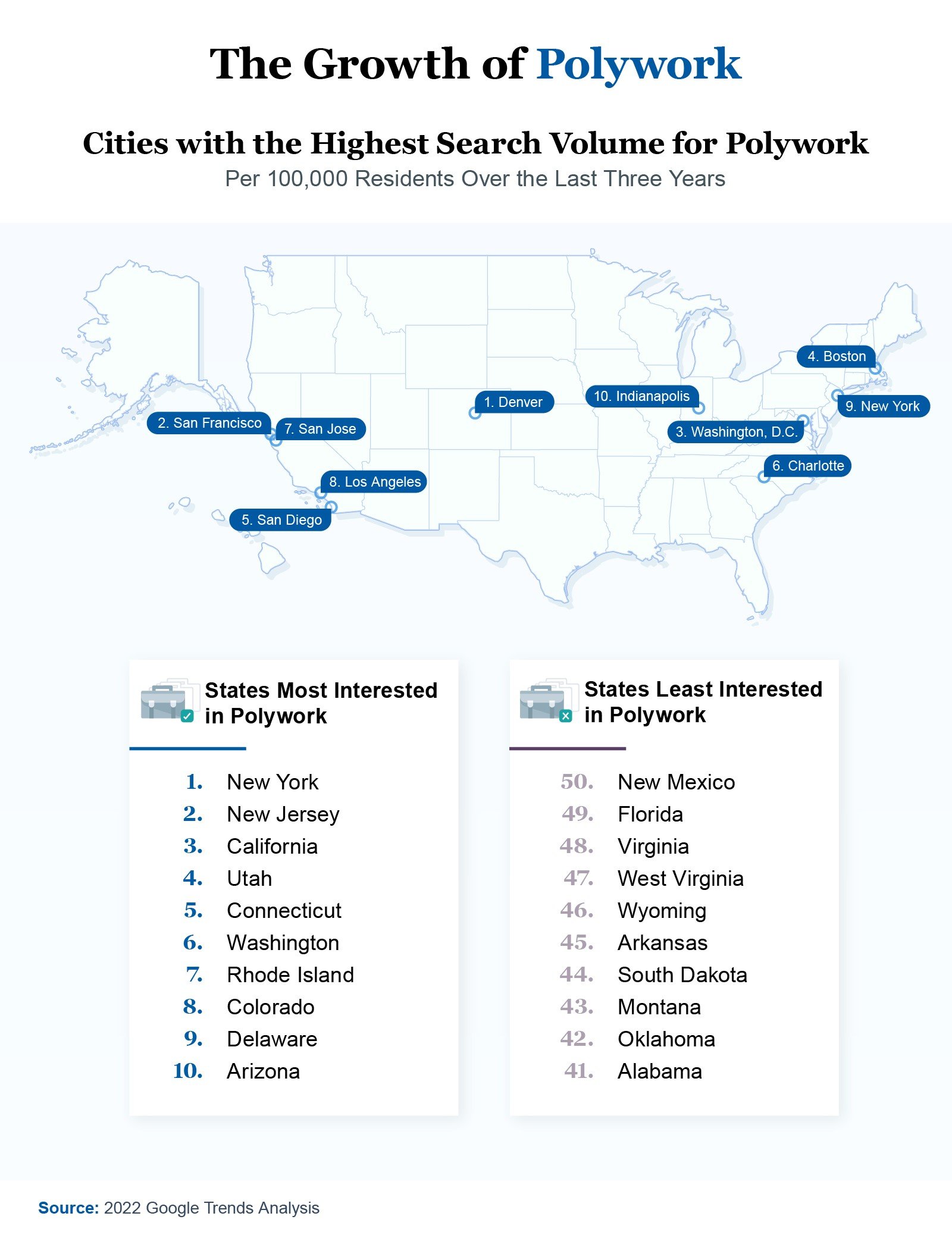 Residents of coastal cities, many of which are also the most expensive cities in the US, appear much more likely to be interested in polywork than residents of cities in the middle of the country. While Denver is a notable exception, six of the top 10 cities with the highest volume of polywork-related internet searches are on the coast. Boston and New York City led the pack in the east, while San Francisco, San Diego, San Jose, and Los Angeles generated the most searches out west.
From a state-by-state point of view, New York, New Jersey, California, Utah, and Connecticut residents are the most interested in polywork. On the other hand, New Mexico, Florida, Virginia, West Virginia, and Wyoming residents don't care nearly as much.
Either way, there were over 70 million freelancers in the U.S. as of 2022, which is 20% higher than the 2021 headcount. The number of people looking to transition to a multi-job lifestyle could easily keep rising through 2023 and beyond, especially in these places where people seem most keen on researching polywork.
Working Overtime
We surveyed 1,000 people about their work habits, including the number of jobs they currently hold. We asked polyworkers about their job levels, work locations, and ideal scenarios for working more than one job.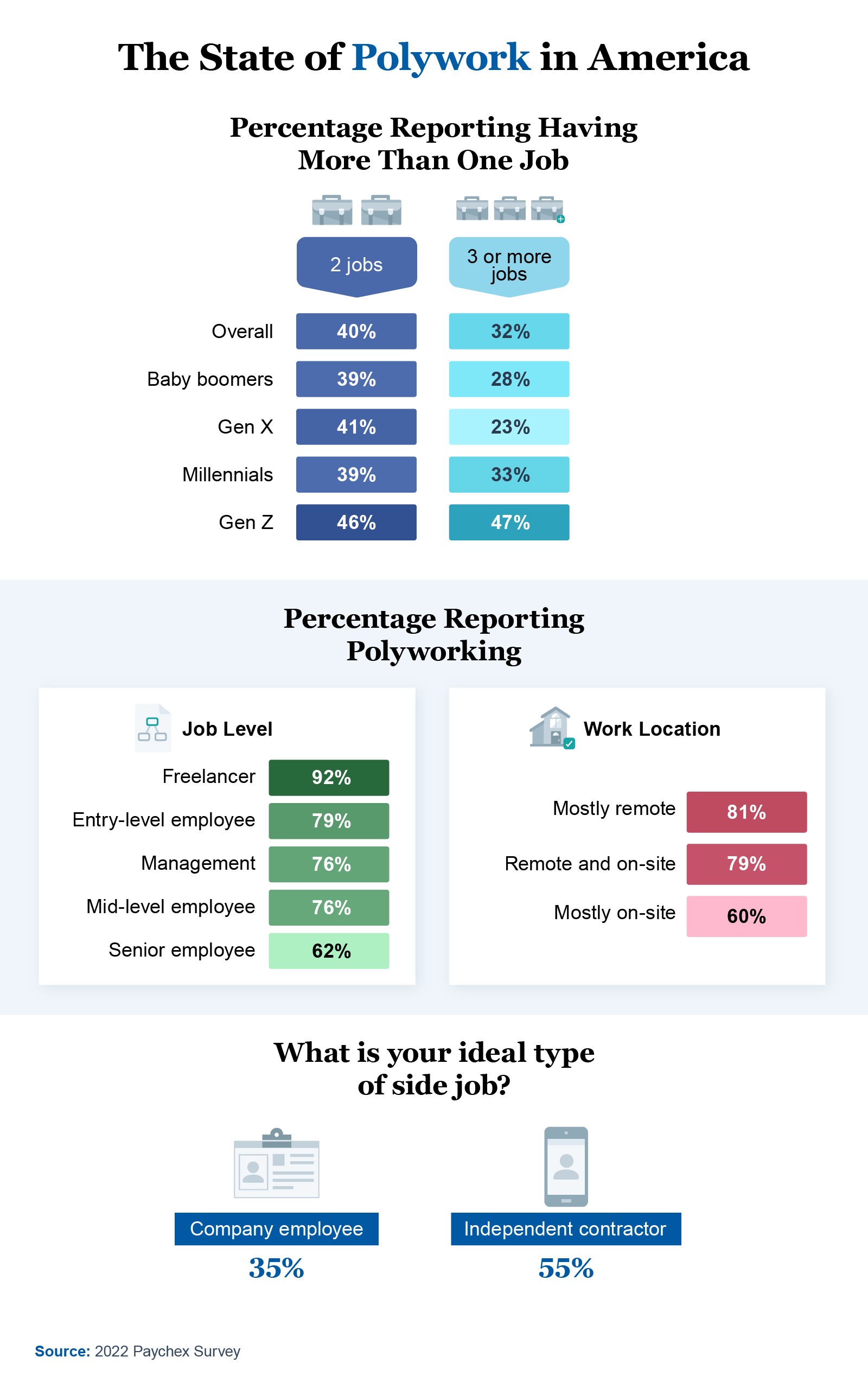 We found that 40% of respondents hold two jobs, while just under one-third juggle up to three or more. Gen Zers are more likely to polywork than other generations, with nearly half of them saying they're currently employed at two or three places.
Might that mean they're harder to lock into a single job commitment? To make your business attractive to young workers, consider offering them financial security, flexibility and be open to contract work, while emphasizing your company's commitment to authenticity and diversity.
The one-job lifestyle isn't for everyone, and polyworkers are no exception; nearly all the ones we surveyed are freelancers (92%). Most opt for a mostly remote work setting, and it's easy to assume why: The flexibility of remote work offers the luxury of more easily working two or more jobs. Still, balancing them can be challenging, which might mean some industries are more conducive to polywork than others.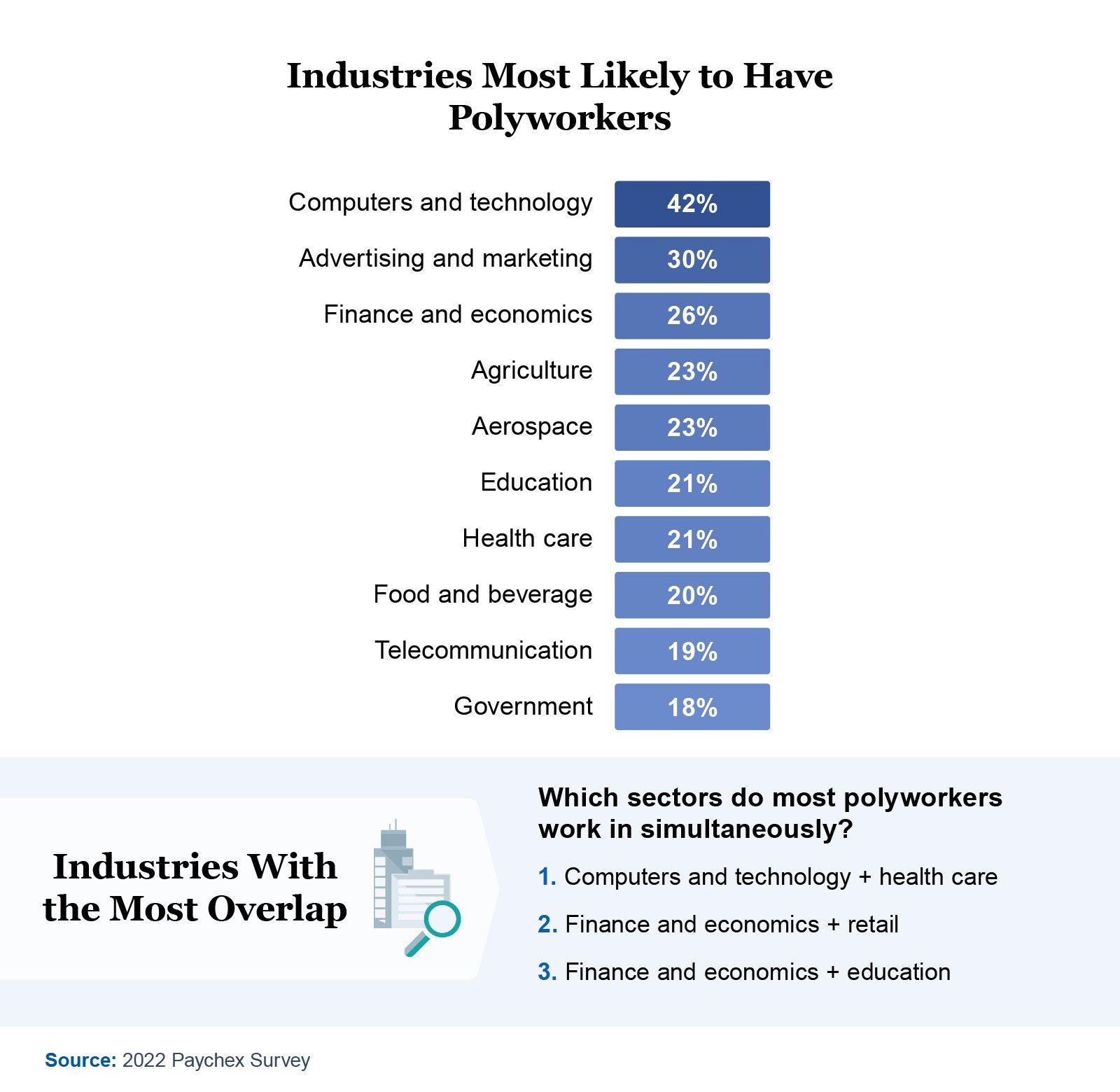 Computer and technology sector workers are most likely to have multiple income streams. This industry also has the most overlap with health care (people working in both simultaneously). While these workers might mix and match the most while working multiple jobs, people from many different professional backgrounds have taken on work in other fields as well. For example, finance and economics workers overlap with the retail and education sectors quite a bit, too.
Numerous Obligations
Whether polyworkers hold jobs in multiple industries or not, their plans may or may not be long-term. How long do they intend to keep it up, and why?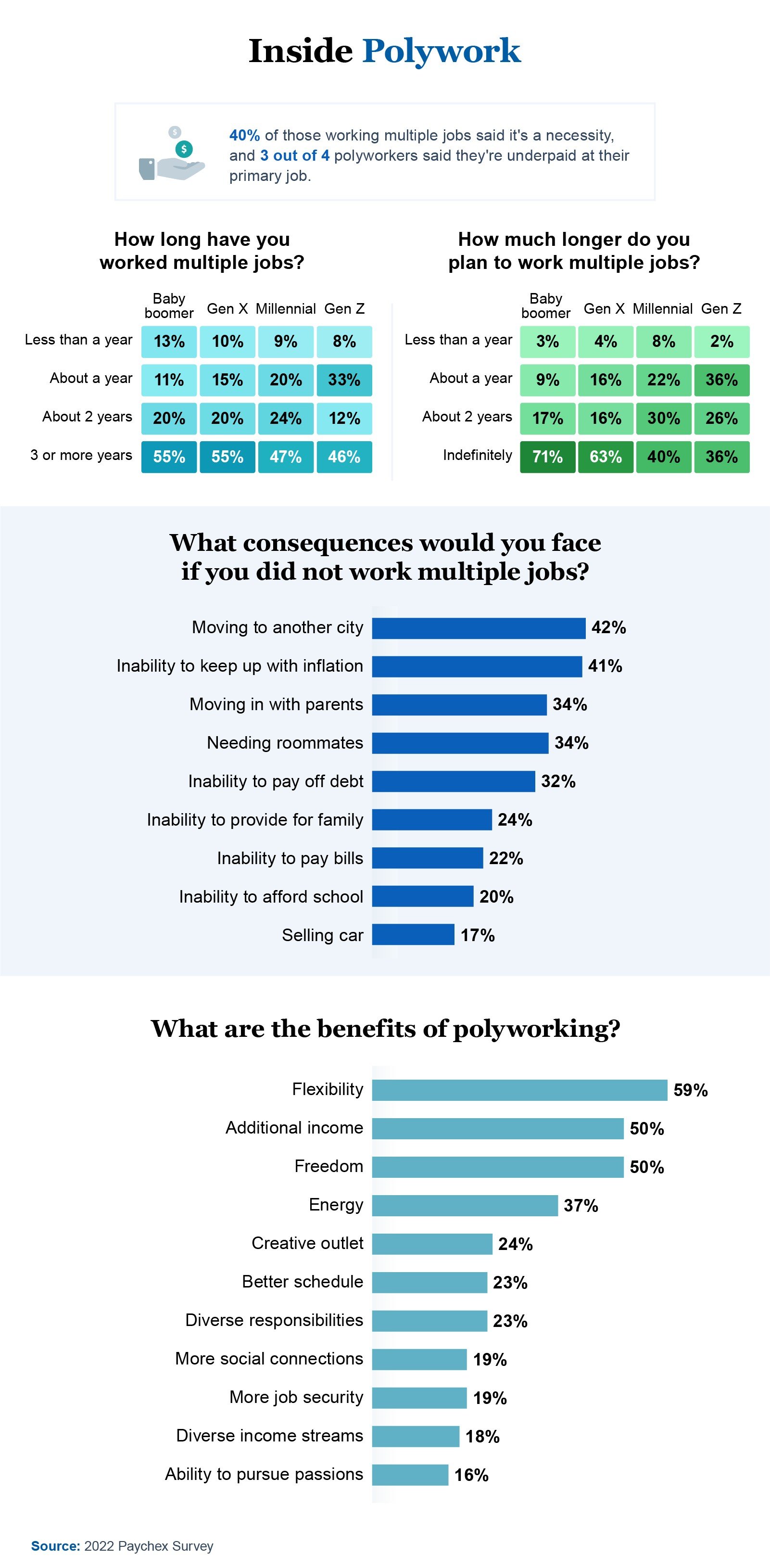 Nearly half of our respondents are polywork veterans, having worked multiple jobs for three or more years. Gen X has been working multiple jobs for the longest time, with 32% saying they have done so for five years or more.
But it's not just Gen Xers who are long-term polyworkers. Almost half of respondents plan to polywork indefinitely (47%), and their motivation varies. Without multiple income streams, Gen Xers and millennials most fear the possibility of having to move to a new home, while baby boomers are particularly worried about their inability to keep up with inflation.
That's one reason flexibility, additional income, and freedom are important to polyworkers. Having autonomy over their workloads and schedules allows them to structure their day however they need to, which is especially helpful to freelance polyworkers.
Taking a Toll
We now know why so many people pursue a polywork lifestyle, but how does it compare to that of one-job workers? Does the increased flexibility and freedom make them happier than those working nine to five?
In some cases, it might not. One-job workers are less burnt out and stressed than polyworkers. They also feel more inspired and productive at work. However, both types of workers were about equally satisfied with their career and work-life balance.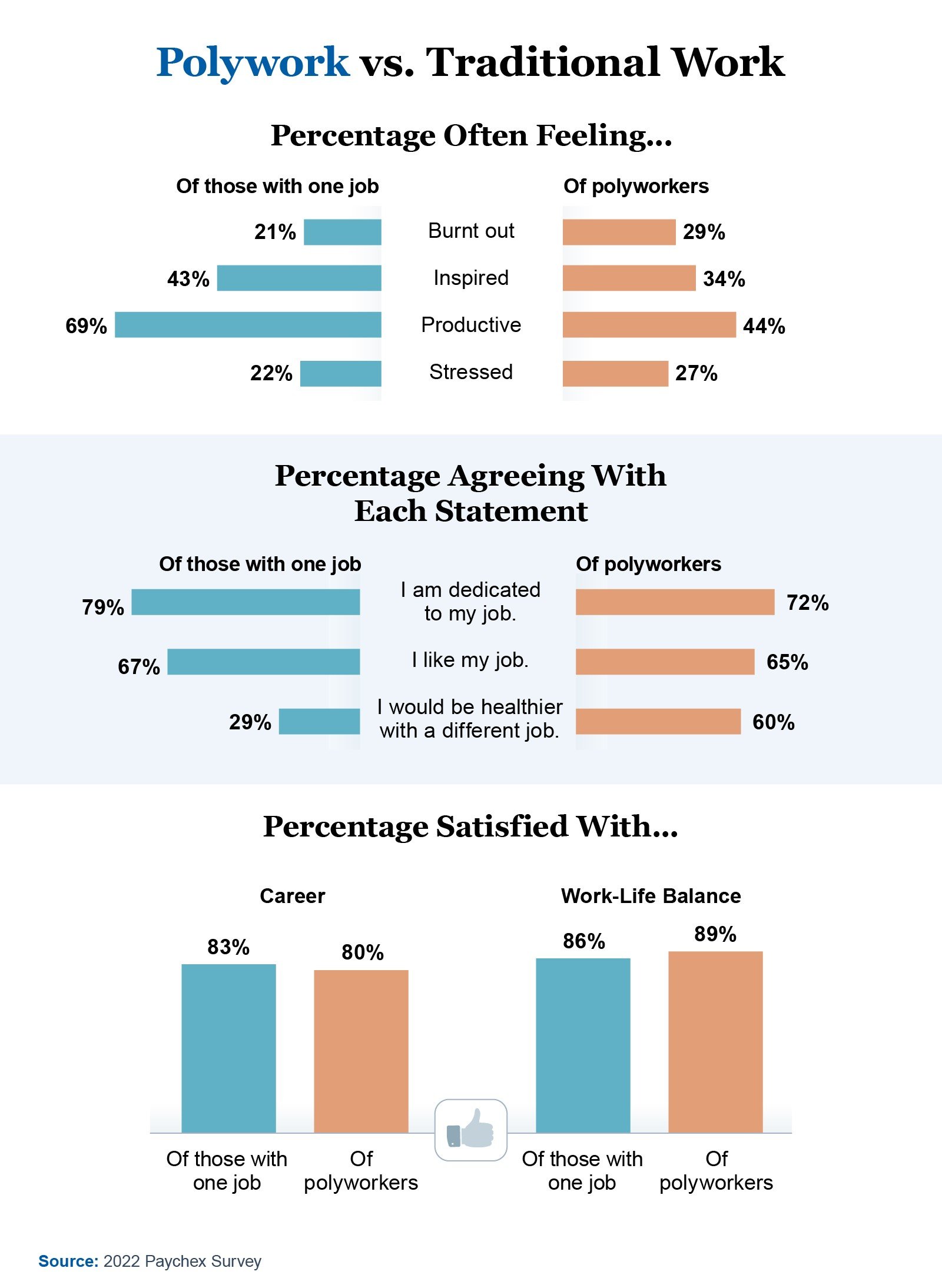 Some polyworkers are self-reportedly less dedicated to their jobs. They also generally like their jobs less and think they would be healthier if they had a different one. Even polyworkers working multiple jobs out of desire rather than necessity report these same sentiments.
Hiring a Polyworker
Higher levels of burnout and stress aren't the only issues polyworkers face. To find out how hard it might be for them to land the additional jobs they desire, we asked over 200 hiring managers how they feel about candidates already working other jobs.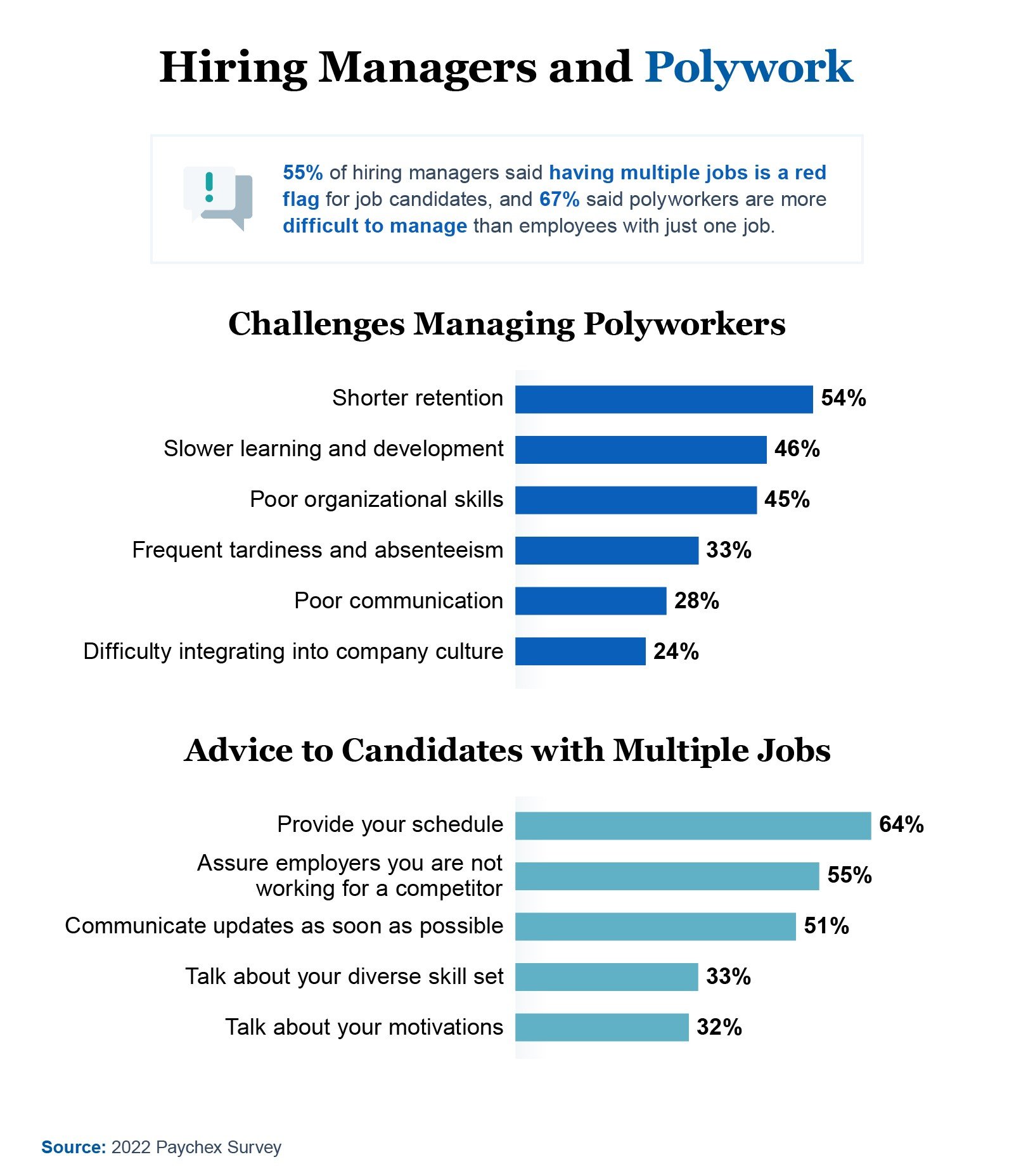 For polyworkers on the job hunt, hiring managers have some advice to give. The most important thing is to be transparent about your work schedule, so managers know when you're available and when you're not. They also appreciate knowing that they are competing with your other employers for your labor. Cover these bases in order to boost your chances of landing your next gig.
Over half of hiring managers say polyworking candidates immediately raise a red flag, and more than two-thirds say they're more challenging to manage than single-job employees. Manager also believe polyworkers don't stick around as long, are slower at learning and developing skills, and demonstrate poor organizational skills.
The Constant Hustle
The appeal of polywork is rising, but so far, people living in New York, New Jersey, and California are most interested in doing it. Most of the polyworkers we surveyed have held multiple jobs for at least three years with no plans to scale back, and more than half were Gen Z freelancers preferring remote work.
The flexibility and freedom of that lifestyle are simply too good for many to pass up, and quitting it could result in hardships like having to move or struggling to keep up with inflation. Is polywork here to stay, or will the traditional work model dominate once more? To each their own, but we'll be observing these trends well into the future.
Methodology
We surveyed 1,011 people in October 2022 about their work experience. Among them were 707 polyworkers and 304 people with only one job. Generationally, 11% were Gen Zers, 55% were millennials, 20% were Gen Xers, and 14% were baby boomers. Additionally, 57% were men, and 43% were women. We also surveyed 205 hiring managers. Finally, we looked at the search volume for the terms "polywork," "gig work," and "side hustles" in each U.S. state as well as the 25 most populous cities from January 1, 2019 through October 1, 2022.
About Paychex
As a leading provider of integrated human capital management solutions, Paychex offers services for your HR, payroll, retirement plan, employee benefit, and business insurance needs.
Fair Use Statement
If you know any polyworkers who might be interested in our findings, feel free to share this article with them. We just ask that you only do so for noncommercial use, and provide a link back to this original page so the contributors can earn credit for their work.
Nearly half of the business leaders shared that hiring and retaining good employees is the top operational challenge they are currently facing. Roughly half of the companies with 10 to 500 employees expect attracting and retaining quality talent to become more challenging in the next 12 months.1
With retaining good employees being a top challenge for many businesses, accessing new ideas for holding onto employees can help keep top talent from walking out the door while also maintaining business productivity.
Why Do Employees Leave?
The loss of a valuable employee can trigger a cascade of negative impacts. Other employees may be required to pick up the extra work until a replacement is found, which can ripple into feelings of resentment and anxiety for staff. The departure may also spark uncertainty and doubt among other staff members regarding their own sense of security within the organization. There are many reasons for employee departures, and understanding why individuals leave is key to helping others stay. Chances are high that an exit interview may reveal one or more of the following concerns:
Stagnant wages or inadequate compensation.
Limited path forward for advancement and career growth.
Unhappiness with management or coworkers.
Feeling unappreciated and lack of recognition.
Dissatisfaction with company's health, direction, or culture.
Boredom, or feeling stuck or overlooked.
Job role isn't as expected.
Seeking an improved work-life balance.
Desire to make a change.
It's impossible to fully eliminate employee attrition but you can encourage workers to stay by focusing on employee retention and its advantages.
Why Is Employee Retention Important?
Among the many benefits of employee retention, loyal workers can help companies reach their strategic goals and may help decrease the high cost of employee turnover.
Employee turnover costs can be measured in many ways, including:
The expense of recruiting, hiring, and training replacements, especially given today's tight job market and the increased costs of finding and hiring the right people.
The negative effects on a company's culture and employee morale stemming from dissatisfied workers or constant turnover.
Loss of valuable knowledge about the company's internal operations when trained employees depart for outside opportunities. If the departing employee has not documented job procedures properly, or there isn't adequate training put in place, there is a risk that a new hire will take longer to learn the procedures of the position.
Workflow disruption that occurs when someone leaves the company. This includes redistributing work to other employees as well as investing additional time in training/developing a new employee in the position.
Loss of productivity as other employees, who may already be stretched thin, may struggle to perform the additional job duties as efficiently or effectively as their former colleague. In the event of a customer-facing position, there's a risk of current or potential customers noticing these shortcomings, which can negatively impact a business's reputation.
Employers want to hang on to good workers as much as possible. The Paychex 2021 Pulse of HR Survey found in the pandemic economy, HR leaders are reporting employee engagement has decreased in the last year by more than 50%. This is concerning given that engagement is often an indicator of an employee's willingness to stay with a company. In response, HR leaders are using many tactics to try to increase retention, including offering remote work options (41%), providing financial incentives (41%), and providing flexible work options (38%).
When it comes to the benefits of employee retention and investing in employee retention ideas, simply avoiding turnover costs makes for a compelling business case. While employee attrition can create a negative feedback spiral, one of the great advantages of employee retention is the positive influence that it brings to a business. Creativity and knowledge stay within an organization, which can strengthen reliable workflows and productivity. In turn, this boosts employee morale, making the business an attractive place to work for future hires. Addressing and acting on employee attrition may allow a business to perform the self-evaluation it needs to work towards sustained success.
Standard Employee Retention Ideas May Be Highly Effective
To help ensure you're doing the most you can to retain employees at a basic level, consider the following common worker retention strategies:
Offer competitive salaries: Offer employees a competitive salary and keep up with the current standards in your industry and locale. In fact, a 2021 survey by Paychex and Future Workplace® exploring employees' current loyalty to their employer revealed that an increase in pay is the top driver of employee retention. A raise of 10-15% carried the most impact for preserving employees.
Provide superior benefits: Desirable traditional benefits, including health insurance and retirement plan offerings, may attract and retain top talent in any job market.
Pay employee bonuses: If your industry pays bonuses, consider offering them as well. When combined with salary and benefits, an annual bonus can help recruit and retain high-quality employees that your business values most.
Prioritize career development: Top employees may want to continue their career growth and seek other jobs if they aren't provided the right opportunities within your company. Expand your employee retention ideas by considering career development tools, including on-site training and higher education tuition reimbursement — as either a percentage of the cost for college courses or the full amount — so employees can expand the range of skills needed to improve their professional skill sets. Provide customized e-learning materials with the use of an advanced learning management system, a retention idea that can be implemented at a manageable business cost. Another path for career development could include a mentorship program. Mentoring helps employees identify opportunities for growth and skill development they may otherwise miss as well as being a particularly valuable resource for strengthening inclusion practices.
It's key to look for employee retention ideas across many of your current practices. Fostering employee loyalty starts with your hiring process and strategic recruitment. In your search to find the most qualified individual for the role, be careful not to overlook attitude, enthusiasm, and non-traditional yet relevant work experience. Company retention strategies should also include an element of self-reflection by assessing how well the company can satisfy a candidate's long-range career plans.
Personalized Employee Retention Strategies
In addition to salary and benefits packages, offering employees something they may not find anywhere else may be an effective way to help increase retention. The following creative retention ideas may make an impact precisely because they are unexpected.
Company-specific products: Offer discounts on company products to employees or give away branded merchandise.
Employee recognition: Employees may want to be recognized for the work they do. While it's often desirable to demonstrate recognition through a raise in salary or a holiday bonus, many employees also respond favorably to gestures that extend beyond financial rewards. Such employee retention solutions and initiatives may include:
Monthly or annual high-performance awards — Recognize an employee for their contributions at a staff meeting or other departmental gathering.
Offer additional responsibility/visibility — Invite key employees to head a new project or lead a committee exploring changes in business operations.
Peer recognition programs — Encourage fellow employees to nominate a colleague for outstanding dedication and service.
Make it a point to notice the efforts and achievements of your employees with perks such as rewards, gift cards, or printed certificates. Work with your management team to devise a way to add more recognition into the routines of each team.
Low-Cost Employee Retention Ideas
Many long-term retention strategies can be cost-effective when compared to the expense of hiring and training a new employee. Still, companies should keep an eye on the benefits budget to ensure they aren't overspending. Monitor who is taking advantage of programs offered and gauge satisfaction levels.
Also, remember that retention tactics aren't always defined as "benefits" and there are creative ways to retain employees. Jessica Totman, Paychex HR consultant, believes that recognition, appreciation, and encouragement are also important components of employee retention. Creative employee retention ideas can simply reinforce a desired workplace culture favoring diversity, support, and fairness. In this way, each employee can feel empowered with the opportunity to advance, learn, and feel like they're contributing to the company's success.
Some relatively low-cost company retention strategies include:
Onsite health and wellness support: To help employees become happier and more productive in the workplace, adding the benefit of corporate support for health and wellness goals can be highly effective. Implementing health and wellness programs at work may also reduce employee tardiness and absenteeism, plus it may help save as much as $1 for every $3 spent on health care premiums, according to an International Foundation of Employee Benefit Plans report.
Employee-paid supplemental benefits: If your current employee benefit plan covers just the basics of healthcare and retirement, you can augment these benefits. Supplemental benefits give employees the chance to buy extra insurance like dental, vision, and life insurance policies at group discount rates. Employees choose what they want and contribute out of their own paychecks via payroll deduction.
Self-service benefits and payroll 24/7: Today's employee is on-the-go, trying to find balance between the demands of a professional and personal life. To help add a perk to your current benefits, allow them to access benefits and payroll information from a secure web-based portal. Give employees the option to view pay stubs, set up direct deposits, and get important benefits information when it's most convenient for them.
Corporate-sponsored celebrations: Enjoying the fruits of labor is one of the benefits of teamwork. Your business can make it a point to thank your hard-working employees on a regular basis with celebrations. They can be as involved as something such as planned activities or entertainment, or they can consist of employee downtime.
Using Non-Traditional Benefits for Employee Retention
Another source of retention strategies comes from non-traditional benefits. According to the Paychex 2021 Pulse of HR Survey, some of the top benefits, both traditional and unique, offered included:
Health insurance
Parental leave
Retirement plans
Life insurance
Telecommuting/remote work
Take a look at your workforce to determine which of these items makes the most sense for your company, both financially and from a utilization standpoint.
Find Additional Retention Ideas Through Employee Feedback
Employees may value feedback centered on their individual performance as well as opportunities to share knowledge with the executive team. Employees may also appreciate having a say (within reasonable guidelines) about the company's future direction. The more a business shares with employees, the stronger the bond may be between them. When people are given an honest view of the company's big picture — its current strategies and long-range vision — they may feel greater motivation to do work that makes a difference to the business. It can be a powerful method for tying individuals to an organization and nurturing loyalty.
For business owners who are unsure of what it will take to motivate employees to stay, seeking feedback can be useful. Townhall meetings or employee surveys can help determine how receptive the workforce would be to proposed changes. Exit surveys can also provide a wealth of information about areas of dissatisfaction that ultimately caused an employee to seek out other opportunities.
Keep in mind that employees may want to provide feedback, but may feel uncomfortable doing so. Adding safe and anonymous channels for employees to provide feedback can help an employer gather valuable information from hesitant employees. Anonymous polls, suggestion boxes, or an anonymous email inbox can all do the trick.
The Top Employee Retention Benefits
What makes employees stay or leave? Employees who experience satisfaction and happiness at their workplace are more likely to want to remain there. The following chart represents various retention benefits that make employees happy on a scale of 1-10, with 10 indicating they would stay and 1 indicating they would leave.
Inexpensive, quality health care — 7.95
Bonuses — 7.93
Paid sick days — 7.64
Work-from-home days — 7.54
Flexible schedules — 7.50
Unlimited/flexible time off — 7.41
Dental plan — 7.22
401(k) matching — 7.16
Paid training or tuition reimbursement — 6.99
Vision plan — 6.63
Additional Strategies To Boost Engagement and Commitment
Turnover and training new employees can cost companies time, money, and productivity, so it pays to retain good staff. To improve employee satisfaction, many companies have adopted flexible hours, hybrid work-from-home and office options, subsidized passes for mass transportation, 401(k) retirement saving plans, and casual dress policies. But there are also many uncommon ways you may be able to boost your workforce's engagement and commitment to the company. In no particular order, we offer 29 suggestions for creative retention ideas:
Consider gamifying aspects of your workplace to engage and motivate workers (especially younger employees) — use game-design thinking to make projects and tasks more fun.
Encourage managers to hand write thank-you notes to staff for performance or thoughtful workplace acts.
Provide paid time off to participate in volunteer work.
Provide discounted dry cleaning, with workplace pickup and delivery.
Arrange annual clothing swaps among employees — a fashion bazaar at the workplace!
Form workplace teams for softball, volleyball, trivia contests, bowling, etc., and hold tournaments.
Bring in a massage therapist once a week to provide free or low-cost 20-minute chair massages.
Offer lunchtime yoga classes, weight loss groups, and/or brown-bag lunches with educational speakers.
Arrange for interest-free computer loans, whereby your company buys computers for employees and establishes a payment plan.
Obtain discounts from local merchants, such as health clubs, parking lots, or office supply stores.
Treat staff and their families to movie nights, sporting events, or live theater.
Allow workers the day off on their birthdays, or the option of a floating holiday.
Encourage workers to come in costume on Halloween (have a contest!) and host a holiday-themed lunch.
Permit workers to use social media on company time (for short periods) to demonstrate trust on the part of management.
Start a lunchtime book club.
Establish a worksite lending library — employees bring in books they've read and want to share.
Hold an annual staff craft fair to let people showcase their hobbies.
Set aside a "quiet room" with comfortable furniture and low lighting, where individuals can relax, think, and deal with stress in private.
Organize short exercise breaks, such as 15-minute walks.
Let employees tailor workspaces for their comfort, e.g., standing desks, large balls instead of chairs, or under-desk exercise pedals.
Put out a suggestion box and discuss submissions at staff meetings.
Keep your promises — let employees know they can trust management.
Organize an annual staff talent show.
Set up a fitness room with weights and exercise equipment.
Extend unpaid parental leave — perhaps by as much as six months.
Line up concierge services for your workers. For example, professionals to buy, wrap, and deliver gifts; make reservations for restaurants and entertainment; or deliver groceries to the home.
Allow employees to design their own staff-retention strategies.
Have the entire company participate in a community service day.
Help employees offset the costs of childcare, senior care, and even pet care.
The size of your company, your corporate culture, and your budget will determine the employee retention strategies you can apply. But never let creativity be the limiting factor.
Measuring Retention Success: Data Analytics and Retention Trends
Once you incorporate HR retention programs, how can you measure success? Quantifying the value of retention strategies can be challenging, but if you capture the right data, you may be in a better position to determine what's working and which strategies aren't adding value. Employee turnover rates, combined with exit interviews and employee satisfaction surveys, are great sources of data. You may also wish to examine overall company productivity and employee participation in certain benefits or career development programs.
By tracking data and analyzing trends through workforce analytics, companies may, companies may be able to identify issues early on and learn how to retain employees long-term. For example, when HR teams notice an uptick in employees leaving, this could signal a need to shift retention strategies and try something new. This can be accomplished through the joint efforts of HR and front-line managers, who often are the ones carrying out retention strategies. If expert advice is needed, consider seeking HR consulting services and an assessment of your retention practices, which can help you identify new ways to encourage employees to stay for the long haul.
Some employees will come and go, regardless of the benefits offered to them. But with the right combination of tangible and intangible benefits, many businesses can help retain the right ones. Those same benefits may also prove invaluable as part of a proactive recruiting strategy. Nothing demonstrates an employer's desirability like a workforce of satisfied and hard-working employees. If you're looking to improve retention at your company, seeking assistance with benefits administration and HR support can help you drill down on areas of potential improvement, where small changes can make a large difference in overall employee satisfaction.
---
12023 Priorities for Business Leaders, Paychex
Join Our 700,000+ Customers and Get Help Managing HR, Payroll, and Benefits for Your Massachusetts Business