Celebrating Black History with the People Who Embody the Power of Paychex
Since the 1970s, February has held a special place on the calendar as Black History Month, a time to commemorate Black Americans' achievements. The "Father of Black History," Dr. Carter G. Woodson, chose this time of year for a good reason. February was already the birthday month of two prominent men whose historic achievements Black Americans already celebrated—Abraham Lincoln and Frederick Douglass. Today, the federally recognized celebration calls on each of us to seize the opportunity to honor Black Americans' accomplishments throughout our shared history.
Recognizing Black History in the workplace is important. We must demonstrate that employees and clients are seen, valued, and part of the fabric of the organization. In celebration of Black History Month, we've asked Black employees at Paychex to reflect on their experience and what this month means to them. We'll share thoughts from employees like Deke Johnson, A.J. Porterfield, April Colbert, and more throughout February. Let's hear their story.
Deke Johnson is a Paychex security risk analyst. At work, Deke's experience spans risk assurance, security governance, and compliance. While outside of work, Deke is a proud #GirlDad and single father to his 8-year-old daughter. He is passionate about volunteering and giving back to his community. Through the example he sets for his daughter, he hopes to help erase negative stereotypes and assumptions about single Black fathers.
A.J Porterfield is a Paychex client success supervisor in Oklahoma City. A.J. loves the service industry and demonstrates leadership every day by creating the best experience possible for his clients. His experience as a military brat traveling the world and playing sports in college taught A.J. the impact of positive culture. And how it enables teams to thrive.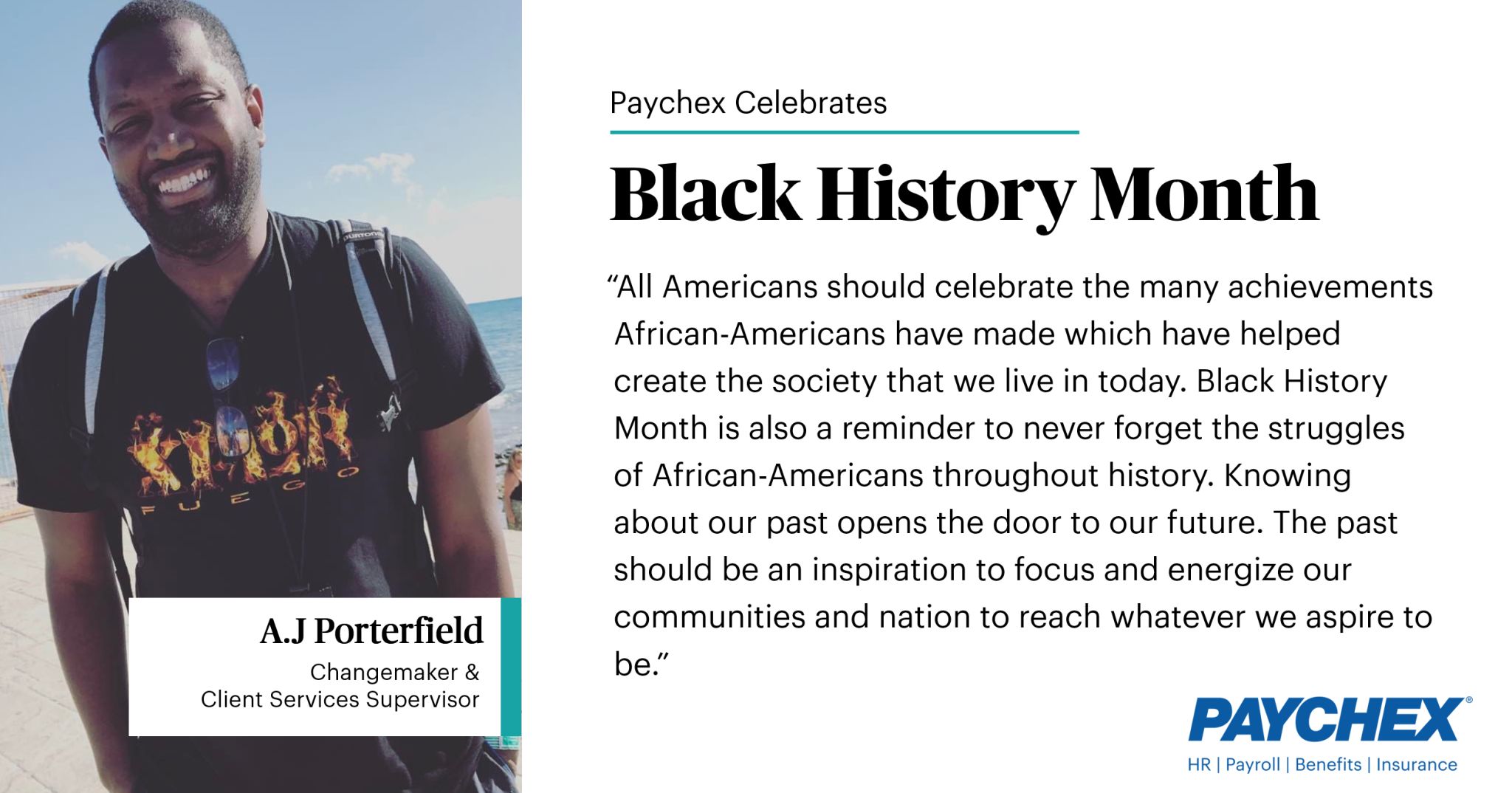 Meet April Colbert, human resources business partner manager for Paychex in Pasadena. You'll find no one more passionate about HR services and technology in the pursuit of success for America's employers—and helping them turn entrepreneurial dreams into reality. April has a deep-rooted belief in service, generosity, fairness, compassion, and integrity. Outside of work, April is a wife, mother, Girl Scout Troop leader, and an avid Dodger fan (naming her son after Jackie Robinson). She loves to cook, travel, and find ways to care for her friends and family.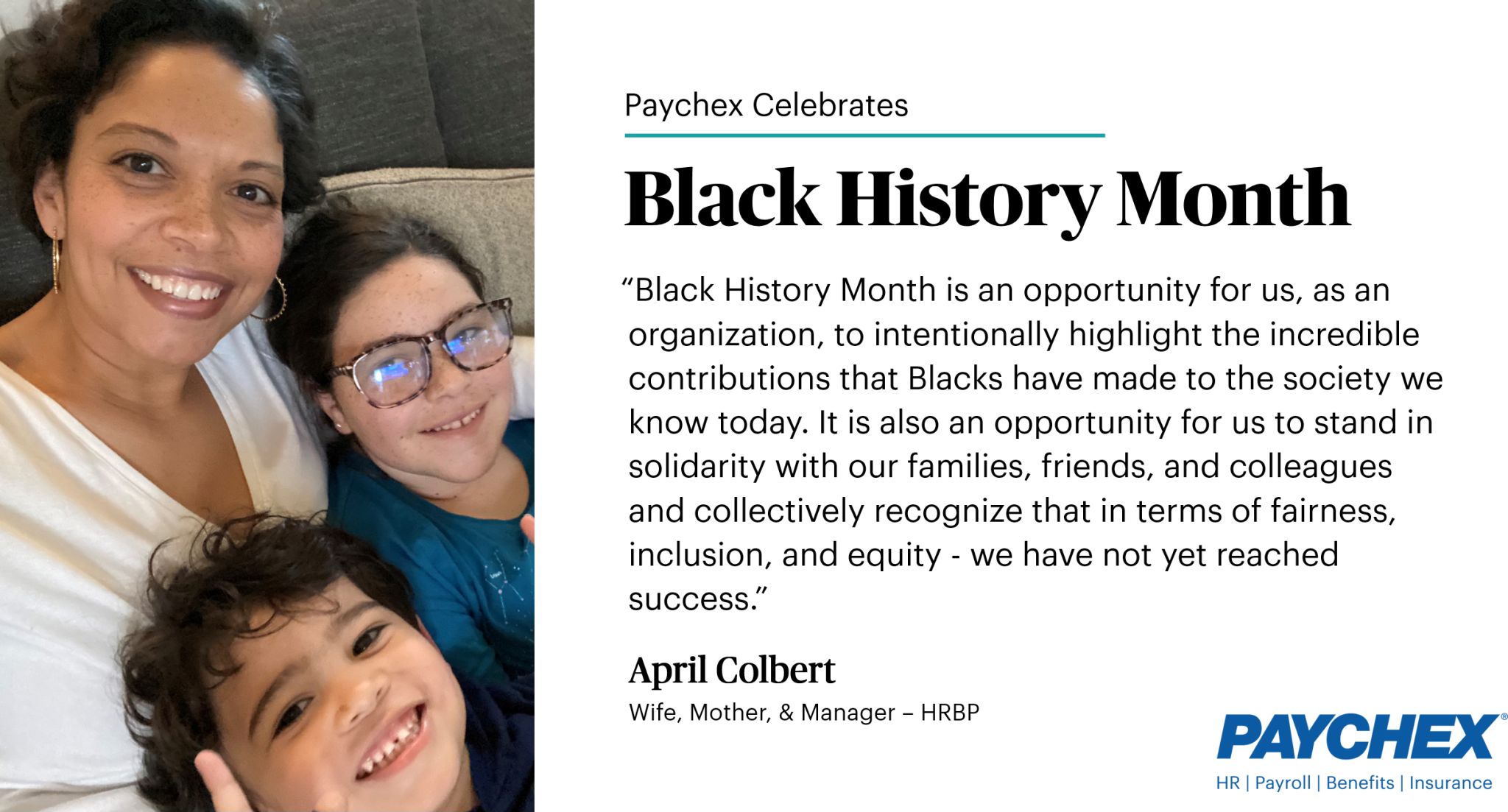 Ashley Scales is a Paychex senior learning instructor in NYC. Ashley's passion for reimagining the workplace is only matched by her determination to promote inclusive excellence. Rallying behind #TheNewArchetype hashtag, Ashley encompasses what it means to be a positive disruptor and an innovative energizer while navigating the unexpected as a young black woman. If a lane doesn't exist, Ashley believes, you create one.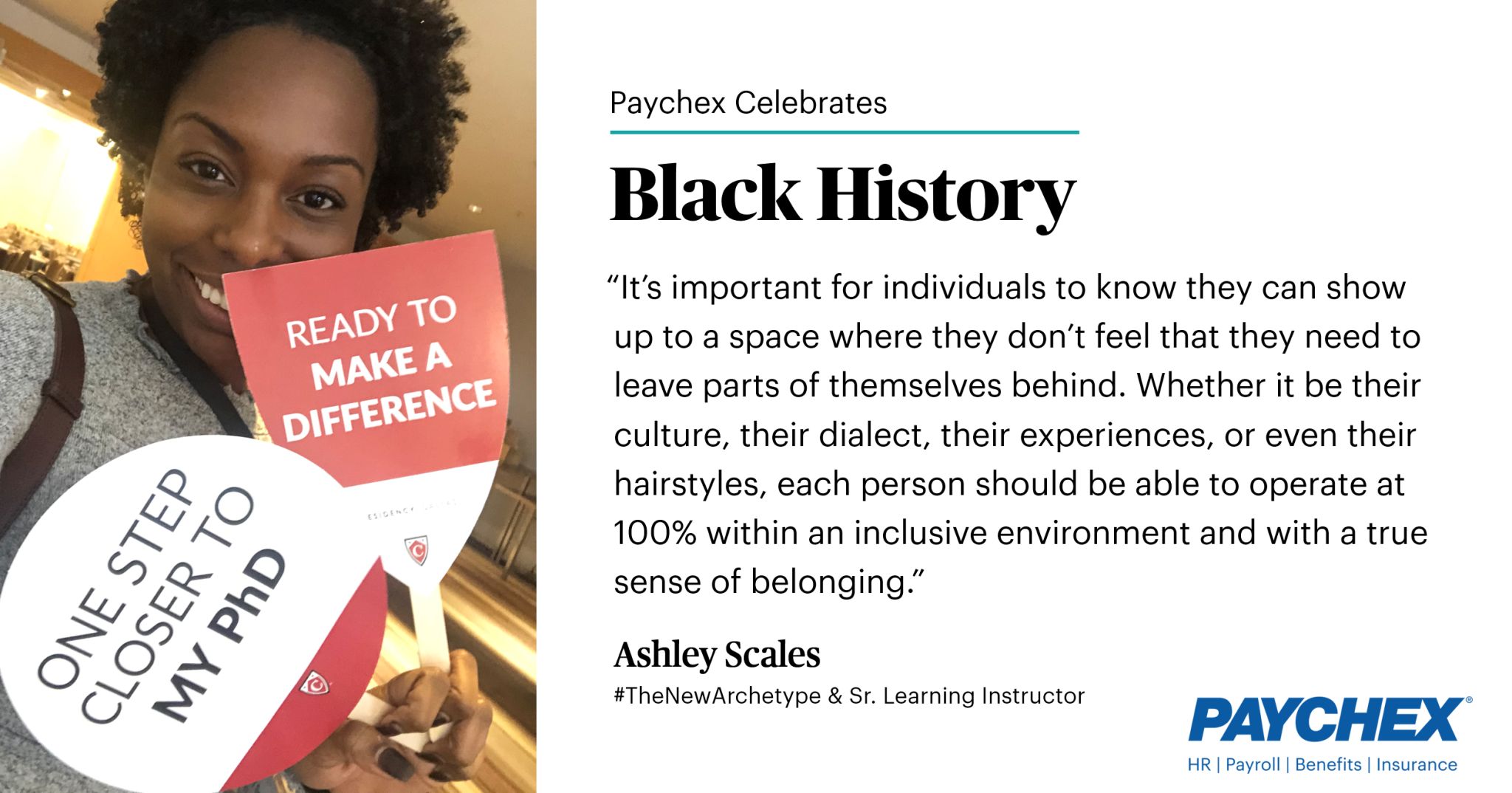 Donielle Young is a Paychex strategic accounts HR services sales rep based in Miami. Donielle's high energy, integrity, compassion, and eternal optimism are present in all aspects of her life. You can't choose when obstacles are placed in your way, but you can decide how to respond. This philosophy best describes Donielle–being brave, showing up, and encouraging optimism along the way. This past year has taught her to appreciate the little things. Enjoying her son's baseball tournament, an ice cream cone, and putting her love into a gourmet family meal. Raising her son to be kind and thoughtful, Donielle believes, is her most significant accomplishment.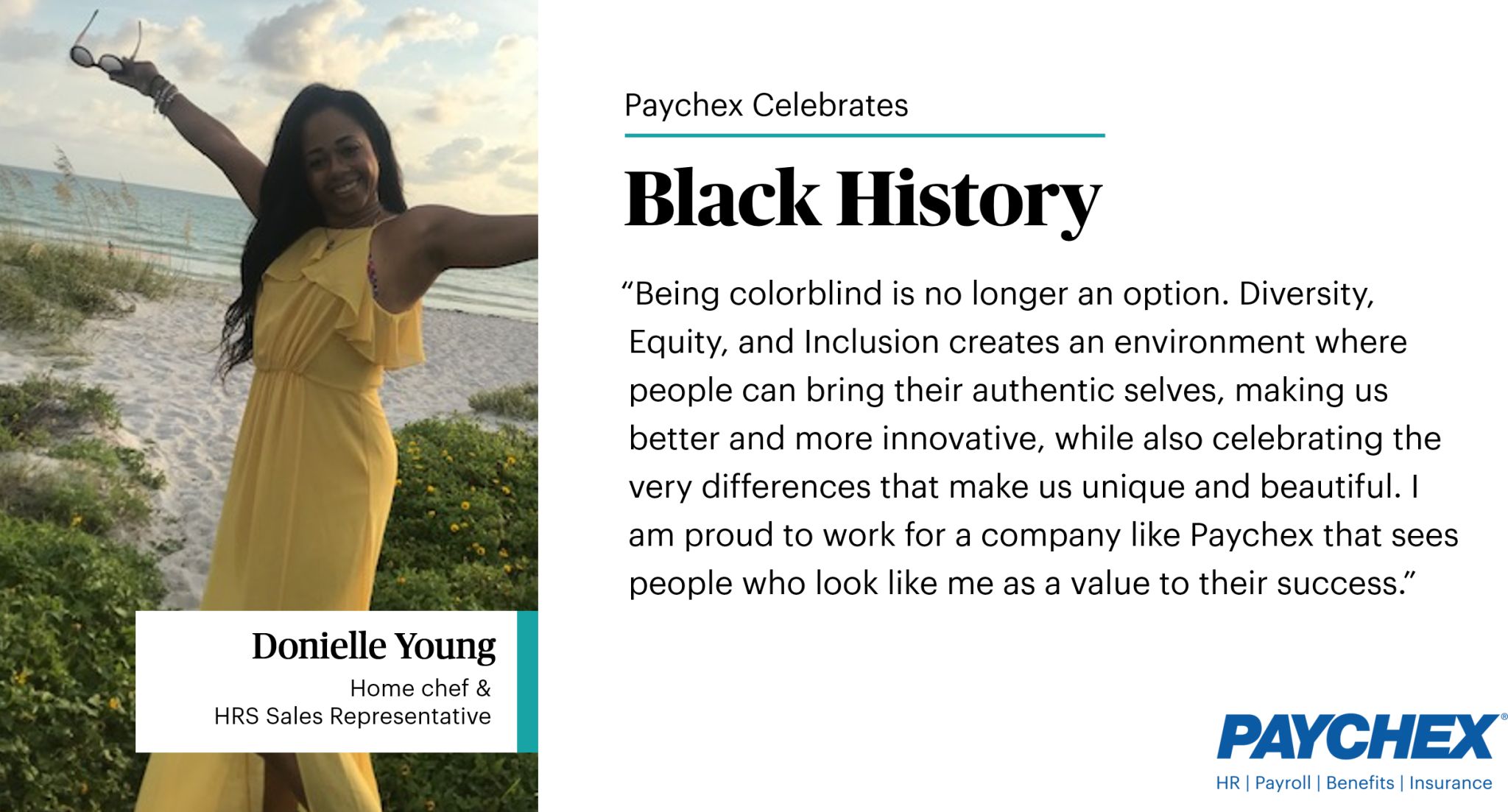 Alan White is an ENS centralized support supervisor celebrating 22 years at Paychex. A husband and father of two boys, Alan loves traditional family dinners where he pursues the perfect barbecue brisket recipe. Caring for his family, his parents, and the Dallas Cowboys are Alan's biggest passions. His colleagues describe him as genuinely positive and always willing to help. Alan's ability to establish partnerships and think from a client's perspective are key to driving company initiatives.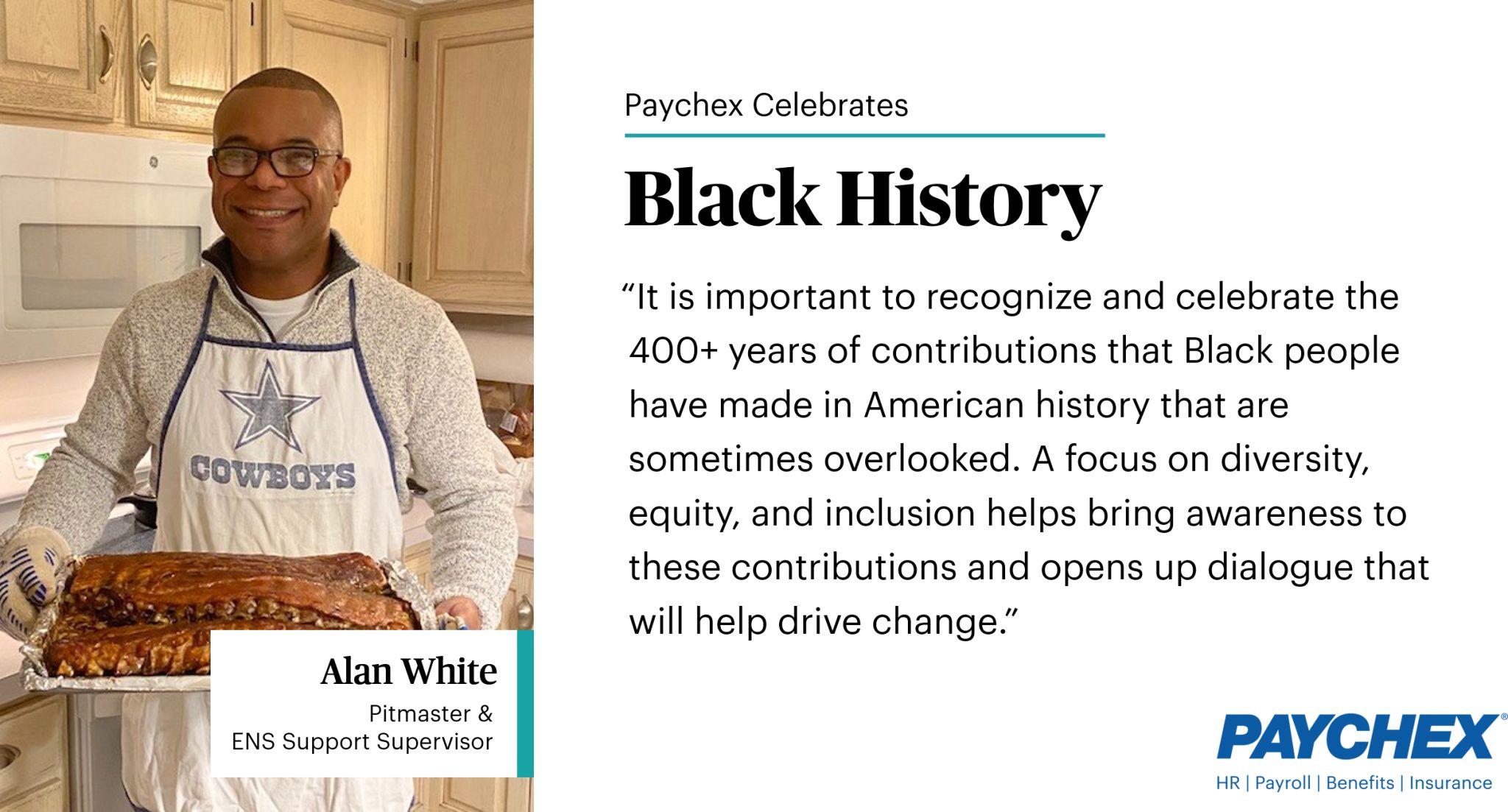 Michal Chick is an HR services human resources coach at Paychex. You're just as likely to find Michal at a neighborhood basketball pickup game as you are to see him testing to appear on Jeopardy with three attempts so far. Michal is passionate about demonstrating integrity and accountability every day.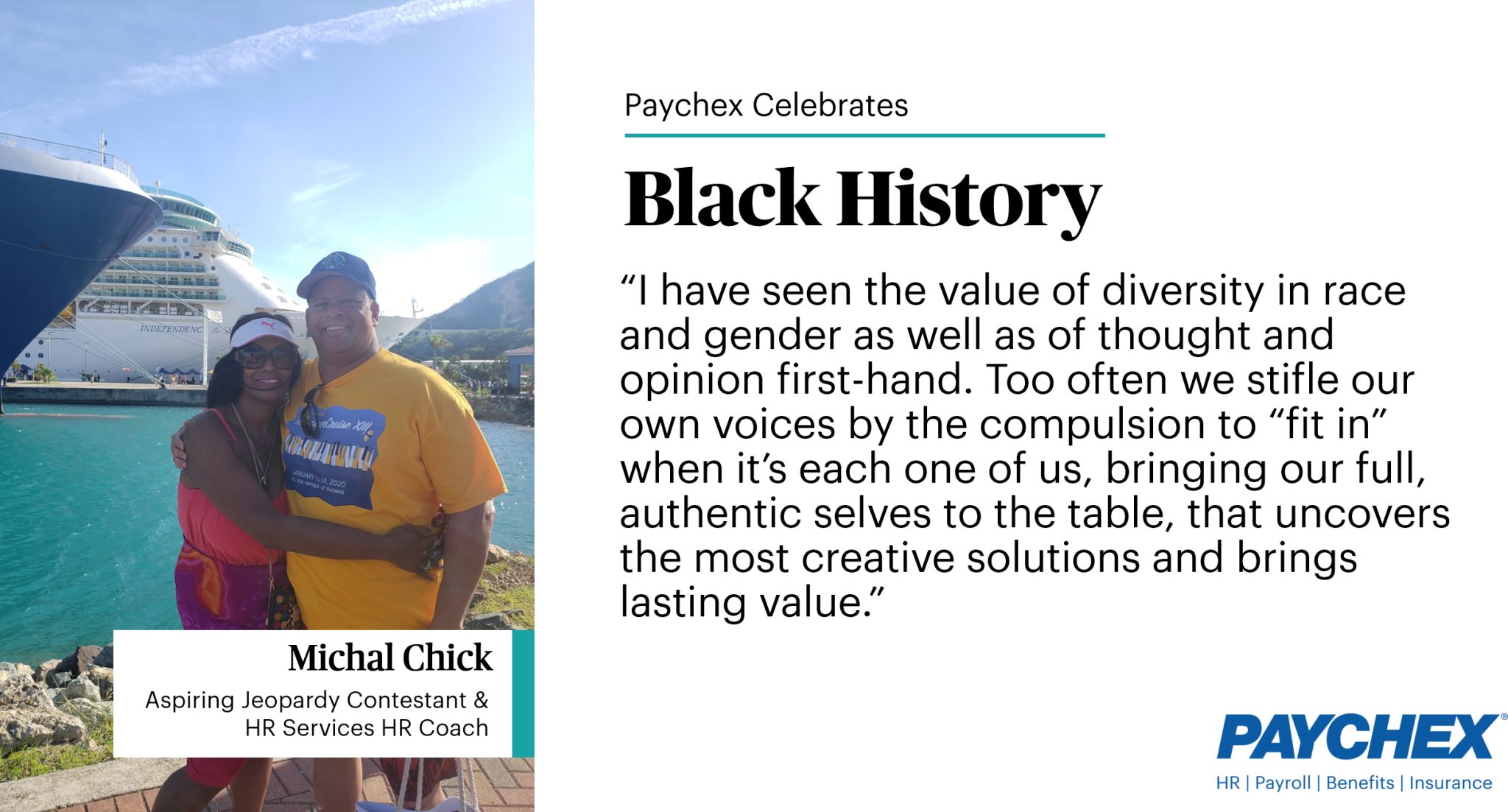 Nicole Walton is a senior leadership developer at Paychex. Nicole is an expert at connecting leadership coaching to real-world scenarios, leveraging 24 years of Paychex experience and insights in every interaction. Her coaching doesn't stop at the office. Nicole is also a former cheer coach for her daughter, Kennedy.
Philippa Haley is an HR services area manager at Paychex. Philippa is enthusiastic and engaged with her team of 11 human resources professionals—who infuse positive energy into the 1,000+ clients under their care. On weekends, you'll find Philippa attending film noir festivals or perusing antique stores. She particularly loves the art deco period—one of her wedding rings is 101 years old! Her friends and family describe her as loyal, stoic, and an old soul.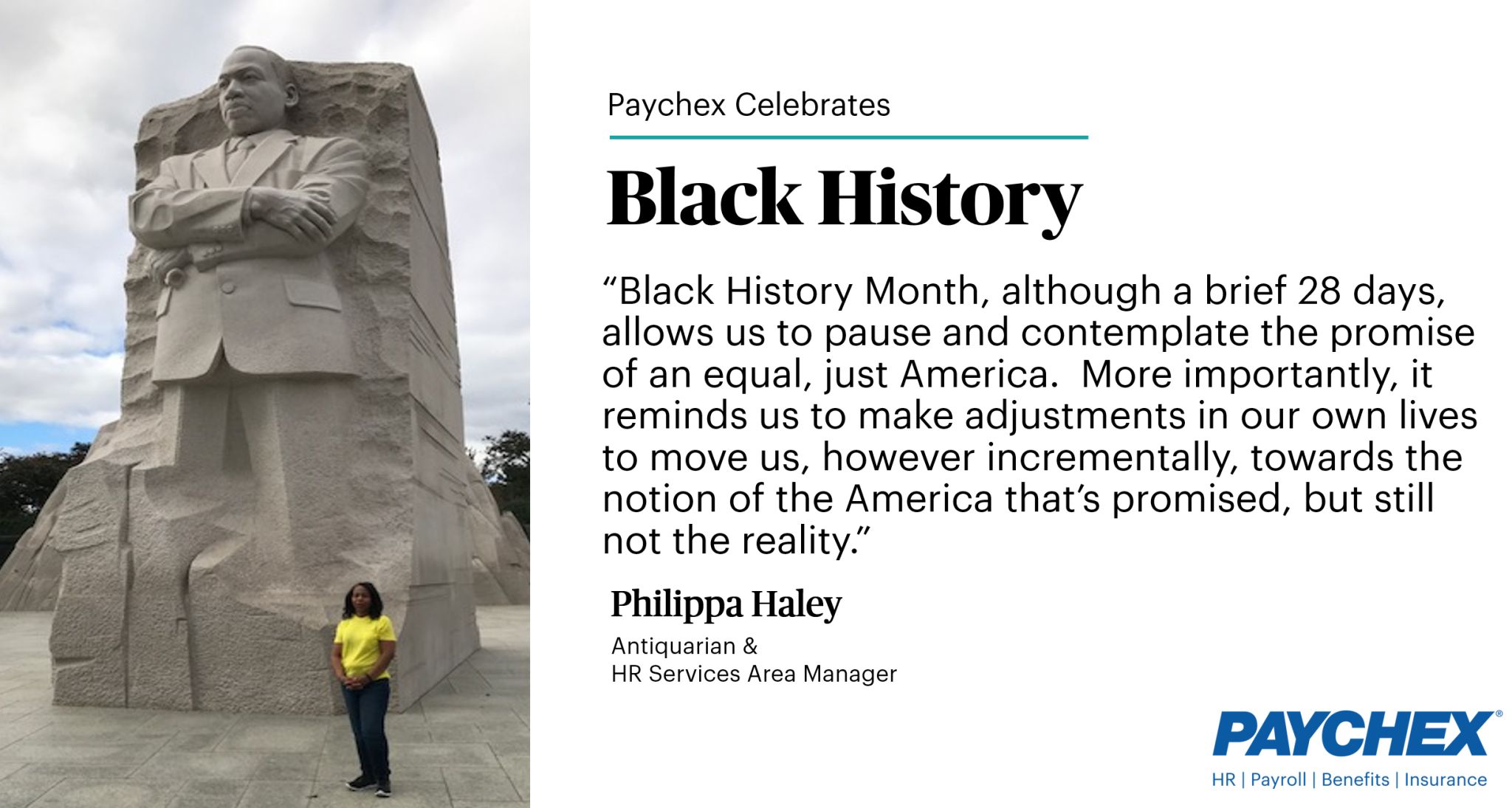 Marlene Hunter-Lammie is passionate about empowering her team to deliver extraordinary customer service in her role as a director of a Paychex dedicated service center. Marlene is always smiling, supportive, and loves getting to know people's stories. She loves nurturing her two daughters outside of work, chauffeuring them around to their swim meets and scouring Pinterest for the latest home decorating trends.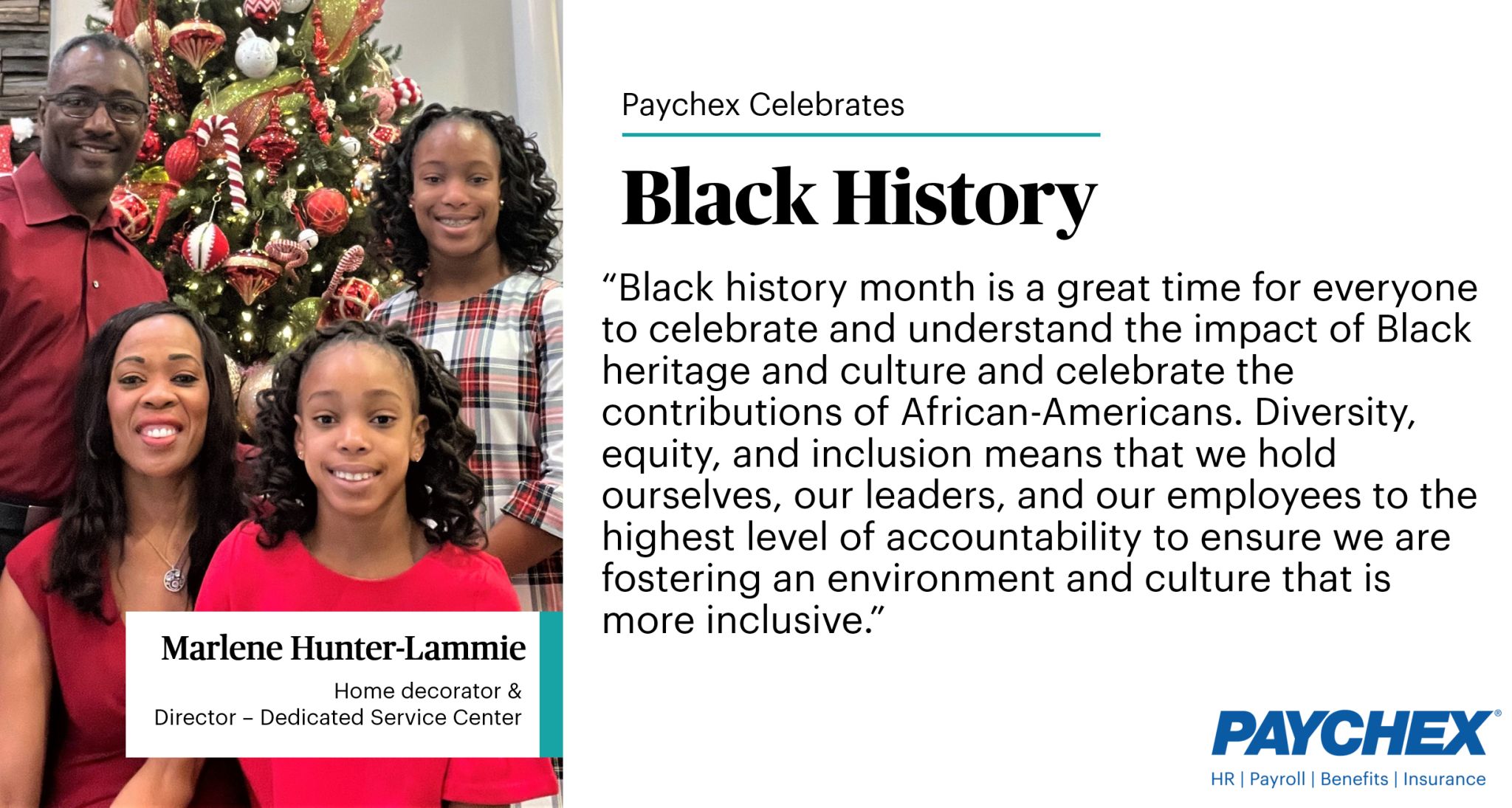 Portia James is a director of leadership and organizational development at Paychex. Anyone is sure to tell you—including a circle of best friends that go back to 4th grade—Portia is compassionate, authentic, dedicated, loyal, and driven. A connector at heart, she pours her all into family and friends as the go-to host for celebrations. Portia is passionate about developing relationships, giving back to her community, and volunteering her time and resources to helping the neighborhoods where she grew up.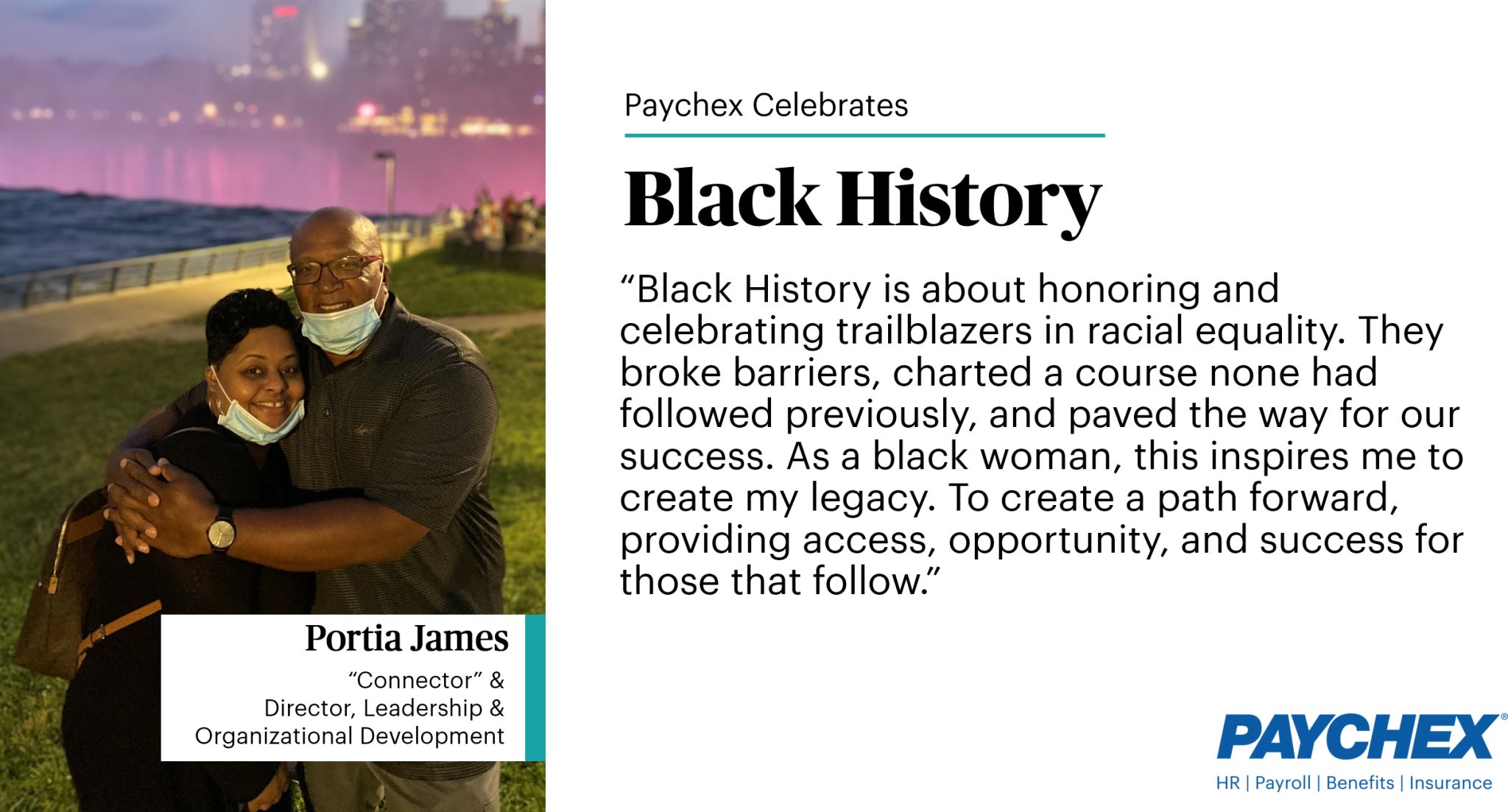 Ted Jordan is vice president of service at Paychex. A positive, approachable, genuine leader, Ted is equally focused on driving positive client experiences and nurturing a diverse and engaged workforce. A born and bred Philly guy at heart, Ted knows the power of service and gives back to his community by serving on the Boys & Girls Club board.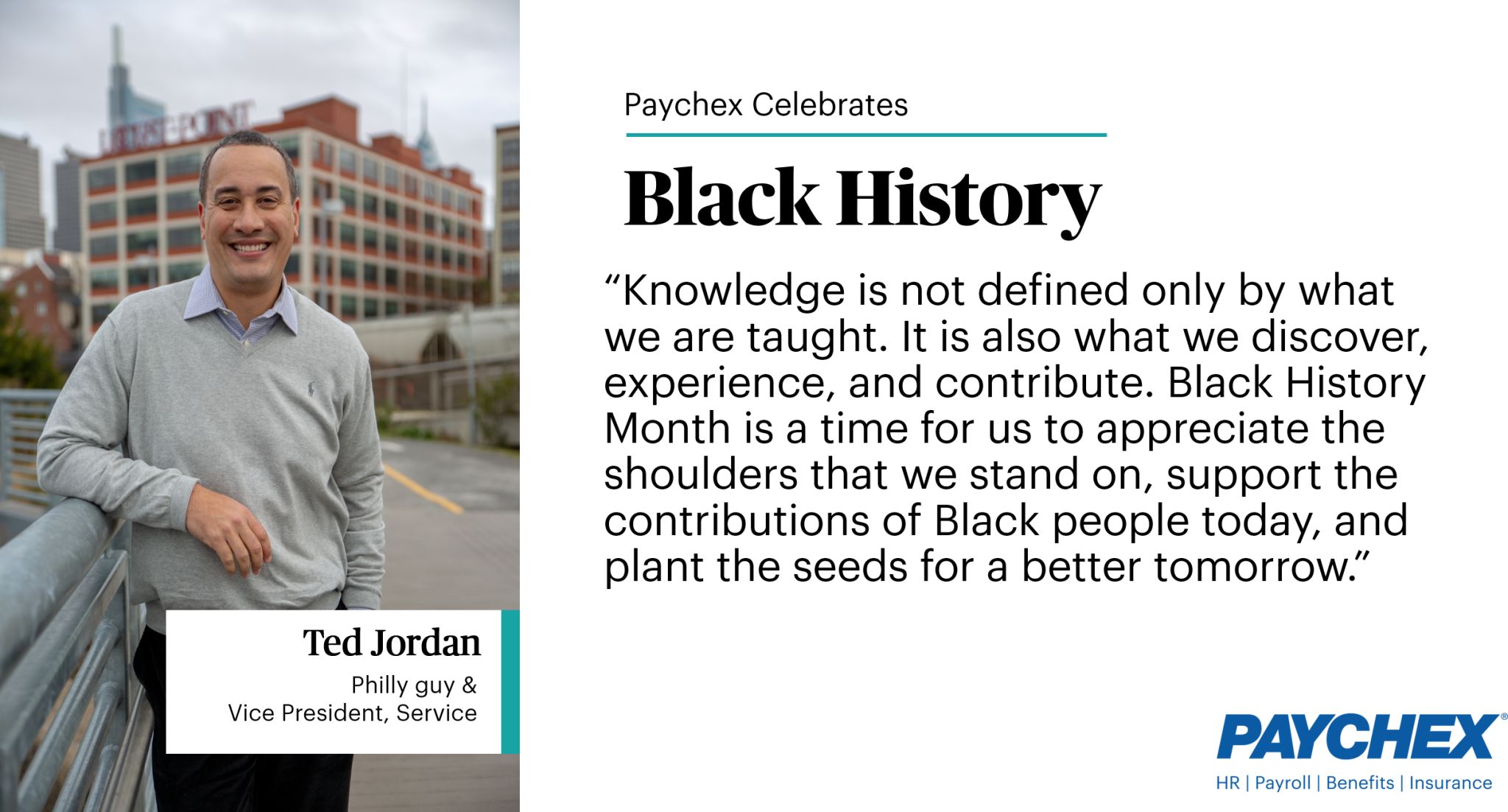 Black history does not begin and end in February. The richness of the Black experience has allowed us to engage in new narratives around the American experience. Paychex is committed to leading with inclusion and initiating those conversations that lead to positive and sustainable change in our internal and external communities. There are more stories to tell. Stay tuned to our LinkedIn or Twitter to see them throughout the year.