Explore the Value of Working with a PEO
Human Resources
Guide

Last Updated: 12/22/2021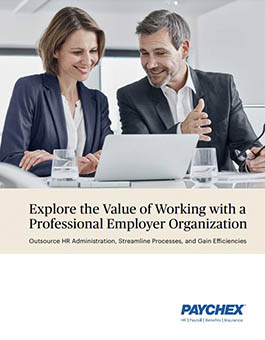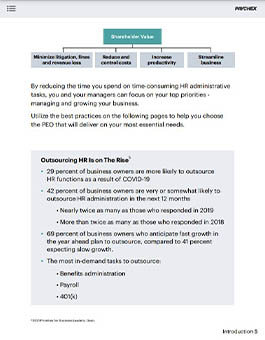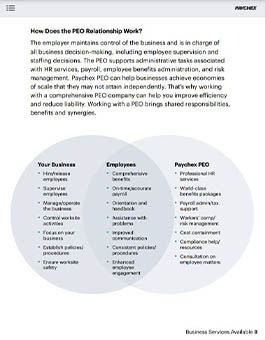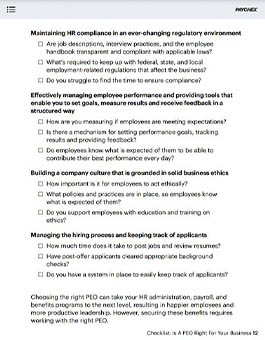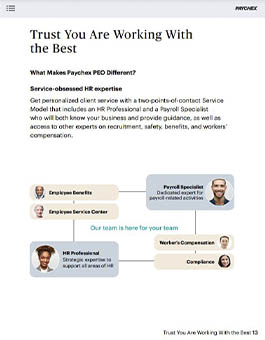 Get the Free Guide
Outsource HR Administration, Streamline Processes and Gain Efficiencies
Managing HR administrative duties, such as employee benefits, processing payroll, and implementing safety programs takes up a lot of time. Sixty-seven percent of business leaders reported spending up to 10 hours a week on HR duties, with 24 percent spending 11 to 20 hours a week.1 What is this time spent on non-revenue-generating activities costing your business?
Instead, you should consider working with a Professional Employer Organization or PEO for short. PEOs provide businesses with an easy, integrated, all-in-one solution to HR complexities like benefits, HR, payroll, and compliance. Today, 173,000 businesses are working with a PEO in the United States.2
Businesses3 that work with a PEO can benefit from cost savings of up to $1,775 per employee per year, 20 percent less employee turnover, 63 percent lower health benefits costs, and significantly fewer concerns related to hiring, retaining, and motivating employees.
Download our white paper to gain a better understanding of the value a PEO can bring to your business, and learn best practices to help you choose the right PEO that will deliver on your most essential needs.
12021 Priorities for Business Leaders, Oasis.
2 NAPEO.org New Economic Analysis Shows PEO Employment Growth Is 16 Times Higher Than The Rest Of The US Economy Since 2013 (prnewswire.com)
3NAPEO.org and https://www.prnewswire.com/news-releases/new-analysis-shows-roi-of-using-a-peo-is-27-percent-300920027.html