Slowing But Solid Jobs Numbers, Interest Rates a Bit High, and Way Too Much AI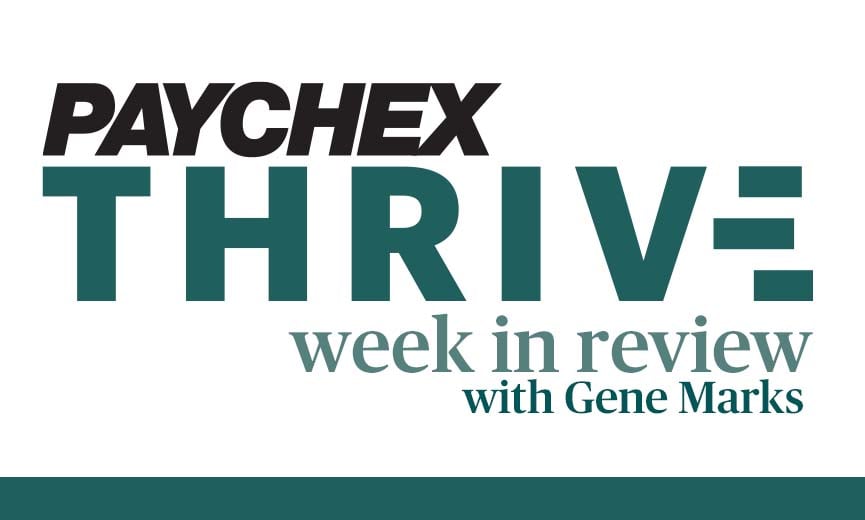 Podcast
•
8:43

Min
•
Season

4

| Episode

70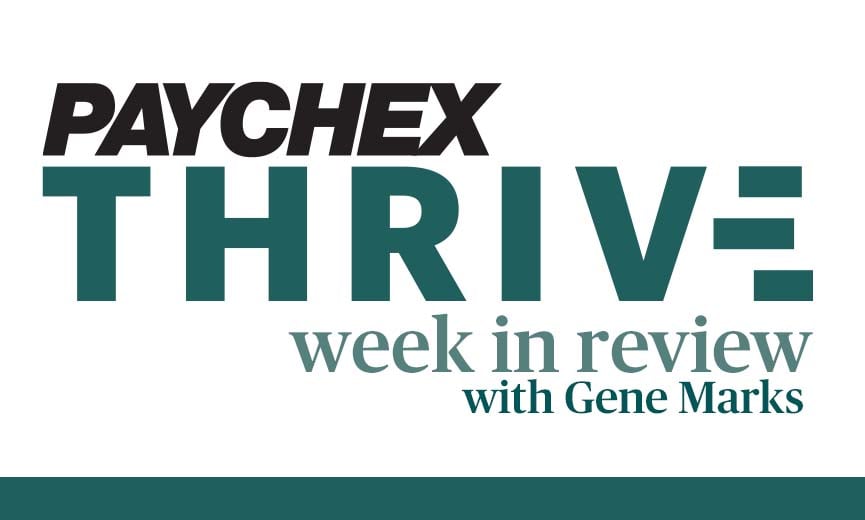 Listen

Apple Podcast

Spotify

iHeartRadio
Summary
Hey, everybody, this is Gene Marks, and welcome to this week's episode of the Week in Review, a Paychex THRIVE podcast where we take a few news items from the week, talk about them a little bit, and see how they impact your small business. So, let's get right to the news, shall we?
Last week was jobs, jobs, jobs. The Bureau of Labor Statistics Department of Labor released job unemployment and job information reporting that payrolls rose by 209,000 in June, which was less than expected. However, the unemployment rate did fall to 3.6%, but most economists were expecting 240,000 of new jobs to be added. We only got 209,000 of new jobs.
The biggest industries that were adding new jobs? Well, the U.S. government, which added 60,000 new jobs, followed by health care, social assistance, and construction, which I think is good news for those business owners, like many of my clients that are in the construction industry.
On the wage front, the Department of Labor reported wages increased about 4.4% from a year ago, which was slightly above expectations. So that's what the government reported. How about — that's, by the way, that's like survey information that they do, and the government is has a long history of a very detailed methodology for surveying businesses as to their jobs. But I don't know, guys, between you and me, like I like to rather depend on actual real data from actual real payroll companies.
So, Paychex released some data as they do every month in their monthly Paychex/IHS Markit Small Business Employment Watch. Now, this is based off of Paychex's actual customers, right? So, they also showed that small business hiring slowed modestly in June, and hourly earnings actually fell to about 4.02% from 4.24%.
So overall, though, their jobs index, which is measures the rate of job growth, is still pretty good. It's virtually unchanged so far in 2023, but definitely ahead of prior years, — it's a full point higher than the year leading up to the pandemic, which was the year end in February of 2020.
So, by the way, Paychex also reports on some of the areas of the country with the biggest growth in the south of the country. Businesses there continues to lead small business employment growth for the 15th consecutive month. Texas — big surprise — continues to report the strongest hourly earnings growth among the 20 largest states, with Houston ranking among first among all the metros for small business employment growth for the eighth consecutive month.
Overall, guys, the numbers are pretty good. We are, you know, a little bit of a slowdown of what we saw before but adding 200,000 jobs is that's good news for the economy. Wage growth at around 4% —that's both the government and Paychex saying this — is still a little bit dragging behind inflation.
So, that's certainly that much of a concern. But for the most part, the job market still remains strong, which basically means that all the naysayers talking about a recession coming up, well, there are those you know — there is that chance of a mild recession. Even the Fed Open Market Committee met last week and there minutes that were reported last week said that they're expecting a mild recession. All of that will have an impact on us, but from the job market standpoint, it's not so bad.
Now, let's talk about recession, because that brings me to our next news item. There is a quarterly survey that comes from Ipsos, MetLife, and the U.S. Chamber of Commerce. It's called their small-business Index. It increased slightly this last quarter: This is based on their release at the very end of June, right before the July Fourth holiday. Small-business owners, according to the survey, are bullish for increased staffing in revenue over the next year, but they do say that they do have some concerns about the current macro-economic environment.
Business owners are citing inflation — continues to be a top concern. Listen, guys, we all know inflation is still (there, with) Consumer Price Index is around 5% — many of my clients are seeing producer prices a lot higher than that — and, also, they're feeling the impact of interest rates.
Interest rates are having a big impact on my clients right now. The banks prime rate across the country is averaging about 8.5%. So, if you're looking for a working capital loan or an equipment loan, you could be, you know, getting a rate of 9, 10, 11% depending on your, you know, how good a customer you are with your bank. That's a lot more than what was being charged just a year or two ago, and that's holding back a lot of my clients from making more borrowings and investments, and I think that is a continuing big issue that a lot of businesses are going to be dealing with.
I think that's going to impact the overall economy and leads me more to believing that we are heading into a mild recession while interest rates remain high and inflation remains sticky. The bottom line is when it comes to interest, everybody is there, rates are not coming down anytime soon. In fact, if the job market stays hot and the economy continues to grow at the rate that it is, it's very possible that the Fed is going to increase interest rates another quarter percentage point before anything else happens.
So, you can expect to be in this environment of sticky inflation, higher interest rates, at least for the next six to nine months. So, you want to make your plans around that.
Finally, the Wall Street Journal had a really interesting report this past week about AI, and the headline of the report was — this is by Isabel Bousquet — that companies are drowning in too much AI. Are you the only guys feeling that because I'm feeling that? Like, everywhere I look, it's AI, AI, AI. It's like, you know, any company that's out there that's in the tech business has got to be saying, we're in the business, as well, and we're AI and we're AI, and that's all you're hearing about.
Obviously, chatGPT is the one that really stoked that out. This is like the new gold rush of technology. Well, you know, the article in the Wall Street Journal says that businesses are facing an influx of new artificial intelligence tools, many of which overlap and cause confusion for employees and corporations are trying to figure out what to do. An analyst from Gartner was cited in the article saying that people in the technology industry are feeling pressure to move into this AI space or risk falling behind. So, they're introducing like some half-baked features that they're rushing out to just kind of keep up with the Joneses.
We all have to be aware of this stuff. You know, AI certainly is going to have a dramatic impact on our business, just like the cloud did, just like mobile computing did, and the iPhone. Just like the internet did when it first really started booming back in the early 2000s.
I think AI is something on that level. It's going to take some time. So, you don't have to jump into anything yet and you have to be buying into people's half-baked ideas yet. My advice for you as a business owner to really take advantage of AI is to talk to your software vendors, your accounting vendors, your customer relationship management vendors, your HR platforms. You need to be talking to these vendors and asking them what new AI tools you have out or coming out in the future that we should know about, that we should leverage, that can help us be more productive and be more profitable.
You don't need to be investing in AI. Your investors are doing this. Just be careful. Be wary that a lot of these tech companies are throwing out AI stuff that really might not have a lot of usefulness. So, ask the hard questions and make sure that you understand what AI features are coming.
So that's the news this week. My name is Gene Marks. You've been listening to the Week in Review, a Paychex THRIVE podcast. I hope you found this information helpful to run your business. If you have any advice or if you would like to ask questions or suggest a guest, please visit us at our web page. That's payx.me/thrivetopics. That's P-A-Y-X dot M-E/thrivetopics.
Thank you so much for listening. I'll be back to you next week with another episode of the Week in Review. Look forward to seeing you then. Take care.
This podcast is property of Paychex, Inc. 2023. All rights reserved.