Why Employees Ask for a 401(k) Plan
Employee Benefits
Article

Last Updated: 08/05/2016
An employee-sponsored retirement plan is one tool to help workers achieve a comfortable retirement. Take a look at some of the plan benefits that help explain why many employees ask for a 401(k).
Retirement is a milestone that any worker can achieve, but which is only considered successful when the retiree is comfortable with their savings. Having an employee-sponsored retirement plan is one tool to help workers enjoy a financially secure retirement, and it is one of several reasons why employees are asking their employers for a 401(k) plan. The following are some plan benefits that may help explain why 401(k) plans are asked for by name.
Tax-Deferred Earnings
Employees can place money into their 401(k) plan tax-free, which lowers their taxable income. Participation in 401(k) plans has several tax advantages for employers, too. In particular, business owners can usually take a tax deduction for contributions to the plan when the contributions are made.
Employer-Matching Contributions
Employer-matching contributions are a way for employees to reach their retirement goal at a faster pace. According to the Department of Labor, the employer may contribute a percentage of each employee's compensation to the employee's account (called a non-elective contribution), match the amount employees decide to contribute, or do both (within the limits of the tax law).
Employees Have Control
401(k) plans allow employees to have a say about how much they want to contribute, which can be helpful for employees at different stages of their retirement savings. While it's generally encouraged to contribute as much as possible, entry-level employees may not have the same luxury to save a portion of their paychecks to retirement savings, whereas employees higher on the pay scale (and likely closer to retirement) can opt to start saving more. For employees who are nearing retirement age and haven't been offered a 401(k) in the past, they may be interested in the "catch-up" contributions, which allow individuals age 50 or older to make additional contributions into their 401(k).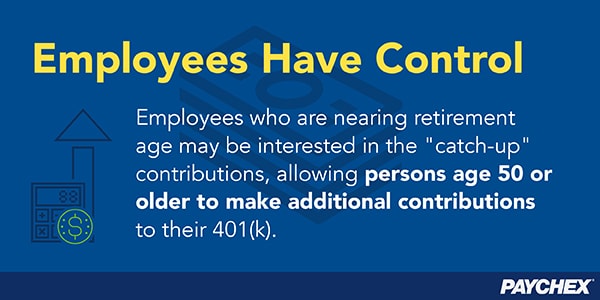 If You Don't Offer a 401(k), Someone Else May
In an era of building company culture and staying ahead in recruiting and retaining top talent, 401(k) plans remain a practical benefit in the workplace. Retirement plans have become increasingly desirable to today's workforce that not offering a 401(k) could mean that current and potential employees might look to another organization that does offer one.
Employees are asking for it, so why not help them out? When you're ready, the next step in setting up a 401(k) plan is deciding which plan features work best with your business model.
Tags