5 Tips to Train Your HR Team on Mobile Recruiting Workflows
HCM
Article

Last Updated: 08/16/2016
Mobile workflows are changing how companies approach talent acquisition. Find out what companies need to know in order for their HR teams to excel using modern recruiting methods.
Mobile workflows are changing how companies approach recruiting. According to Beyond, an estimated 83% of candidates use mobile devices in their job search for everything from researching companies, to finding positions, to applying for jobs. As a result, businesses are increasingly investing in technology and recruiting workflows that support the mobile candidate experience. A successful mobile recruiting initiative, however, requires more than just content and technology. It requires an HR team that understands mobile recruiting and is trained to confidently deliver the best mobile recruiting results. Here's a closer look at five areas companies should focus on when training their HR teams for mobile recruiting.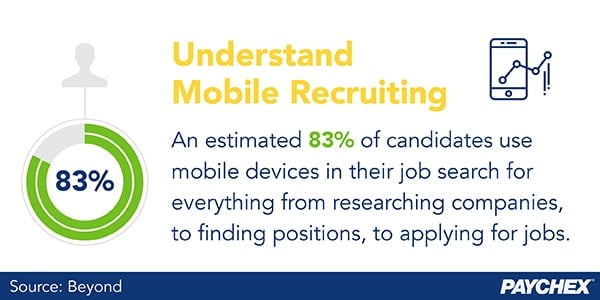 Mastering Mobile Recruiting Technology
Human Capital Management (HCM) solutions with applicant tracking software have evolved and become much more sophisticated than just a few years ago. Best-in-class systems integrate across the HR workflow and allow companies to track candidate information at every touch point. From a mobile recruiting perspective, it's easier than ever to view and apply for jobs. Your talent acquisition team should be comfortable with the technology, whether they're troubleshooting issues for candidates, getting hiring managers up to speed, or rethinking strategic approaches to hiring.
Rethinking Candidate Sourcing
Effective recruiting in today's fast-evolving workplace requires an agile approach to candidate sourcing. People using mobile phones may be finding jobs on social networking sites, through referrals from friends and colleagues, or by browsing online job boards. Successful mobile recruiting often involves a diversified strategy that incorporates social recruiting, job ads, referrals, and actively cultivating your recruiting brand in different industry forums.
Leverage Smarter Candidate Vetting
Integrated mobile recruiting systems make it easier for applicants to put their names in the running for positions. As a result, recruiters can end up with more work. Mobile applications may also be shorter, requiring recruiters to read cover letters and other in-depth applicant information to really understand what a candidate brings to the table. However, talent acquisition teams may strategically use "vetting" questions to ensure that candidates meet the minimum qualifications for positions before diving deeper into their applications. Using such questions can help you automate the vetting process to uncover the best candidates in less time.
Incorporate Mobile Into Content Development
Teaching your team to embrace mobile job recruiting requires changing how they think about candidate communication and content development. For example, after you've confirmed an interview, how do you send the candidate directions? Are you incorporating content with click-to-call features and GPS-enabled Google Maps? Mobile applicants often expect content that functions and looks great on mobile devices. Think in terms of shorter and more "snackable content", faster communications, and a focus on staying in touch.
Using Back-End Recruiting Analytics
Integrated hiring systems can offer HR representatives and recruiters more detailed and accurate analytics. Using back-end recruiting analytics can help your HR team meet their metrics efficiently and deliver a great candidate experience. In particular, mobile recruiting is an area that's still developing. Training your HR team to collect and use relevant data can help you gather results and customize your HR mobile workflow to your business' unique needs.
Hiring top talent today requires mastering mobile workflows. Investing in the right HR software and training your HR team can help you attract the best candidates, hit important recruiting metrics, and make the most of mobile recruiting.
Tags