Attracting or Keeping Remote Talent in the Workplace
Human Resources
Article

Last Updated: 12/09/2021
The COVID-19 pandemic upended many of our social and professional norms and did so in a way that required swift and decisive action on the part of employers and managers at businesses throughout the country. A switch to focusing on hiring new talent who would work remotely may have, in a time before the pandemic, been made only after thoughtful deliberation and careful study of recent employment trends. But the reality of the switch for many employers was something more akin to a split-second decision.
We surveyed over 800 remote professionals to see how workplaces are responding to this new normal. In a year (and counting) marked by social and economic uncertainty, it seems that an expedited push toward normalizing employees working remotely has been a silver lining amid the dark cloud of the pandemic. And our survey revealed it has been a boon for both employers and employees. So how has the COVID-19 pandemic affected attitudes toward hiring and retention?
Decisive Benefits of Remote Work
Data from the aforementioned survey showed that over 60% of workplaces have begun hiring remotely in response to the structural changes necessitated by the COVID-19 pandemic.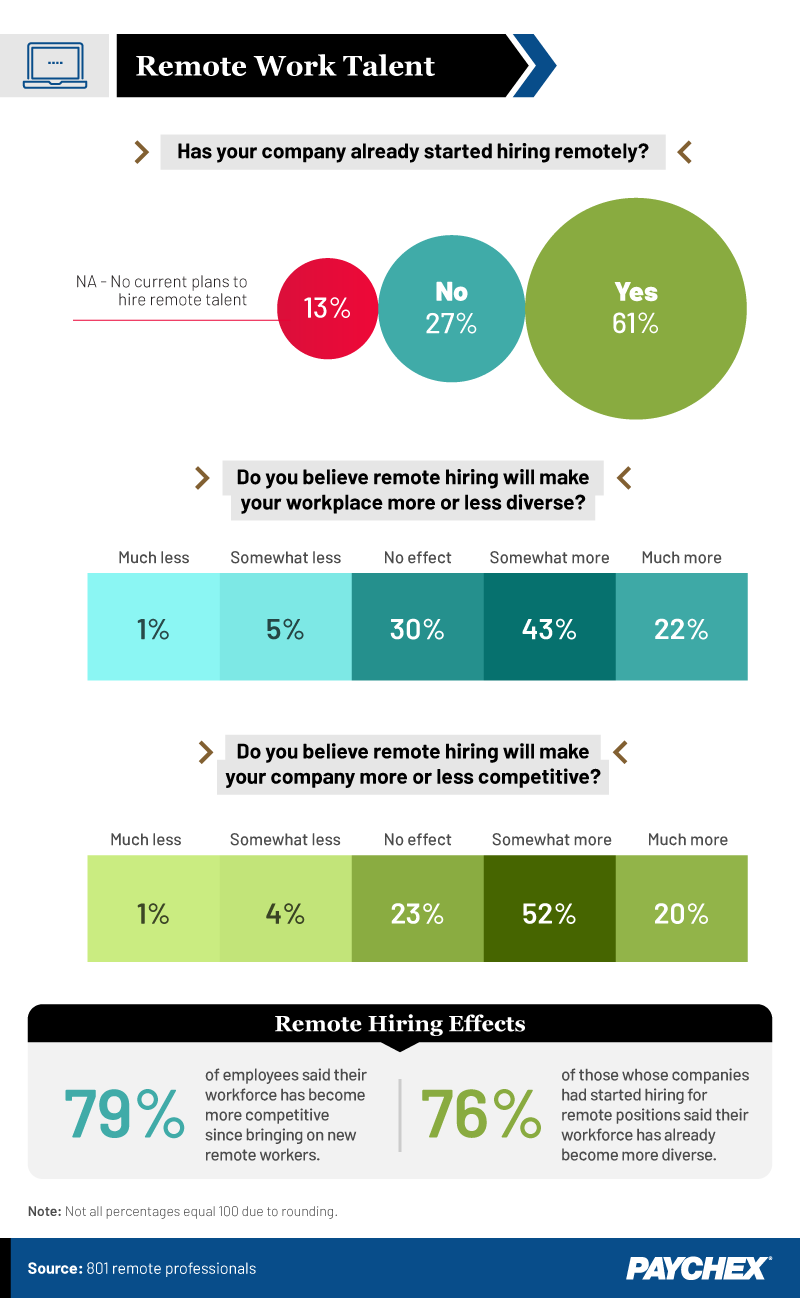 Of those polled, a majority reported believing hiring employees who will work remotely will increase the diversity in their places of employment and make companies more competitive in the market. Indeed, the same polling data revealed that an even greater majority of respondents – over 70% – believed a focus on hiring remote workers has already tangibly increased workplace diversity and made their respective companies more competitive.
Work-Life Balance Improvements Through Remote Work
For employees, the benefits of remote work may extend beyond the workplace – quite literally. Working remotely can eliminate the stress and time consumption of the daily commute, leaving employees with extra time for family, hobbies, and other leisure activities. So it's no surprise that the material benefits of remote work have made employees hesitant to return to the pre-COVID days of coming into the office.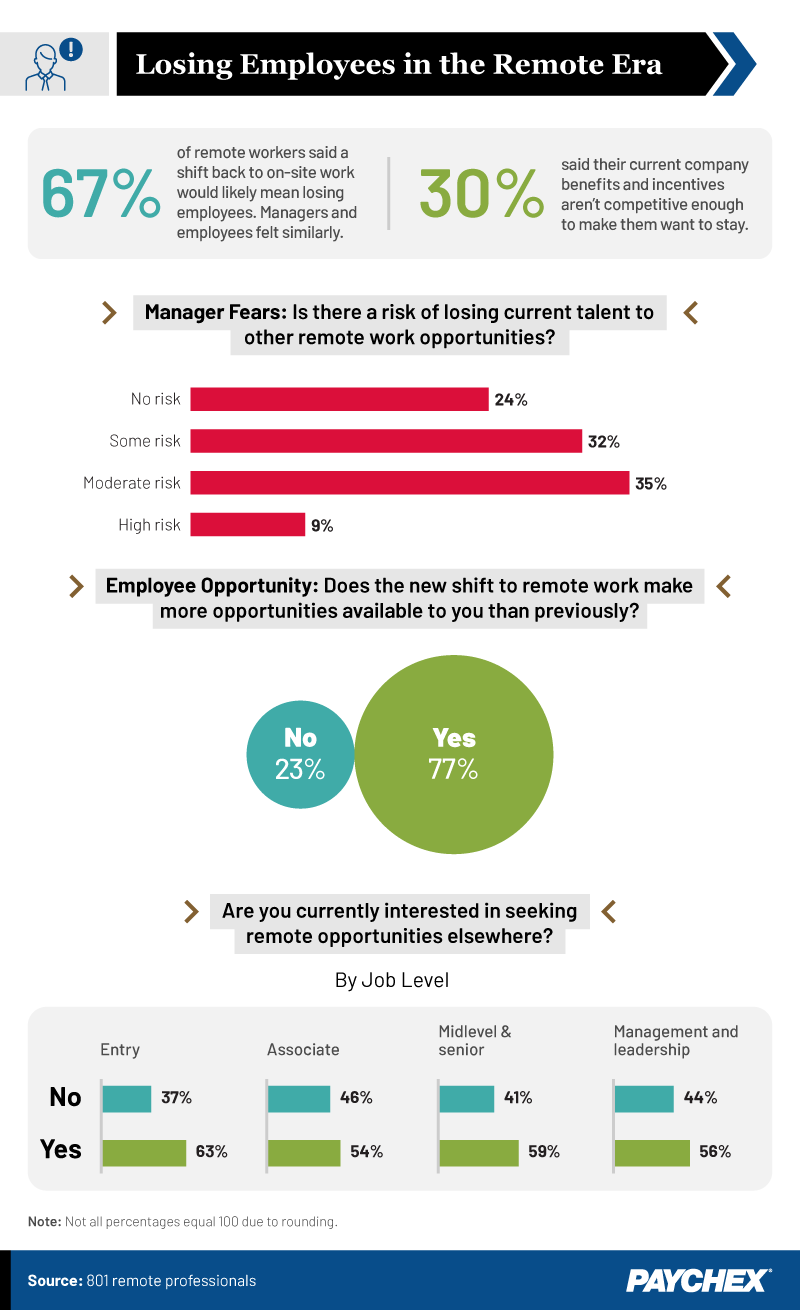 As a result of this increased focus on employees working remotely, a majority of employees reported looking for new work opportunities. In fact, our polling found the percentage of workers who reported looking for new employment with currently inadequate benefits was only marginally higher than those who reported looking for new remote work even with a current package of what they considered adequate benefits at their present workplaces. The potential for turnover is high across the spectrum of workplace scenarios. For many, the promise of remote work has trumped other employment benefits.
Recruiting and Retaining Talent Through Remote Opportunities
In the face of such data, employers should be ready to meet the moment. Eighty-six percent of employees reported their companies as having a strategy in place to recruit new talent to work remotely. The most commonly reported strategies included hiring people with more work experience, particularly more relevant industry experience. Overall, only 36% of employers reported increasing salaries, the majority of which were midsize businesses – those with 50 to 250 employees.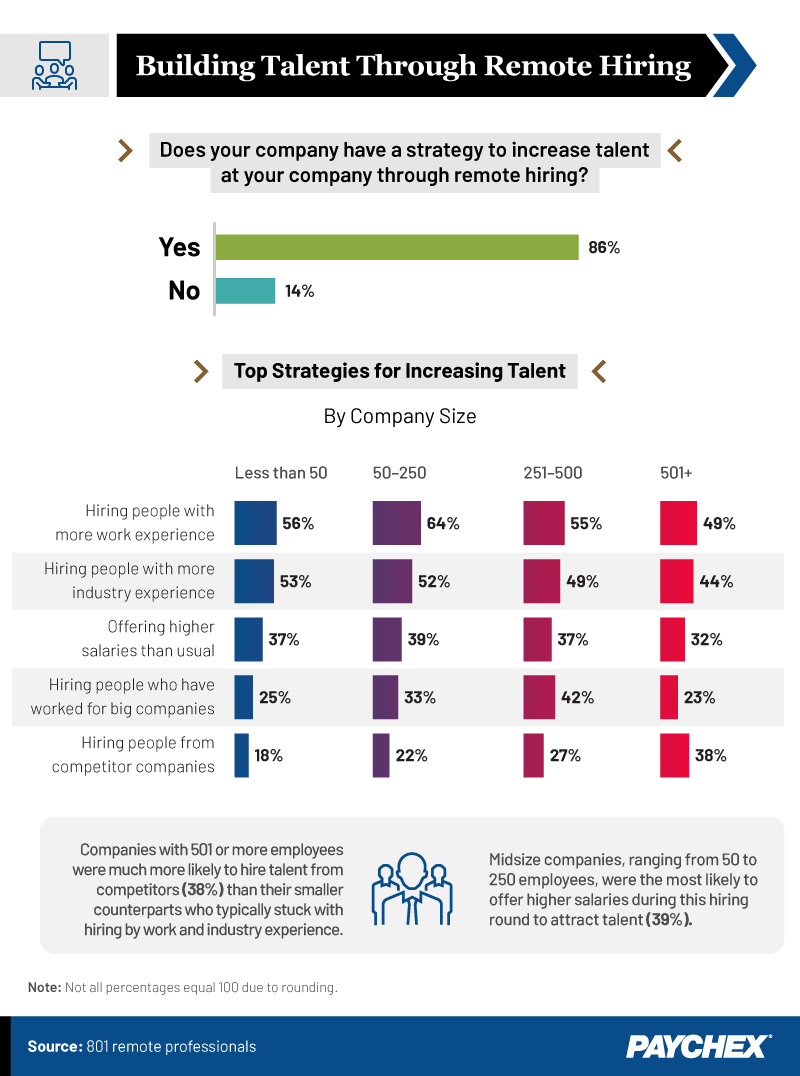 Although the strategic benefit of increasing wages is obvious, the decision by larger companies to increase the hiring of those with experience with other large companies and direct competitors could prove to be an incredible mutual benefit to both employers and employees – particularly women, caretakers, immigrants, and other historically under-tapped talent pools that have difficulty relocating or working full time outside of their home.
Employers Must 'Meet the Moment' of the New Remote Work Era
Although a vast majority of employers report having adapted a recruitment strategy in response to the challenges and changes presented by COVID-19, the polling data from employees does not necessarily reflect this. With 86% of polled workers responding that they will have to return to on-site work eventually, many of them responded unfavorably to the incentives presented by their current employers to do so.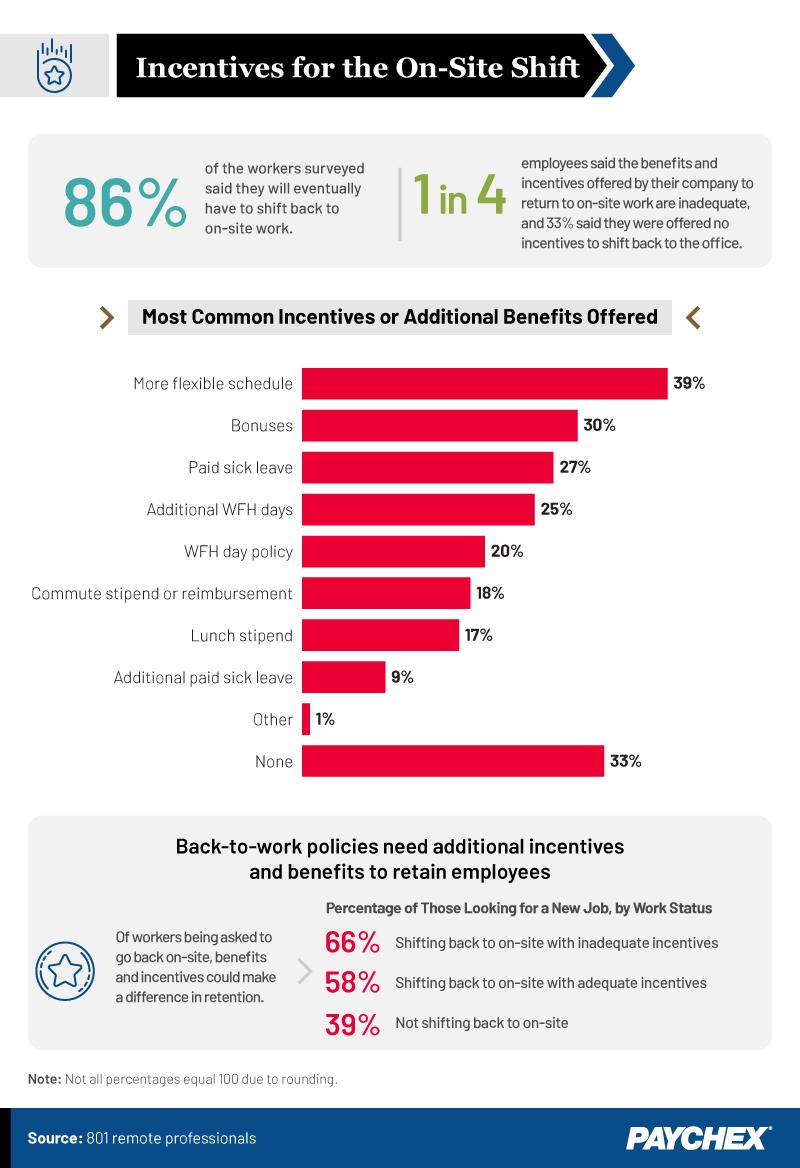 In addition to the more than 50% of workers who reported looking for new remote opportunities regardless of current benefits options, 1 in 4 employees polled overall said the benefits and incentives offered by their company to return to on-site work are inadequate, and 33% said they were offered no incentives to shift back to the office. Additionally, 67% of polled remote workers said they believed a shift back to on-site work would result in a loss of employees, and a majority of managers shared a similar sentiment.
If employers wish to remain competitive and truly seek to scout and recruit the top talent in their respective industries, they must be willing to adapt to the changing landscape of the 'office' – that is, one which is much more flexible in its remote opportunities than it has been in the past.
Redefining the Workplace in a Post-COVID World
Historically, changes in the workforce that concretely benefit the worker are hard to go back on – think the 8-hour workday, the 40-hour week, even the weekend. At some point these were all considered new and controversial employee benefits, even though today it is nearly impossible to imagine it any other way. The fully-remote position may simply be the latest change on a continuum of evolving workplace culture.
As more and more employees reported exploring new opportunities presented in the wake of employers offering remote working arrangements, some 30% of them stated that their current workplaces have offered no incentives to return to the office – even with 45% of managers believing there is a moderate to high risk of losing employees to remote positions offered elsewhere.
Although entry-level positions are statistically the most likely to leave in pursuit of remote opportunities, employers that do not adapt to the moment and embrace the (arguably much-needed) changes to the traditional workplace that COVID-19 has hoisted upon the professional world risk losing not only senior employees and top talent who seek the freedoms and opportunities of remote work, they also risk losing out on increased diversity, competitiveness, and employee productivity.
Navigating these changes to the workplace can present unique challenges to hiring and managerial staff, so it is important to seek seamless solutions that can benefit both employer and employee. Paychex offers a variety of HR solutions to streamline employee payroll, time clocks, employee benefits, hiring, and other key aspects of company care.
Methodology and Limitations
We surveyed 801 remote workers either permanently or temporarily in a remote work environment in order to explore sentiment around hiring remote workers and its advantages, as well as remote work disadvantages in regards to human resources. Respondents ranged in age from 20 to 79 with a mean age of 37. Approximately 42% of our respondents identified as women, 58% identified as men, and less than 1% of our respondents identified as nonbinary. Margin of error was +/- 3% with a confidence interval of 95% based on 2021 numbers of remote workers in America and the 801 remote working respondents collected for this survey. Survey data have certain limitations associated with self-reporting, including telescoping, exaggeration, and selective memory. We didn't statistically test our hypotheses or weight our data for this exploratory analysis of remote hiring.
Fair Use Statement
If you've found our study about the benefits of hiring remote workers useful, you are welcome to share our data for noncommercial purposes. Please link back to our study so we can get proper credit for our exploration of hiring in the remote work era.
Tags