Measuring Productivity in the Workplace
Human Resources
Article

Last Updated: 08/20/2021
Measuring and defining company productivity can be a big challenge for any business. The efficiency and output of an individual or team can be affected by a number of factors ranging from motivation to workload. It can be equally difficult to define what output should mean in terms of measuring performance success. How do employees, managers, and companies best achieve a high and sustainable level of productivity? And what motivations do employees have to perform their best? We surveyed 977 professionals with either part- or full-time employment to see just how this breaks down among both employees and managers, as well as between male and female employees. Read on to see what we learned.
Employees and Managers Define Productivity
Defining what strategies and behaviors lead to a more productive work environment is important for any company looking to increase their output. The most popular attribute among our entire group of respondents was the ability to work efficiently within a team (26%). A previous study showed that teamwork can free up to 52 days on a manager's calendar in just one year. With this in mind, unsurprisingly, teamwork was even more popular among managers (29%), compared to employees (24%). Both groups agreed that getting work done on time was more important than getting it done early, and efficiency and prioritization were the second most important.
The top components of productivity among respondents were completing tasks (52%) and using time efficiently (51%). Managing expectations and delivering on expectation were deemed less important at 35% and 36%, respectively.
When we separated the responses between employees and managers, priorities were clearly different. Managers responded that teamwork was the top component of productivity (52%), whereas teamwork was not even in the top five of responses for employees (41%). Management prioritizing teamwork makes sense, as teams can often perform better and problem-solve more efficiently when team dynamics are cared for. Additionally, meeting deadlines was considerably more important to employee respondents (46%) than managers (39%).
Highly Productive Priorities
Definitions of productivity no doubt vary from person to person, but we were curious just how they vary between respondents and their own perception of their performance. First, we assessed how they felt about their own output by asking them what percentage of the workday they felt productive. The results were as follows:
33% reported feeling highly productive, or productive 80% of the workday or more.
12% reported feeling only somewhat productive, or productive 50% of the day or less.
55%  reported feeling moderately productive, or productive 51% to 79% of the day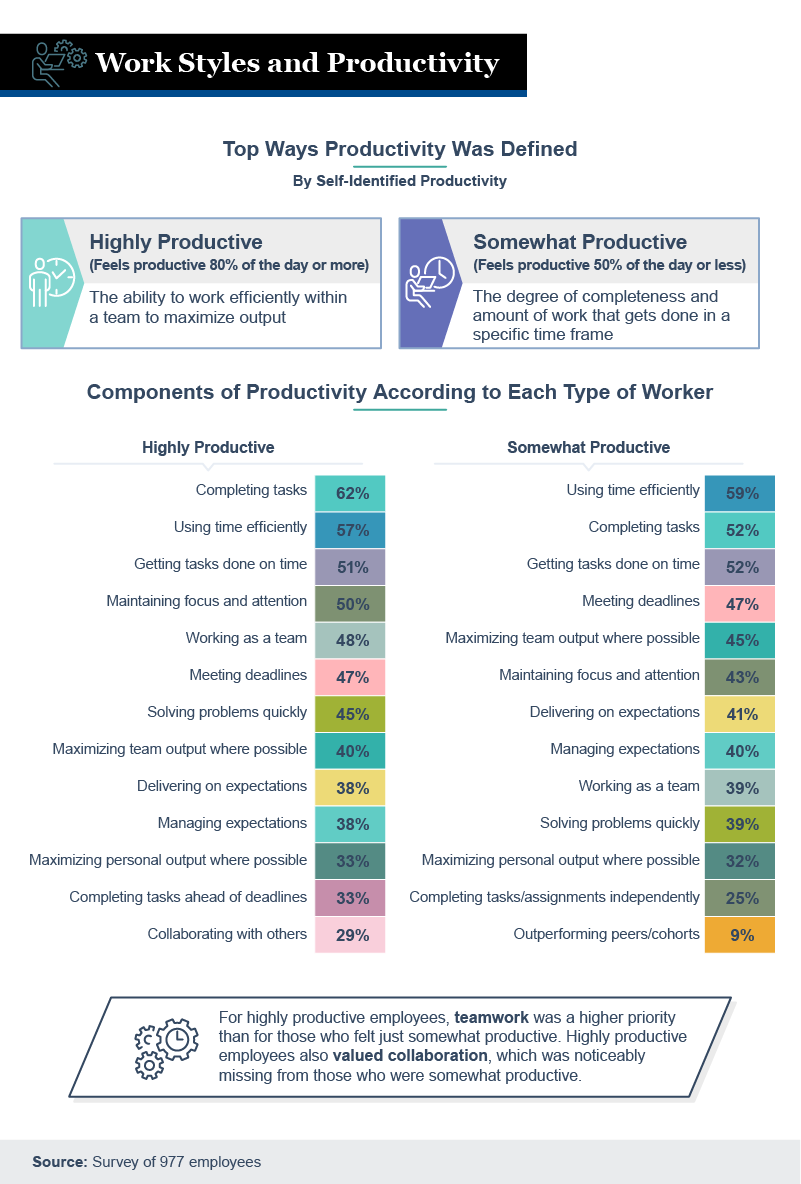 The ability to work within a team to maximize output was the top answer for respondents that identified as highly productive, whereas teamwork was less important to those who considered themselves somewhat productive.
Completing tasks and using time efficiently were the top two responses for both groups. While there are many ways to achieve these performance markers, one method is setting both short- and long-term goals to improve time management. The two groups of respondents diverged significantly when it came to teamwork, with 48% of highly productive respondents choosing it, compared to only 39% of somewhat productive respondents. Similarly, 29% of highly productive respondents selected collaboration with others as a component of productivity, compared to less than 10% of somewhat productive respondents.
What Encourages Productivity?
Any company would love to know the secret to motivating their employees and creating an effective, productive work environment. So just what motivates employees? The top response among respondents was fair compensation at 49% overall. However, employees valued this slightly more (49%) than managers (48%). The top answer for managers was teamwork (52%), which wasn't quite as important to employees as a motivator (40%). Meaningful work made the top three for employees but not for managers; and setting goals was a top three motivator for managers but not for employees. While appreciation was only felt by around 1 in 3 employees, employee recognition can actually have a big impact on employee motivation and team morale.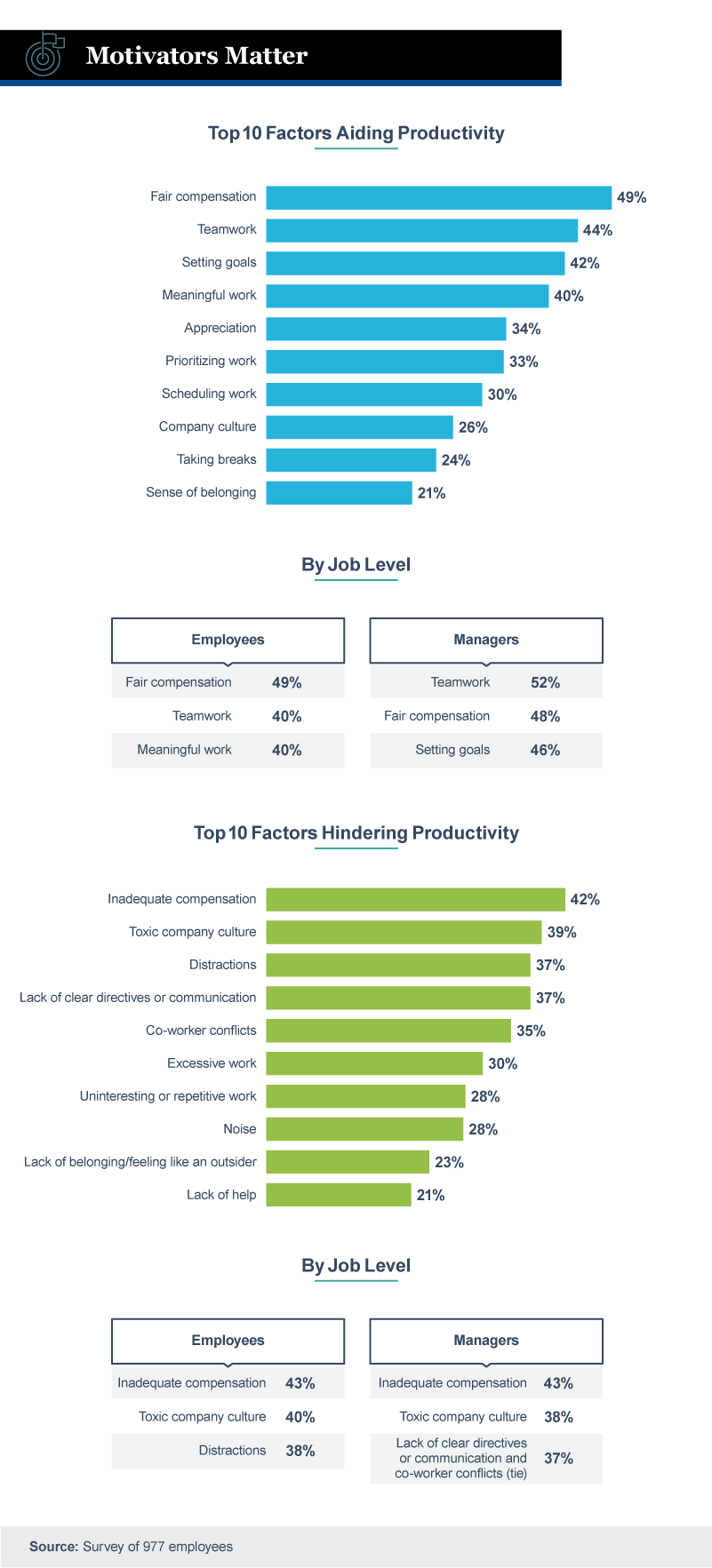 Both managers and employees agreed that inadequate compensation is the biggest demotivating factor in a workplace. It was the No. 1 factor for both groups, followed by toxic company culture. Unsurprisingly, distractions were also a hindrance to productivity, and with remote work being much more common, it's important for professionals to evaluate their own productivity and downtime.
What Leads to More Money?
Compensation was clearly a big motivator for both employees and managers. So knowing what to do to get that raise is an important step in getting there professionally. The top answer among all respondents was a good performance record (47%). A good performance record can be an easy reference point in a performance review where a raise is on the line.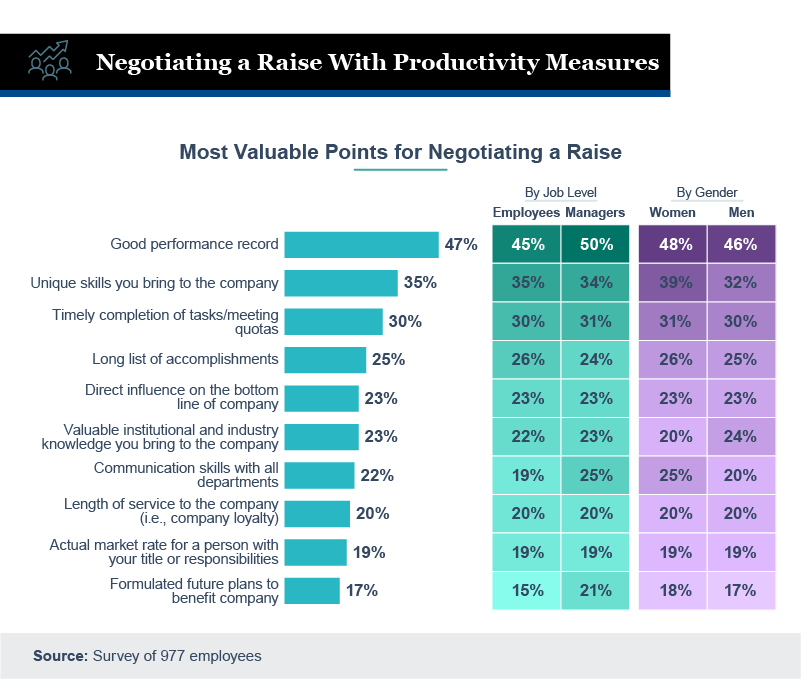 All respondents also responded that bringing unique skills (35%) and finishing tasks on time (30%) were the second and third most important points for negotiating a raise. Managers (25%) were more likely than employees (19%) to think that communication skills were important in getting a raise, while employees (26%) valued the accomplishments that they had achieved. Women (25%) were also more likely to look for communication skills when determining if someone deserves a raise, and men (24%)  looked for institutional and industry knowledge more.
Motivating a Workforce
Productivity can be one of the biggest determining factors to a company's success. It seems clear that not only do definitions of productivity vary in the workplace, but so do motivators and perceptions. Employees had somewhat different sets of priorities than managers did, whether it was about teamwork or efficiency, and those priorities led to different interpretations. Meeting the individual needs of each employee to identify their motivators and performance output can be a handful; that's why you should make Paychex a part of your business. Building a company culture that takes care of employees and gives them the tools they need to succeed is paramount. Paychex can help businesses do just that, leveraging years of HR experience and advanced payroll technology to help you get more time back in your workday.
Methodology and Limitations
This was a survey of 977 professionals with either part-time or full-time employment. Respondents ranged in age from 19 to 70 with an average age of 35.4. 61% of those surveyed identified as men, 39% as women, and less than 1% as nonbinary. Around 64% of those surveyed described their job level as employees, whereas 35% identified as managers, and 1% identified their job title as other. The survey collected responses between May 6 and May 10, 2021.
Survey data has certain limitations which include, but are not limited to, telescoping, exaggeration, and selective memory of participants. We didn't weight our data or statistically test our hypotheses. This was an exploratory study examining the topic of productivity and how employees measure it at work.
Fair Use Statement
Please feel free to share our study on productivity and motivators with like-minded professionals for any noncommercial purposes. We only ask that you link back to our original study in order to provide us credit for our work.
Tags