Why More Employers Are Adopting Parental Leave Policies That Apply to Men and Women
Human Resources
Article

Last Updated: 08/22/2016
An increasing number of employers are instituting policies that offer paid parental leave to both mothers and fathers. Learn more about this trend that suggests more companies are trying to address evolving family needs.
An increasing number of employers are instituting policies that offer paid leave to new parents, regardless of whether the parent is a mom, dad, adoptive parent, or domestic partner of a parent. The trend suggests that more companies are trying to address the evolving needs of families in which more than just new moms value a paid break from work after a baby arrives.
Major accounting firm Ernst & Young, for example, said in April that it would provide equal parental leave for all new parents up to 16 weeks—a move that could affect about 1,200 of the company's employees annually.
"Providing our people with equal benefits unmatched in professional services, not only demonstrates our commitment to helping our families succeed, but also empowers all of our parents—men and women—to take advantage of this special bonding time with their child before returning back to work," said Stephen R. Howe Jr., Ernst & Young's U.S. chairman and Americas managing partner.
Such a move may be a smart recruiting tool in a field such as accounting, where skilled workers are hard to come by. Tech companies including Facebook, Etsy, Netflix, and Spotify have also created parental leave policies that are equal for both genders, according to the Huffington Post. Companies that want to ensure that both male and female employees receive the same opportunities also see the offer of paid leave as the right decision.
"The idea of giving women more parental leave than men is based on a sex stereotype that women should be home and men at work," Peter Romer-Friedman, of the Washington Lawyers' Committee for Civil Rights, told the Huffington Post.
Some state governments are also getting in on the act. In April, New York State legislators, along with Governor Andrew Cuomo, passed a state budget that grants men and women paid family leave. New York will phase in the benefit starting in 2018. By 2021, eligible New York workers are estimated to receive up to 12 weeks at 67 percent of their average weekly wage.
The Empire State joins other states including California, New Jersey, and Rhode Island, all of which also guarantee paid parental leave for workers.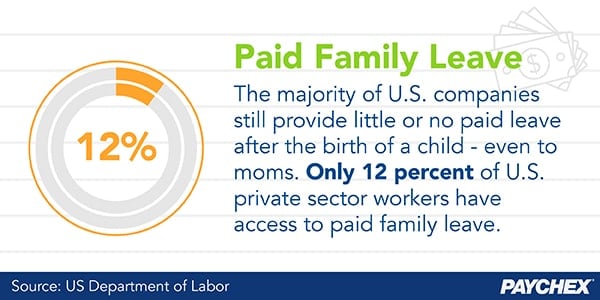 Despite more large companies changing their policies and states passing paid leave legislation, the majority of U.S. companies still provide little or no paid leave after the birth of a child—even to moms. Only 12 percent of U.S. private sector workers have access to paid family leave, according to the U.S. Department of Labor. This is a tough situation for families, according to the Labor Department, because maternity leave has shown to provide a boost for child health outcomes. When fathers take leave as well, it can have positive effects on their families.
However, federal law does not currently require employers to provide their workers with paid leave after the birth of a baby. The federal Family and Medical Leave Act requires that covered employers with 50 or more employees offer up to 12 weeks of leave to covered employees, but does not require that the time be paid. Companies generally have the ability to decide whether offering a paid parental leave makes sense for their business.
Tags