Employee to Entrepreneur: How Business Owners Got Their Start
Startup
Article

Last Updated: 04/06/2018
What inspires Americans to start their own small business and get their venture successfully off the ground? We surveyed more than 400 small business owners about their experiences, including how they raised funds and what challenges they faced. This is what they had to say.
Being your own boss might sound like the ultimate American dream. Making your own hours, committing yourself to passionate projects, and contributing to the cornerstone of the U.S. economy are just a few of the perks associated with being a small business owner.
While brands with fewer than 500 employees make up a vast majority of businesses across the country, for many Americans, the fear of failure could be stopping them from ever establishing their own business venture.
To learn more about what inspires most Americans to start their own small business and how they got their firms off the ground and on the road to success, we surveyed more than 400 small business owners. We asked them about their experiences from start to finish, including how they raised funds and the challenges they faced along the way. Want to know how these business owners overcame their fears and forged a new path in technology, retail, manufacturing, and more? Read on to find out.
Finding Their Startup Inspiration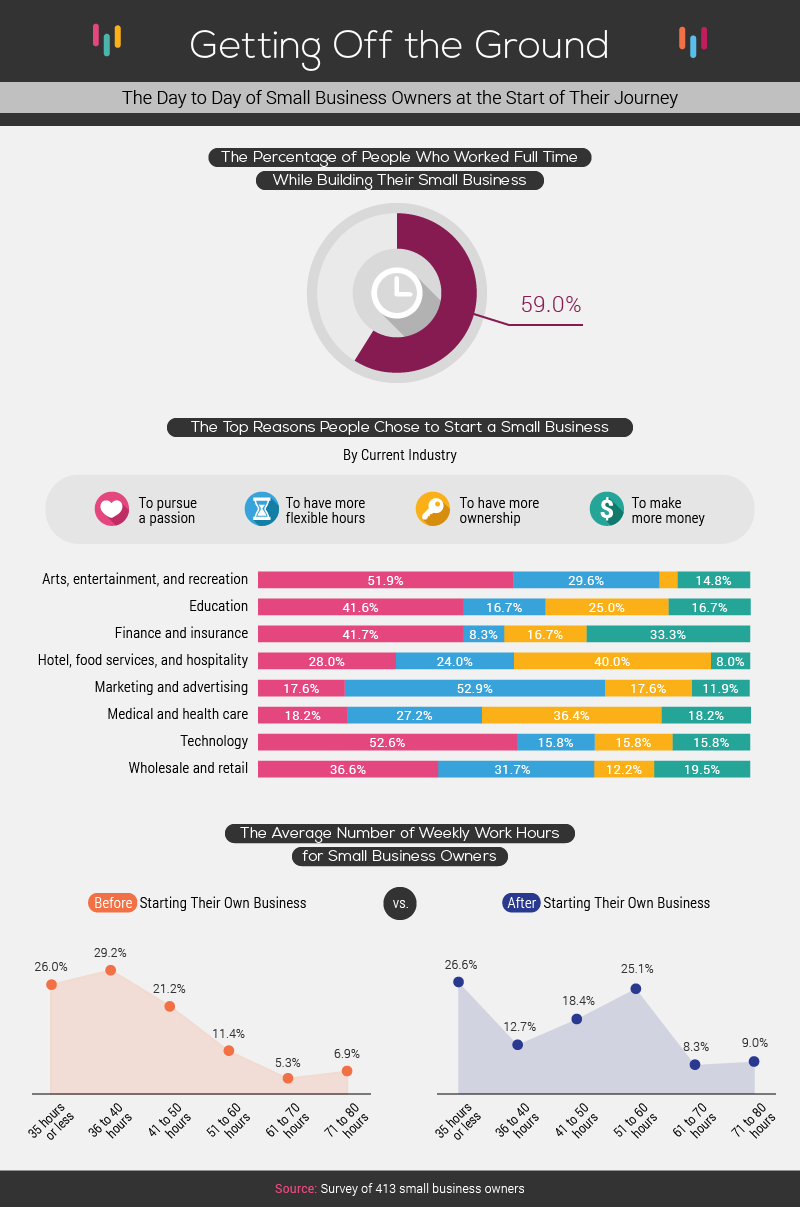 Research suggests many Americans are working more than one job today. While this may be due to a desire to have financial stability, the "side hustle" can allow some people to start their business without letting go of previous employment. In fact, 59 percent of small business owners worked a full-time job while pursuing an entrepreneurial endeavor.
With so many people dedicated to putting in extra hours to fulfill their dreams, what eventually made them leave their job and build a small business?
Almost 53 percent of people in technology admitted it was their passion for apps, software, and products that drove their decision to leave their job. Experts suggest the technology industry is among the most lucrative places to plant your flag and get backing from brand-name investors along the way.
Americans in marketing and advertising, however, were less concerned about pursuing their passion and more interested in establishing flexible hours. Additionally, 1 in 3 people in finance and insurance said their biggest inspiration was profit – making more money was the top reason they decided to start their own firm.
Acquiring the Cash to Start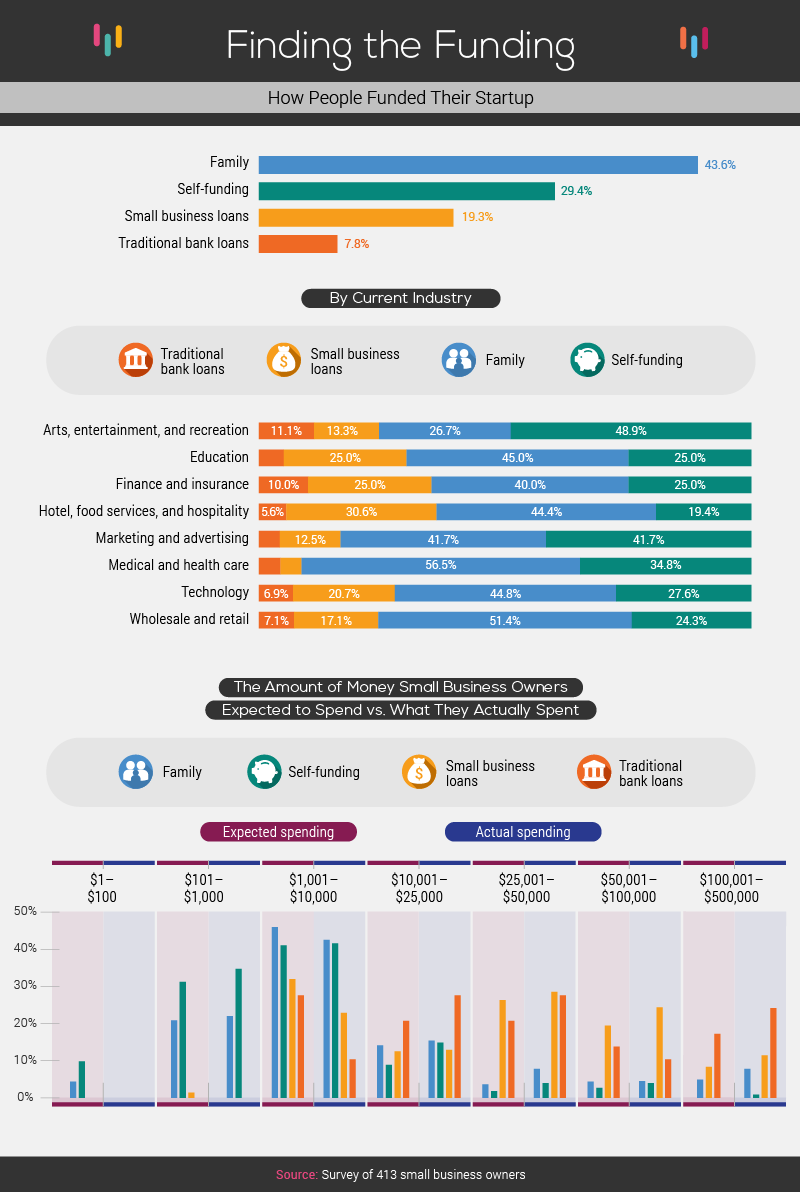 Whether it's pleasure, passion, or profit that drives you to build your own business, there's no escaping the need for funding to get off the ground.
According to a majority of respondents, getting money from the bank (either through small business loans or personal advances) wasn't nearly as common as funding through family. Even big-name brands like GoPro, Chipotle, and Amazon got their start with investments from family members.
If that won't work for you, however, don't fret. Nearly 30 percent of small business owners said they received funding from bootstrapping, raising money on their own. As with Steve Jobs, Bill Gates, and "Shark Tank" investor Daymond John, sometimes it takes a little bit of creativity to find the funds to turn ideas into real-world products or applications.
Our panel of small business owners revealed bootstrapping was particularly popular among people in arts and entertainment as well as marketing and advertising, while more than half of business owners in the medicine and retail industries got the money from their family. Still, a loan might be the right way to go. If you're thinking about starting a hospitality, finance, education, or technology business, you might be like the more than 1 in 4 respondents who took out a small business loan to get things started.
Common Concerns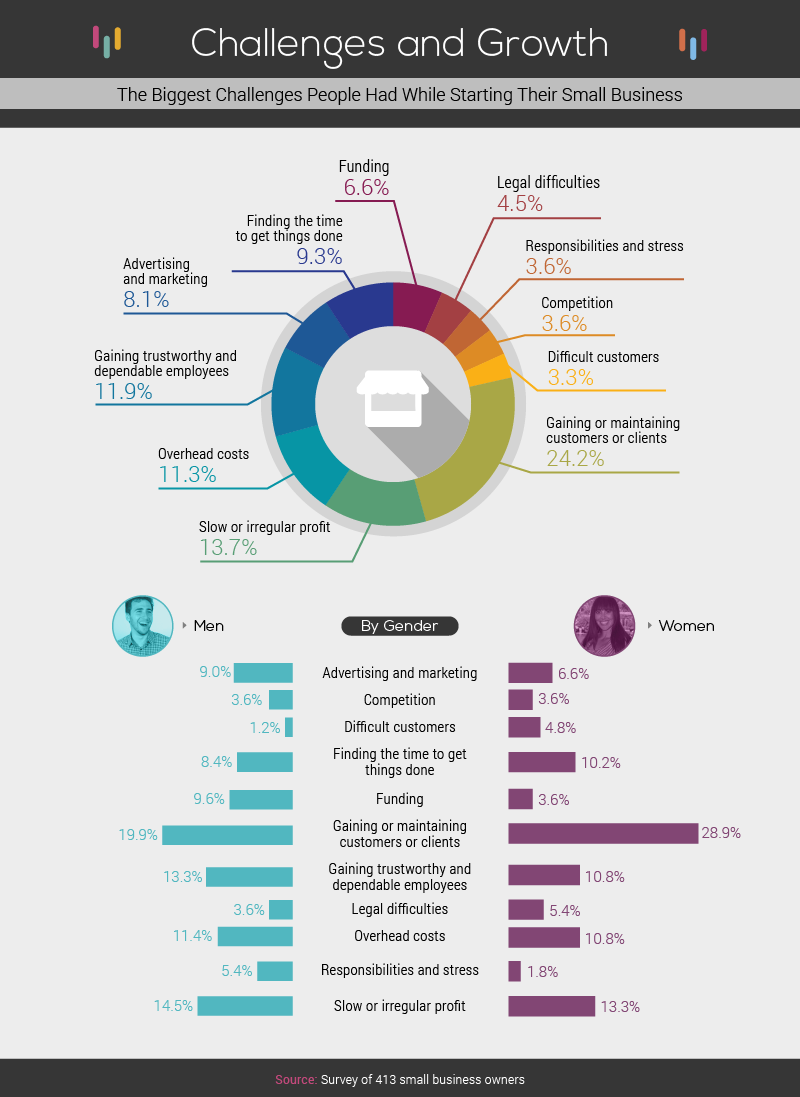 If you have the time, drive, and the capital to start your own business, what roadblocks should you expect along the way? According to nearly 1 in 4 small business owners, the biggest challenge they faced wasn't competition, stress, or even money – it was gaining or maintaining customers or clients. And this was a bigger concern for women than men, with nearly 29 percent of female business owners citing the challenge of finding clients as the hardest part of the job.
Female entrepreneurs do sometimes face different challenges than their male counterparts, including more limited access to funding, balancing family life, and finding their footing in occasionally male-dominated markets. While the number of female small business owners is significantly smaller than that of male business owners, their numbers have been growing rapidly over the last decade.
Other common roadblocks included slow and irregular profit, overhead costs, and finding dependable employees. For some inspiration on how to overcome these hurdles, take a look at what 53 additional business owners not polled in our survey have to say about their struggles and success.
Living the Dream
No matter where you are in your business journey, you've probably realized the path to success isn't a straight line. Even your vision of what you want your business to be can change over time, and the experiences a small business owner faces along the way – both good and bad – can have a profound impact on how they approach life as an entrepreneur.
To help provide a little inspiration, we interviewed 53 small business owners. Here you can see their stories, including the sacrifices they made along the way and how they overcame their fears to get started in the first place.
Your Partner in Growth
As our interviews revealed, it's not uncommon to experience missteps on your journey as a small business owner. Still, our entrepreneurs acknowledged learning as much from the bad moments as they did from their successes.
While you're on the journey to building your own business, Paychex can help. We offer payroll and HR solutions for when it's just you, an idea, and a plan for success, to when you hire your first employee – and your 1,000th. From do-it-yourself payroll to help with hiring, onboarding, time and attendance, and benefits, our dedicated payroll and HR experts let you focus on keeping more of your time, money, and talent. To learn more, visit us at Paychex.com.
Methodology
We surveyed 413 small business owners and interviewed 53 entrepreneurs. 47.5 percent of our survey participants were men, and 52.5 percent were women. The industry breakdowns of our survey participants were as follows: 16.6 percent in arts, entertainment, and recreation; 7.2 percent in education; 7.2 percent in finance and insurance; 13.8 percent in hotel, food services, and hospitality; 9.3 percent in marketing and advertising; 8.3 percent in medical and health care; 11.7 percent in technology; and 25.9 percent in wholesale and retail.
Participants ranged in age from 18 to 73 with a mean of 39.3 and a standard deviation of 12.9. Sample sizes under 20 participants were excluded from analysis.
Tags