HRMS records administration
Choose HR software that keeps important data organized and accessible
Is employee data coming at you from multiple systems? Are you constantly on the hook to help managers and employees sort through the mess? Then it may be time to consider our single, centrally located online HR management system (HRMS): Paychex Flex® HR Administration.
Share data and communications

Keeping your data in one HR software system makes it easier to share employee profiles, forms and procedures, as well as automate notifications and reminders. 

Take control of benefit costs

Make more informed decisions about benefit plans by viewing and tracking profiles, enrollments, and the costs to your company and its employees.

Automate your analytics

Save time building and maintaining reports including automatically generating total compensation summaries and census reporting. Run analytics to assist with completion of government reporting including the EEO-1 Report, and OSHA accident and illness forms.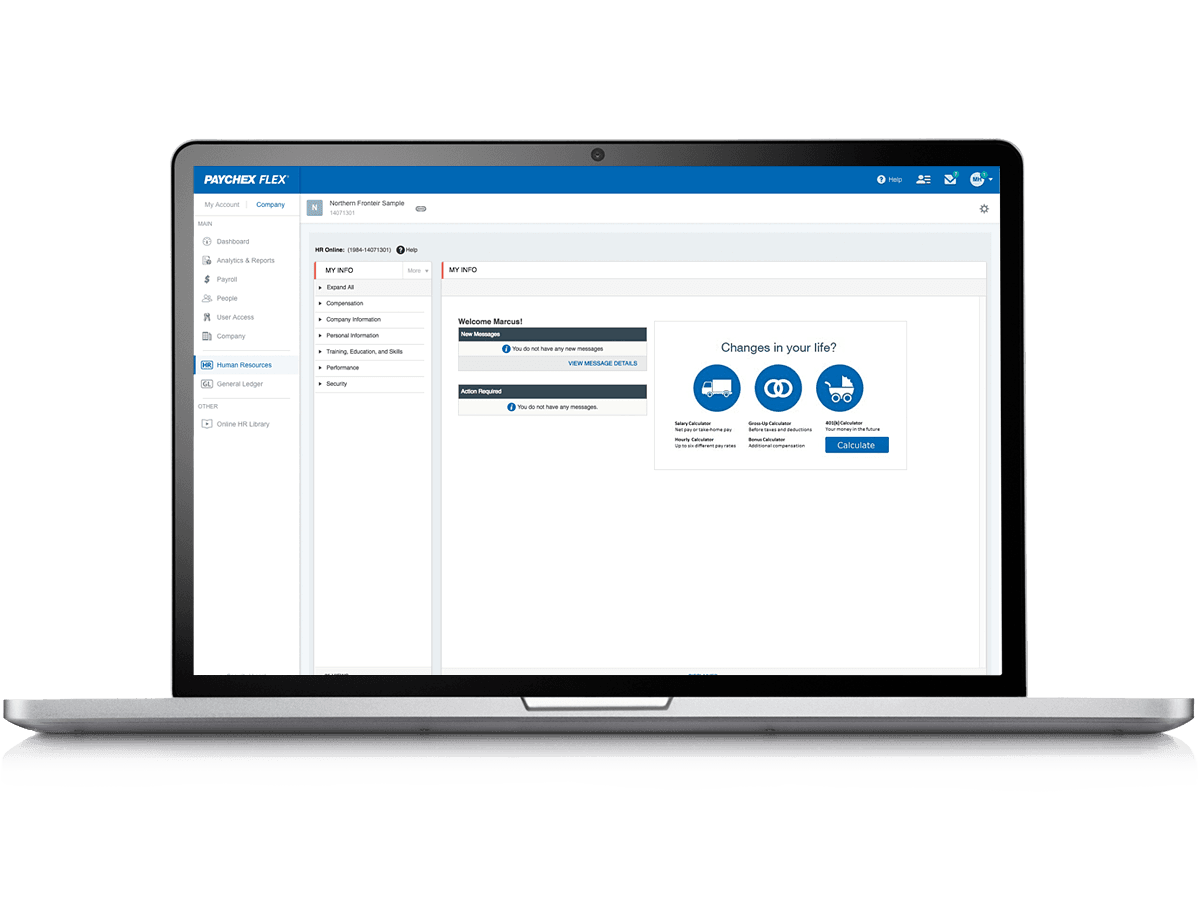 What you can get with our HRMS
Centralized data administration can make it easy to share data and communications
New-hire workflows can help you manage the onboarding process
View and track benefit plan profiles, enrollments, and employee and employer costs
Automatically generate total compensation summaries and census reporting
"What if" employee net payroll deduction calculators
Employee performance tools, such as custom online performance review forms and the ability to schedule and track events
Control employee and supervisor access and customize screens for different user types
Why Paychex Flex is a smarter HRMS
Document and support your procedures

Build unique, cross-organizational workflows to delegate tasks, help your business follow critical procedures and perform everyday activities more efficiently.

Keep important information organized and accurate

Manage custom employee, company, and compliance documents online, so you can keep your important documents more secure but accessible from anywhere with a web connection.

 

Improve retention by showing employees they're valued

Employees may feel more valued when they understand how much the company invests in them. Our total compensation summary helps to show the monetary value of each employer-paid benefit.

 

Customize screens for managers and employees

With our flexible HR software, you can customize screens for different types of users, and administer self, peer, and manager performance reviews with online convenience.

Keep training on schedule

Maintain a smarter training and development curriculum with easy scheduling and event tracking through HR online. Then measure performance through custom online performance reviews, so you can adjust training over time.

More efficiently tackle common tasks

Our HR templates and tools help address some of the most common online HR tasks, so you can complete them quicker and more easily — and get back to your strategic partnership with the organization's leaders.