Why Not Get the Credit You Deserve?
Taxes
Guide

Last Updated: 07/15/2022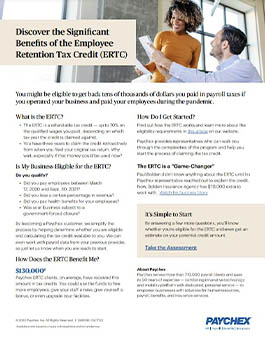 Get the Free Guide
If you paid qualified wages to employees during the pandemic, you might be able to retroactively claim the Employee Retention Tax Credit — a major tax credit. How major? Our ERTC Service clients have received, on average, a whopping $130,000 in tax credits1. Think of what you could do with that kind of money — put it back into your business, reward your employees, take a well-deserved vacation. If you're eligible, we'll help make it happen.
The Paychex ERTC Service team can help you:
Determine your eligibility
Calculate potential credit
File amended forms with the IRS
1Credit amount varies based on your business circumstances.