The Importance of Work Flexibility
HCM
Article

Last Updated: 07/08/2016
Thirty-seven percent of today's talent works remotely. Work flexibility can help support your employee recruitment efforts, as well as employee retention, and engagement. Here's how to embrace remote work at your business.
Work flexibility may soon become one of the most important benefits your company offers. In fact, 37 percent of workers telecommute at least some of the time, according to a new poll from Gallup. And that number is expected to rise. A recent study revealed that 76 percent of workers avoid the office when they have important work-related tasks to complete. Eighty-two percent of respondents say they would be more loyal to their employers if they had flexible work options. Clearly, flexible work schedules can be a powerful tool for both recruiting and retention. What do business leaders need to know about developing flexible work strategies?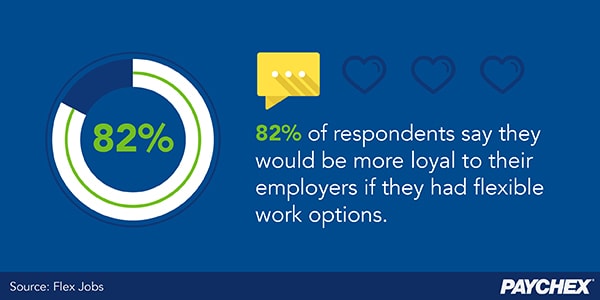 Why employees seek flexible work arrangements
Flexible work arrangements can mean many different things, depending on the company, position, and employee. In some cases, it's the ability to work remotely some or all of the time. In others, it may mean coming into work earlier or staying later than the typical nine-to-five workday. The reasons that employees cite for valuing a flexible work arrangement vary widely, but often, they're related to the office environment itself.
Some employees are hoping to avoid distractions and chitchat with co-workers, as well as having to spend time navigating politics that takes away their focus on completing work. Bigger issues are also at play, such as minimizing the cost and stress of commuting. Employers who understand what's driving the demand for flexible work arrangements can better determine if the model is right for them, while seeking to address the underlying issues.
Where flexible work arrangements can be an advantage
Companies can benefit from generous flexible work arrangements in three key ways. The first is as an advantage during competitive hiring processes: prospective hires may be more likely to accept an offer that includes a flexible work schedule. The second is employee retention. Employees with more flexibility and less stress may be more likely to remain with the company long-term. Finally, embracing a flexible work schedule may allow your company to control costs by evaluating other areas of benefits and compensation. Flex Jobs revealed that 30 percent of workers would take a pay cut for more flexible work arrangements. Twenty-four percent would forfeit vacation time and 18 percent would give up employer retirement matches in exchange for flexible work arrangements.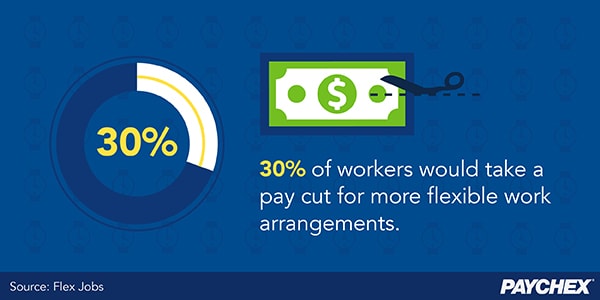 Factors for companies to consider
When you're developing a flexible working arrangement policy for your business, it's important to ask the right questions. What kind of flexible working arrangements do your employees want? What makes sense for your business? Finally, work to identify the underlying causes for these requests Are heavy workloads too often keeping workers away from family, friends, and outside interests? Additional hiring or redistributing responsibilities may be another alternative to flexible work arrangements.
Companies that successfully embrace flexible work typically need support in two areas. The first is technology. It's critical to have the right technology in place to allow for remote working arrangements. Technology from time and attendance software that allows them to track their hours online, to cloud-based systems for updating information. The second is having clear policies around performance and objectives. With the right technology support and performance expectations, your company can use flexible work schedules to help recruit, retain, and engage top talent.
Tags