There's an App for That: HR Goes High-Tech
HCM
Article

Last Updated: 10/04/2016
Find out what a survey of more than 1,500 American workers revealed about how much time HR technology has saved us, and how it's changed the way we work.
According to the Wall Street Journal, in the 1980s most human resource professionals spent the bulk of their time filling out paperwork and dealing with legal and compliance issues. Today, technology has allowed HR to automate many of the department's day-to-day tactical tasks. It's a reality that allows those HR professionals to focus their energy on attracting and recruiting talent. For employees, HR technology means instant answers to their questions about pay and benefits, and a simpler way to deal with necessary HR tasks.
We did a comprehensive survey of more than 1,500 American workers in a variety of professions to find out how they felt about self-service HR software. Not only were the employees happier with automated systems for things like requesting days off and tracking paychecks, but these systems were seen as being much quicker than visiting an HR office.
How much time has HR technology saved us, what do employees love most, and how are these systems changing the way we work? Read on to see what we've learned.
America's Favorite Self-Service HR Features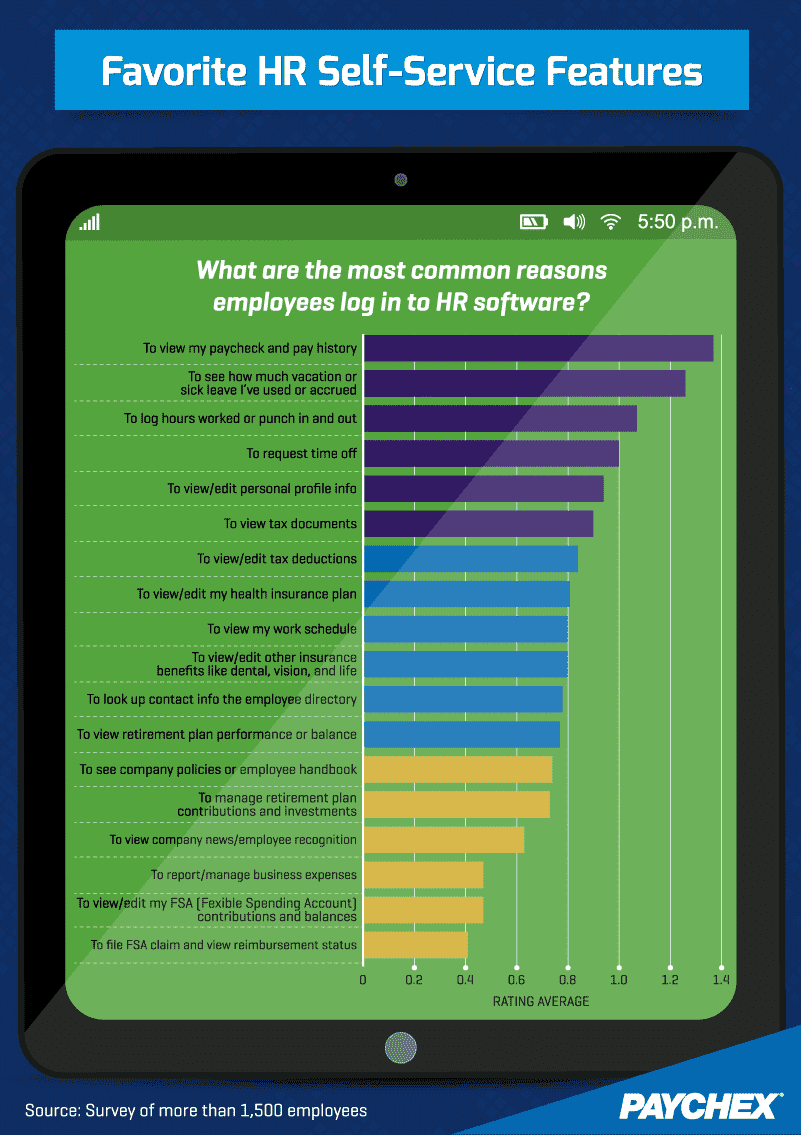 So what are the most common reasons employees log in to company HR software? We asked over 1,500 employees how often they used the features of their companies' HR software; each feature was given two points for an "often" response, one point for "sometimes," and no points for "never."
The results? By far, the top reason American employees logged in was to check their paycheck to see when that latest windfall would hit the bank. Another common reason was to see how much sick or vacation time they had accrued, to log their hours or punch in and out of a digital time card, or to request time off (an interesting top response for a country known for not taking its vacation time).
How Americans Log In To HR Software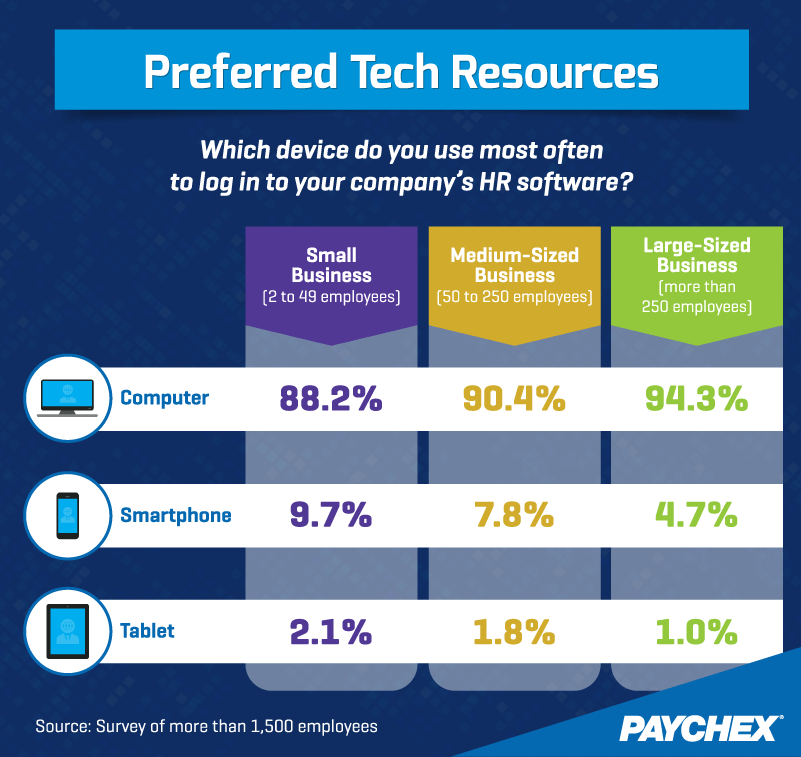 When it comes to HR, computers are the preferred device for most workers. Nearly all employees surveyed reported that they usually view their payment history, request vacation time, or check their sick day accrual via a desktop or laptop computer. However, most said they appreciate the ability to get instant answers by other means, when they don't happen to be in front of a computer.
Interestingly, "mobile-first" use of HR technology (which was nearly nonexistent prior to 2012) is now the norm for between 4.7% and 9.7% of employees, according to the survey. And industry insiders predict that figure will rise.
Paychex, a company that has invested more in mobile than most HR tech providers, reports even higher mobile usage (12.4% average across all segments), indicating that if more mobile capability is provided, more people will use it more frequently.
Smartphones and HR Technology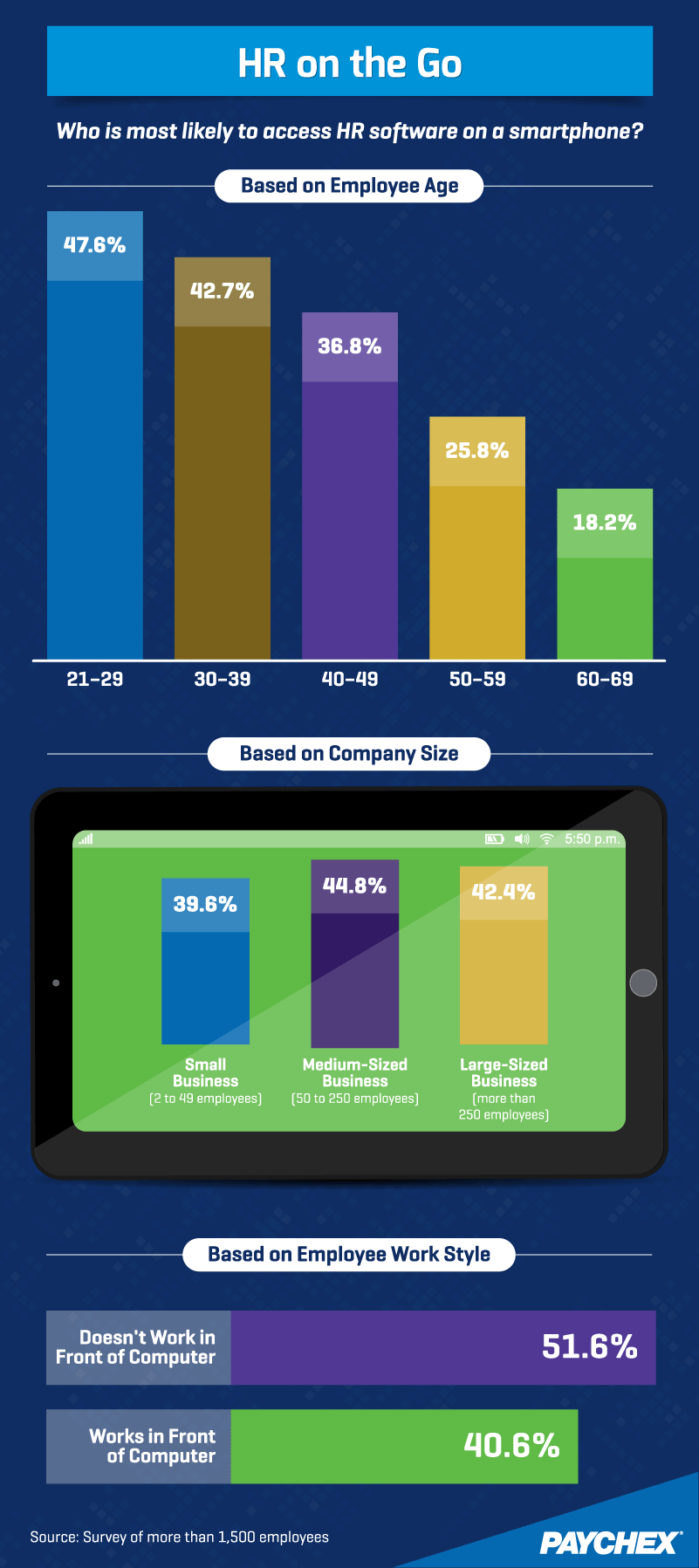 Even though most HR tasks were completed via computer, smartphones still got some use by almost half of the employees surveyed. When asked if they'd ever accessed their company's HR software on a smartphone, about 43 percent of the survey respondents said yes.
The groups most likely to log in on the go were younger workers (about 48 percent of the 21- to 29-year-old crowd, as opposed to 18 percent of those age 60 to 69). People who don't work on a computer all day were also smartphone savvy (52 percent, as compared with 41 percent of computer-related employees).
Taking the Wait Out of HR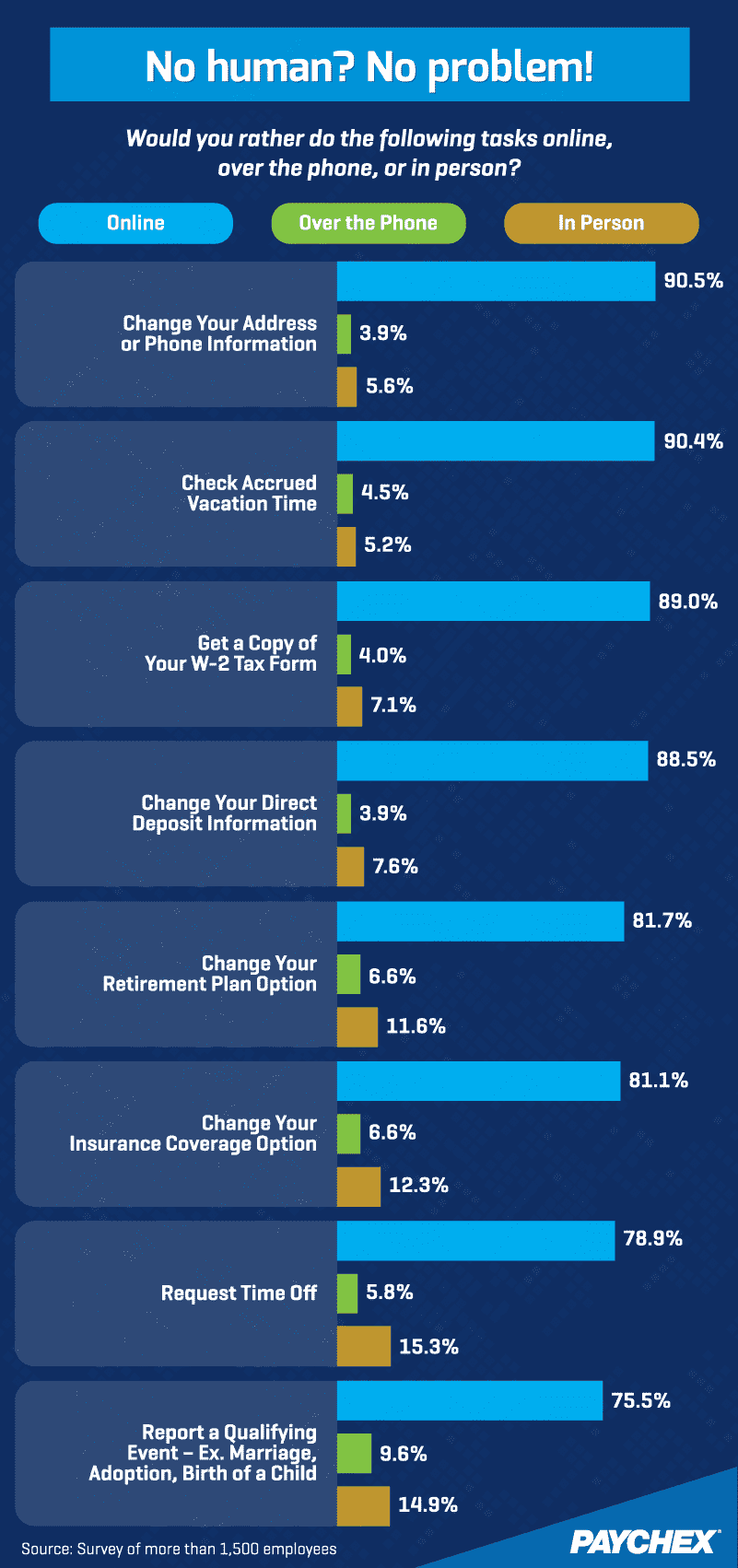 Has all of this technology been a blessing, or are Americans nostalgic for the days of face-to-face HR?
Our findings concluded that there were very few situations where survey respondents would have rather dealt with someone over the phone or face to face (once they were properly introduced to self-service HR software).
Over 90 percent of respondents said that they would rather change their personal records (address, phone number, etc.) or check their vacation time online. And over 80 percent said they'd rather go online to get a copy of their tax forms, change their direct deposit information, change their retirement plan options, or change their insurance. 
Is HR Technology Saving Us Time?

It certainly feels more convenient, but has HR technology actually saved any time? According to our survey, nearly 38 percent of employees said that HR tech had saved them significant time, and another 53 percent said that it had saved them at least a little time.
Interestingly, the employees who valued HR software most were police officers, firefighters, and school teachers – all ranked as some of the most stressful jobs in the U.S.
Love and Hate in HR Tech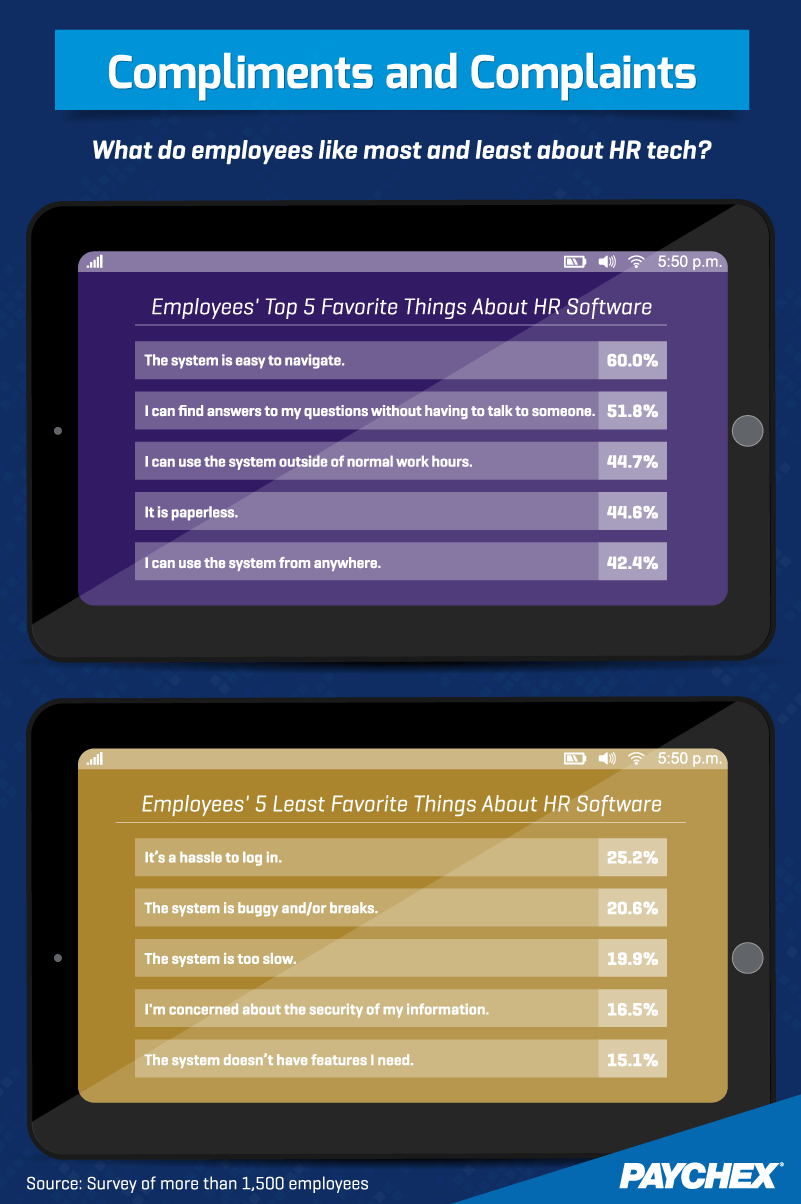 When asked what they liked most and least about HR technology, survey respondents were resoundingly positive, calling their companies' systems easy to navigate, informative, and convenient. They also liked that the systems were paperless – a relief for those concerned about the four million tons of paper waste generated each year by the U.S.
Of course, nothing is perfect. Some employees (25 percent or fewer) were frustrated by login hassles, system glitches, and security concerns.
HR Tech, In Summary
Overall, HR technology has not only changed the modern workplace; it has changed it for the better. Employees are empowered to track important things like vacation accrual and paycheck deposits. Changing a phone number or updating a medical policy has become significantly simpler. HR professionals are freed up to focus on strategy, recruiting top talent, and retaining the talent that's already in-house, rather than completing forms by hand. And, perhaps most significantly, Americans like the shift. We like the convenience, the simplicity, and the saved time that HR software has introduced to our lives.
Methodology
We conducted an online survey of 1,609 American workers from Sept. 9 to 15, 2016. Respondents were all employed by companies that use self-service human resources software – 18 percent worked for small businesses (two to 49 employees), 24 percent worked for medium-sized businesses (50 to 250 employees), and 58 percent worked for large businesses (more than 250 employees). Respondents ranged in age from 21 to 72. They were 45 percent women and 55 percent men. They came from 49 states and the District of Columbia (Wyoming was not represented).
Sources
http://blogs.wsj.com/atwork/2013/05/28/the-changing-face-of-hr/
http://www.marketwatch.com/story/55-of-american-workers-dont-take-all-their-paid-vacation-2016-06-15
http://www.pewinternet.org/2015/10/29/technology-device-ownership-2015/
http://mobilefuture.org/the-rise-of-mobile-11-6-billion-mobile-connected-devices-by-2020/
http://www.forbes.com/sites/susanadams/2015/01/07/the-most-stressful-jobs-of-2015/
http://abcnews.go.com/GMA/be_your_best/page/top-10-stressful-jobs-america-14355387
http://theweek.com/articles/562853/why-future-paper-more-complicated-than-think
Tags