Are Variable Pay or Performance Incentives Right for Your Business?
HCM
Article

Last Updated: 07/14/2016
Are variable pay or performance incentives right for your business? Here's a closer look at what to consider when embracing this compensation model.
An increasing number of companies are using variable pay or performance incentives for employees outside the sales force. One source estimates that 90% of companies have some form of performance-based compensation in place. While variable compensation has long been a staple of sales departments, companies are using this model to help control costs and incentivize sustainable high levels of performance throughout their organizations. Here's a closer look at what companies need to know about variable pay and how to create a structure which will work best for their business.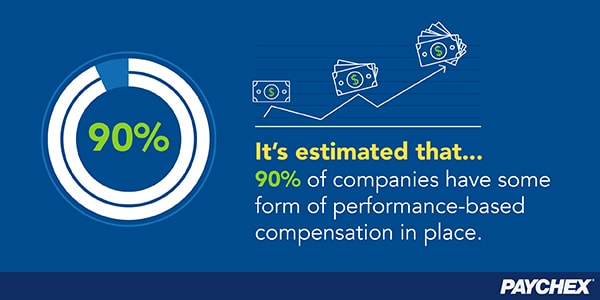 The Two Advantages of Variable Pay
There are two primary reasons why organizations incorporate variable pay into their compensation structure: cost and performance. The first is to help control costs. Variable pay allows organizations to tie compensation to revenue and financial performance. When a company is thriving financially, it can reward its workers. During times when business is down, companies can focus on rewarding the employees whose efforts are turning things around.
The other reason companies favor performance incentives is to help stimulate their workforce's highest level of potential productivity. When workers know their compensation is tied directly to performance, they may be more likely to work hard, get more done, and really focus on achieving specific business outcomes. In sales, this has traditionally focused on closing deals. But the same concept can apply to other areas of the business by connecting compensation to an employee's core business responsibilities.
The Psychological Aspects of Variable or Performance Pay
In a piece by the Society for Human Resource Management (SHRM), the author notes that this method of compensation "does not fit an entitlement culture, since it is not a career annuity like a base pay increase, and it must be re-earned during each measurement period." Stated differently, variable pay is used to help incentivize ongoing high levels of performance over time. However, it must also be acknowledged that on a psychological level, employees may view performance-based pay as less secure than a guaranteed salary. While variable pay is part of your employees' total compensation package, for certain types of employees who are risk-averse, variable compensation may be viewed as less valuable than committed salary.
Implementing A Variable Pay Program at Your Company
When you are evaluating whether or not a variable pay scheme is right for your company, here are four questions which can help you structure a program that is right for your business goals and employees:
What are your primary objectives? Instituting a performance-based pay program is one of the easiest ways for companies to communicate their most urgent priorities to workers. When choosing to move in this direction, it is critical for you to define performance metrics which will lead to the right business outcomes.
What type of plan is right for you? Performance plans can be individual, at the department level, or organization-wide initiatives. Companies need to look at their financial resources, employee makeup, and overarching goals when determining which format is right for their needs. It is also important to address questions of eligibility.
What compensation will you choose? Another important factor to consider is what type of compensation you may offer. There are a wide range of options ranging from commissions to bonuses to stock grants. Each of these has financial implications for the company, and certain choices may better support your employees' needs.
How will you address this with employees? When a company introduces a performance-based compensation model, there are likely to be a range of employee reactions. It is important to pay attention to clarity and fairness when developing your plan. Employee communications, answering questions, and providing the necessary support during the plan rollout are critical. In particular, pay attention to dissatisfied employees and try to mitigate their concerns where possible to help stem attrition.
Performance incentives may offer several benefits to companies which embrace them, from better financial controls to higher levels of employee productivity. Be thoughtful about how you embrace and introduce these plans, and ensure the plan you've designed is a good fit for your employees' needs, company's business goals, and organizational culture. Ultimately, performance incentives can be a great thing for your company–but each step needs to be strategically handled.
Tags