Small Business Time Tracking: Timecards, Clocks, and Other Employee Attendance Trackers
Payroll
Article

Last Updated: 10/10/2023
Properly tracking your employees' time and attendance can prove difficult without a reliable, accurate, and efficient system in place. What's more, according to the 2022 Pulse of HR report, tracking staff hours worked is one of the most time-consuming tasks for HR professionals and their teams. Since resource management may correspond with productivity levels, product and service output, and your business' overall performance, small business time tracking is recommended for those seeking a systematized way to measure and analyze employee time management.
There are many tools for tracking the time employees spend working — from paper timesheets to basic punch methods and even more robust biometric methods. Depending on unique factors such as your business size, payroll system, and HR needs, consider the following as you search for the right time and attendance systems for your small business.
Types of Time and Attendance Solutions for Small Businesses
Whether your employees work in the office, from home, or move between job sites, there's a time and attendance solution that can benefit your business. Physical time clock systems installed at a worksite are common in some workplaces and the latest options offer improved efficiency and more accurate reporting. Depending on your business needs, you may find user-friendly automation is especially important for recording time at a higher level of accuracy.
Here are some of the most common time and attendance solutions for small businesses:
Punch Card Time Clocks
Punch card time clocks have been around for many years and are still used in some businesses. The punch card time tracking method requires an employee to insert a timecard that's stamped with the exact time their shift starts and ends. They may also use this card when taking meal breaks or other unpaid break times during their shift.
Employees submit punch cards to a manager or payroll administrator, who then manually inputs the hours worked into the company's payroll system. It's important to note that because this is a manual timekeeping method, the person inputting hours into payroll needs to ensure the data they enter is accurate, which could take considerable time and effort.
The use of punch cards may also increase the potential for buddy punching, a form of time theft in which hourly, non-exempt employees, who record their time on a time clock, punch a co-worker in and out when that worker isn't present. If a business relies on a punch card time clock, it can be easy for one employee to record time or punch in on behalf of another.
Proximity Card Time Clock
A proximity time clock includes a walk-by reader with a sensor that reads an RFID badge to record employee arrival and exit times. It's also a method to help you maintain security standards with up to 37-bit encryption HID badges. One thing to note is that workers must have their card or identification on hand. If they lose the credential or leave it at home, they may be unable to track their time through the time clock. Management would then have to reach out to the employee for their hours, which is time-consuming and risks inaccuracies.
Biometric Time Clocks
Biometric scanning captures an image of a biometric identifier (e.g., hand, finger, or face) that is converted into a template — a mathematical representation of the data used for employee identification. Templates cannot be converted back into images of an employee's finger scan, face, or eye, and the initial image itself is not stored by the system. When employees use a biometric time clock, its software matches their stored template to the current scan. For example, a finger scan time clock scans the user's finger and looks for the matching template. When a match is found, the clock user is verified, and a punch-in or punch-out is recorded.
Finger scan readers and facial recognition can help eliminate misconduct related to time and attendance (e.g., buddy punching), since unique biometric identifiers assigned to each individual can reduce the manipulation of time and attendance reporting.
Facial Recognition Kiosk App
Some businesses are adopting a tablet punch option using a kiosk app with facial recognition software that lets employees access a shared device to easily punch in and out. Offline punching and the ability to run for hours on an internal battery can make this an ideal option for workers who travel or move between work sites. Enhanced functionality helps to provide a consistent punch experience, allowing employees to capture time worked on the tablet or smart device of their choosing.
Iris Recognition
An iris recognition time clock is an advanced biometric option that functions well in active environments — such as construction sites, restaurants, and hospitals — and allows for accurate time tracking without compromising worker safety.
The most robust iris recognition technology options offer advanced features such as:
Safety and hygiene, since no part of the body needs to touch the system.
Helpful voice prompts and visual cues assist first-time users.
Durability in challenging workspaces such as medical, construction, and restaurant environments.
Quick implementation and administration.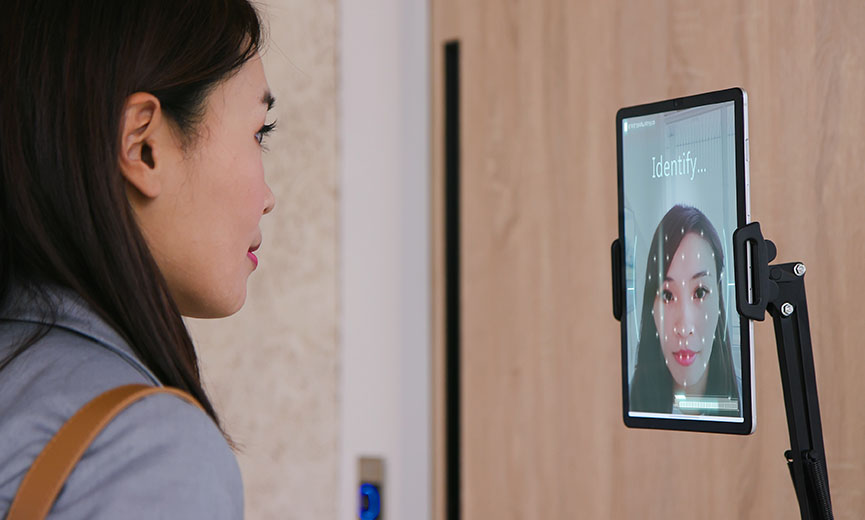 Wi-Fi- and Power over Ethernet (PoE)-Enabled Time Clocks
Modern employee time clocks can offer several advantages over legacy time clocks as it relates to ease of installation. Two technologies that can help make installation a breeze include Wi-Fi and power over ethernet (PoE) connectivity options. If a company location has no hard-wired network option (i.e., network cables, drops), then a Wi-Fi-enabled time clock may be the right fit as it requires no physical network connection. If no Wi-Fi network or power outlets are available, then a PoE-enabled time clock may be the right choice since it requires no external power adapter – it gets power through a network cable.
Smartphone App
With most US workers owning a smartphone, it should be no surprise that workforce management apps are gaining in popularity with companies who want to provide their employees with greater flexibility to accomplish routine HR tasks. Many workforce management apps now offer more than just time and attendance features — punch in/out, view timecards, request time-off — they deliver self-service access to an entire human capital management (HCM) suite of offerings, including payroll, HR, benefits and more. And given that many smartphones employ stringent security features (i.e., Touch ID® and Face ID®) as a form of access control, they can also help prevent some forms of employee time theft, such as "buddy punching."
Useful Time Clock System Features for Small Business Owners
Time and attendance make up the foundation of a wide range of workforce management processes, from creating fair work schedules, processing payroll, and helping employers manage their compliance with legislation related to working time, leave and pay. Some key features of a small business employee time clock solution that you may want to look for as you look to optimize productivity and business efficiency include the following:
Payroll integration: Integrating time tracking with your payroll system can help ensure that information is consistent across the board, since one integrated solution includes all your company and employee information in a single platform. When information is automatically updated in real-time, it also reduces administrators' workloads, since they don't have to input changes multiple times in different work systems.
Employee self-service: Today's leading time tracking systems offer employee self-service capabilities that can give workers, wherever they're located, the ability to conveniently:
View, edit, and submit timecards.
View work schedules and time-off balances.
Request time off and submit pay adjustments.
Reliability: Even during a business disruption, your time tracking system service provider should help you navigate potential challenges and provide ongoing assistance with:
Time and attendance continuity.
Workforce safety and compliance support.
Remote workforce management and scheduling.
Time off and extended leave tracking seamlessly applied to an employee's timecard.
Flexible punch-in options: Regardless of where your team is located, your timekeeping system should provide flexibility features and a range of punch-in options such as:
Tablet kiosk app with optional facial verification
Mobile application for your smartphone
Web punch
Iris recognition time clock
Compliance support and cost controls: An effective time and attendance method should automate manual tasks to help you control costs and support your compliance with legislation as it relates to wage and hour requirements. Some regulatory issues that a new time and attendance system may be able to assist with include:
Minimum wage and overtime rules
PTO, vacation, and sick and safe leave
Reporting and tracking: A great time tracking system should offer a simple and intuitive interface that offers managers and supervisors real-time attendance data, labor analytics, and tracking of key performance indicators. It should also offer managers the convenience of quickly reviewing and approving timesheets, as well as coordinating schedules.
Calendar integration: Some of today's top time and attendance tools have a calendar integration feature that allows employees to synchronize their work schedule to their personal calendar on their smartphone, tablet, or PC.
Why Are Employee Time Clocks and Software Important for Small Business?
For many business owners, managing employees' time and attendance is a significant and time-consuming task. Today's time tracking solutions can offer some relief, along with many benefits such as saving time and money, reducing errors, preventing time theft, enhancing productivity, and improving security for sensitive company data. What's more, making key business decisions — including hiring needs, workforce reductions, and job assignments — may require knowing exactly how many hours employees have worked.
Just as importantly, wages paid to non-exempt employees (paid hourly or salary) are based on the amount of time they work. The failure to adhere to the Fair Labor Standards Act (FLSA) and any applicable wage and hour laws at the state and local level may result in penalties and costly litigation. Remember that the FLSA doesn't dictate which timekeeping method employers may use. Generally speaking, you can track employee hours any way you like, as long as you record and maintain precise and accurate time records.
Get Small Business Time Tracking To Help Meet Business Goals
Whether you opt for a basic time clock method or an integrated, cloud-based system, having an accurate record of employee hours is invaluable. With the right time-tracking method for your business, you can optimize your bottom line, as well as help ensure that your employees are efficiently and effectively contributing to your company.
---
Touch ID and Face ID are trademarks of Apple Inc., registered in the U.S. and other countries and regions.
Tags